When I'm browsing social media platforms, I sometimes encounter the term Lyka Gems. So, I got curious and decided to find out what Lyka Gems are.
That's when I learned about the app called Lyka which claims it is a social media platform that will pay you for using it and interacting with other members.
In this Lyka review, you will get an inside look and learn exactly what the app has to offer so you will know what to expect from it before you even download it. That way, you will be able to figure out if it is truly worth it or not.
So, let's get this review started, shall we?
What is Lyka and what does it offer?
Lyka is a social media app that offers ways for you to earn by interacting with other users. It is definitely a legit app since you will really receive rewards when you use it.
But the question is, is it worth your time or not? To answer this question, you have to first understand how the app works and the best way to do that is to examine the earning opportunities it offers.
So, here's how to earn from Lyka.
Option 1 – Uploading photos and videos
One way to earn from Lyka is to upload photos and videos. Just log in to the app and press the upload icon.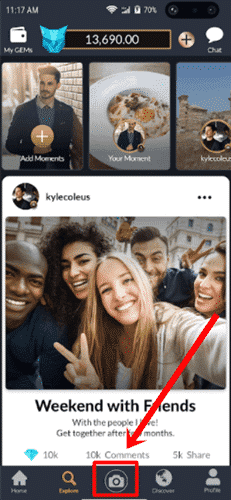 Uploading photos or videos on Lyka is actually quite similar to uploading photos and videos on Instagram. You can choose various filters to apply to your photo or video. After you've uploaded the file, you will immediately earn 0.05 Lyka gems.
That's really all there is to it. The reward is quite low, but the good thing is, earning it will really be very simple.
Now, if you are wondering if the length of the video will affect the number of gems you will earn, let me say right now that it won't. The reward you will earn will be fixed regardless of the length of the video you will upload.
So, if you want to go about it efficiently, I would recommend you just upload photos. That's the quickest way to earn.
Option 2 – Uploading moments
If you frequently log in to social media platforms, you will encounter short videos or even photos that your friends will post in their stories section. These posts will expire after one day.
Lyka has a similar feature called moments. And if you upload one, you will also earn 0.05 Lyka gems. You can add pre-built stickers and text to your moment just like you would on Instagram or Facebook.
The gems will be credited to your Lyka account immediately after you've uploaded the moment. However, you can only earn from the first 10 moments you upload every day.
Option 3 – Ratings
Interacting with other member's posts is called rating. When you like a person's photo, it's called rating the photo. And for doing so, you will earn 0.02 Lyka gems per rating you give out.
You can give out any number of ratings per day. What's good about this opportunity is, the owner of the photo or video you rated will also earn Lyka gems. But, only the first 40 photos you've rated per day will receive rewards.
For the 41st photo and beyond that you've rated, the owner will not receive any reward anymore. But if you haven't logged in for days or you haven't rated a lot of posts lately, the limit will be increased to 200 ratings.
For example, if you haven't used the app for two days, you can rate as many posts as you want and the first 200 posts will be credited with rewards. That's how they balance the rewards you can give out.
This opportunity will also work for you. If you've posted a photo and somebody rates it, you will also receive 0.02 Lyka gems. But, you can only earn gems from your photo within 7 days from the date of posting it. After the seven days have passed, you won't earn anything from that photo.
Recommended: Check Out the Top Passive Income Apps
How do you get paid?
As explained above, you will earn Lyka gems every time you do something in the app. But what can you do with the Lyka gems you've earned?
Well, there are a couple of options to spend your Lyka gems. But let me tell you right now, if you were hoping to exchange your gems to cash, you will be disappointed. Only accredited Lyka Merchants can exchange Lyka gems for cash.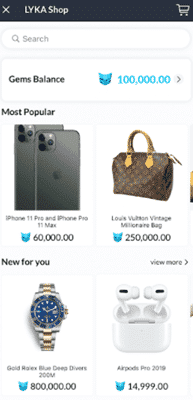 First, you can exchange gems for certain products in their rewards store. But as you can see in the photo above, the required gems to redeem these products are actually ridiculously high. So, I wouldn't recommend you use your Lyka gems to redeem these rewards.
Instead, I would recommend you use the second option which is to use it to pay for purchases in stores that will accept it. Lyka also claims that soon, you will be able to use Lyka gems to pay for your utility bills or grocery shopping. But as of the moment, only a select number of stores in the Philippines accept Lyka gems as payment. These are the accredited Lyka merchants referred to above.
Overall, the payment system of Lyka is relatively easy to understand. But, if you are hoping to earn cash, I would recommend you check out the top sites that pay via PayPal instead.
How much money can you make?
1 Lyka gem is worth approximately $0.02 or 1 Philippine Peso. So, to put it into perspective, if uploading a photo will only earn you 0.05 Lyka gems, then you are essentially earning less than a cent for every photo you upload.
That's really a very low rate, in my opinion. That is why overall, I would say the earning potential of Lyka is very low due to the fact that it offers very low rewards. You will have to literally post hundreds of photos and like thousands of posts before you can earn a decent amount.
And that will take a lot of time to do. But the real value this app offers is, it will pay you for something that you actually do for free on other platforms. So, if you already love posting photos and videos on other social media platforms, then you might like using this app because you at least earn something from it.
Can you use it on a desktop?
Unlike Facebook or Twitter which has a web-based platform you can log in to, Lyka is a mobile-only platform. So, if you plan to become a member, you will really need to use a mobile device.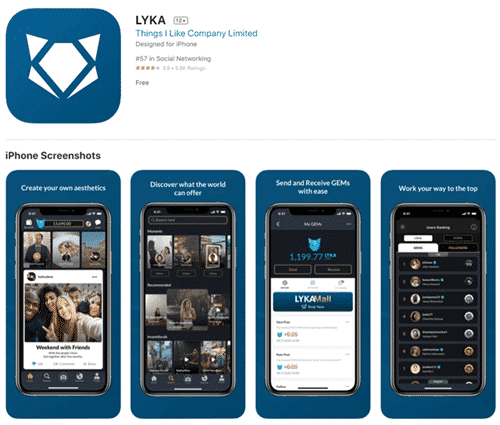 You can download the app from the Android, iOS, or Huawei app store. The app is also very easy to use. The user interface feels like a combination of Facebook and Instagram, so if you frequently use those apps, you should have no trouble learning how to use the Lyka app.
Who can join Lyka?
There is really no information provided on their website regarding which countries it is available in. But if you browse their FAQ page, you will notice that the cities where you can find certified Lyka merchants are only cities in the Philippines.
That is why it seems the app is only available in the Philippines. If you are interested in more sites that are available in the Philippines, I would recommend you check out the top survey sites in the Philippines.
You might be able to register as a member if you live in another country, but you won't be able to fully utilize all the features it offers.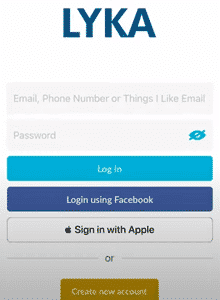 To sign up as a member, you can use your Facebook or Apple account. You can also just use your own login details. The first thing you need to do to register is to download and install the app. Then, you will encounter the form shown above.
After you've completed the sign-up form, you can now log in to the app and start earning. And as a bonus, you will receive 5 Lyka gems as a sign-up bonus. It's not much, but at least it's something.
Can you get support?
The site and the app have a FAQ page you can refer to if you have any questions about how it works. It's fairly comprehensive and covers most of the basic topics.
But if you encounter any issues or you have questions that were not answered by their FAQ page, you can use the contact form provided on their website and app. Just fill out the form and submit your inquiry.
Alternatively, you can also just email them directly at support@mylyka.com to get in touch with their support team.
Overall, I would say Lyka has a decent support system in place for its members since they offer convenient ways for you to communicate with their support team.
Final Verdict
Lyka is a legit social media platform that will reward you for uploading photos and videos and for interacting with other members of the platform. It has a couple of unique features, but it also has some limitations you need to keep in mind.
Let me wrap up this review by summarizing its pros and cons to give you an overview of what the app has to offer. Then, you can decide if it is really worth it or not.

Pros:
Offers a very easy way to earn
The app is user-friendly

Cons:
Limited earning opportunities offered
Low rewards
Doesn't offer cash rewards
If you are looking for a primary app to earn from or if you are looking to earn cash, then this app is not for you. Lyka offers very low rewards, and you can't convert your rewards to cash, so there's really little incentive to use it as a primary source of extra money.
But if you love social media platforms and you live in the Philippines, it can be a decent option since you can at least get something from posting photos and videos which you normally likely already do for free.
Now, if you are looking for great ways to earn extra cash, I would recommend you check out the top survey and GPT sites in your country instead. The sites on this list all have good earning potential and you will be able to earn cash from most (if not all) of these sites.
Plus, you will definitely find a site you can join regardless of where you live.
If you have any comments, questions, or have any experiences with Lyka yourself, I would love to hear from you in a comment below.