Many people have asked me if ClickBank really is the real deal.
If you are one of those people looking to earn extra cash from ClickBank, I highly recommend you read this article first. It will show you how to make money on ClickBank for free as a beginner.
It's a step-by-step guide on how you can maximize your earnings as a beginner on an affiliate platform like ClickBank. And let me reveal immediately that this platform can be a good way to earn money, provided it is done right.
But a lot of people fail to do so because they believe the wrong advice and end up wasting their time.
In this guide, I will, therefore, show you what approach you need to use to succeed on this platform.
The tips I will be sharing are based on my actual experience using ClickBank and other affiliate marketing platforms. Something I have done for years, and I am now making a living from affiliate marketing.
What is ClickBank?
As mentioned above, ClickBank is an affiliate marketing platform that will allow you to earn money by promoting all kinds of products. This platform covers various niches, so you will easily be able to find the right niche for you.
And if you are new to affiliate marketing, then let me explain how it works in general.
As an affiliate, your goal is to get people to click your affiliate links. Then when those people do a certain action like buy the product being promoted through the link, you'll get a commission.
With that in mind, there are various strategies you can use to achieve your goal. But the problem is that not all of them will work. And there is a lot of poor and false information out there.
So how do you build a strategy that will help you succeed on this platform? Stick around to find out.
How does ClickBank work?
Let's first discuss how ClickBank works, so you will understand why the strategies I will recommend work. The video below explains exactly how it works. You can also read the full details below the video.
Recommended: Learn How I Have Created a 6-figure Income with Affiliate Marketing
As explained in the video, even though this platform is free to join, you sometimes have to prove you can generate enough traffic before they accept you as one of their affiliate marketers. Therefore, you have to lay out the groundwork first when you build your own website or whatever traffic source you choose.
You need to make sure your website/blog or the platform you use gets decent organic traffic at the very least. Once you've got that covered, then it would be safe to say that you've got what it takes to potentially succeed on this platform.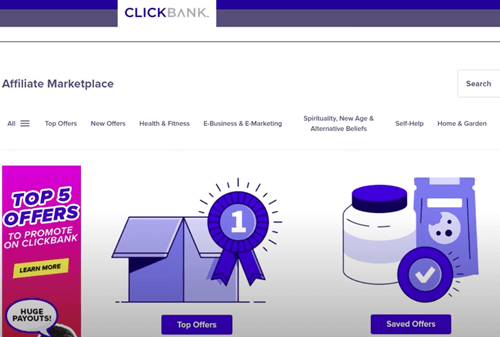 When you get accepted as an affiliate, all you have to do is log in to the member dashboard of ClickBank and go to the Affiliate Marketplace section. This is the section where you can find the different offers you can promote to earn a commission.
Now what you need to keep in mind with affiliate marketing, in general, is no matter what niche you choose, you have to be critical of the offers you choose. You need to make sure you choose an offer that is worth promoting.
In other words, the offer you choose must provide good value to your potential customers. Once you've done that, then you can weigh other factors like the conversion rate of the offer, average earnings, and how good the landing page of the offer is.
All these things can be seen in the marketplace of ClickBank, so you will have everything you need to make an educated decision on which offer/s to promote.
Earning methods to avoid
Now let's talk about the methods I definitely suggest you avoid when you promote the offers on ClickBank.
Many people promote these, for example, through YouTube videos. But the reality is that many of those creators just make content to get views and earn for themselves and "forget" to tell you how it really works.
I have found these methods to be quite ineffective, based on my experience, and, as mentioned, these are the methods that I often see other people promote or hype. Therefore, I want to go over them here so you know what to be careful of and why.
Method #1 – Using Traffic Exchange Platforms
While this method may sound appealing because you can easily drive traffic to the offers you want to promote, the problem with this method is that the traffic you are getting is more or less worthless in most cases.
You see, the people who usually click the links on these platforms are not looking to buy or avail of the offers.
They are just in there to also get traffic for their links or earn for themselves (since usually, these platforms offer rewards for clicking links). So even though you do get clicks on your links, you still won't get any conversions. Hence, you won't get any commission.
Aside from that, ClickBank also has a quality control system that essentially discourages this kind of method. When the platform sees that you've been driving thousands of clicks to an offer but you are not getting any conversions, they will see it as suspicious activity. And the result is that you risk they will not let you promote the offer anymore, so you'll just end up wasting your time.
Method #2 – Using premade email lists (aka solo ads)
Another method that is proven to be ineffective is using premade email lists that you can buy access to (aka solo ads).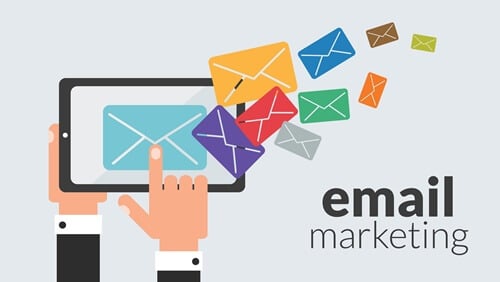 The reason why this doesn't work is that for email marketing to work, you need to have leads. If you just send emails promoting your link blindly (which is essentially what sites that use premade email lists do), it is considered spam, and you already know how spam emails end up. They just get deleted without being read.
To succeed in email marketing, you need to build a database of potential customers and establish a connection with them before you promote the offer.
These solo ads platforms bypass this stage. All they do is sell or rent you a list of emails, which they might not even have acquired legally. So it is a very risky and useless endeavor, in my opinion.
If you want to do email marketing, you have to do it the right way.
How to become successful with affiliate marketing
Now that you know which methods to avoid, it's time we discuss the steps to take to be successful when promoting offers from ClickBank or other affiliate marketing programs. The steps I will list down are based on my experience as an affiliate marketer.
Just to make it clear before we proceed, you will not make hundreds of dollars per day right away when you promote affiliate links. It's a gradual process. You need to lay down the proper groundwork. Anyone that claims otherwise is flat-out lying, in my opinion.
Step 1 – Find your niche
The first thing you need to do is to find your niche. But when doing so, you need to make sure you focus on quality.
The thing you need to consider in this step is to find a niche you have knowledge in, so you can actually provide good insight and value. The idea is to provide value to your audience by sharing useful information. In other words, your approach should be helping your audience benefit from the information you are presenting.
You need to explain why the offers you end up promoting are beneficial for the audience, and you have to be genuine as well. Once your audience realizes this, then they will trust you, and that is the first step to getting conversions.
Step 2 – Find your channel
After you've figured out your niche, the next thing you need to do is find the channel where you want to promote your offers. As a beginner, it's not a good idea to get paid traffic, in my opinion, because this strategy requires a big budget to deploy. You also need a lot of skills to try this approach.
The best way, in my opinion, is to find a channel where you can build up an audience that will be interested in the topic/niche you want to promote. This can be YouTube, a website, or even social media platforms like Instagram or TikTok. Whatever you choose to do, let me just admit that if you try it on your own as a beginner, you will most likely fail.
So after you've chosen your channel, you also need to do your due diligence. In other words, you need to do your own research on how to go about this properly. For this, you can check out the ultimate guide on how to earn a full-time income online.
This course will help you build your own channel you can use for promoting your own affiliate links.
Step 3 – Be willing to put in the continuous effort
Lastly, you need to be willing to put in the work, so to speak. No matter which niche and traffic channel you choose, if you want to succeed, you need to put in a continuous effort to fill your channel with quality content.
This is the best way to keep your audience interested in what you have to say. You have to remember that affiliate marketing is not a set-it-and-forget-it way of earning. You always have to produce quality content so that your audience will trust you and keep coming back.
And when it is done the proper way, it can really build up and start snowballing. That's when the sales come, so you can earn a decent income (perhaps even way more than a full-time income if you keep going).
Final Thoughts
As you can see, if you want to succeed on ClickBank (or other affiliate programs), you have to go through a step-by-step process that is essentially geared toward building trust with your audience. Strategies that involve instant traffic will usually not work because they do not send quality traffic.
To succeed, you need to focus on quality. You need to find a niche that you are actually knowledgeable in, so you can provide value to your audience. Then you have to find a traffic channel that you are comfortable with to promote your offers. And lastly, you need to be willing to put in the effort to provide quality content all the time.
After you've taken these steps, it will eventually build up and start snowballing. You just need to be patient and willing to do all the work. Because, after all, affiliate marketing is not a one-step process.
And as a beginner, I highly suggest you check out the ultimate guide on how to earn a full-time income online. It will guide you on how to get started as an affiliate marketer.
These are the exact steps I have used to build a great online income.
If you have any comments, questions, or you know of other ways to make money on ClickBank for free as a beginner, I would love to hear from you in a comment below.