MooCash is a mobile app that claims you can earn extra cash just by swiping and tapping.
It is indeed a tempting offer, but before you download this app, I suggest you read this MooCash review so that you will know if it is worth it or not.
It will show you the full details of what MooCash has to offer so you will know exactly what to expect from it before you even install it. Then, you can properly evaluate if it is truly worth your time or not. And let me tell you right now that there are indeed a few things you need to know about this app.
So, let's go ahead and examine what this app is all about, shall we?
What is MooCash, and what does it offer?
MooCash is a Get-Paid-To (GPT) app that will reward you for completing tasks. It is a legit app since you can really earn extra cash from it.
However, this doesn't automatically mean that MooCash is worth using. As I've mentioned earlier, there are some things you need to know about this app before you decide if you should install it or not.
And the first step is to examine the earning opportunities it offers so you will understand how the app works, and how much time and effort is needed to earn from it. So, here's how to earn from MooCash.
Option 1 – Gigs
To earn from MooCash, you'll have to complete gigs (the term the app uses for its tasks). These gigs will usually ask you to download other apps, answer surveys, watch videos, sign up for free trials, and more.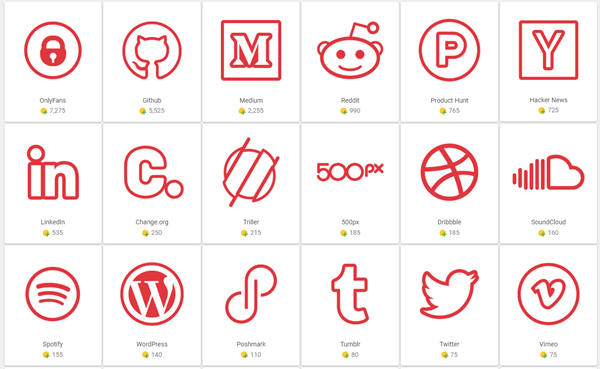 To start earning, log in to the app, and you will immediately see all the gigs available. Just pick one you want to work on and click it. You'll then see the requirements or instructions you need to follow to complete the gig. Make sure to read and understand the instructions because if you fail to do even just one step properly, you will not be able to complete the gig and earn the reward.
There are a decent number of gigs available at any given time, so you won't run out of things to do to earn. After completing a gig, you will receive coins as a reward. When you will be rewarded with coins, it will show up in your MooCash account balance. Later, I will discuss what you can do with the coins you've earned.
Option 2 – Referral Program
Another way you can earn from MooCash is through its referral program. To earn from this opportunity, you must share your referral code with the person you want to invite to join the app.
When the person you invited installs the app and goes through the registration process, they must input your referral code. Once they do that, they will receive a joining bonus, and they will become your referral. On your end, you'll receive a 10% commission for a year every time your referral redeems a reward using the coins they've earned.
The reward isn't much, plus it is only for a limited time, so it's not as rewarding as other referral programs, in my opinion. Also, MooCash isn't something I would recommend to my friends (more on this later), so this opportunity, in my opinion, isn't worth it.
Recommended: Check Out the Best Reward Apps
How do you get paid?
As explained above, you will earn coins from the earning opportunities MooCash offers. But what can you do with the coins you've earned?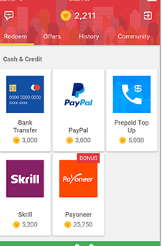 Well, you can use them to redeem various rewards like cash via PayPal, direct bank transfer, Skrill, or Payoneer. You can also redeem gift cards and prepaid mobile credits. The conversion rate for rewards is 1,000 coins to $1.
The number of coins required to redeem a reward will depend on the country you live in, but usually, it will either be 2,000 or 5,000 coins ($2 or $5). It's a relatively low threshold, but that doesn't exactly mean you'll be able to withdraw your earnings quickly (more on this in the next section).
Overall, I would say the payment system of MooCash is relatively easy. I like the fact that it offers payment via PayPal since it is one of the most convenient payment options today. If you are interested in more sites and apps that offer a convenient payment method, I recommend you also check out the top sites that pay via PayPal.
How much money can you make?
Let me tell you right now that you will not earn a lot from this app. The reason why I say this is because MooCash doesn't pay that well. You will only earn a few coins from most gigs (around 50 to 100), so it will take quite a bit of time to earn enough coins to redeem the rewards.
That makes the relatively low payout threshold of MooCash a bit irrelevant, in my opinion, because you still need to invest a lot of time just to hit the threshold and withdraw your earnings.
Overall, I would say the earning potential of MooCash is very low. So, it's not worth it in my opinion. In the section below, I will also explain the additional factors that will support this decision.
Can you use it on a desktop?
MooCash is a mobile-only platform, so you will need to use a mobile device to earn from it. The app has an Android and iOS version, but the problem is that it is not available for download on both app stores.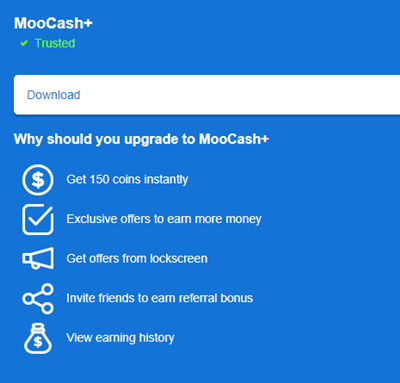 You will have to download the installer from MooCash's website and install it manually on your device.
Personally, I dislike installing apps manually because there's no guarantee that it is risk-free. Plus, installing apps manually also means you must update them manually. This can be quite annoying because you'll potentially experience bugs and errors if an app is not up to date.
That is why I only go for apps that are available for download on either app store because that also means it is following a set of requirements intended for the user's safety.
Who can join MooCash?
The site doesn't tell you exactly which countries it is available in, but from what I have observed, it is available more or less worldwide. So, you will be able to register as a member regardless of where you live.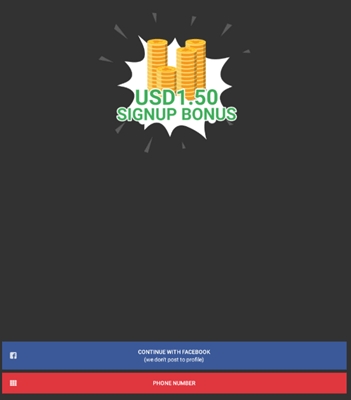 However, there's another issue with the MooCash app I encountered when I was testing it. You see, for you to register, you must first install the app manually. Then, when you open the app for the first time, you'll be asked how you want to sign up.
As the photo above shows, you can sign up using your Facebook account or mobile number. The problem is that none of the options work. If you try the Facebook option, Facebook will just say that the app doesn't have permission to access your Facebook account.
If you also try the mobile number option, the app will not be able to send you the confirmation code. I tested this using an Android device, and this is what I got. I personally wasn't able to test the iOS version since I'm not an iOS user, so I really can't say if it does the same thing on iOS.
You can sign up as a member through the app's website, but there's really nothing you can do there, so it's still quite useless. That is why the overall user experience it offers is very bad, which is also one of the biggest reasons why I wouldn't recommend this app to my friends.
Can you get support?
The site has a FAQ section that you can check out if you have questions, but it only discusses a few topics, so you will most likely not find the answers you are looking for. Now, the main problem is that the site doesn't have any contact form or even any form of contact information you can use to get in touch with the support team.
That is why I would say it provides poor support for its members. It's almost like it doesn't want to entertain any of your inquiries, which is usually a bad sign, in my opinion.
Final Verdict
MooCash is a GPT app that will let you earn for completing tasks. It has a few decent features, but it has a lot of glaring drawbacks you need to know about.
Let me end this review by summarizing its pros and cons to give you an overview of what it has to offer. Then, you can decide if it is really worth your time or not.

Pros:
Offers payment via PayPal

Cons:
Very low rewards
Doesn't provide good support
The sign-up options for the Android version aren't working
In case it's not quite clear yet, MooCash is not an app I would recommend you go for. You will only be wasting your time with this app because even if you manage to sign up as a member (which you might be able to do if you are an iOS user), it will still take quite a lot of time to earn a decent amount.
You are better off investing your time in sites or apps that offer better earning potential and user experience. This is why I would recommend you check out the top survey and GPT sites in your country instead.
The sites and apps on this list all have good earning potential, so you will be able to earn a decent amount in no time. Plus, you will not encounter any issues when signing up.
If you have any comments, questions, or have any experiences with MooCash yourself, I would love to hear from you in a comment below.