Are you looking to earn a few extra dollars easily and quickly? There's a site called MyEarn.com that claims you'll be able to do so. All you have to do is sign up.
Now, the question is, is MyEarn a scam or is it really legit? You want to make sure it will really pay you before you sign up.
That's why I've decided to join and test it and make this MyEarn review to help you figure out if this site does what it claims to do. This review will also reveal the truth about everything the site has to offer so you can determine if it is really worth joining or not.
So, let's get this review started, shall we?
What is MyEarn and what does it offer?
MyEarn.com is a GPT (Get-Paid-To) site that promises to pay you for participating in different earning opportunities. It is indeed a legit GPT site because it will really allow you to withdraw all your earnings.
However, that does not necessarily mean it will be worth your time – but this review will help you figure this out.
And speaking of earning opportunities, let's now examine every earning opportunity MyEarn offers. That way, you will understand how the site works and how well you can earn from it.
So, here's how to earn from MyEarn.com.
Option 1 – Survey campaigns
One way to earn from MyEarn is by participating in their survey campaigns.
If you've been a member of other GPT sites before, you'll be familiar with this opportunity. It's actually just paid surveys. They just added the word campaign because that's their term for the earning opportunities they offer.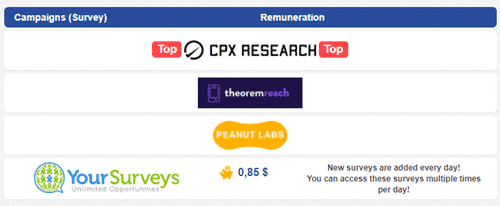 Now, as shown above, MyEarn doesn't really offer their own surveys. Instead, they partner up with other survey providers to provide members with surveys.
One advantage with this kind of set up is, you don't have to register as a member for these survey providers. You can just choose which survey provider you want to work on and provide a bit of basic information.
Then, you'll have to answer a set of qualifying questions. If you qualify, you get to answer the real survey. And once you finish the survey, you will receive the reward promised.
If you fail to qualify, you simply move on to the next survey provider and repeat the process all over again. That's all there is really to it.
Now, when I did my testing, it took quite a while to qualify for a survey. So, you definitely need to be patient with this opportunity because you won't always qualify.
Option 2 – Offerwalls
Another way to earn from MyEarn is by working on their offerwalls. If you are not familiar with this term, offerwalls are basically in-site advertising platforms that promote certain websites and mobile apps using paid offers/tasks.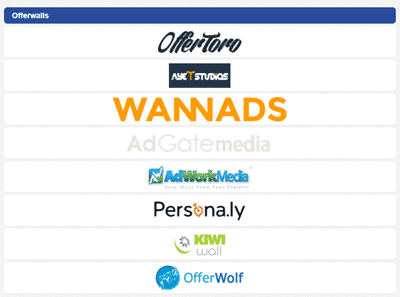 Think of it as a bulletin board for paid tasks. These so-called paid tasks will ask you to either answer a survey or quiz, play a game, sign up for a website, download a mobile app, or watch videos. So, there's quite a variety of things you can do to earn rewards from offerwalls.
Now, as shown in the photo above, they do offer popular offerwalls like Wannads, AdGateMedia, and Offertoro. But overall, the number of offerwalls available is quite low.
When I was testing the site, there were only 8 offerwalls available which is a far cry from the normal 20 or 30 offerwalls I've seen on many other GPT sites.
Why does this matter though? Well, the number of offerwalls available can impact your overall earnings. Later on, I will explain this in more detail.
Now, to work on an offer from their offerwalls, all you have to do is choose which offerwall to work on and click it. You will then see a list of paid offers you can do on that offerwall.
When you click on an offer you are interested in doing, you will then see the set of instructions you need to follow to complete the offer. Make sure to take note of every instruction given because if you miss even just one step, you will not be able to complete the offer and you will not earn anything.
So, before you do a paid offer, make sure you understand everything it is asking you to do.
Option 3 – Referral program
Lastly, you can also earn bonus rewards by inviting other people to join the site. GPT sites call this a referral program.
Basically, the premise is, you invite people to join the site and once they sign up, they will become your referral. You will then receive some sort of reward.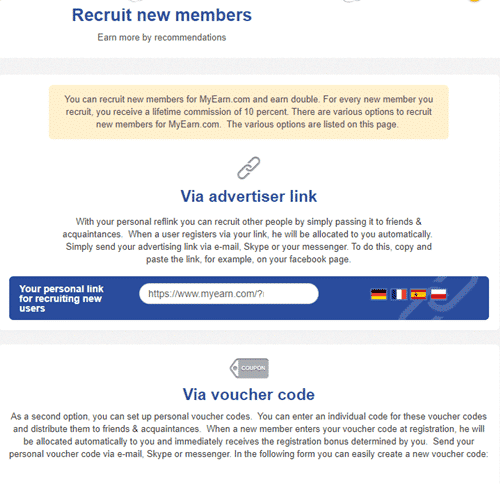 In MyEarn.com's case, you can invite people by sharing your advertiser link or a voucher code. If you share your advertiser link, when a person clicks it and signs up as a member of MyEarn.com, they will become your referral.
If you promote the site using your voucher code, you have to remind the people you invite to input your voucher code during registration so that MyEarn will recognize they are your referrals. Both methods are designed to help promote the website.
The one key difference is, if you use the voucher code method, you'll have to fund the voucher code with a certain amount which will be deducted from your account balance. You see, when your referral inputs your voucher code, they will actually receive the amount you've set on the voucher code.
So, it's a more expensive way to invite people. That's why if you want to be cost efficient, you can just use your advertiser's link or you can do the less popular way of placing an invite banner on your website (if you have one). If a person clicks that banner and registers as a member, they will become your referral.
As for the compensation you will get, you will receive a 10% commission every time your referral will earn something on MyEarn.com. This is a lifetime commission as well, so it won't expire.
The commission rate is pretty decent, which makes it a somewhat rewarding to spend a bit of time inviting other people to join the site.
But you have to make sure the people you invite are really interested in earning from the site. Otherwise, you won't earn anything and you'll just be wasting your time.
Recommended: Check Out the Top GPT Sites
How do you get paid?
Every survey or paid offer you complete on MyEarn will earn you coins. This is the currency the site is using. Now, to withdraw your earnings, you have to convert your coins to money ($).
As you can see in the photo above, the conversion rate for their coins is 1,000 coins = $1. So, it takes a thousand coins just to earn a dollar.
Now, once you've converted your coins to actual money, you can then withdraw them via PayPal or direct bank transfer, but only if you reach their payout threshold of $5.
Their threshold is actually quite low, which is a good thing because it is definitely achievable. You won't have to wait that long to withdraw your earnings. But later on, I will explain what the real deal with its earning potential is.
I do like the fact that they offer payment via direct bank transfer as well as PayPal. Those are, in my opinion, the two most convenient payment methods available today.
If you are looking for more sites that offer convenient payment methods, I would recommend you check out the top sites that pay via direct bank transfer.
How much money can you make?
As I've mentioned earlier, MyEarn doesn't offer a lot of offerwalls. So, the overall earnings will be significantly affected.
While the site does pay a decent amount for every survey or offer (around $0.2 to $0.5 per survey and $0.1 to $0.4 per paid offer), there simply aren't a lot of surveys and offers available, especially when you compare it with other great GPT sites. So, it will take some time to earn a decent amount from this site.
That's why I would say the earning potential of this site is relatively low. So, even though it has a low payout threshold, it will take some time before you can actually withdraw your earnings. This actually makes the low payout threshold quite irrelevant.
Can you use it on mobile?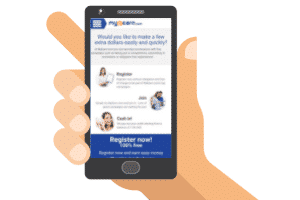 MyEarn doesn't have a mobile app you can download, but you can still access their site from a mobile device using a web browser. And fortunately, their site is mobile-friendly. So, you will easily be able to navigate on the site.
You also don't have to zoom in just to read all the content. This can come in quite handy when you are working on offerwalls that will require you to download mobile apps because you will really be forced to do it on a mobile device.
And if you want to maximize your earnings from this site, you will really want to take advantage of this opportunity. That's why it helps a lot if you can do it conveniently on your mobile. It adds to the overall usability of the site, in my opinion.
Who can join MyEarn?
MyEarn is available worldwide. That means you can sign up as a member regardless of where you live. All you have to do is fill out their registration form (refer to photo below). You can also just sign in using your Facebook account.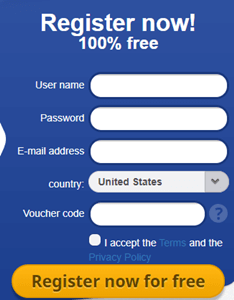 Once you've completed the sign-up form, the site will send you a confirmation email. Simply click the activation link in the email to complete the registration. Once you've done that, you can now log in to the site and start earning.
But one thing you need to take note of is that while this site is available globally, the availability of surveys and paid offers will still depend on your location. That's just how it is.
There are some countries where you'll receive plenty of opportunities to earn, while there are some countries where the opportunities are few and far between.
Can you get support?
If you have any questions about MyEarn, you can check out their FAQ page first. It discusses some of the basics of the site. However, I did notice a few outdated pieces of information displayed (like regarding the rewards for their referral program, it doesn't match what it says on their actual referral program page).
So, if you really want to clarify something, I would suggest you contact their support team instead. You can either chat with them or you can send them an email using the contact form provided on their website.
I personally prefer the contact form since it is a more organized way of getting in touch with their support team.
Overall, I would say they have a decent support system in place for their members. I just wish all the information on their FAQ page were up-to-date to avoid any confusion down the line.
Final Verdict
MyEarn is a legit GPT site that will reward you for participating in the earning opportunities it offers. It certainly has a couple of good features but it also has some limitations you need to be aware of.
Let me summarize its pros and cons to wrap up this review. It should give you a better overview of what the site has to offer so you can decide if it is really worth joining or not.

Pros:
Offers payment via PayPal
Has a low payout threshold
Available globally

Cons:
Limited earning opportunities offered for a GPT site
Not very high rewards
The site doesn't really have a lot of cons, in my opinion. But the one glaring disadvantage of MyEarn is, for a GPT site, it doesn't offer a lot of ways to earn. Typically, with GPT sites, you won't run out of ways to earn. That's one of the main strengths of GPT sites.
But with MyEarn.com, the opportunities are quite limited. So, it's kind of hard to earn rewards at a steady pace. That's why I would only recommend you join this site if you absolutely need to join another GPT site. There are simply far better options out there.
And speaking of better options, I would recommend you check out the top survey and GPT sites in your country instead. The sites on this list all have good earning potential and you will definitely find a site you can join where you can earn rewards on a regular basis.
If you have any comments, questions, or have any experiences with MyEarn yourself, I would love to hear from you in a comment below.