If you want to make some extra money from your phone, then how about getting paid every time you drive WITHOUT using your phone?
Yes, you read that right. There's an app called OnMyWay that claims you can earn simply by driving without using your phone. It definitely sounds like an appealing offer, right?
But is OnMyWay really legit and a way to earn or a scam to stay away from?
This is always important to check before joining an option that almost sounds too good to be true.
This OnMyWay app review will give you all the details so you know exactly what the app has to offer so you can easily figure out if it really is as easy and great as it sounds like at first.
That way, you'll know what to expect before you even start using it. Then, you can decide if it is really worth it or not.
What is OnMyWay and what does it offer?
OnMyWay is indeed a unique app and you will understand later why when I explain the earning opportunities it offers.
Now, as to the question of whether the app is legit or not, the answer is yes, it is indeed a legit app since it will really reward you.
The next question that needs to be answered is, is it worth using? To answer that query, there are a few things we must consider. And the first thing we need to take a look at is the app's earning opportunities.
That way, you'll gain a clear understanding of how the app works and you can also get an idea of how well you can earn from it.
So, here's how to earn from OnMyWay.
Option 1 – Driving
Yes, you read that right. You will be paid to drive. And yes, there's a but. In order to earn from driving, you will have to stay away from your mobile phone while driving.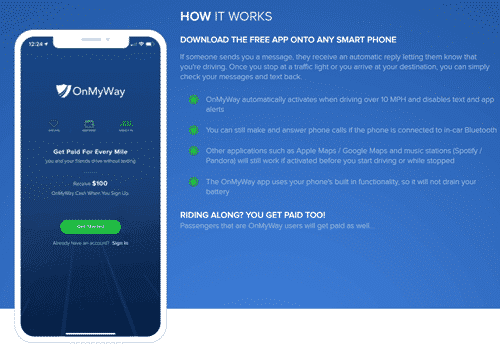 You see, the app will reward you with $0.05 for every mile you drive, and don't use your mobile phone where the app is installed. But how will the app recognize that you are driving? Well, the system's AI will be able to detect if you moving more than 10 miles per hour.
When it detects that, it will start tracking the distance you've traveled. But what if you are just a passenger? Well, you can still earn provided you don't use your mobile phone.
To start earning, you have to first install the app. Then, you have to grant permission to it for control of your mobile device when you start using it.
Then, all you have to do is enable it before you start driving. The good thing about the app is, you can still make phone calls through the Bluetooth connection in your car. But if you will be using the phone, then you will stop earning.
If you are using music apps like Spotify or Google Maps (or any other map app), you have to open it before you enable the tracking. It will still work. So, you can still use your phone for functions that can be quite useful when driving.
When you are done driving, you just have to disable the app from tracking so you can use your mobile phone normally. That's all there is to it. And I like the fact that the app itself actually helps promote safety on the road since you won't be texting or using your phone while driving.
Option 2 – Referral program
Another way to earn rewards is to participate in their referral program. All you have to do is invite other people to join their platform by sharing your invite link. Once the person you invited clicks the link and registers, they will become your referral.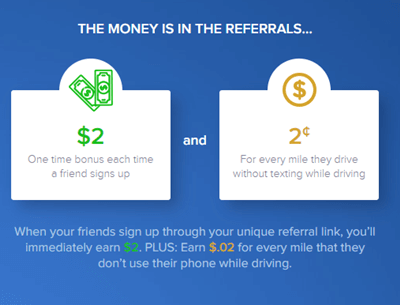 After they finish signing up, you will receive a $2 reward. Aside from that, you will earn $0.02 for every mile they drive without using their mobile phone.
It's not much but it's a passive form of earning. So, you take it where you can get it, in my opinion. Plus, convincing someone to use this app, will be quite easy, in my opinion, as it offers some great benefits.
Recommended: Check Out the Best Passive Income App
How do you get paid?
Now, let's talk about the most important part of the app. As you already know, you will earn a certain amount for every mile you drive and not use your phone. But what can you do with your earnings? Can you withdraw them?
This, in my opinion, is where the app falls short. Their website keeps mentioning you can earn cash, but the app actually doesn't offer any option for you to withdraw your earnings to your PayPal account or even bank account like many other apps do. So, what can you do with your earnings?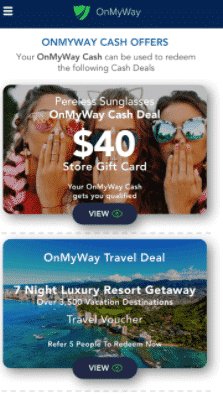 Well, you can use them to claim deals which mostly will just allow you to get discounts from certain establishments. However, these deals are actually quite limited. From what I can tell, only a maximum of 200 people can claim most deals before all spots will be taken.
After that, you won't be able to claim it anymore and you'd have to look for another deal or offer. The threshold of the deals and offers you can claim will depend. Sometimes, you will need to earn at least $40 (which is quite high, in my opinion), while other times, it will only be $20. It will all depend on what type of rewards are currently being offered.
Overall, I would say their payment system is relatively straightforward. But it is fairly limited, in my opinion. It would still have been better if they offered a way for you to withdraw actual cash.
For a list of sites and apps that pay in cash, I would recommend you check out the top sites that pay via PayPal instead.
How much money can you make?
The amount you can earn from OnMyWay will depend on how often you drive. If you drive to work every day, then you will eventually be able to earn decent money from it. But if you just drive occasionally, you can't expect to earn a significant amount in a short time.
Their rate of $0.05 per mile isn't that bad, in my opinion. Plus, it takes little effort to earn, so that's always a huge bonus. You just go about your normal routine and just don't forget to enable the app before you start driving.
I would say the earning potential of OnMyWay is decent. And if you drive a lot, you can earn quite nicely from it.
Can you use it on a desktop?
Due to the nature of the earning opportunity it offers, you will have to use your mobile phone to earn. So, to answer the question above, no, you can't.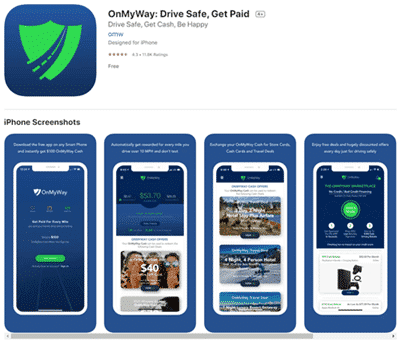 As for their app, it is available for both Android and iOS devices. So, you won't encounter any compatibility issues.
The app is very easy to use. You won't have a hard time getting used to how it works. The overall user experience it offers is pretty decent, in my opinion.
Who can join OnMyWay?
OnMyWay is only available in the US. So, if you live somewhere else, then this app is not for you. You also have to be at least 18 years of age to register as a member.
To sign up, you have to first install their app. Then, you have to go through the registration process. At some point, you will be asked to scan your driver's license. They require this to filter people who are just commuting because, in theory, the app won't be able to discern if you are just riding a bus or cab, or you are really driving.
So, checking your driver's license is their way of verifying that you indeed drive. Once you've done that, you are now a verified member of OnMyWay and you can start earning.
Can you get support?
If you have any questions about the app, you can check out their website. It does a good job of explaining what the app can do. It doesn't have a FAQ page on their site, but as I've mentioned, you don't really need it.
Their website has a dedicated page explaining everything the app does. Now, if you have any questions or if you encounter technical issues, you can message them on any of their social media pages. The links can be found at the bottom of their website. You can also use the support section on their app to get a hold of their support team.
Overall, I would say the app has a decent support system in place for their members since they offer several ways for you to get in touch with their support team.
Final Verdict
OnMyWay is technically a GPT (Get-Paid-To) app that will pay you for driving while you are not using your phone. It has a couple of good features but it also has some limitations you need to consider.
Let me end this review by summarizing its pros and cons so you can get a clear overview of what the app has to offer. Then you can decide if you should really use it or not.

Pros:
Offers a unique and interesting way to earn
Their app is user-friendly
It helps promote safety on the roads

Cons:
Limited earning opportunities offered
Limited payment options offered
In my opinion, if the app offered a payment method where you can withdraw your earnings via PayPal or bank transfer, then it could be a good way to earn extra cash. That, in my opinion, is what really holds the app back.
Sure, you can earn easily. The problem is, what are you going to do with the rewards you will earn? I can't really say the deals and offers they provide are that useful. So, you will end up having to wait a long time to find the right deal or offer, which is really equivalent to just a long wait time for receiving rewards.
But if you are okay with that, then, by all means, you can go ahead and download the app. Otherwise, I would instead suggest you check out the top survey and GPT sites in your country. The sites and apps on this list all have good earning potential and most (if not all) of them offer cash rewards.
Plus, you will definitely find a site (or app) you can join regardless of where you live.
If you have any comments, questions, or have any experiences with OnMyWay yourself, I would love to hear from you in a comment below.