Opinion Champ is a survey site that promises to pay you for completing the surveys they offer.
It is a relatively new survey site. So is Opinion Champ legit or a scam site to stay away from?
Let's get this out of the first so we can focus on the details of the site.
Yes, Opinion Champ is a legit survey site. It does pay you for completing their surveys and other activities. But is it worth your time though?
This is the next most important question that needs to be answered. This Opinion Champ review will be geared towards answering that question.
After reading this review, you will know exactly what to expect and if this survey panel is a good fit for you or not.
What is Opinion Champ and what does it offer?
As already mentioned, Opinion Champ is a survey site that will pay you for completing surveys and other activities.
This survey panel is owned by Quest Global Research, a market research company that also has other survey panels.
This survey site is relatively straightforward with what it has to offer. Now, in order to understand if it will be worth it, we need to take a look at how you will be able to earn from this site.
So, here are the earning opportunities on Opinion Champ.
Option 1 – Opinion Champ Surveys
The main source of income on this survey panel will come from answering paid surveys.
Once you complete the registration, you will be able to log in to their member dashboard and view all the surveys you can take.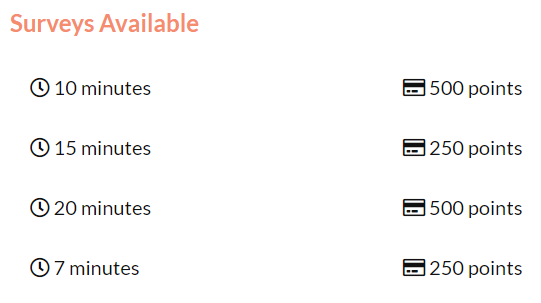 However, before you can expect to receive any invites to answer surveys, you will have to complete your profile first.
Your profile consists of nine sections. You need to complete each section to maximize your chances of receiving survey invites because remember, the goal here is to receive as many invites as possible.
Once you receive an invite, all you have to do is click on the offer and you will be taken to a new window that will start the survey answering process.
Before you get to the actual survey, you will have to answer a set of qualifying questions to ensure you are really included in the demographic the survey is targeting.
Opinion Champ will let you know if you qualify for the survey as soon as you finish answering the qualifying questions. If you qualify, you get to answer the actual survey. If you don't qualify, you simply move on to the next offer.
Once you complete the survey, you will receive the reward promised (more on this later).
Some of the survey offers will ask you for more elaborate answers, while some will consist of multiple-choice questions. Most of the surveys they offer will take around 10 – 20 minutes to complete.
They also offer music surveys where you will be asked to rate short music clips played on radio stations near you. That can be a fun survey to answer, in my opinion.
So some of the surveys you can find on Opinion Champ are a bit different than the surveys you can find on most other survey sites.
As you can see in the image above, you can see right away how much you will get for each survey. Just be aware that some of the surveys are from Opinion Champ's partners so you will be taken to a different site to complete the survey but will still get the reward into your Opinion Champ account.
This means there are quite a lot of surveys available on a regular basis, but it also means that it can take some patience to find the ones you qualify for.
Also, the rewards for the time spent is quite low compared to what you get on many other survey sites.
Option 2 – Product Reviews
The other way to earn rewards from this panel is by doing product reviews.
With product reviews, you get to try the newest products and then let them know what you think. The product will be delivered right to your door, so you won't have to do anything aside from waiting for it to arrive.
Once you receive the product, you have to follow the instructions provided in order to get the reward promised.
There isn't much information on this earning method on their site, but I'm guessing you will usually be notified via email if there is an opportunity for you to do a product review.
This is usually how product reviews work, in my experience. After you've tested the product, you have to either send your feedback online or through the mail. Regardless of which method it is, this is the most important part of the process.
Overall, it is a pretty simple process, and a fun one to boot. Not only will you receive rewards, but you get a free product as well.
How do you get paid?
For every survey you complete, you will be rewarded with points. This is how the payment system of the Opinion Champ panel works.

Once you reach 12,500 points, you can cash out via PayPal. This is the only mode of payment they offer.
Although it looks like one mode of payment isn't enough, the fact that having PayPal as a payment gateway makes it possible for you to withdraw your earnings in cash easily makes it very convenient.
After all, this is the most used and most convenient payment gateway available today for survey sites, in my opinion.
However, there isn't any information on their site about how much in terms of actual money is the equivalent of 12,500 points. The lack of information is a general problem on Opinion Champ, in my opinion.
But I have been able to find out that 1,000 points are worth $1. So you need $12.50 to be able to withdraw your earnings. It is a relatively low payout threshold but since the reward per survey is also quite low, you still need some patience to reach the threshold.
How much money can you make?
In order to earn a decent amount of money on any survey site, you have to receive a good number of survey invites. The more surveys you get to complete, the more rewards you will earn.
But, it doesn't stop there. The actual number of surveys you can qualify for will also matter. After all, if you get disqualified for a survey, you won't earn the reward.
The last thing that will factor in the earning potential of a survey site is the reward you will get for a completed survey. No matter how many surveys you complete, if the reward per survey completed is low, you will still not earn a lot.
Now, in order to receive survey invites, as mentioned, you have to make sure you complete your profile. So, take the time to answer all the 9 sections of your profile.
To increase your chances of qualifying for a survey, you have to make sure you answer the survey as soon as you receive the invite. This is because most survey offers have a limit to the number of respondents who can participate in the survey.
If the maximum number of respondents is reached, any succeeding members who submit their answers will just get disqualified.
The best way to answer a survey as soon as you receive the invite is if you do it on your mobile device, which I will discuss next.
But overall, you should not expect to earn too much from Opinion Champ. It can make you a bit of extra cash, but it will not be one of the fastest survey sites to earn on.
Can you use it on mobile?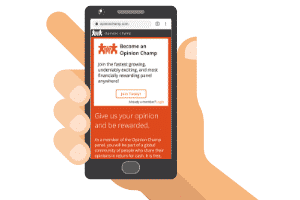 They pretty much make it quite clear on their website that you will be able to complete survey offers using your mobile device.
However, you won't be able to do it using an Opinion Champ mobile app. They don't have that. Instead, you can access their website from your mobile device using a mobile web browser.
Their site is mobile-friendly, so you can view all the content properly. Most of the survey offers they have are also mobile-friendly.
This significantly increases your chances of getting to the surveys first because you don't have to sit in front of a computer to work on survey offers.
Who can join Opinion Champ?
The Opinion Champ panel is only available for people living in the US or Canada.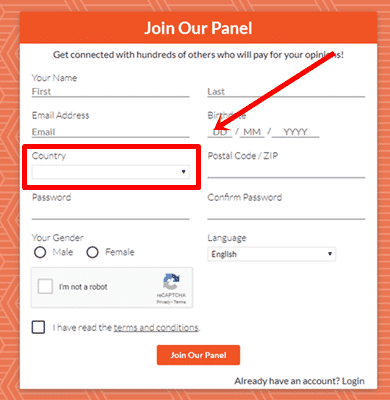 During the registration process, these are only two options you can choose in the country field, Canada and the US.
Again, not much is mentioned on their site about the requirements for being eligible to join their panel.
However, since they are using PayPal as their mode of payment, that means you have to be at least 18 years of age in order to register.
This is because that is the minimum age required to sign up for a PayPal account.
And in my experience, only one member per household is allowed to join their site. This is usually the case with most survey sites. But again, I really can't confirm it because of the lack of information on their site.
If you are interested in more survey sites from the US, I suggest you check out the top survey sites in the US as well. And if you live in CA, you should check out the best sites in Canada
Both countries have some of the best opportunities when it comes to earning by taking surveys, so if you live there, the sites on the lists through the links above will show some great options.
Can you get support?
Seeing as the most glaring issue of the site is the lack of relevant information, you will most likely have questions that need to be answered.
Their site doesn't have an FAQ section nor a Terms and Conditions page, which are pretty much standard pages for most survey sites.

So, if you have any questions, you will have to use their contact form, which can only be accessed when you log in to their member dashboard.
So, if you are not a member of their site, you won't be able to inquire, unless you register.
It's a decent way of getting in touch with their support team, but it could use more work. In my opinion, not having the two important pages mentioned above can really be detrimental in enticing people to join their panel.
And, being able to contact them without having to log in to their site would be much better, in my opinion.
Final Verdict
Opinion Champ is a legit survey site that does pay you for completing their surveys and product reviews. It's a pretty easy survey panel to use, but it has some flaws as well.
To help you decide if this survey panel is a good fit for you or not, let's finish this review with a list of its pros and cons.

Pros:
Payment method is pretty convenient
The site is mobile-friendly
Their registration process is fairly straightforward

Cons:
The site lacks relevant information
The way they provide support needs more work
Low rewards per survey
All in all, Opinion Champ is a pretty decent survey site to join if you live in the US or Canada. However, they do need to be more transparent about what they can offer.
Information like who is eligible to join, how much is their payout threshold and other common topics should be readily available. This would make it easier for you to decide if they should join or not.
In my opinion, it is a big flaw to not have such important information easily available and that makes it a lot less user-friendly.
So if you are looking for more user-friendly sites, or if you don't live in the US or Canada and are looking for survey panels to join, I suggest you check out the top survey sites in your country instead.
The survey sites on this list all have good earning potential. Plus, they are more transparent with what they can offer.
If you have any comments, questions, or have any experiences Opinion Champ yourself, I would love to hear from you in a comment below.