If you are looking for a site you can join to earn extra money, there is a site called PaidSurveysGPT.com that promises you will be able to earn by completing various online activities.
But before you go ahead and sign up for this site, there are a few things you need to confirm first like whether this site is a scam or is it a legit opportunity to earn extra cash? Let me answer this right away because this is a very important concern.
No, PaidSurveysGPT.com is not a scam. It is a legit Get-Paid-To (GPT) site that does what it promises, which is pay you for completing the activities they offer. But is it worth joining though? That's another story.
And to answer that question, there are a few things we have to consider. This PaidSurveysGPT.com review will show you what to expect before you even join so you can decide if it is really a site worth your time or not.
What is PaidSurveysGPT.com and what does it offer?
The name of the site is actually a combination of two types of online rewards sites (survey and GPT sites).
But, this is actually more of a GPT site rather than a survey site. This is because a GPT site typically offers various types of earning opportunities, whereas survey sites usually only offer one type of opportunity (answering surveys).
That being said, the site will undergo a major change to its format to become more of a survey panel rather than a GPT site.
But regardless of what kind of online rewards site it is, the fact still remains that you will be able to earn from it.
As to how well you can earn, we have to take a closer look at the earning opportunities it offers so you can get a clear picture of its earnings potential.
So, here's how you can earn from this site.
Option 1 – Paid offers
Since it is a GPT site (as of the writing of this review), you will mainly be able to earn by completing paid offers. These are short tasks you can do to earn rewards.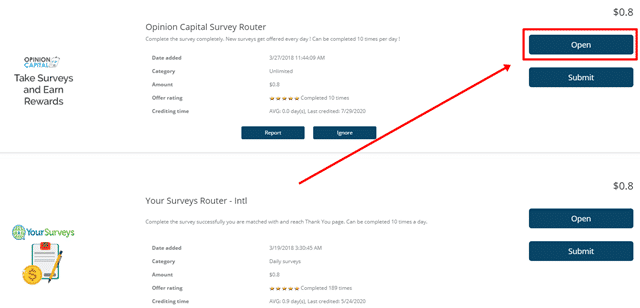 In this site's case, most of the paid offers available will ask you to answer surveys from other survey sites or survey routers. To complete a paid offer, simply click the Open button (refer to the photo above). It will then open a new browser tab that will take you to the site hosting the offer.
Simply follow the instructions provided to complete the offer. If an offer will ask you to answer a survey, you will have to go through a qualification process first before you will be able to take the actual survey.
Answer all the qualifying questions. If you qualify, you get to answer the actual survey. If you don't, the process stops there and you simply move on to the next offer. Once you are able to complete the actual survey, go back to the paid offers page and click the Submit button for the specific offer.
PaidSurveysGPT.com will then review your submission and once they see everything is in order, you will receive the reward promised for the offer. For other types of offers, you have to do the same thing. You have to submit your work once it is done.
So, don't expect to receive the reward right away. Also, before you submit – make sure that you understood and completed everything the offer wanted you to do. Otherwise, your submission will be denied and if you do this often, your account will be banned. So, you have to be very careful when submitting the offers.
Option 2 – Offerwalls
By definition, offerwalls are "in-app advertising units that app developers use to monetize their apps".
On GPT sites though, offerwalls also offer non-app opportunities. And in PaidSurveyGPT.com's case, you will find offers on their offerwalls that will ask you to do different things.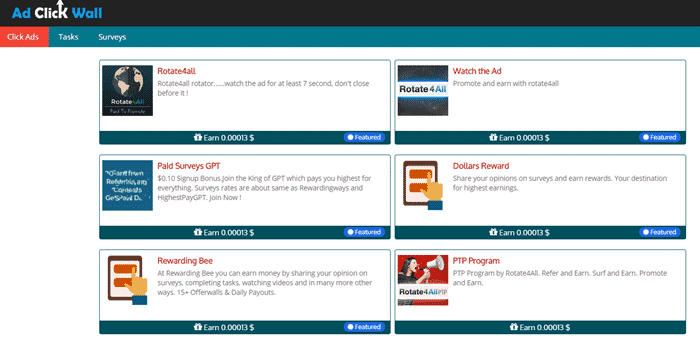 As you can see in the photo above, some offers will ask you to sign up to a site, answer a survey, view an ad, download apps, and a lot more. Completing an offer is a lot similar to their paid offers. You click on an offer you like and follow the instructions provided.
The big difference is, you won't have to do any form of submission like you would for their paid offers.
Once you complete an offer on their offerwalls, it is considered submitted. For some offers, the reward will be credited to your balance immediately, while for some, it will take some time to be credited.
It will all depend on the type of offer you complete. Normally, the offers that will ask you to view ads are the fastest to be credited to your balance and the survey offers take longer.
Option 3 – Referral program
Lastly, you will be able to earn bonus rewards by inviting other people to join the site. This is called a referral program and is typically found on most online rewards sites.
To invite someone to join the site, you can share your invite link with them or embed your invite banner to your site or blog (if you have one). Once they sign up to the site using your link or banner, they will become your direct referral.
You will then receive a 10% commission for every offer they complete. The commission will be shouldered by the site and will not be deducted from your referral's earnings.
So, when you invite someone, make sure that they are really interested in working on the site so you will receive a commission.
How do you get paid?
Most of the offers you will complete on this site will reward you with a certain amount. Once you've earned $2, you will be able to withdraw your earnings.
If you live in India, you have the choice to withdraw it via PayTM or PayPal. If you live elsewhere, you can only withdraw your earnings via PayPal.

Now, for other offers, specifically on the offerwalls, you will earn points instead of a certain amount. The points you've earned can be converted into cash at a conversion rate of $1 = 100 points.
The good thing about their payment system is, they do not charge any fee when you withdraw. They will send you the full amount.
I also like the fact that they have a low payout threshold. It's very easy to reach. If you are interested in more sites with a low payout threshold, I recommend you also check out the fastest paying sites.
How much money can you make?
The earning potential of a GPT site is mostly influenced by how well they pay since they typically offer plenty of earning opportunities. So, you won't run out of ways to earn. The only question is, will you be able to earn a decent amount at without spending too much time?
With PaidSurveysGPT.com, their offers do reward you a decent amount. Most of their paid offers will reward you around $0.5 to $1, with survey offers paying the most. But keep in mind that in order for you to earn from surveys, you have to qualify first.
And in my experience, you need to be a bit patient because qualifying won't always be possible. Their offerwalls pay a little less than their paid offers, but they are easier to complete.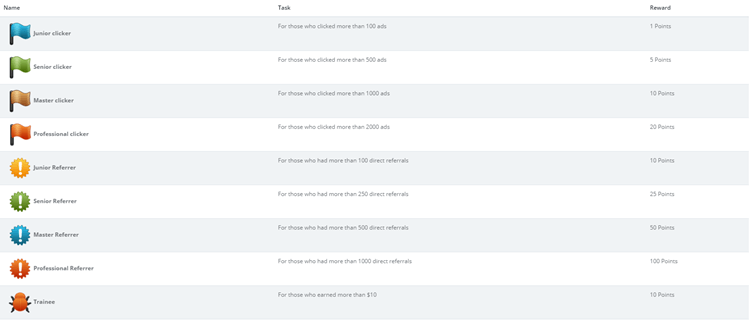 They also have a bonus system where you earn additional points if you reach a certain milestone on their site. The bonus you receive won't be that significant but it does help a bit to increase your earnings.
But overall, their rewards are well within the industry standard and there are plenty of offers you can do to earn rewards.
You just have to be more patient if you want to earn a significant amount. So, in this respect, I would say their earning potential is not that bad, but it's not that good either.
Can you use it on mobile?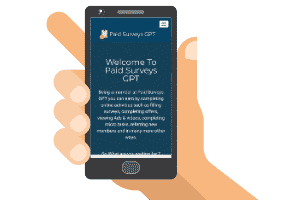 PaidSurveysGPT.com doesn't have a mobile app. So, if you want to work on it from a mobile device, you will have to use a web browser. The good thing is, their site is mobile-friendly. So, you will be able to easily and conveniently use the site.
You won't have to zoom in to click the links or read the content clearly. This is a good sign because it means they made careful considerations to ensure that the mobile users won't have a hard time using their site.
Plus, it also helps you become a more efficient earner because you don't have to sit in front of a computer to earn. You can just log in to the site anytime and anywhere, provided of course, your mobile device has an internet connection.
Who can join PaidSurveysGPT.com?
Another good thing about the site is, it is available globally. You will be able to sign up as a member regardless of where you live.
On their site, they say you have to be at least 13 years old to sign up, but considering that they use PayPal as their main payment method, I suggest you only sign up if you are 18 years old or older.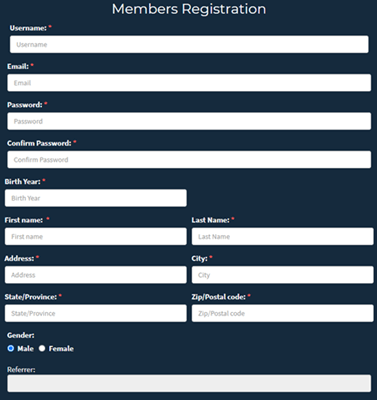 To become a member, you just have to fill out their sign-up form. After you've completed the form, they will send you an email containing your activation link. Simply click on the link and your registration is completed. You can then log in to the site and start earning.
Can you get support?
The site does offer decent support for its members. You have access to an FAQ page that discusses most of the basic topics you need to know about the site. You can read that first before you start working on the site.
If you have any questions about the site that the FAQ page can't answer, you can use the contact form provided on their support page to send in your inquiry. Or, you can also just email them at affiliates@paidsurveysgpt.com.
Notice of Site Changes
When you first log in to the site, you will immediately be greeted with a notice of the impending changes that will happen on PaidSurveysGPT.com.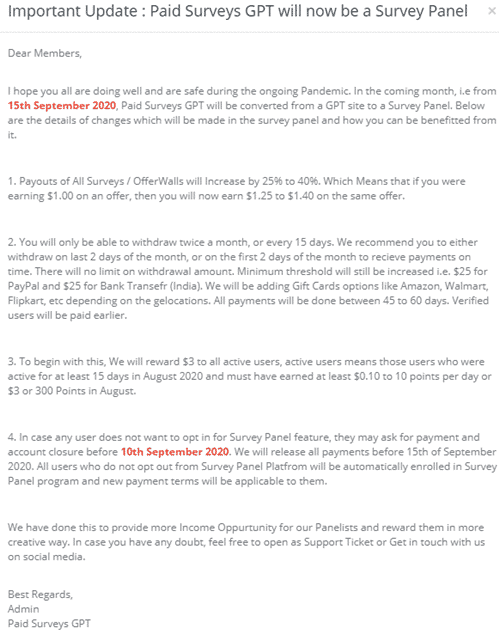 As you can see in the photo above, the site will become more of a survey panel rather than a GPT site.
As to why the need for change, they really do not explain it. But regardless, expect that you won't find any paid offers or offerwalls when the changes have been rolled out.
The threshold will also be much higher ($25) but there will be additional reward options like gift cards.
They do say that they will pay you more for every survey you complete, which hopefully, makes it easier for you to reach the high threshold.
But only time can tell – I will keep an eye on it an see how it develops once the changes have fully rolled out.
Final Verdict
PaidSurveysGPT.com is a legit GPT site that will pay you for completing the activities they offer. It has several good features but it also has some things you need to consider before joining.
So, let's end this review with a summary of its pros and cons and my recommendation. Hopefully, it will be able to help you with your decision.

Pros:
Low current payout threshold
Offers payment via PayPal
Available globally
Has plenty of offerwalls

Cons:
Will undergo a major change
Threshold will be much higher when the changes take effect
Unknown how good the options will be after the promised changes
As of the writing of this review, I would say that PaidSurveysGPT.com is a decent secondary site to join if you need additional sites to earn from. It offers decent rewards and there are plenty of ways to earn. It also offers a convenient payout method.
But when the changes take effect, the threshold will be much higher. So, it will take a bit longer before you can withdraw your earnings. So, you'll need to be very patient with this site, especially since they will become a survey site.
That means there will be fewer ways to earn. That's why I recommend you wait a bit longer before you decide to join this site. Wait for the changes to take effect and see if the changes are still favorable for you.
But if you are looking for sites that you can join now, I would suggest you check out the top survey and GPT sites in your country instead.
The sites on this list all have good earning potential and you will be able to find a site you can join regardless of where you live.
If you have any comments, questions, or have any experiences with PaidSurveysGPT.com yourself, I would love to hear from you in a comment below.