Are you looking for a side hustle? If so, then there's a site called PeoplePerHour that claims you'll be able to find online jobs that will pay you a decent amount.
But is PeoplePerHour a scam or is it legit?
I've decided to test it out to see if it is really what it is cracked up to be since I'm always on the lookout for new opportunities to earn extra money online. I will share everything I have learned about the site in this PeoplePerHour review to help you determine if it is a site worth joining or not.
That way, you can save a bit of time and just decide if you should go for it or not after reading this review. So, without further ado, let's go ahead and take a closer look at PeoplePerHour, shall we?
What is PeoplePerHour and what does it offer?
PeoplePerHour is a freelance site that offers various ways for you to earn extra cash. And when I say various ways, what I really mean is various jobs. It is indeed legit because you will really be able to earn extra cash from this site.
But before we talk about whether or not it is worth it, let's first discuss how you'll be able to earn from it so you can gauge how much time and effort the site will require from you. So, here's the earning opportunity PeoplePerHour offers.
The earning opportunity – Offers
The only way to earn from PeoplePerHour is to work on jobs. But, compared to other freelance sites, PeoplePerHour works a bit differently. That's because instead of you logging in to the platform to look for jobs, what you will instead be doing is posting an offer.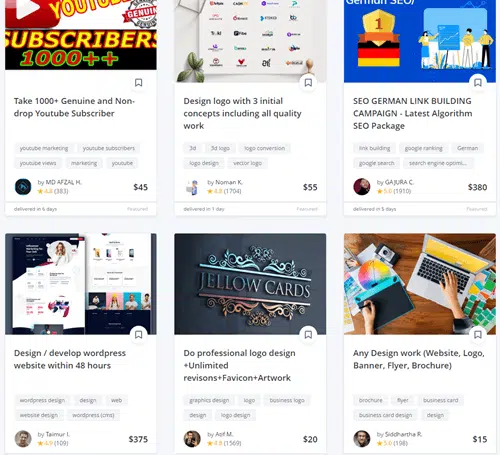 Posting an offer is really just you telling potential employers that you are willing to provide the kind of service indicated in the offer for a specific amount. For example, you can post an offer that you are willing to write a 2,000-word article for a blog for $20.
If an employer is interested in your offer, they will "buy" it (refer to photo below). That means they are willing to hire you for the service you are offering. You can also structure your offer to provide additional services for an additional fee. These are called add-ons.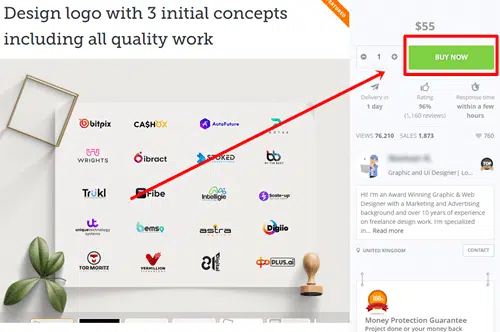 If an employer also wants the additional services you are offering, they just have to select them from the add-ons and it will automatically add to the bill the employer will have to pay. When the employer completes the purchase, they can now start communicating with you.
Once you have ironed out all the details (including the deadline), all that's left to be done is to provide the service you offered, which in the example provided above, is to submit a 2,000-word article for the employer's blog.
Now, when working on jobs, the most important thing you need to remember is to always do your best when providing a service. That's because your employer will actually rate you after the job has been finished. This is called your CERT (Content – Engagement – Repeat Usage – Trust).
This is PeoplePerHour's ranking algorithm and it will help determine whether your offer will appear in employers' searches on the website. The lower your CERT rank is, the fewer chances your offers will be shown to potential employers.
So, it's important to always provide good quality service because it will affect your earning potential.
As for the services/jobs, you can offer, they should belong in any of the categories listed below:
Technology & Programming
Writing & Translation
Design
Digital Marketing
Video, Photo & Image
Business
Music & Audio
Marketing, Branding & Sales
Social Media
As you can see, you can offer a wide variety of services in PeoplePerHour, which is a good thing, in my opinion, because it increases your chances of getting hired.
Recommended: Check Out the Best Freelance Sites You Can Join
How do you get paid?
For every job you perform, you will get paid the amount indicated in the offer you presented. You won't receive it right away though. That's because the payment will be placed in escrow first to ensure that both parties will get what they want (freelancer – get paid, employer – receive the deliverables promised).
So, if your employer agrees that the job has been completed, all you have to do is raise an invoice to have the money released from escrow. The employer has 7 working days to approve or dispute it. If the employer was not able to approve or dispute it within the given time, it is considered approved and you will receive the money. It will be credited to your PeoplePerHour account balance.

Then, you can withdraw your earnings anytime you want through any of the methods shown in the photo above (PayPal, Payoneer, or bank transfer). You don't need to earn a specific amount to be able to withdraw your earnings.
Just keep in mind that every payment method will involve certain transaction fees, especially bank transfers. The site doesn't really tell you exactly how much the fees are, so I can't really tell you the exact amount you should expect.
Every payment method will also have its corresponding processing times. For PayPal and Payoneer, it usually takes just a few minutes for your money to be credited. For bank transfers, it can usually take about 1 to 7 working days for the money to be credited.
If you live in a country included in the "Slow-to-pay" countries, the processing time can take around a week to a month to be credited.
The payment system of PeoplePerHour is simple to understand but it is quite a slow process because you have to raise an invoice first before you can actually get paid. But I do understand why the site does this.
I do like the fact that they offer convenient payment methods. If you are interested in more sites that offer a convenient payment method, I would recommend you check out the top sites that pay via direct bank transfer.
How much money can you make?
As explained earlier, you have control over how much you can earn from every job you do. So, the amount you can earn from this site will mostly depend on how often you get hired to do a job.
And unfortunately, that's not something you really have control over. The best you can do is improve your chances by making sure that you do a good job whenever you get hired because as explained earlier if you make sure your CERT level is high, you'll have a better chance of getting exposed to potential employers.
PeoplePerHour does have a feature that will help you land more jobs. I'm not personally a fan of this system because it defeats the purpose, but let me explain what it is. You see, PeoplePerHour can actually feature your offers for a small fee.
You can choose the type of package you want to avail of to boost your offers. The amount you have to pay will depend on the package you choose but it usually falls within the range of £10 to £20.
What these packages essentially do is make your offer stand out by featuring them. When that happens, your offer will be listed under the featured offers of the site and potential employers will see them immediately when they log in to PeoplePerHour.
There's no guarantee your offer will be picked up so there's a chance that you won't earn back the money you spent. That's why I don't really prefer this option. But, it is an option that you can go for if you want to increase your chances of earning.
Overall, I would say the earning potential of this site is quite decent since you get to dictate how much you can earn from the service you provide. But their system doesn't really guarantee you'll be able to earn, which is the main drawback of this site, in my opinion.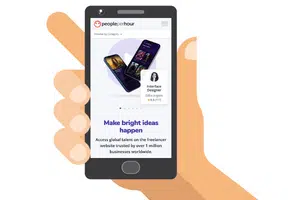 Can you use it on mobile?
PeoplePerHour doesn't have a mobile app you can download, but you can access the website from a mobile device using a web browser. The good thing is that the site is optimized for mobile use so you can post offers conveniently.
But, due to the nature of the jobs you need to perform, you will really need a laptop or a desktop in order to earn from this site. The only thing you can do with this site on a mobile device is post offers and check the status of your invoices.
Who can join PeoplePerHour?
In my opinion, the best thing about PeoplePerHour is that it is available globally. You'll be able to sign up as a freelancer regardless of where you live. Your location also doesn't matter as much because employers don't really care where you are from as long as you are able to deliver the service you offer.
To sign up, you have to provide your email address and password. Then, you'll have to fill up your profile. Technically speaking, you are not signing up as a freelancer. Instead, you'll be applying for a spot as a PeoplePerHour freelancer.

Once you are done with your profile, you will have to choose how to complete your application process. There are two options: the paid option and the free one. The paid option which costs $13 will essentially expedite your application process.
Choosing this option guarantees your application will be reviewed within one day while if you choose the free option, it can take up to 7 working days for your application to be reviewed.
Just keep in mind that choosing the paid option doesn't guarantee your application will be accepted. It just speeds it up. Personally, I would prefer the free option because I don't really see the value of paying for something that's not guaranteed to give you the result you need.
With a little bit of patience, you'll still get the desired result which is to get accepted as a PeoplePerHour freelancer. If your application is accepted, you can now log in to the site and post your offers.
Can you get support?
If you have any questions about the site or your account, you can check out the Customer Support page of the website. It discusses most of the basic topics you need to know when you become a freelancer for the site.
But if you can't find the answers you are looking for, you can submit a support ticket which can be done through the same Customer Support page. Then, just fill out the form with the necessary info and hit submit.
The site also has its own Dispute Resolution Team that will help settle disputes between employers and freelancers. This is the last resort option though and can only be done if the employer and freelancer really fail to agree on the invoice raised.
I personally like this kind of support system because you can easily keep track of all the inquiries you've submitted and I like the fact that the site will not leave you hanging in the event that an employer refuses to pay for the services you've rendered.
That's why overall, I would say the site has a good support system in place for its members since they offer a convenient way for you to get assistance and they also help settle disputes between employers and freelancers.
Final Verdict
PeoplePerHour is a legit freelance site that will allow you to earn extra cash by rendering services to employers. It has a couple of good features, but it also has a few drawbacks you need to consider.
Let me finish this review by summarizing its pros and cons to give you an overview of what the site has to offer. Then, you can decide if it is really worth your time or not.

Pros:
Available globally
Offers payment via PayPal
No payout threshold
Will help settle disputes between freelancer and employer

Cons:
Takes a bit of time to start earning
Doesn't offer guaranteed earnings
In my opinion, PeoplePerHour is a decent freelance site. I like the fact that you can become a freelancer for free, but you do have to be patient because the free membership takes a bit of time.
What I don't like about PeoplePerHour as a freelance site is that you are essentially placing your chances of earning in the hands of the employer and not in your own hands. With other freelance sites, you can be more proactive because you can just apply for jobs you are interested in whereas, with PeoplePerHour, you are really at the mercy of whether an employer likes the service you are offering.
In this kind of system, there will be a lot of waiting around and doing nothing, hence it is not something I can recommend for people who are looking for ways to earn immediately.
If you are one of those people, I would instead suggest you check out the top survey and GPT sites in your country. The sites on this list all have good earning potential and you are guaranteed to earn immediately after you sign up.
If you have any comments, questions, or have any experiences with PeoplePerHour yourself, I would love to hear from you in a comment below.