ProOpinion is a survey site that claims to reward you with money for participating in the surveys they offer.
If you are interested in joining this survey panel, the first thing you are going to ask is, is this survey site legit?
Well, let me just tell you right away, yes, ProOpinion is a legit survey site.
But this doesn't automatically mean you should become a member. I recommend you read through this ProOpinion review first, as there are some important things you NEED to know.
That way, you will be able to make an informed decision on whether or not you should join this site.
Now, let's get down to business.
What is ProOpinion and what does it offer?
As mentioned, ProOpinion is a survey site through and through. It offers you surveys you can answer so you can earn rewards.
Just like OneOpinion, ProOpinion is also owned and operated by Dynata, one of the leading providers of first-party data.
The goal of ProOpinion is to provide an opportunity to learn from highly respected and influential leaders within the business landscape and provide a platform to earn by sharing your own business insights.
The look of it is a bit outdated which is not necessarily a good sign as it might indicate they are not keeping it updated. And compared to other of Dynata's sites ProOpinion does not look as professional.
But let's not just judge it just by the design of the site but let's look deeper into what it actually offers and take a closer look at how you can earn rewards.
Option 1 – Paid Surveys
Seeing as they are a survey site, you can expect they offer paid surveys.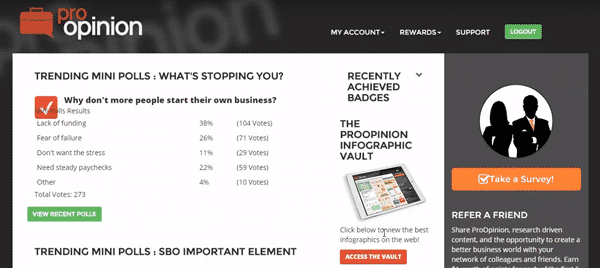 The bulk of your earnings from ProOpinion will come from answering paid surveys. Once you complete your registration, you can log in to their website and see all the available paid surveys they offer.
Simply click the Take a Survey button on the left side of the member dashboard (refer to the photo shown above). Once you click the button, you will be redirected to a pre-screening page.
You have to answer all the questions on this page to determine if you qualify for the survey. They do this to make sure you are indeed part of the demographic the survey is targeting.
Once you finish the pre-screening questions, it will tell you if you qualified or not.
If you qualified, it will then tell you how many points you will earn for completing the survey and how long it will take to finish the survey.
Just click the take survey if you decide to take the survey and it will redirect you to the actual survey.
Complete the survey and you will earn the reward that was promised. It will then be reflected in your account balance.
However, if you don't qualify for the survey, you won't get any consolation reward points like on some other survey sites. In my opinion, this makes their whole survey process a bit less enticing.
It would have been better if they still reward you with even a small amount of points even if you didn't qualify for the serve. This can be a sort of compensation for taking the time to answer the questions.
But anyway, it is not unusual not to qualify for surveys and it will happen on more or less all survey sites.
Option 2 – Prize Draws
I'm a bit unsure about this opportunity. Let me explain. On their terms and conditions, they mention prize draws being held from time to time.
But when you log in to the dashboard, you don't really see any section for prize draws. So presume, it will only appear on the dashboard when there are prize draws available.
According to their website, completing a survey reward you with an entry to the prize draw.
Only residents of the 50 states of the United States and the District of Columbia are eligible for the prize draw. You should also be at least 21 years of age to qualify.
Only one entry is allowed per member.
The prize is $1000. It's a very enticing prize draw in my opinion because the prize money is quite high.
Just don't count it as part of the income you will earn from ProOpinion. Consider yourself lucky if you even win one in a year and as mentioned they are also not clear about how often they have these so you might not even get the chance.
One thing to note about the information they provide for prize draws is the year that is mentioned. It says 2016. So the information probably wasn't updated since which is not really a good sign.
Option 3 – Referral Program
ProOpinion also has a referral program where you can earn rewards by inviting other people to join the panel. But again, this is where the information they provide is a bit incomplete.
It says in the terms and conditions of their referral program that you must fully disclose and communicate any incentive or reward that you will receive in connection with their Refer-a-Friend program.
But, there isn't really any actual information about the rewards you will get for referring a friend. If there really is, it would have been better if they just revealed it right away.
In my opinion, this is a bad way to present all the opportunities the site offers.
You, as an interested party, must have access to all the necessary information right away. That way, you can better decide if the opportunity is really good or not.
With ProOpinion, there really is a lack of transparency of the rewards you get.
How do you get paid?
Now let's talk about the next most important aspect of this survey site, which is how you get paid.
ProOpinion uses a point system for their rewards. As mentioned, you will earn a certain number of points for each survey you complete.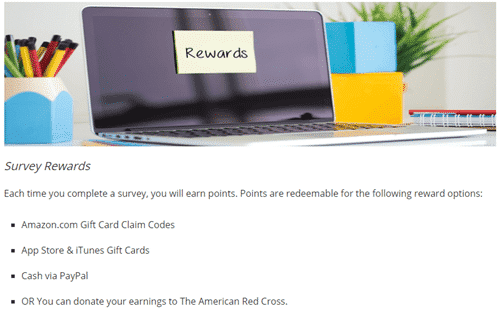 Once you reach 1000 points, you can then exchange the points for any reward you want.
You can choose from Amazon gift card claim codes, App store, and iTunes gift cards or donate your earnings to the American Red Cross.
But by far, the most popular choice though will be cashing out via PayPal which they also offer as a reward.
In my opinion, this is the better choice because you can convert your points to real money and PayPal is the most convenient way to do that.
Their payment threshold is also pretty decent (which I will explain in the next section). But, there are still better PayPal survey sites with lower payment threshold.
How much money can you make?
In terms of earning potential with survey sites, it will mostly depend on the number of survey invites you receive and how many surveys you will actually qualify for.
With ProOpinion, there will always be surveys available. So, the question now is, how many surveys do you actually qualify for?
Based on the feedback of members though, even though there is always a survey available, you won't get to qualify that often.
And sometimes, even if you qualify, once you start answering the survey, you get booted off midway through the survey, saying you didn't qualify for the survey.
The only reason I can think of when that happens is, the maximum number of respondents has already been reached.  That may be the reason why they kick you off the survey.
To give you a clear picture of how much you will earn from ProOpinion, 100 points will be equivalent to $1.
So, you will need to earn at least $10 to request a cashout. It seems easy enough but there are lots of feedback from members saying the surveys don't really reward you with a lot of points.
So naturally, the earning potential of the site will suffer because you don't get to qualify for surveys quite often and if you do, you will only receive low rewards.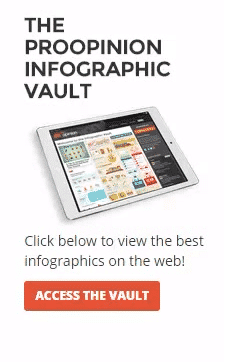 You do get a small bonus of having access to a lot of infographics you can use if you are writing or researching about something.
You can access the infographics by clicking the Access The Vault button shown in the photo above.
Of course, this doesn't really mean a lot to most people. But if you are somehow into this kind of stuff, it is a nice kind of bonus because this is the only survey site that provides this kind of stuff.
However, from what I have seen it does not really look like this info is updated either and it is pretty old.
Can you use it on mobile?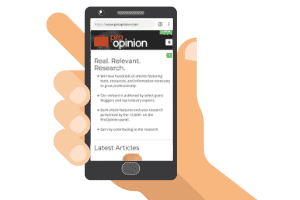 There is no mention on their website about a ProOpinion app you can download and install on your mobile device so you can answer surveys on the go.
But you can still access their website using a mobile browser.
The good news is, the mobile version of their site is optimized for mobile use. That means you will be able to see all the content without having to scroll left or right or zoom in and out.
So, if you were hoping to work on surveys on your mobile device, you can at least do that by logging in to their website using a mobile browser.
This at least, allows you to be a more efficient earner in their panel.
Who can join ProOpinion?
Only residents of the United States are eligible to become a member of ProOpinion. You also have to be at least 18 years of age in order to join the panel.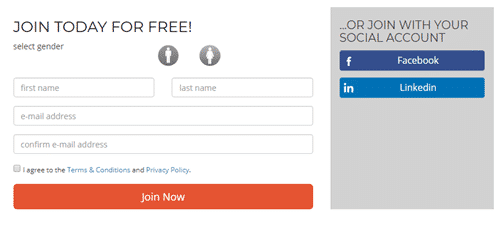 In order to join the panel, you can register via your LinkedIn, Facebook or email account (shown in the photo above). When you click the Join Now button, you will then be redirected to a page that will ask you to fill up another form.
This is actually the part where you build up your profile. ProOpinion will use the information you provided in this form as a way to qualify you for surveys.
This is important because apart from the surveys you can take from the member dashboard, you will also be sent survey invites to your email.
From what I understand, the information you provided during the registration process will be their basis for sending survey invite emails.
So make sure to provide the right information when registering.
If you are a resident of the United States and are looking for survey sites with better rewards, I, however, recommend you check out the top survey sites in the US.
You can find several sites on that list that offer better rewards than ProOpinion, in my opinion.
Can you get support?
ProOpinion does have a decent support system in place. They have a FAQ section that shows most of the common questions you will encounter.
But most likely, you will have questions that won't be answered by their FAQ section. You can then go to their contact page, which incidentally, is the same as their FAQ page and submit your question.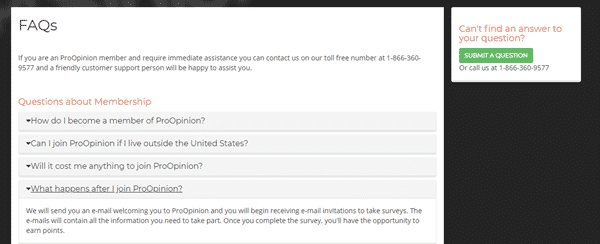 As shown in the photo above, you can see a submit a question button on the right side of the page. Just click the button and a pop-up form will appear. You can then send your question through that form.
If you need to talk to them directly though, you can call the number displayed and speak to their support team. In my opinion, this is what makes their support a bit better than other survey sites.
The fact that you can talk to a support representative over the phone is really a very huge bonus simply because you will be able to get a quick answer to any issue or question you might have about your account.
Final Verdict
ProOpinion is indeed a legit survey site that rewards you for surveys you complete. But it does have its issues.
To help you further with your decision on whether joining their panel is in your best interest or not, let's finish this review with a summary of its pros and cons.

Pros:
Payment via PayPal is available
Relatively low payment threshold
You can call their support team if you have any questions

Cons:
Low rewards per survey completed
Limited to US residents
Limited earning opportunities
Site is not very user-friendly
Even though ProOpinion is a legit survey site, it simply doesn't match up to other survey sites in terms of earning potential, in my opinion. The low rewards per survey completed is an issue if you are looking to maximize your time.
Plus, there's a very low chance of getting qualified for a survey, which severely hampers the earning potential and it looks outdated and the latest article that has been posted on the website was in 2016.
So it seems to be a site that is not really being updated anymore.
If you are looking for better opportunities, I, therefore, suggest you check out the top survey sites in your country instead.
This list will have plenty of survey sites you can choose from that offer better rewards no matter where you are in the world.
If you have any comments, questions, or have any experiences with ProOpinion yourself, I would love to hear from you in a comment below.