There are sites all around the internet that will allow you to earn extra cash. The trick is to find a good one that will pay you well.
One site that supposedly offers this kind of opportunity is called Remotasks. This site promises to pay you for doing tasks. Now, the question is, is it legit and worth your time or not?
This Remotasks review will reveal the full truth so you can decide for yourself if this site is really worth it or not.
I will discuss the earning opportunities as well as other aspects of the site so you will know exactly what to expect before deciding to join or not.
What is Remotasks and what does it offer?
As the name suggests, Remotasks is a website that will ask you to do tasks and in exchange, you will get paid once you complete it. Some tasks will be longer than others.
As a Remotasker, you can make full use of the platform to earn while helping them and their clients make the world a more awesome place to be in (or at least that's what they claim to do).
It's important to note that Remotasks is not your usual Get-Paid-To (GPT) site. With that in mind, in order to get a clear picture of how well you can earn from this site, we have to examine the earning opportunities it offers.
So, here's how you can earn from Remotasks.
Option 1 – Tasks
The tasks they offer are designed to build smarter and better AI. Most of the tasks will ask you any of the following:
Draw boxes around cars and other objects
Moderate and analyze content
Identify spam and related content
Categorize t-shirts and other objects
I know it sounds a bit more complicated than your usual GPT stuff (like answering surveys and doing offers), but the site does ask you to undergo training first before you can do any task.
So, you're not really going in empty-handed.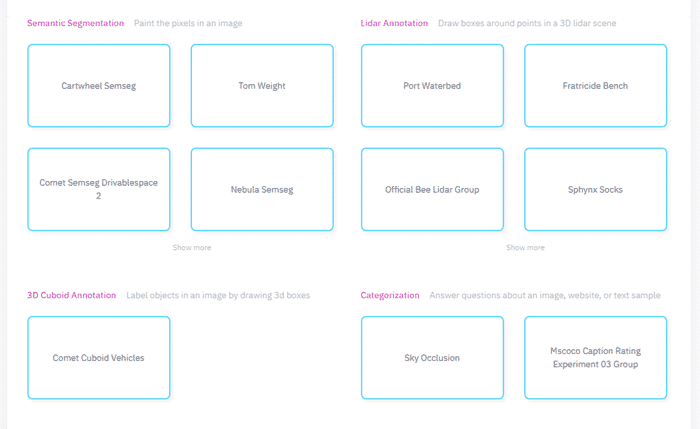 In order to unlock the tasks, you will have to go through their training courses. The idea is pretty simple.
You need to complete the training before that type of task will become available for you to do. It sounds logical, in my opinion, since the tasks aren't that simple from the start.
At the end of each training course, you will have to take a test. You will need to pass the test in order to complete the course. Once you've passed, you will now be eligible to receive task offers for that certain course.
It requires a bit of patience and perseverance in order to complete. So, it is important to set your expectations properly. You do not need to take all the courses, but it is recommended that you do to maximize your earnings on this site.
So, it can take quite some time and effort before you can actually start earning because you will not get paid for the training. That's the main difference of this site with other GPT sites out there where you can start earning right away.
When you start a task, you will have to do what it will ask you. Once you've submitted your work, Remotasks will review it to see if it passes their standard. Once they confirm your work, you will then receive the compensation.
Option 2 – Referral Program
The other way to earn from this site is by inviting people to join the platform. To invite a person, you simply have to share your invite link with them.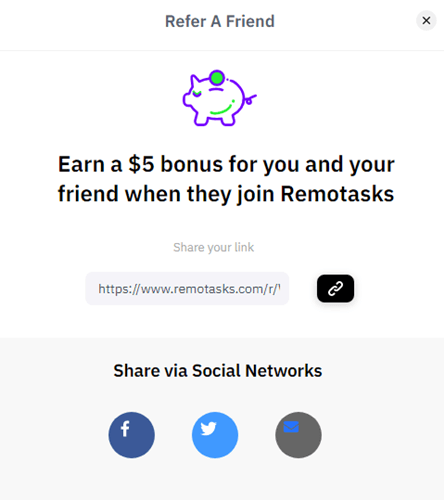 You will receive a $5 bonus for every person you invite that joins the site. However, their referral program is a bit more complicated.
You will only be awarded the $5 bonus once your friends earn at least $10 by doing tasks in the Remotasks platform.
But, your friends will also earn the $5 bonus once they hit the $10 earnings milestone. But, this bonus will only apply if they hit the $10 milestone within two weeks of their registration. Otherwise, this referral goes away.
So, make sure to explain that to the person you invite. Otherwise, you might not get the bonus.
In my opinion, this type of restriction doesn't really seem very inviting. It almost feels like you have to go through hoops just to earn the $5. And considering how long it will take to earn $10 on Remotasks (more about this later), it will NOT be easy to get the referral bonus.
On the flip, if they do qualify, you can earn a significant amount.
How do you get paid?
Every task you complete and every referral you make will earn you a certain amount in $.
You will then get paid via PayPal every week. So, you don't really have to hit a specific threshold in order to withdraw your earnings.
Whatever amount you've earned for the week will be paid via PayPal. The payment happens weekly on Friday mornings, from 9:00 AM to 12:00 PM UTC. The amount you will receive will be based on a pay period from 12:00 AM UTC on Friday through the cut-off time the following 12:00 AM UTC on Tuesday.
And they only pay via PayPal. So make sure you add your PayPal email address on the Remotasks Account Page a few days before the payout cut-off at 12:00 AM UTC Tuesday.
You can provide your payment information by clicking on your name on the upper right-hand corner of the dashboard and clicking Account. You will then see the photo below.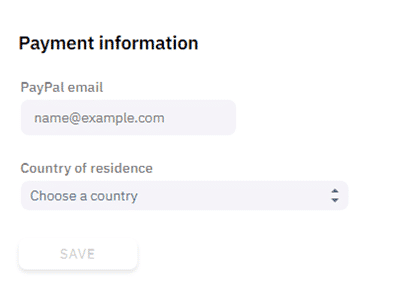 The good thing about their payment system, even though it's a bit complicated, in my opinion, is that it is done automatically. Plus, PayPal is the most convenient and most popular payment option available.
You just need to be aware that a 2% PayPal fee applies so you will not get the full amount you have earned.
If you are interested in more sites that pay via PayPal, I suggest you also check out the top sites that pay via PayPal.
How much money can you make?
With this kind of site, the amount you can earn will mostly depend on the accuracy of your work.
That's because your Payout is determined by your accuracy. The amount earned increases for every percent as you get closer to 100% accuracy.
So, in order to get full payment, your work must be 100% accurate. In other words, you should master the tasks. Other factors that affect the pay are the task type, task complexity, and rules from the instructions. This amount is set when you load a task.
Early payout is given for certain projects. After a task is fully reviewed, you may receive an additional payout for high accuracy. So, you do get the chance to receive more if you work quickly and accurately.
It might seem appealing at first, but when you really look at how long it takes to complete the tasks and that you risk not getting a task approved, you should NOT expect a high rate.
If you are really good at the tasks I still do not think you should expect to get above $2-$3 on average.
So overall, I would say that the earning potential of this site is not the best and the job can be quite tiring, in my opinion.
Can you use it on mobile?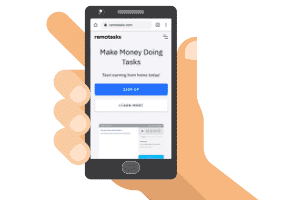 Remotasks doesn't have a mobile app you can download and install on your mobile device. So, if you want to work on tasks on a mobile device, you will have to use a mobile web browser.
The good thing is, their site is optimized for mobile use. So, you won't have a hard time navigating through the site.
However, due to the nature of the tasks offered, I suggest you only access this site on a tablet or an iPad. That's because you will need a relatively large screen in order to work on tasks properly.
Who can join Remotasks?
At first, it looks like Remotasks is available globally. You will be able to register as a member regardless of where you live and choose more or less any country during the registration process.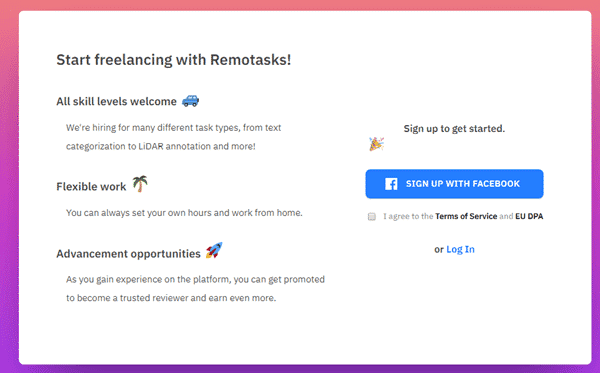 The registration process is relatively simple, but you will need a Facebook or Google account in order to sign up or you can just sign up with your email.
However, once you have signed up, you might find out halfway through the registration process that it is not available in your country.
In some countries this happens but it is not clear which countries you can join from and which ones you cannot join from.
In fact, you will not find out until after you have given them your phone number.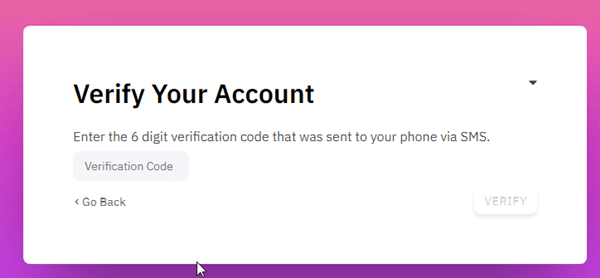 Once you've registered, the site will then ask you to provide your mobile number.
They will then send a verification code via SMS, which you will have to input to complete the registration (refer to photo above).
And not until after you have done this, you will be able to see if it is available in your country or not. This is very strange, in my opinion.
They should be very clear about who can join and who cannot. And they should definitely be able to let you know about this before you have to give them your phone number.
So this lack of transparency is definitely a minus, in my opinion.
Can you get support?
If you have a question you need to ask, Remotasks do have an FAQ page you can check out first to see if the answer you are looking for is in there.
I must say that they do have a comprehensive FAQ page. So, there's a good chance you will find the answer you are looking for on that page.

But if you can't find the answer you are looking for, you can file a support ticket to send in your inquiry. You just have to select the right topic heading so that the support ticket form will display.
They also have a Discord channel you can join if you want to get in touch with their support team. Plus, they do have a forum you can visit to learn more about the site.
Overall, I would say that they do provide a good way for you to receive support, which is a good thing because it shows that they do care about your experience as a member of the site.
Final Verdict
Remotasks is a legit micro-task site that does pay you for doing small tasks and inviting people to join. It presents a couple of good qualities and some less than ideal ones as well.
Let me finish this review by summarizing the site's pros and cons so you can get a good overview of what the site has to offer before deciding if it is for you or not.

Pros:
Payment via PayPal is available
Payment is done automatically

Cons:
Limited earning opportunities
Tasks will require patience and quite a bit of effort
You will have to take training courses in order to start earning
Not clear which countries can join
As you can see, Remotasks isn't your ordinary GPT site. You will be able to earn some extra cash from this site if you are patient enough.
The earning opportunities offered will require a lot of effort on your end. So, don't expect to start earning right away after you join the site. So, if you aren't really into that kind of thing, this site is not for you.
But if that's alright with you, you can stand to earn a bit extra and get paid rather conveniently.
However, if you prefer to earn with less effort and time required, I suggest you check out the top GPT sites instead.
The sites on this list all offer simpler ways to earn extra cash. Plus, they all offer plenty of earning opportunities. And you will also be able to find a site you can join regardless of where you live.
If you have any comments, questions, or have any experiences with Remotasks yourself, I would love to hear from you in a comment below.