I've recently come across a unique website that claims you will be able to earn by becoming someone's friend. Yes, you read that right. All you have to do is agree to be someone's friend and you'll earn money.
So naturally, you might be skeptical about this site and if you are wondering if this site really legit or is it another scam, it's understandable. That's why I've decided to test this site to see if it is really legit and figure out what it's all about.
In this RentAFriend review, you will get all details and I'll also include my rating of the site so that you can get a clear picture of whether this site is really worth joining or not.
What is RentAFriend and what does it offer?
RentAFriend.com is a unique site that offers a way for you to earn by renting yourself to other people.
And no, it's NOT a dating site and it's certainly not an escort service. While it may sound weird, the premise of the site is really very simple and later on, I will discuss how it works exactly.
As for its legitimacy, RentAFriend is indeed a legit site since it will really pay you for becoming someone's friend for a day. Now, let's examine the earning opportunity it offers so you will understand exactly how the site works.
The earning opportunity – Becoming a friend
RentAFriend is essentially for people who are looking for someone to share an activity with. That's the demographic it caters to.
For example, someone might want to see a movie, but they do not want to go alone. So, they just look for a "friend" on the site who is willing to do it with them for a price, of course.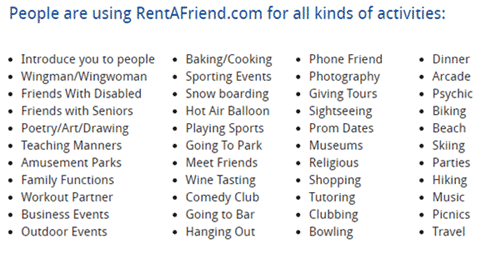 The photo shown above lists some of the activities you can do with the person who "rented" you. Of course, the activities you can do with the person who requested your presence aren't limited to the ones listed above. You actually get to decide what kind of activities you want to cater as a friend for hire.
Let me explain how the process works exactly.
Once you become a member of RentAFriend, you have to log in to the site and create your profile. You can indicate in your profile what activities you are willing to do and how much your services cost.
Then, if someone is looking for a "friend" and sees your profile and chooses you, you will be notified either via text, email, or both (depending on your preference). It's up to you if you want to accept this booking. You can communicate with the client through text or email.
Keep in mind that the activities you should offer are strictly platonic services. Plus, the site has a very strong stance on physical contact. There is no physical contact at all during the time you spend with a member.
Some RentAFriend members can earn around $2,000 in a week if they do it full-time and some can earn around $300 to $500 in just one weekend. The beauty of this site is it's up to you how much you want to earn for providing RentAFriend services.
However, I would say this particular earning opportunity isn't really for everyone. I personally would feel awkward if somebody paid me to go to a movie or dinner with them. But that's just me. If you have no problem with that, then this can be a good opportunity to earn. Who knows, you might develop a real friendship with your clients, which is a real possibility.
Recommended: Check Out the Top Gig Jobs
How do you get paid?
The good thing with RentAFriend is it is a very flexible site. When you get hired to be a "friend", it's up to you and your client to arrange how you get paid. Usually, you get paid in cash when you meet. But if you prefer, you can also get paid in other methods.
Again, it's up to you and your client to work out how the payment should be made. I would personally prefer to get paid in cash during the meetup.
I like that their payment system is very simple and convenient. If you are looking for more sites that offer a convenient payment method, I would recommend you check out the top sites that pay via direct bank transfer.
Now, you might be wondering, how is RentAFriend able to make money when they don't take a cut from your earnings? Well, they actually require a small fee in order for people to register as a member that can book a friend.
So, that's how they earn. In order for their members to access the list of all friends for hire, they have to pay a small fee.
However, you will not have to pay any fees as the one offering your services on the platform.
How much money can you make?
As explained earlier, you have control over how much you will charge a client for availing of your "friendship". While this may sound like a very easy thing to do, you will actually have to walk a fine line between being too expensive and too cheap.
So, it may take a bit of time to learn exactly how much you want to charge your clients especially if you have no idea how much you should charge. My suggestion is to take some time to compare the prices of other "RentAFriend" members so you can get a clear picture of the amount you will want to charge your clients.
Overall, I would say the earning potential of this site is actually pretty decent, in my opinion, since you can control how much you will earn. However, it will still depend on your location. If you live in a city where there are a lot of clients (usually in metropolitan cities), you stand to benefit the most from this site. If you live in a city with a small population, then don't expect to earn a lot from this site.
Now, as I've explained earlier, this site isn't really for everyone. You have to be comfortable with what you are doing if you really want to earn from this site. Otherwise, it will just be one awkward encounter after another.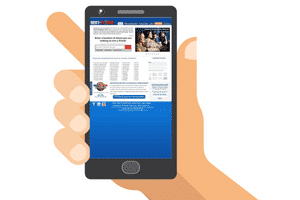 Can you use it on mobile?
RentAFriend doesn't have a mobile app you can download, but you can still access their website from a mobile device using a mobile web browser. The only problem is, their site is not optimized for mobile use.
So, you'll have to keep zooming in to read their content and press the links to navigate the site. That's why I would recommend you only use it on your laptop or desktop since it doesn't really offer a convenient user experience if it is used on a mobile device.
Who can join RentAFriend?
RentAFriend is available globally. So, you can register as a member regardless of where you live.
However, you need to be aware that some countries have more clients than others. The safest bet I would say where you can find a lot of potential clients is if you live in the US since most media companies that promote the site are companies from the US.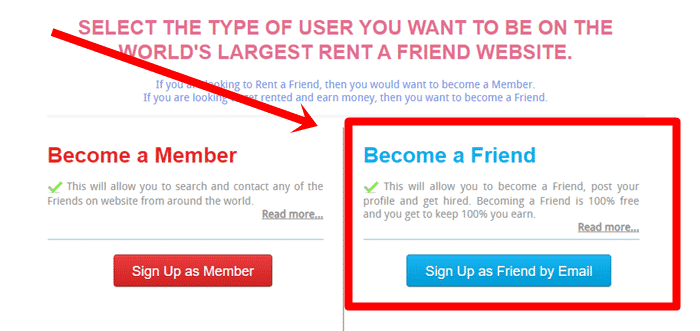 To sign up as a member, you have to be at least 18 years of age. Then, when you click the Join button on their site, you have to choose the "Become a Friend" option. The other option in the photo above is for people looking to hire a "friend".
Once you are done with the registration, you can log in to the site and set up your profile. When you've done that, your profile will show up in relevant searches. So, all you have to do is wait until a member contacts you for a booking.
However, at the time of writing this review, RentAFriend is currently not accepting new "friends". But you can still leave your email so that they can contact you in case they start accepting new "friends".
Can you get support?
Their site has a FAQ page and Knowledgebase you can check out if you have any questions about the site. If you encounter any issues while using the site, if their FAQ page and Knowledgebase don't have the answer, then you can use the contact form provided on their website to submit your inquiry.
Just fill out the necessary fields and hit the send button. Overall, I would say the site has a decent support system in place for its members since you can conveniently get in touch with their support team. That's all you can really ask for from a website, in my opinion.
Final Verdict
RentAFriend is a legit site that will allow you to earn by becoming someone's friend. It is indeed a unique site that offers a couple of good features, but it also has some limitations you need to be aware of.
Let me wrap up this review with a summary of its pros and cons to give you an overview of what the site has to offer. Then, you can decide if this site is a good fit for you or not.

Pros:
Available worldwide
You can set how much you will earn

Cons:
Limited earning opportunities offered
Their site is not mobile-friendly
In my opinion, if you are comfortable getting paid to become someone's temporary "friend", then this can be a good way to earn extra cash. I say this because not everyone is comfortable getting paid to do stuff you would normally do with your friends (I'm one of those people).
Think of this as providing escort services without sex and intimacy because that's basically what this opportunity is all about. If that's ok with you, then, by all means, go ahead and sign up as a member. You can potentially earn a decent amount of money.
But if you are just looking to earn a bit of extra cash easily, I would recommend you check out the top survey and GPT sites in your country instead. The sites on this list all have good earning potential and you can earn at the comfort of your own home.
If you have any comments, questions, or have any experiences with RentAFriend yourself, I would love to hear from you in a comment below.