ReviewStream is a website that claims you can earn money by writing reviews of various things. If this sounds appealing to you, I recommend you continue reading this ReviewStream review.
It will address the issue of whether ReviewStream is legit or just another scam, among other things.
It will also give you an inside look and show you all the details, so you know exactly what to expect from it.
Then you can decide if this is an opportunity you should go for or not. So let's not waste any more time and get on with the review, shall we?
What is ReviewStream, and what does it offer?
ReviewStream, as the name goes, is a website that specializes in providing reviews of different products and items to its readers.
It is indeed a legit site since you will really be able to earn money by writing reviews. But this doesn't necessarily mean it is worth your time.
If you want to figure out if you should join, the first step is to understand how it works. And the best way to do that is to take a look at the earning opportunities it offers, so you can get a clear picture of how much time and effort is needed of you to earn.
So here's how to earn from ReviewStream.
Option 1 – Creating content
The main way to earn from ReviewStream is by creating content for them. This can be a review of a certain product, movie, or really just anything under the sun. You can also just answer a question. In short, you just have to provide useful information to readers.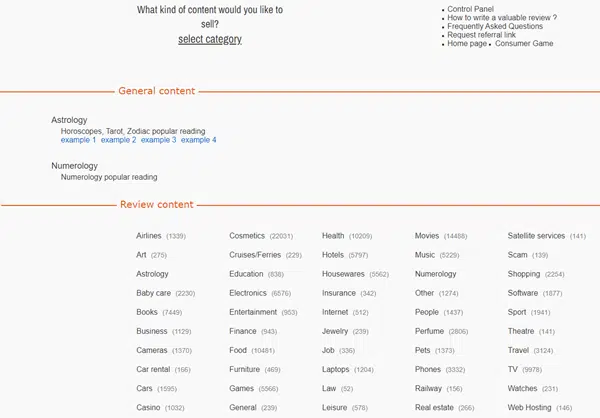 To do so, just go to the website and look for the "Sell Content" image and click it. You'll then be asked what type of content you want to sell (refer to the photo above). You'll have to choose a category you want to write about and click it.
Afterward, you will be asked what kind of template you want to use. Just choose whichever one you are comfortable with and click it. Then you can begin writing the review. During this step, you will also see how much you will earn for writing the review for that topic.
Every review will require you to also submit a photo of what you reviewed. It can be an original photo or any generic photo of the item you reviewed. After you've done what you need to do, you just have to submit your work for review.
It takes up to 72 hours for ReviewStream to finish reviewing your submission (usually less).
A couple of things you need to remember when writing a review for ReviewStream is to always give your honest opinion about the product/item you are reviewing. It has to come from real experience.
You can't lie about what you are talking about because ReviewStream will be able to figure it out and reject your submission. It's also a given that your grammar has to be perfect when writing a review for this site or any review site for that matter.
If your review is accepted, the amount promised will be reflected in your ReviewStream balance. Later, I will explain how you can withdraw your earnings.
Option 2 – Every vote pays
Another way you can earn from ReviewStream is by getting upvotes. This opportunity is called "Every vote pays". When your review or comment gets an upvote, you will earn $0.10. It's that simple.
The idea behind this opportunity is that if people find your content helpful, you will be rewarded. Of course, getting upvotes is easier said than done. You don't have any control over who will give you upvotes, so it's not something you can regularly rely upon. The best thing you can do is to always give you useful and helpful information.
Option 3 – Referral program
Lastly, you can earn passively through its referral program. If you are not familiar with this opportunity, the idea is to invite people to create content for ReviewStream. To do so, just click the "Sell Content" image again.

Then you have to click the "Refer content producers and earn" button to get your referral link. Once you have your link, all you have to do is to share it with the people you want to invite. When they click the link and write content for ReviewStream, they will become your referral.
When this happens, you will receive 2% of the regular rate, which will be about $0.15. It has a very low referral rate compared to what most other reward sites give, but it can be a way to earn a bit extra if you make sure the people you invite are really interested in earning from ReviewStream.
Recommended: Check Out How to Build an Online Business by Writing Reviews
How do you get paid?
As explained above, you will earn a certain amount for writing content. But as mentioned, you will have two types of account balances – one for content and the referral program and one for the "Every vote pays" earnings.
For your main account balance (which will be for the content and referral program), you will be able to withdraw your earnings via PayPal once you've earned at least 10 times the amount you first earned when writing content.
For example, if you earned $6 for writing your first review, you will be able to withdraw your earnings via PayPal when you've earned $60. After you've withdrawn your earnings, a new pay cycle begins, so the whole process starts again. For your "Every vote pays" earnings, you will be able to withdraw your earnings via PayPal once you've earned at least $5 from votes.
Overall, I would say the payment system of ReviewStream is a bit complicated, but I do like the fact that it offers a convenient payment method like PayPal. But the system could use some improvement to make it more user-friendly, in my opinion.
If you are looking for more sites that offer a convenient payment system, I recommend you also check out the top sites that pay via PayPal.
How much money can you make?
The amount you can earn from ReviewStream will depend on how many reviews, referrals, and upvotes you can get. The good thing about this site is that, for the most part, you have control over how much you can earn (except for upvotes).
If you write a lot of reviews, you will be able to earn a good amount from it. Of course, you need to make sure the reviews you submit are high quality. As for the amount you can earn per review, it will vary. You can usually expect to earn around $5 to $10 per review.
There will be topics that will pay more for each review you submit. Overall, I would say the earning potential of ReviewStream is relatively decent. That being said, you still can't expect to earn a full-time income from it simply because there is no guarantee all your submissions will be accepted.
Can you use it on mobile?
Due to the nature of the work you need to do to earn, the answer to the question above is NO, even though the site is mobile-friendly. Since you have to type a lot of words, it would be better to use a computer when writing content.
The only convenient thing you can do on your mobile device with ReviewStream is to check your earnings and see how many upvotes your content has gained. Apart from that, all the work that needs to be done should be done on a computer.
One thing I can comment about the overall user experience ReviewStream offers is that its site is a bit confusing. It will take some exploring to figure out how you can write content. It took me around 5 to 10 minutes to figure out how I was able to submit content, so you have to be a bit patient with this site, in my opinion.
Who can join ReviewStream?
The site doesn't tell you exactly which countries it is available in, but from what I can tell, it is available more or less worldwide.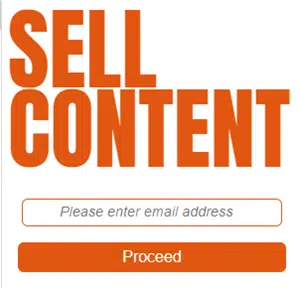 To register, just click the "Sell Content" image found on the homepage, and provide your email address. Remember that you have to use the same email address for your PayPal account when signing up. After you've provided your email address, you can start writing the review.
You actually have to do this every time you write content for ReviewStream since it doesn't have a member dashboard like other review sites where you can simply log in and start writing content.
Can you get support?
If you have any questions about ReviewStream or your account, you can check out the FAQ page first. It discusses most of the important topics you need to know. It's quite helpful, in my opinion, but in case you can't find the answers you are looking for, you can get in touch with their support team easily.
You can email them at reviewstream@gmail.com. Overall, I would say ReviewStream does provide the minimum required support since it offers a convenient way for you to communicate with their support team.
Final Verdict
ReviewStream is a legit product review platform that will let you earn by writing content. It has a couple of good features, but it also has a few limitations you need to keep in mind.
Let me finish this review by summarizing its pros and cons to give you an overview of what the site has to offer. Then you can decide if it is a good fit for you or not.

Pros:
Offers payment via PayPal
Offers decent rewards

Cons:
Limited earning opportunities
High payout threshold
The app consumes more battery charge, so you will have to charge your device more than you're used to
You have to install the app manually
In my opinion, ReviewStream is a decent site to earn extra cash from, provided you are comfortable with writing content. That being said, you still need to keep in mind that you will not earn a full-time income from it, so you have to align your expectations with that in mind.
Its payment system is a bit complicated, but you will eventually get used to it. I do like the fact that you can withdraw your earnings conveniently via PayPal.
Now if your goal is to earn a full-time income online by writing a review, I recommend you check out how to build an online business and earn a full-time income instead. It will guide you on how you can build and maintain an online business.
But if you are just looking for a simpler way to earn some cash, I recommend you check out the top survey and GPT sites in your country instead. The sites on this list all have good earning potential, so you will be able to earn a decent amount quickly.
If you have any comments, questions, or have any experiences with ReviewStream yourself, I would love to hear from you in a comment below.