Are you looking for ways to get free products? If so, there's a site called SampleSource that claims you can get free samples of makeup, beauty care, household cleaning, and even food and snacks when you become a member.
It sounds like a great opportunity, right? Well, before you join this site, it would be in your best interest to learn more about it first. And the most important piece of information you need to know beforehand is if this site is even legit or if it is a scam.
So, let me address this right away. Yes, SampleSource is a legit site that really hands out free products. But the real question now is, is it really worth your time or not? This SampleSource review will give you an inside look so you'll know exactly what to expect before you even sign up.
That way, you can decide if you should really sign up as a member or not.
What is SampleSource and what does it offer?
SampleSource is a free-sample site that hands out free products to its members. It's a relatively straightforward site since this is the only thing it offers.
Now, to fully understand how this site works, we have to take a closer look at the earning opportunity it offers. This will also give you an idea of how often you can get free products from this site. So, here's the earning opportunity SampleSource offers.
The earning opportunity – Claiming free samples
Technically speaking, you won't earn anything from this site because all you get from it are free products. But since these free products cost money, you could say that you are still earning from them.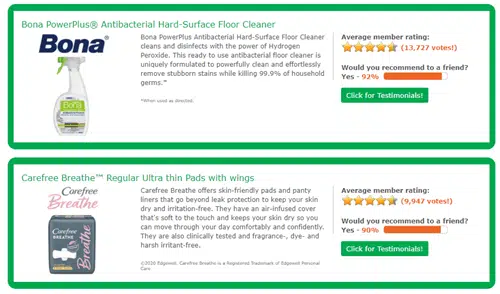 So here's how it works. When you become a member of the site, you will be asked to complete your profile. Once you've finished your profile, you will be eligible to receive free sample offers from the site.
Here's the thing. Their free sample offers will not always be available though. The site usually offers these samples in the spring, summer, or fall. They do not send samples in the winter because they may freeze in the mail.
When free sample offers are available, if these samples match your profile, the site will automatically email you to let you know. Keep in mind though that these samples are only available while supplies last and it will be on a first-come-first-serve basis.
Also, during every free sample period, you will only be able to request one specific product. You can't get all of the free products being offered. So, you have to choose wisely which one you want. SampleSource will remove duplicate orders. So you will not receive anything if you order more than one free product.
That's why I would highly recommend you avoid being trigger-happy when claiming free products. Carefully choose which one you are really interested in.
These products will have reviews, so you can decide after you read the reviews and feedback. Just don't take too long, because the number of available products might run out and then you won't be able to claim anything.
When you claim a free sample, just follow the instructions in the offer and wait for the product to arrive in the mail. From the day you place your order, it can take around 4 to 6 weeks for your package to arrive. The site will notify you once your package has shipped. Once it is shipped, it can take 5 to 10 business days for your package to arrive by regular mail.
That's all there is to it. The process is really simple. You just really need to make sure you catch the drop when it happens since you will be competing with other members for a chance to receive free products.
Recommended: Check Out the Top Survey Sites in Your Country
What are the free products you can get?
Most of the free products you can get from this site will be products related to beauty care, household cleaning, and food and beverages. So, don't expect to claim any electronic devices or clothing products.
By far, the most common products being offered during my testing has been products like shampoo and conditioner, as well as makeup products.
That is to be expected as well because brands and companies that specialize in these kinds of products tend to give out free stuff frequently.
Can you use it on mobile?
SampleSource doesn't have a mobile app you can download, but you can still access their website from a mobile device by using a mobile web browser. And the good thing is, their site is optimized for mobile use.
So, you will be able to navigate through the site easily. You also won't have to zoom in to read all the content properly. This can really be very useful because in case there is a new free sample being offered, you will be able to get to it immediately even when you are not in front of your computer.
As you may already know, getting to the free sample offer quickly is already half the battle won. That's why the fact that you can conveniently work on the site on your mobile device can really help a lot.
Who can join SampleSource?
SampleSource is only available in Canada and the US. So, if you live somewhere else, then this site is not for you. Another thing to note is, any number of people in your household can sign up as a member. However, only one person can claim a free product per household every free sample period. So, it's relatively useless for more than one person per household to sign up.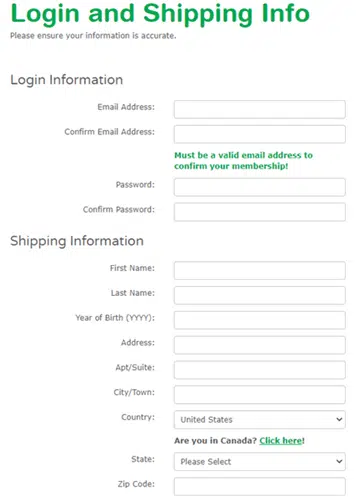 To register as a member, you have to be at least 18 years of age. Then, you have to fill out their registration form. The site will send a confirmation email. Simply click the link in the email to complete the registration process.
Once you are done with that, you can now log in to the site. However, you will be asked to build your profile first. It won't take long to finish it, so I suggest you don't skip this process because SampleSource will need this information so they will know what kind of products are best suited for you.
When you are done building your profile, you will now be able to log in to the site and check if there are any existing free sample offers.
Most likely, you won't encounter any offers. But since you will be informed via email if there are new offers for you, then you don't have to keep logging in to the site to check. You can just check your email inbox regularly.
Can you get support?
SampleSource.com has a FAQ page you can check out if you have any questions about the site or your account. It's pretty comprehensive and it discusses most of the topics you need to know about the site.
Now, if you can't find the answers you are looking for, then you can send your inquiry to their support team by using the contact form provided on their website.
Overall, I would say the site has a decent support system in place for their members since they ensure you can get in touch with their support team conveniently.
Final Verdict
SampleSource is a legit free sample site that will give out free products from time to time. It has a couple of interesting features but it also has some limitations you need to consider.
Let me conclude this review with a summary of its pros and cons to give you an overview of what the site is all about. Then, you can decide if you should hit the sign-up button or not.

Pros:
Their site is mobile-friendly
It is very easy to claim free products

Cons:
There aren't a lot of free products available
You can only claim one free sample per free sample period
In my opinion, SampleSource.com isn't a bad site. Any site that will allow you to get free products is good, in my book. However, if you are interested in this site, keep in mind that it doesn't have a lot of free samples and you can only claim one free sample per drop.
So, you won't get a lot of free samples. But if somehow that doesn't bother you, then I would suggest you hit the register button.
Now, if you are looking for ways to earn extra cash online, then I would recommend you check out the top survey and GPT sites in your country instead. The sites on this list all have good earning potential and you will definitely find a site you can join regardless of where you live.
If you have any comments, questions, or have any experiences with SampleSource yourself, I would love to hear from you in a comment below.