Gig economy apps have become popular as they can be a good source of extra income.
That's because you can easily find work, and you can usually work when it fits into your schedule. This is basically what Shiftsmart offers.
Shiftsmart claims you can work when you want and where you want. So, it's definitely an alluring offer.
But is Shiftsmart legit, or is it a scam? That's one of the things this Shiftsmart review will address.
It will give you a real inside look, so you will know exactly what to expect before you even sign up as a member. Then, you can decide if it is really worth pursuing or not.
So, let's go ahead and examine everything Shiftsmart has to offer, shall we?
What is Shiftsmart and what does it offer?
Shiftsmart is a gig economy app that will help you find part-time work so you can earn extra cash. And yes, it is indeed a legit app since it will pay you for doing the jobs you find in the app.
Now, is this app really worth using or not?
To answer that, we first have to look at the earning opportunity it offers, so you will understand how the app works. This will also give you an idea of the amount of time and effort you need to invest to earn.
So, here's how to earn from Shiftsmart.
The earning opportunity – Jobs
Shiftsmart basically acts as a middleman because all it does is show you job offers. To apply for a job, you can either go to their website or use their mobile app (I will talk about their app later).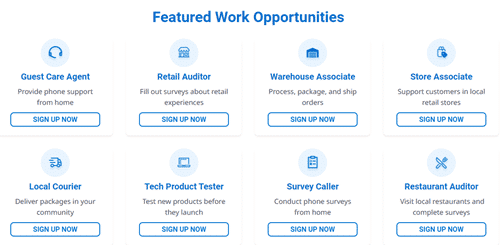 After you've applied for the job, you will be asked to download the app. If you've already downloaded the app, you can just open it and log in to see all the shifts available for the job you applied for.
However, every job has its own onboarding process you need to complete before you can take on any shift.
When you've completed their onboarding process (which includes answering a few profile questions), you can now start taking on shifts. The best thing about this is that you won't be forced to take certain shifts. It will still be up to you when you want to work. If there's a shift available, you will get notified via SMS by Shiftsmart. The app will also notify you via push notification if a shift is available.
If you want to work on that shift, just press it and hit the "Check-In" button. Make sure you do this when you are already at the location. When you've checked in, just do the work required and when your shift is over, just press the "Check Out".
When you've finished the shift, the shift manager will have to verify the work you did first and approve your shift. When it is approved, that's when you will get paid (I will talk about their payment process later).
Now, what happens if you accept a shift early and then, later on, find out that you need to cancel it because of some emergency? Well, you can do that by logging in to the app and going to the "Schedule" section of the app, and hitting "Remove from Schedule".
Once you've done that, your shift will be canceled. Keep in mind, though, that cancelation policies vary by project.  At Shiftsmart, certain roles have formal policies around cancelations and access to work.  If these policies exist for your role, they will be very clearly communicated to you during virtual training and in-app messaging while you work on the job.   
That's why I would only advise you to only accept shifts when you are sure you can show up. And I would also recommend you only cancel a shift if you really have to. Otherwise, you risk losing your spot for the job you applied for.
As for the jobs you can find on Shiftsmart, it will mostly be about providing customer support, conducting phone surveys, testing new products before they launch, delivery services, or auditing restaurants. So, the jobs are actually quite easy to do, which is a good thing because earning won't be that complicated.
Recommended: Check Out the Top GPT Sites
How do you get paid?
You will earn a certain amount for every shift you complete, which you will always know before you start a shift.
For shift payments, the payment will typically be credited to your Shiftsmart account balance within 24 to 48 hours.
But sometimes, it can take up to five business days before it will be reflected.
Now, some jobs won't require you to work on shifts. A good example is a mystery shopping job. In this type of job, you will get paid after the job is completed and your work is verified. This can also take a couple of days to be verified. So, don't expect to receive payment immediately.
When the payment is reflected in your account balance, you can withdraw it immediately via Stripe. You don't need to reach a payout threshold to withdraw your earnings. If you do not choose the Stripe option, your earnings will be sent via a standard bank transfer within 2-3 business days.
The latter takes longer, so if you want to receive your earnings immediately, make sure you have a Stripe account set up.
Their payment system is very simple, and I like the fact that they don't have a payout threshold. You can withdraw your earnings anytime you want. Plus, I also like the fact that they use a convenient payment method like a direct bank transfer.
If you are looking for more sites that offer a convenient payment method, I recommend you also check out the top sites that pay via direct bank transfer.
How much money can you make?
The amount you can earn from a gig economy app like Shiftsmart will mostly depend on your location.
The reason why I say this is that the availability of jobs will depend on the city you live in. If you live in a city with plenty of Shiftsmart employers, there will be more opportunities to earn.
But if you live in a rural area, you will most likely not find any opportunities to earn. To find out which cities the job is available in, you just have to apply for it. If your city or state is not listed, then don't even bother continuing the application because you won't earn anything.
As for how much Shiftsmart employers pay, I would say they pay quite decently. Each shift can pay $10 to $50, depending on the workload.
These jobs aren't exactly what you call high-paying jobs, but I would categorize their pay as decent, especially since they are only meant for side gigs/hustle.
The jobs on Shiftsmart aren't designed to be the main source of income. If you go in with that expectation, you will be disappointed. But overall, I would say the earning potential of Shiftsmart is pretty decent if you live in a city with plenty of opportunities.
Can you use it on mobile?
As mentioned earlier, Shiftsmart has a mobile app you can download. In fact, all the shift scheduling has to be done using their app.
The app is called Shiftsmart Partner.
You can't do it on their website since they don't have a member dashboard. All you can do on their website is apply for jobs (which I will talk about next).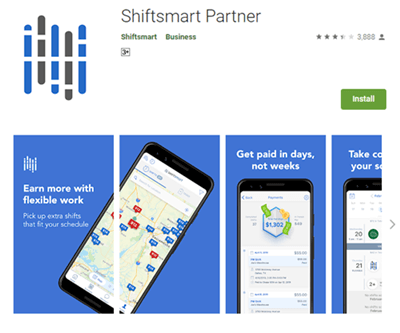 As for their app, it is available for download on the Android and iOS app stores. So, there won't be a compatibility issue with their app. It is also very easy to use since the user interface is quite intuitive. You will easily get used to navigating it.
This makes the whole user experience quite good, in my opinion, which is all you are looking for in a mobile app.
Who can join Shiftsmart?
Shiftsmart is available in quite a few countries.
From what I have been able to find out, you can join from 50+ different countries.
However, how many gigs you can find will vary a lot from country to country. You will find the most opportunities if you live in the US, UK, Canada, or Australia.
Plus, as mentioned earlier, certain jobs are only available in specific cities or states. And you also have to be at least 18 years of age to register as a Shiftsmart worker.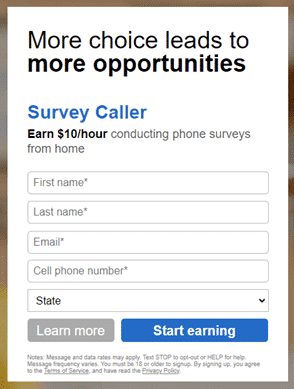 The first thing you need to do is apply for a job. If the state or city you live in is not available on the sign-up form for the job you applied for, as I've recommended earlier, you shouldn't push through with the application process because that means it is unavailable where you live.
But if your city or state is available, just submit the form. Then, you will be asked to download their mobile app and install it. When you've installed the app, you can then log in to it to start viewing all the available shifts for the job you applied for. That's all there is to it.
Can you get support?
Shiftsmart has a FAQ page that discusses most of the important topics you need to know about the platform. So, if you have any questions about their app or even your account, you can check out their FAQ page first.
Now, if you can't find the answers you are looking for, you can submit a support ticket by going to the "Help" section of their website. Click the "Submit a request" link in the upper right-hand corner and fill out the form. You can also use their app to submit your inquiry since their contact form is also available on their app.
Overall, I would say Shiftsmart has a decent support system in place for their members since they offer a convenient way for you to get in touch with their support team.
Are there any Shiftsmart complaints?
Before doing gig jobs like the ones Shiftsmart offers, you need to make sure it is a legit company as you otherwise can end up wasting a lot of time.
As mentioned earlier, Shiftsmart does pay, and since I first published this review, I have heard from many that got paid by them and that are happy about the app.
However, I have also heard feedback from several members that have not had a good experience.
You can see some of these in the comment section below, and there are examples of people not being able to get paid for the work they did and not being able to get help from their customer support.
As mentioned, I have heard both good and bad experiences and wanted to add that here, so you know that and can consider this before deciding if this is for you or not.
Final Verdict
Shiftsmart is a legit gig economy app that will pay you for working on shifts for the job you applied for. It has interesting features, but it also has some drawbacks you need to consider.
Let me wrap up this review by summarizing its pros and cons to give you an overview of what Shiftsmart has to offer. Then, you can decide if it is a good fit for you or not.

Pros:
No payout threshold
It offers a convenient payment method
A lot of gigs available (in some locations)

Cons:
Limited earning opportunities offered
Some complaints about poor support
In my opinion, the one major drawback of Shiftsmart is that the jobs they offer aren't available in many places. So, not everyone can benefit from this platform. If you happen to live in a city with plenty of Shiftsmart jobs, this can be a way to earn some extra money.
That's why I suggest you try this out, especially if you live in a metropolitan area, and observe if plenty of shifts are available. If there are, this can be a way to earn decent money. But if you live in a rural area, I wouldn't bother trying it out. You won't get any opportunity to earn.
I would instead suggest you check out the top survey and GPT sites in your country. The sites on this list all have good earning potential, and you will be able to find a site you can join regardless of where you live.
If you have any comments, questions, or have any experiences with Shiftsmart yourself, I would love to hear from you in a comment below.