SocialRebel is a site that claims you can earn $500 the same day you sign up. It claims you just have to invite friends or test out free apps and games to earn this amount.
Sounds like a pretty good deal, right? Well, at first glance, if you are not an experienced online rewards site member, you might think this is a very interesting offer. After all, you can earn hundreds of dollars in just a day.
However, when something sounds too good to be true, it often is. So, before you sign up as a member, you should read this SocialRebel review first so you can find out if the site is really legit or if it is just a scam.
This review will reveal the full truth about what the site has to offer so you can decide if you should really join this site or not.
What is SocialRebel and what does it offer?
SocialRebel is a GPT (Get-Paid-To) site that will reward you for completing short tasks.
Now, to fully understand how the site works, we have to take a closer look at the earning opportunities it offers. This will also give you an idea of the earning potential of the site.
I have, therefore, made a video that gives you an inside look and shows exactly how you can earn from SocialRebel. You can also read all the details below the video.
Option 1 – Paid surveys
One supposed way to earn from SocialRebel is to answer paid surveys. If you've been a member of GPT or survey sites before, this will be very familiar. But if this is your first time encountering this kind of opportunity, then let me explain to you how it works.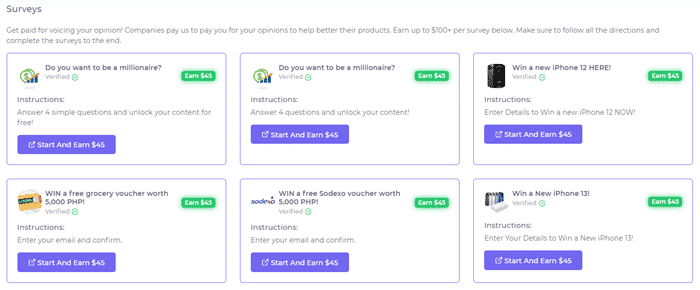 To view all the surveys you can answer, just log in to the website and click the "OfferCenter" option on the left side of the dashboard. You will then see something similar to the photo above.
The problem with the surveys they offer is, most of them aren't actual surveys. But there are some that are actually real surveys. However, these real surveys are being offered on other websites as well. The only difference is, the reward for these surveys isn't even close to what SocialRebel is offering.
That's why there is cause to doubt what SocialRebel is offering. I mean, how are they able to pay that kind of amount when the same survey on a different website will reward you with significantly less?
So, you would think that this is a "too good to be true" instance. The only reason that I can think of is that they intentionally promise that kind of amount to get you to answer that survey so they can earn. But they don't really intend to pay you $50 or more for it. But, we'll go more into the details of whether you can really get paid by answering these surveys later.
Option 2 – Social media posts
You can supposedly also earn by creating social media posts on various social media platforms. To access this opportunity, just log in to the site and click "Social Pay" on the left side of the dashboard.

You will then see something similar to the photo above. The posts you will be creating are all intended to promote the website. You will be provided with a caption you need to use.
That is actually a bit unethical, in my opinion, because you are really just providing unverified information in order to earn the reward. The way I see it, SocialRebel is using this opportunity to help spread the word about the site.
And again, the reward you will earn for each post is quite unrealistic as well.
As you can see in the photo above, you will supposedly get paid $15 to $40 for every post. That's really a very high amount for a task that requires little to no effort.
But that in itself is also a big red flag because it is completely unrealistic that they would ever pay this much just for creating a post on social media without any further requirements. But more about this later when we go over whether you will actually be able to get paid.
Option 3 – Referral program
Lastly, you can earn additional rewards by participating in their referral program. This opportunity is very common with GPT sites. If you are not familiar with what a referral program is, it's an opportunity to earn by inviting other people to join the site.

To invite a person, you have to share your invite link with them. Then, if they click the link and sign up, they will become your referral. You will receive $20 for every referral you get. That's actually quite a high reward. In fact, it's one of the highest rewards I've encountered.
But as you can see, even if the person you invited didn't register but they clicked the link, you will still earn $2. That's quite an unbelievable claim, in my opinion. In all my years of testing these kinds of sites, I have not encountered any legit site that will pay you for simply clicking a referral link.
That's another "too good to be true" offer that you need to be aware of.
And this brings me to the next very important question and you probably have an idea by now since I keep mentioning I see a lot of red flags when it comes to SocialRebel – will you actually get paid? Let's look at this next.
Recommended: Check Out the Top GPT Sites
Does SocialRebel pay?
This is really the big question. As explained above, you will see earnings go into your SocialRebel account when you complete tasks.
But will SocialRebel allow you to withdraw your earnings? This is where it becomes quite suspect, in my opinion.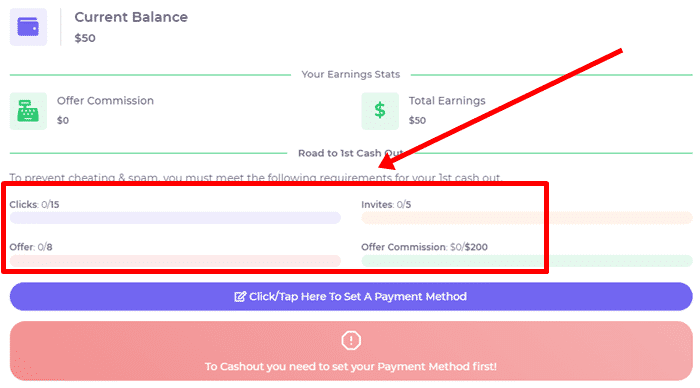 SocialRebel will only allow you to withdraw your earnings once you've lived up to all the requirements on their checklist (refer to the photo above). The checklist is as follows. You have to complete at least 5 offers.
Then, you will have to get 15 clicks from your referral link as well as 5 referrals before you can actually withdraw your earnings. Plus, you have to earn at least $200 from referral commissions. This means your referrals must keep answering surveys in order for you to withdraw your earnings.
I have mentioned this time and again and I have also actually encountered this kind of system from other websites. And, in my experience, all websites that have a payment system with this type of requirements are platforms you cannot trust.
Their payment system, in my opinion, is really designed to force you to get new people to sign up for the site. Because the site will get paid when they get people to complete offers. So, it will become a vicious cycle, where, in the end, the only one benefitting is the site because they don't really intend to pay you.
That's why if you buy into their system, you will eventually just be wasting your time as well as the person you invited. First and foremost, a GPT site should not make it hard for you to withdraw your earnings.
As long as you've met the threshold to withdraw your earnings, you should be able to do so with relative ease. Any additional conditions are just a way to discourage you from actually withdrawing what you've earned.
And usually, in my experience, if you were able to meet the first set of conditions, the site will then ask you to meet another set of conditions to proceed. So, it's just another set of hurdles you need to clear just to withdraw your earnings.
And in the end, you will not be able to withdraw what you've earned. So, while you are able to earn a huge amount from their earning opportunities, it will all be pretty useless because you won't really be able to convert it to actual cash (or even gift cards) that you can use in the real world.
That's why I would suggest you check out the top sites that pay via PayPal instead for a list of reliable sites that will actually pay you.
Additional red flags you need to be aware of
As you can see, we've already encountered major red flags and all we did was examine the earning opportunities and payment system of the website. In case it's not clear to you yet, let me summarize the red flags we've encountered so far.
First, every earning opportunity it offers will reward you with an unrealistic amount. No legit site will pay you that much for answering surveys or even just creating a social media post.
Secondly, while you will really receive the reward into your SocialRebel account for completing their earning opportunities, you will have a hard time withdrawing your rewards because of the additional conditions you need to meet to withdraw your earnings.

But there's actually another red flag you should be aware of. If in case you haven't noticed, the testimonials posted on their page are all fake. Even their payment proofs aren't really convincing enough.
Let me explain about the fake testimonials first. The photos of the people they've used on their testimonials are actually just stock photos or photos you can buy from other platforms. If you really think about it, they don't provide any real way for you to verify if the testimonials are real.
It's quite easy to put fake testimonials on the website. Another thing that is suspicious is, they put in logos of renowned companies on their homepage just to give off that vibe that they are trusted when really these companies don't really have any sort of connection with a GPT site like theirs.
As for the payment proofs they've provided, these can also be easily faked by using Photoshop. Again, there's no real way for you to verify if these payment proofs are actually real. Plus, if you've noticed while you are logged in to the site, you will see a pop-up notification from time to time that a member was able to cash out thousands of dollars from the site.
That alone should be cause enough to be suspicious of the site. There's no GPT site in existence that offers earnings that high. It's simply not realistic.
It's as if they go to these great lengths to prove that they are a trustworthy site but everything they do just raises more suspicions, especially for those who are already experienced GPT site members.
Final Verdict
Let me be blunt, SocialRebel is not a site I would recommend you join.
Let me show you why by finishing this review by summarizing its pros and cons so you can get an overview of what the site has to offer.

Pros:

Cons:
Offers unrealistic rewards for their earning opportunities
You have to meet several conditions to withdraw your earnings
Uses fake testimonials and payment proofs to increase their trustworthiness
If you are new to GPT sites, I would admit, it will be hard to spot the red flags of this site right away. You will most likely try working on the earning opportunities and you might even reach the point where you can earn enough money to withdraw your earnings.
But then, you realize there's something wrong with this site when it's time to withdraw your earnings. You will later find out that you will have a very hard time withdrawing whatever you've earned from the site. That's a pretty common situation for newbies that get hooked by this kind of site.
But if you are already an experienced member of GPT sites, you will immediately spot that this site is suspicious by simply looking at the rewards it offers. Their rewards are really outrageously high, which boils down to something that is too good to be true.
And if something is too good to be true, then it must be false, right? That's why I would advise you to avoid this site at all costs. You will only be wasting your time.
Instead, I would recommend you check out the top survey and GPT sites in your country. The sites on this list all have good earning potential and you will be guaranteed to withdraw your earnings without jumping through hoops.
If you have any comments, questions, or have any experiences with SocialRebel yourself, I would love to hear from you in a comment below.