If you are looking for an app you can use to have fun and earn some money at the same time, there's an app called Solitaire Cash that claims you can win money just by playing Solitaire.
If you love that game, then I recommend you continue reading this Solitaire Cash app review.
It will give you a detailed look at what the app has to offer, so you will know exactly what it does before you even download it, so you can figure out if it is truly worth it or not.
So let's go ahead and examine everything Solitaire Cash has to offer, shall we?
What is Solitaire Cash, and what does it offer?
Solitaire Cash is a mobile game where you can win real money by playing Solitaire.
It is indeed a legit app since you can really earn money from it. However, this doesn't necessarily mean the app is worth using.
If you want to figure out if you should use this app, the first step you have to do is understand how it works. And the only way to do that is to examine the earning opportunities it offers so you can get a clear picture of how much time and effort is required of you to earn.
So here are the earning opportunities the app offers.
Option 1 – FreeRoll Tournaments
One way to earn money from this app is to join freeroll tournaments. However, before you can do so, you need to either earn enough gems to pay for the entry or pay real money to join the tournament.
For the purposes of this review, I will focus on the free method.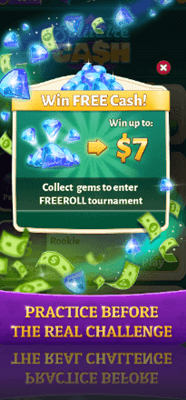 As stated in the photo above, to join a freeroll tournament for free, you need to earn gems. There are a few ways to do this. You can either watch video ads that will pop up while using the app, play a mini-game where you can win gems, or you can claim bonus gems by logging in to the app daily.
Once you earn enough gems (usually around 120 gems), you can join a freeroll tournament. As shown in the photo above, you can win up to $7 (first-place prize) if you win the tournament. The idea behind this is that you will compete with other players to win.
Whoever finishes the game the quickest will win. Each tournament will last for a specific period of time. When it is over, whoever gets the fastest time will win the top prize. The second and third placers will also win prizes, albeit a smaller amount.
If you don't win, then you'll have to earn more gems again to join another freeroll tournament. That's the whole process. It's quite simple, but it is a bit time-consuming. Plus, there's no guarantee you will win any money.
The one thing I noticed while testing the app was that you don't really know if the players you are up against are real people or just bots designed by the app.
Option 2 – Referral Program
The app has a referral program that will reward you with $1 per referral you get. In case you don't know what a referral program is, it is a form of earning opportunity that will ask you to invite people to use the app.
All you have to do is share your referral code with the people you want to invite. When they install the app and provide your referral code during registration, they will become your referral. You'll then receive $1 as a reward.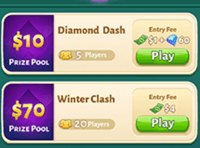 However, this money can't be withdrawn. You will have to spend it to play what I would call money games. As you can see in the photo above, Solitaire Cash also has games where you can bet a certain amount. You can use the money you've earned from the referral program, or you can also just spend your own money via PayPal or Apple Pay.
I highly recommend you avoid the latter, because there's no guarantee you'll win. If you win the money game, you will receive a prize, which can be withdrawn (I will explain how you can withdraw your earnings in the next section).
Recommended: Check Out the Best Ways to Earn Money by Playing Games Online
How do you get paid?
When you win a freeroll tournament or money game, you will receive a certain amount, and it will be reflected in your account balance. Once you've won at least $5, you'll be able to withdraw your earnings via PayPal.
PayPal is the only payment method the app offers, so if you are interested in using this app, you have to make sure you have a verified PayPal account to withdraw your earnings. Overall, I would say the payment system of the app is relatively straightforward.
I like the fact that it offers a convenient payment method like PayPal. If you are interested in more sites or apps that offer a convenient payment method, I recommend you check out the top sites that pay via PayPal.
How much money can you make?
The thing with Solitaire Cash is that there's no guaranteed way to earn, so the amount you can earn will totally depend on how good you are at this game and how lucky you are. As explained above, you will only earn if you win tournaments or money games.
The amount you can win is also not that much. That's why I would say the earning potential is very low. And I highly recommend you avoid spending money on this app, because you will most likely just end up losing money (unless you are very good at this game).
The only real value I can find is that it's a fun way to spend your extra time (if you love playing Solitaire). If you are in it for the money, then there are better options out there, in my opinion.
Can you use it on a desktop?
Solitaire Cash is a mobile-only platform, so you will need to use a mobile device if you want to play this game. Plus, the app is only available for iOS devices. If you are an Android user, I recommend you check out the best money making apps for Android instead.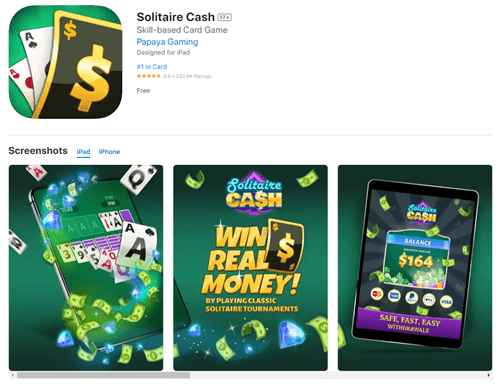 The app is relatively easy to use, but as I've mentioned earlier, you will encounter pop-up ads while using it, so the overall user experience it offers is not that good. If you hate video ads, then this is not for you, because if you want to potentially win money for free, you'll have to power through the ads to earn gems and join a freeroll tournament.
Who can join Solitaire Cash?
The site or even the app page doesn't tell you which countries it is available in. But from what I can tell, it is available more or less worldwide. That being said, the cash tournaments of Solitaire Cash are not available in certain states of the US where gambling apps are illegal.
To sign up, you will first have to download the app and install it. Then just follow the instructions presented during the sign-up process. Once you are done registering, you can log in to the app and start playing.
Can you get support?
The app's website doesn't have a FAQ page or even a Help page you can check out if you have any questions about the app. If you have an inquiry or you encounter any issues while using the app, you'll have to get in touch with their support team via email.
You can contact support by emailing them at [email protected]. Overall, while the app does provide a way for you to receive support, I do wish the website would provide more useful information to reduce the instances of having to contact support. On top of that, I wish they would also provide a contact form on the app's website, so you can contact support easily.
Final Verdict
Solitaire Cash is a mobile app that will allow you to potentially win money by playing Solitaire. It has a couple of decent features, but it also has some limitations you need to consider.
Let me finish this review with a summary of its pros and cons to give you an exact overview of what the app has to offer. Then you can decide if it is truly worth it or not.

Pros:
Offers a passive way of earning extra cash
Payment via PayPal is available
Available globally

Cons:
Limited earning opportunities
High payout threshold
The app consumes more battery charge, so you will have to charge your device more than you're used to
You have to install the app manually
In my opinion, if you are just looking for a mobile game you can play, then Solitaire Cash is a decent option (as long as you love playing Solitaire, of course). But if you are looking for an app to earn extra cash from, it isn't a good one.
The main reason why I say this is that the app doesn't offer any guaranteed ways to earn. You'll have to spend a lot of time just to have a chance at winning a small amount. You are better off investing your time in sites or apps that offer guaranteed earning opportunities.
But if you want to earn while playing games, I recommend you check out the best ways to earn money by playing games online. Just keep in mind that the earning potential of these options isn't that great.
Now if you are looking for good ways to earn extra cash, I suggest you check out the top survey and GPT sites in your country instead. The sites (and apps) on this list all have good earning potential, so you will be able to earn a decent amount quickly.
If you have any comments, questions, or have any experience with Solitaire Cash yourself, I would love to hear from you in a comment below.