There are plenty of ways to earn extra cash online nowadays. You can join a survey site or a Get-Paid-To (GPT) site. These are the most common options for people who want to earn a little bit of money on the side.
But there's also a type of site you can earn extra cash from called a Paid-To-Click (PTC) site. This type of site mainly allows you to earn by viewing ads. One such site is called Star-Clicks.com
But is Star-Clicks legit? Well, for all intents and purposes, I would say yes. However, its legitimacy doesn't really show whether this site is worth joining or not.
To answer that question, we have to take a closer look at what the site has to offer. This Star-Clicks review will do exactly that.
It will show you every feature the site has so you'll know what to expect and then base your decision on that. And there are some important hidden details you need to be aware of before joining.
What is Star-Clicks and what does it offer?
Star Clicks, a site owned by Easy Logic, is a PTC site that partners with other companies or individuals to increase their online traffic.
The way they do this is they let their members (potentially you), visit these sites in exchange for small rewards.
Now, to truly understand how well you can earn from this site, we have to examine the earning opportunities it offers. So, here's how you can earn from Star Clicks.
I have made a video tutorial that will give you an inside look and show exactly how it works. You can also read all the details below the video:
Option 1 – Paid ads
Star-Clicks is a lot simpler than other PTC sites around. It doesn't have as many earning opportunities offered compared to other PTC sites.
It's both good and bad, in my opinion. It's bad because it will be pretty hard to earn a significant amount because there are fewer ways to earn.
It's good because it makes earning a lot simpler. That being said, the main way you can earn from this site is by viewing ads.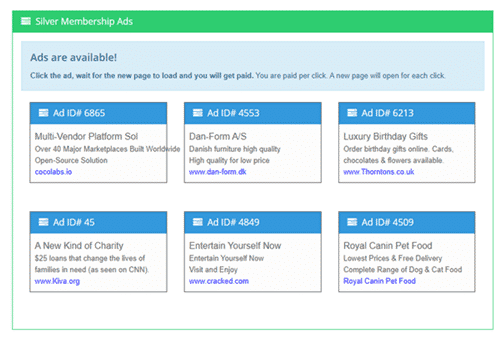 When you log in to the site, you can view all the available ads you can view under the PPC Ads tab. All you have to do is click an ad offer and it will open a new browser tab. This new tab will display the page the advertiser wants you to view.
It can be a homepage of a website, a promotional offer page, or even a landing page. Simply wait for the page to load completely. Once the page is finished loading, you can close it and move on to the next ad.
It's really that simple. Typically, on other PTC sites, you will have to solve a captcha to complete the viewing and wait for a certain number of seconds. Star-Clicks won't ask you to do that. So, in a way, it's a lot easier to earn from this site.
The downside is, you won't have access to a lot of paid ads as a basic member. If you want more ads to view, you will have to upgrade your membership (which I will discuss later).
However, compared to most other PTC sites, Star-Clicks pays better for the clicks so even though there might not be as many to click, you can still earn more than on most other PTC sites.
Option 2 – Referral program
As with all online rewards site, Star-Clicks also has a referral program you can participate in to earn additional rewards. All you have to do is invite people to join the site by sharing your invite link with them.

Once they sign up to the site using your referral link or code, they will automatically become your referral. You then get paid a certain amount when that happens.
Their rewards are dynamic. Currently, if your referral signs up as a basic member, you will receive $0.08. If they upgrade to gold membership, you will receive $5. If they upgrade to a platinum membership, you will receive $10.
So, you stand to earn a significant amount if they decide to upgrade their membership level. But as for the basic rewards, it's really not that much.
I would say that it will only be worth investing time on when your referral decides to upgrade their membership level.
This also seems to be the point of the referral program – usually, you will get a continuous commission when your referrals earn on PTC sites.
But here it is a one-time commission that is only really worth it if they end up upgrading.
So again it is quite different than most other PTC sites.
How do you get paid?
Now, on to the next important part. Every ad you click and referral you make will earn you a certain amount which will be credited to your Star-Clicks account.
As a basic member of the site, the payout threshold is very high ($50) which is quite hard to reach especially since you will be earning only a small amount per ad you click and there are only a few ads available per day.
However, they also have an auto-payput feature you can enable to get your earnings faster. But this is another aspect where Star-Clicks is not transparent.
You are just told that you will get paid faster if you are active and enable auto-payout. But they also say that they cannot specify when ypu will get paid and the payout threshold for auto-pay.
So tis means you just have to wait and see – I have never before seen a site that does not want to specify the conditions for paying out or the payout threshold for a certain option and I find this very strange.
If you upgrade your membership though, the threshold will be removed and you will be able to withdraw any amount you wish.

Star-Clicks offers three payment methods. You can withdraw your earnings via PayPal or direct bank transfer. You can also convert your earnings to Bitcoins.
I do like the fact that they offer PayPal as a payment method because, in my opinion, this is the most convenient payment method available today. And this payout method is usually not available on PTC sites so great it is an option here.
If you are interested in other sites that pay via PayPal, I suggest you also check out the top sites that pay via PayPal.
How much money can you make?
Here's the clincher. A PTC site is only worth joining if you are able to earn a decent amount in an efficient and quick manner.
As you already know, the basic membership won't allow you to earn a decent amount every day and it has a very high payout threshold.
So, if you are not planning on upgrading your account, you will have to wait several months or even a year before you can hope to withdraw your earnings.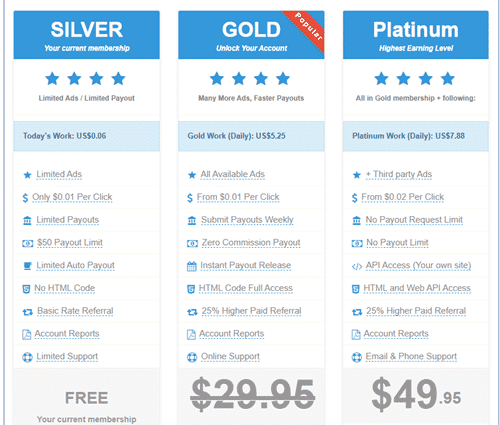 But if you upgrade to a gold or platinum membership, you will be given access to more ads which means you can earn more. But keep in mind that every ad you view will only reward you with $0.01-$0.02. So, even if there are more ads to view, you still won't earn a lot.
Also, be aware that even though it is not clear on the website, the fee for the upgrade is a monthly fee.
It is a bit sneaky that this is not made clearer, in my opinion.
That's why I would say that this site has a low earning potential even if you upgrade your membership. And even if you do avail of the upgrade, you have to create a solid strategy to earn back the money you spent for the upgrade.
Personally, I'm not a fan of the "spend more to earn more" strategy because, in my opinion, this just defeats the purpose of joining an online rewards site. But if you can make it work, then, by all means, go ahead.
Also, it seems like the main point is to get you to invite a lot of other people and get them to upgrade. That is where the biggest earning potential is and it seems this is the main way for Star-Clicks to make money.
But be aware that even if you manage to invite a lot of people it is still only a one-time bonus you get and not like on a site like, for example, PrizeRebel where you can get a continuous commission of 30%.
So if you do not continue to invite a lot of people to Star-Clicks, you will not be able to cover your monthly cost.
So, in reality, it seems like the only way you can really make money is by inviting people – this is also the reason you will see so many people spreading their link all over the internet to convince people to join.
But do not get carried away by the seemingly easy way to make money – it will not be that easy after all.
Can you use it on mobile?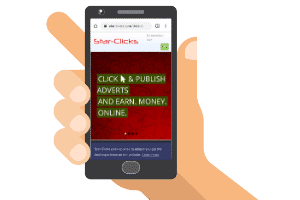 If you were hoping that that Star-Clicks has a mobile app you can download, then you will be disappointed because it doesn't have one. However, you will still be able to access the site from a mobile device by using a mobile web browser.
Their site has a responsive theme so you won't have any trouble reading the content without zooming in. This, at least makes it easier for you to earn rewards because you do not need to sit in front of a computer to view ads.
And seeing as there aren't really a lot of ads to view, working on the site from a mobile device will certainly be doable. You can just view ads on your way home or even during your break time.
Who can join Star-Clicks?
The good thing about Star-Clicks is it is available globally. So, you can sign up as a member regardless of where you live. You do have to be at least 18 years of age or older to join the site.

To sign up as a member, all you have to do is fill out their registration form. They will then send you an email containing the activation link. Simply click the link to activate your account. You can then start viewing ads.
However, you will need to undergo phone activation at some point to complete the registration process. You can choose how to receive the verification code for mobile activation. You can choose to receive the code via WhatsApp or via SMS.
Once you have the code, you will then have to input it in the Phone Verification section of the site.
Can you get support?
Star-Clicks has a support page you can refer to if you have any questions about the site. They do explain quite thoroughly how the site works on their How It Works page. Their FAQ page also explains a few topics properly. Plus, you will also pick up a few things while browsing through the member dashboard.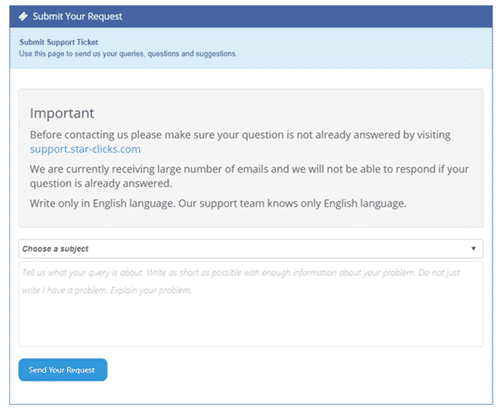 But if you really need to get in touch with their support team, you can submit a support ticket through their helpdesk support page (refer to the photo above).
Overall, I would say that they do provide a rather decent support system for their members, which is good because it shows that they do care about the entire user experience their site offers.
Final Verdict
Star-Clicks is a legit PTC site that does pay you for viewing ads and inviting people to join the site. It has a couple of nice things to offer but it also has one major downside.
To finish this review, let me summarize its pros and cons to help give you a better overview of what the site has to offer. You can then decide if you should join this site or not.

Pros:
Offers payment via PayPal
Available globally
Their site is not spammy like most other PTC sites

Cons:
Limited earning opportunities offered
Very high payout threshold
Your earnings will depend on inviting others that will upgrade
They are not clear about the upgrade fee being monthly
Are not transparent about auto-pay conditions
Earning money from this site is a bit suspect. As you know, it's very hard to reach the threshold if you only have a basic membership. In my opinion, what the site seems to do is entice people to upgrade their membership.
And even then, it will still be quite difficult to earn back the money you spent for the upgrade unless you invite a lot of people who will also avail of the upgrade. So, it will wind up as a vicious cycle. And keep in mind that the upgrade has to be done monthly. That will cost a lot of money in the long run.
So overall, I would NOT recommend you join this site at all. There are simply better ways to earn without having to upgrade your membership fee.
For a list of sites you can earn extra cash regularly, I suggest you check out the top survey sites in your country instead. The sites on this list all have good earning potential and offer efficient ways to earn.
Plus, you will also be able to find a site you can join regardless of where you live.
If you have any comments, questions, or have any experiences with Star-Clicks yourself, I would love to hear from you in a comment below.