Are you looking for a fitness app that will help you achieve your fitness goals and earn a bit extra at the same time?
If so, then you might have already encountered an app called Strava and you are wondering if it is really worth it or not.
But, in order to find the answer to that question, you usually have to spend time trying it out for yourself. Here's where this Strava app review will be able to help you out.
I have personally tested this app to find out what it has to offer so I can give you an inside look. That way, you don't have to try it out just to find out if it is really worth it. This will save you a lot of time, so let's go ahead and get this review started, shall we?
What is Strava and what does it offer?
Strava is a fitness app designed to aid you in tracking your fitness activities. It is mainly designed for athletes, specifically runners and cyclists, but it can also be used for other physical activities like swimming.
It also has an earning opportunity which is really the main focus of this review, so I won't be discussing in length all the various features of the app. Instead, I will talk about how you can earn from this app so you will be able to gauge if it is really an app worth using to earn some rewards. So, here's how to earn from Strava.
The earning opportunity – Challenges
The only way to earn rewards from Strava is to participate in any of the challenges it offers. To view the available challenges, you have to log in to the website or the app (I will discuss the app later).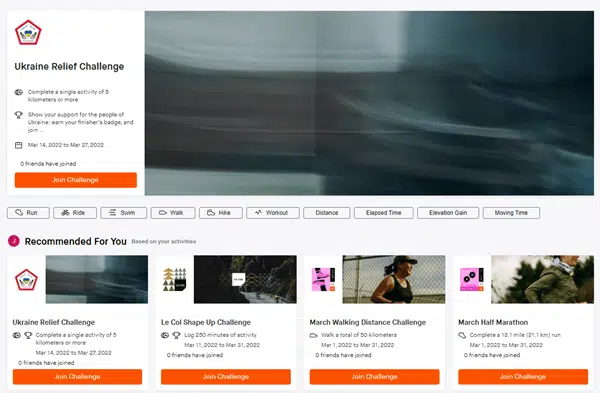 However, there's one thing you need to know about these challenges. Not all of the challenges available offer tangible rewards. Some challenges will only reward you with virtual badges that will appear in your account's trophy case.
Other challenges will offer tangible rewards like gift cards for a specific fitness store. Now, the question is, how do these challenges work? Well, it's actually pretty simple.
If you are interested in joining a challenge, all you have to do is click the "Join" button of the challenge. But before you do press the button, I would recommend you read the details of the challenge first by clicking it.
Then, you'll see the possible reward you will receive for completing the challenge as well as the requirements you will need to meet to actually complete it (refer to photo below).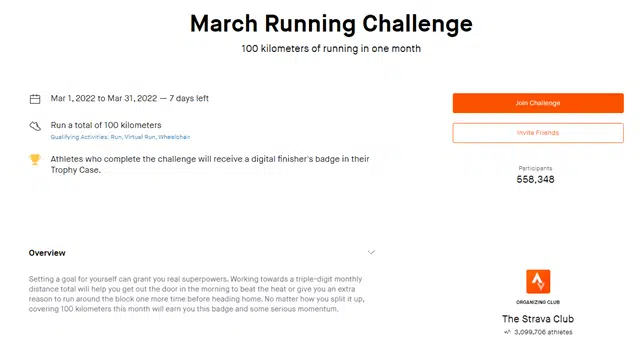 For example, in the photo above, the challenge will require you to run a total of 100 kilometers for the whole month of March. But how will the app know you are able to meet the requirement? Well, as mentioned earlier, the app can actually track the progress of your fitness activities.
It does it in a couple of ways. Firstly, you can do it using your mobile device since the app can actually double as a pedometer as well, so you can just bring your mobile device with you every time you go out running. For cycling challenges, the app can also record the distance you have traveled while cycling.
Secondly, you can connect the app to any fitness device like a fitness watch and collect all the data the device has gathered. As long as your fitness device has a Bluetooth connection, the app will be able to pair with it and gather the necessary data.
Participating in the challenges is really simple, provided of course, you are really dedicated to meeting the requirements. After you've successfully completed the challenge, you will receive the reward promised (I will discuss how you will get paid in the next section).
In other challenges, there will only be one winner. This kind offers the most rewards from what I observed and this is the kind of challenge where you can usually win a tangible reward. The person who is in 1st place on the leaderboard will win the prize. These challenges will usually be sponsored by a certain fitness brand, so you can easily identify them.
Recommended: Check Out the Top Passive Income Apps
How do you get paid?
As mentioned earlier, some challenges will offer tangible rewards like gift cards. But based on my testing, most of the gift cards that will be awarded will be for fitness stores like the one shown in the photo below.

As you can see, if you are able to win this challenge, you can get a chance to receive a very sizable reward of £3,000 that can be spent in the online store of Le Col.
The downside is, there's no guarantee you will win. But then again, the prize is pretty significant, so you will really be motivated to complete it.
You will receive the prize within a couple of business days, so you won't have to wait that long. Most of the challenges that offer tangible rewards will be named after the company that is sponsoring the prize. It's actually quite helpful because you can easily spot which challenges will offer prizes that are worth it for you.
The reward system of Strava is relatively straightforward, but if you were expecting to earn cash from this app, you will be disappointed. As mentioned, you can only receive gift cards.
If you prefer to earn cash, I would recommend you check out the top sites that pay via direct bank transfer instead.
How much money can you make?
As you can see above, the prizes for their challenges are actually pretty significant. But based on my testing, these challenges are quite rare, so you won't always get a chance to earn something. Plus, most of these challenges will not offer guaranteed earnings.
That's why I would say the earning potential of Strava is quite low even though its rewards are quite high. In my opinion, though, this isn't the real value that Strava offers. As explained earlier, Strava is for athletes like runners and cyclists.
Its features are geared towards helping athletes maximize their workout or training program, so if you belong to that demographic, you stand to benefit from using this app. But if you are just mainly looking for a way to earn, this isn't the right app to use, in my opinion.
Can you use it on a desktop?
Strava is primarily a mobile-only platform, but you can also access your account from their web-based platform. You can review all the information the app has gathered using your laptop or desktop, which is actually pretty cool, in my opinion. Not a lot of fitness apps offer that kind of versatility.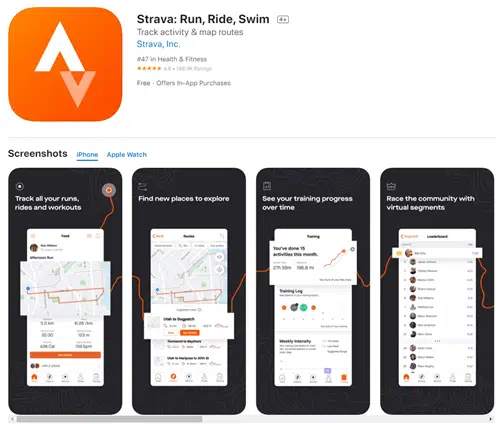 But for all the other things you need to do like tracking your run or ride, you will really need to use the app. Fortunately, the app will work with both Android and iOS devices and it is also relatively easy to use.
It also offers a premium subscription where you can take advantage of more features that can help you achieve your fitness goals. The premium subscription though, will not affect your chances of earning more from this app. It will just unlock more features for you to use.
Who can join Strava?
Technically speaking, Strava is available globally. You can sign up as a member regardless of where you live.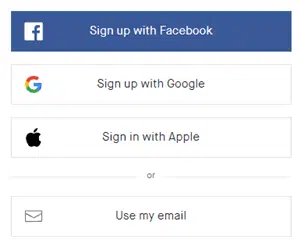 The registration is also very easy. You can sign up by using your Google, Apple, or Facebook account. You can also sign up by providing your own login details.
However, the rewards you can earn will depend on who is sponsoring the prize. If the sponsor doesn't cater to your country, then winning the challenge will be relatively useless (unless you can find a way to sell it online).
Based on my testing though, the prizes their challenges offer can be claimed from various countries, so you will have a high chance of being able to claim the prize if ever you win.
Can you get support?
If you have any questions about your account or Strava in general, you can check out the Support section or the FAQ section of the app. It is also accessible from the website, so you will have plenty of options.
The Support page of Strava is also fairly comprehensive, so you will most likely find the answers you are looking for. But if your question was not answered by their FAQ or Support page, you can just submit your inquiry to their support team by submitting a request through their Support page.
Overall, I would say Strava has a decent support system in place for its members since it offers a convenient way for you to communicate with their support team.
Final Verdict
Strava is a legit fitness app where you can sometimes win prizes by completing challenges. It has a couple of good features, but it also has some limitations you need to consider.
Let me wrap up this review with a summary of its pros and cons to give you an overview of what the app has to offer. Then, you can decide if you should use it or not.

Pros:
Offers significant prizes
Available globally
The app is user-friendly

Cons:
Limited earning opportunities offered
There's no guarantee you can earn
If your goal of using this app is to earn, then you will be disappointed. In my opinion, Strava is mainly just a tool to help you track your progress in doing fitness activities. It is especially useful for runners and cyclists.
Yes, it offers challenges where you can win rewards, but they are few and far between. Plus, there's no guarantee you will win the prize since you will still be competing with other members. But, if you are just looking for a fitness app to use, it is a good app to use because it has a lot of features tailored to help you reach your fitness goals.
Now, if you are looking for great ways to earn extra cash for free, I would instead suggest you check out the top survey and GPT sites in your country. The sites on this list all have good earning potential and you are guaranteed to earn a decent amount.
If you have any comments, questions, or have any experiences with Strava yourself, I would love to hear from you in a comment below.