If you are looking to earn extra cash online, you might have already encountered a website called Survey.com in your research. So, you might be wondering, is this site worth it or not? And you may also be wondering if this site is legit or just another scam.
This Survey.com review will answer all your questions regarding the site. I have personally joined and tested their earning platform to see what it has to offer. I will explain all its features so you'll know what to expect before you even sign up.
Just take note though that you won't be using the site to earn. Instead, you'll have to download a mobile app called Survey Merchandiser (in the iOS app store) or Merchandiser by Survey.com (in the Google app store) to take part in their earning opportunities.
What is Survey.com and what does it offer?
While the name of their website will make you think that Survey.com (or its app) is a survey site where you can just answer surveys to earn, it's actually a gig economy platform that will really ask you to perform small tasks to earn.
And yes, it is indeed a legit platform where you can earn real money. Now, the question is, is it worth it or not? To answer that, we first have to take a closer look at the earning opportunity it offers so you'll understand what you need to do to earn.
So, here's how to earn from Survey.com.
The earning opportunity – Projects
As I've mentioned earlier, you will need to download their app to earn. To avoid confusion, I will just call their app "Merchandiser".
When you've downloaded their Merchandiser app and you've registered as a member (I will discuss their app later), you will gain access to their earning opportunity called "Projects".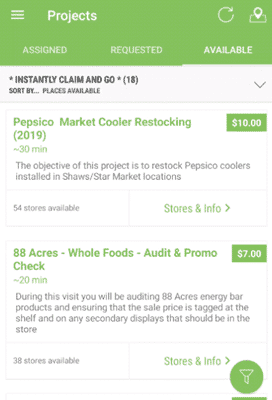 As you can see in the photo above, these projects are actually just short tasks that will ask you to visit a certain location (usually a store) in your area. That means the Merchandiser app will check your location first to determine what projects will be available for you.
So, make sure to allow the app to determine your location so you can see all the projects you can work on. Every project will tell you how much you will earn and what you need to do to complete it. If you are interested in a project, just press it and you will see the full details of what you need to do.
If you want to work on it, just press the claim button. Take note though that you will only be given a maximum of 6 hours to complete the project. If you fail to complete the project within the given time, it will negatively affect your rating.
And if you keep failing to complete a project, you will no longer be able to claim any project and earn from Merchandiser. That's why I would recommend you only claim projects when you are ready to work on it.
As for the things you need to do to complete a project, here's a list of what you usually have to do:
Look for promotional displays
Count inventory
Take pictures of products
Build promotional displays
Add stickers to products
Stocking shelves
During my testing, the most common tasks were taking pictures of products and counting inventory. So, expect to see a lot of projects that will ask you to visit stores and take photos of what they are selling.
When you've completed what the project is asking you to do, you will have to submit all the deliverables to Merchandiser. Then, they'll review it and if everything is up to par, you will receive the compensation (I will talk about how you will get paid next).
It takes 6 days for Merchandiser to approve your submission. So, you'll have to wait a bit before you will receive your reward.
Recommended: Check Out the Top GPT Sites
How do you get paid?
For every project you complete, you will earn a certain amount in US dollars. As explained above, you will receive the payment for the project exactly 6 days from the date of submission of deliverables (provided of course it is approved by Merchandiser).
Then, when it shows up in your Merchandiser account balance, you will be able to withdraw your earnings through their payment system called Openforce if you've earned at least $5. So, if you plan to sign up as a member of Merchandiser, you will also have to create an account in Openforce to get paid.
You can get paid via direct deposit or pre-paid debit card once you have an account for Openforce.
Overall, their payment system is relatively simple. However, if you are looking for more convenient ways to get paid, I would recommend you check out the top sites that pay via PayPal instead.
How much money can you make?
The amount you can earn from Merchandiser will mostly depend on how often you can complete projects. Unfortunately, you don't have control over how many projects will be made available for you.
In my experience with this kind of app, there will be plenty of opportunities for people who live in major cities. But if you live in a small city, you can't really expect to earn anything from Merchandiser.
Now, if you live in a city where there's a good number of projects available, the best thing you can do to ensure you can continue to earn on Merchandiser is to only claim projects when you are ready to work. As explained earlier, if you fail to complete projects after 6 hours of claiming them, you will receive a negative score in your Reliability Rating.
If your Reliability Score drops below 2.5, you will not be able to claim any projects anymore. You'll have to wait for Merchandiser to assign you a project in order to earn. And that will only happen once in a blue moon. So, it's not really good to not complete claimed projects.
As for how well they pay, you will usually earn around $5 to $20 for each project you complete. While this rate isn't that bad, it isn't that great either as you also have to take into consideration the time you spend going to and from the locations.
That's why I would say the earning potential of this platform isn't that great.
But if you live in a major city where there are plenty of projects available, this can be a fun way to earn some cash.
Can you use it on mobile?
As mentioned earlier, you will need to download their mobile app to earn. So, to answer the question above, yes, you can use it on mobile.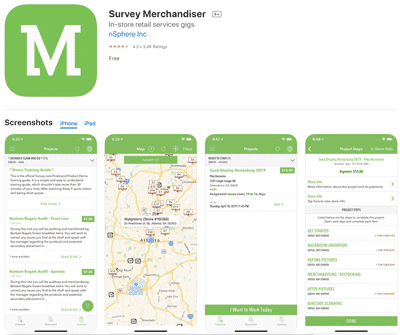 Their app is available for download on both Android and iOS app stores which means you shouldn't have any problems regarding compatibility. If you download it from the Android app store, it will be called Merchandiser by Survey.com.
But in the iOS app store, it is just called Survey Merchandiser. Don't be alarmed since they are basically the same app.
The app is quite easy to use, so you won't have a hard time getting used to how it works. Plus, you won't encounter any annoying pop-up ads. Overall, their app offers a pleasant user experience, which is all you can really ask from a mobile app.
Who can join Survey.com?
Merchandiser by Survey.com is only available for people who live in the US. So, if you live somewhere else, then this app is not for you. You also have to be at least 18 years of age to be eligible to sign up.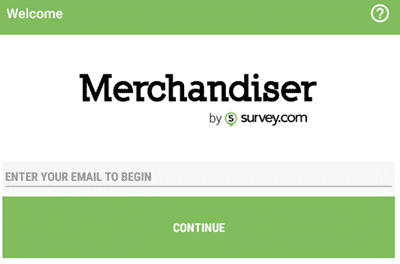 To sign up as a member, you will first have to install their mobile app. Then, when you open the app for the first time, you will have to go through the registration process. The first thing you need to do is provide your email address.
Then, you'll have to provide other information like your address and phone number so Merchandiser can build your profile. Your phone number is actually quite important because a Merchandiser representative will call you when you claim projects to confirm that you really want to work on the project.
Once you are done with the profiling process, Merchandiser will send a confirmation email. All you have to do is click the link in the email to complete your registration. When you've done that, you can now start working on projects.
Can you get support?
If you have any questions about their platform or if you encounter any issues while using their app, you can refer to their support page on their website. You can also access their support page from the app.
You will find their FAQ section on that page. It's quite comprehensive since it talks about most of the important things you need to know about the app.
But if you can't find the answers you are looking for, you can just send your inquiry by submitting a support ticket. Overall, I would say they have a decent support system in place for their members since they offer a convenient method for you to communicate with their support team.
Final Verdict
Survey.com is a legit gig economy platform that will pay you for completing the projects they offer. It has a couple of good features, but it also has some limitations you need to consider.
Let me wrap up this review by summarizing its pros and cons so you can get a better overview of what they have to offer. Then, you can decide if you should sign up or not.

Pros:
Offers an interesting way to earn
Low payout threshold
Their app is easy to use

Cons:
Limited earning opportunities offered
Limited payment options available
Low rewards
In my opinion, Merchandiser by Survey.com isn't really a great primary app to earn from. It can be a good option to earn extra cash if you live in a major city in the US since there will be a good number of projects available.
But if you live in a small city, don't expect to earn from it. That's why I would only recommend you join their platform if you really need an extra platform to earn from and you live in a major city in the US.
Otherwise, I would recommend you check out the top survey and GPT sites in your country instead. The sites on this list all have good earning potential and you won't have to leave your home to earn extra cash.
Plus, you will definitely find a site you can join regardless of where you live.
If you have any comments, questions, or have any experiences with Survey.com yourself, I would love to hear from you in a comment below.