SurveyGPT claims it's an online platform where you can earn without any investment.
Now, the question is, is SurveyGPT a scam? Or is its claim really legit?
I've decided to join and test the site to see whether or not it is truly legit. I will share everything I've learned about this site in this SurveyGPT review. That way, you will be able to properly evaluate if the site is truly worth your time or not.
I will also include my rating as well as my recommendation at the end of this review based on my experiences after having tested hundreds of free online earning methods.
So, let's go ahead and scrutinize everything this site has to offer, shall we?
What is SurveyGPT and what does it offer?
SurveyGPT.com, as the name suggests, is a GPT (Get-Paid-To) site that will reward you for taking on short tasks. And yes, it is indeed legit since it will really pay you for completing the said short tasks.
But the question is, is it really worth it? To answer that, you must first understand how the site works and the best way to do that is to examine the earning opportunities it offers. So, here's how to earn from SurveyGPT.
Option 1 – Offerwalls
The primary way to earn rewards from SurveyGPT.com is to work on their offers. In case you don't know, an offerwall is an in-site advertising platform that is designed to promote websites and mobile apps through their paid offers.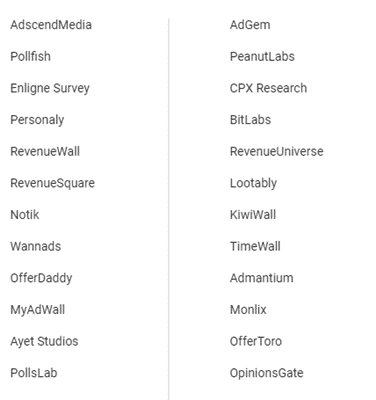 You can normally find this kind of earning opportunity on GPT sites. To start working on offerwalls, just log in to the site and go to the offerwalls section. You then have to select which offerwall you want to work on (refer to photo above).
The good thing about SurveyGPT is, it has plenty of offerwalls available (there were 24 offerwalls available during my testing). So, you will most likely not run out of things to do to earn rewards, which is a good thing.
Once you've chosen an offerwall, you will then see all the paid offers you can complete. These paid offers are the short tasks I was referring to earlier. Usually, these offers will ask you to answer surveys, download mobile apps, or register to certain websites.
Some offerwalls will also contain paid offers that will ask you to watch videos. Each offer will tell you the reward you will receive and the set of instructions you need to follow. If you miss any of the steps it is asking you to do, you will not be able to complete the offer and you won't receive any reward.
So, reading is key in this earning opportunity. Make sure you understand what the offer is asking you to do before you start working on it.
When you successfully complete the offer, you will receive a certain number of points as a reward. Later on, I will explain what you can do with the points you've earned.
Option 2 – Daily surveys
Another way to earn rewards is to answer their daily surveys. To access their daily surveys, you just have to log in to the member dashboard and click the "Earn More" option, and hit "Daily Surveys".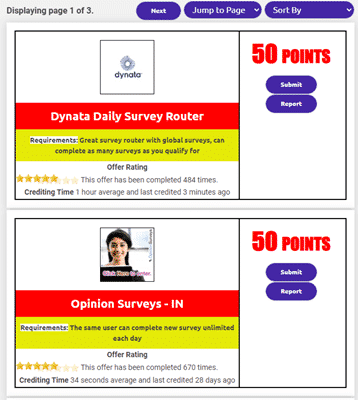 Now, unlike survey sites, SurveyGPT doesn't host its own surveys. Instead, it only acts as a survey router and displays all the available surveys from survey providers they have partnered with.
If you've been a member of survey sites before, then the process for answering the surveys will really just be the same. You go through a qualifying process, then if you qualify, you get to answer the survey. If you don't, you move on to the next available survey.
What I noticed about SurveyGPT's daily surveys is they do have a decent number of surveys available. However, the qualifying rate is quite low. So, you will really have to be patient with this earning opportunity because most of the time, you will not qualify.
If you do qualify, and you are able to successfully complete the survey, you will receive a certain number of points (usually around 40 to 50 points).
Option 3 – Referral program
Lastly, you can earn more points by inviting people to join the site. This is done through their referral program.
In case you don't know what a referral program is, it is an earning opportunity that will ask you to invite other people to join the site using an invite link.
So, you just have to share the invite link with the person you want to invite. Then, when the person signs up as a member using your link, he/she will become your level 1 referral. Now, if your level 1 referral decides to invite another person, that person will become your level 2 referral.
The good thing about SurveyGPT's referral program is it is 3 levels deep. But what's the difference between the 3 levels of referrals? It's mostly the percentage of the commission you will get when your referrals earn on the website.
For level 1 referrals, you will receive a 15% commission every time they earn on the site. For level 2, it will be 5% and for level 3, it will be 1%.
While it may not seem like much, if you make sure you invite people that will really be active on the site (meaning they earn rewards every day and invite people to join too), then the rewards will eventually pile up.
So, it can be a nice form of passive income on the site. It takes a bit of time and effort, but if you are really good at inviting people, then it can be a profitable endeavor.
Recommended: Check Out the Top GPT Sites
How do you get paid?
Now that you know how to earn from the site, let's discuss how you can get paid.
As explained earlier, you will earn a certain number of points when you complete a task. You can then use these points to redeem various rewards (refer to photo below).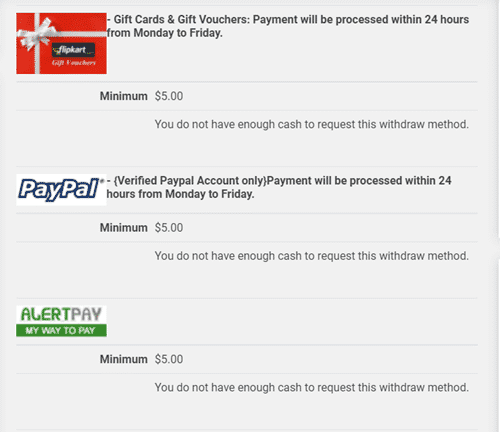 The good thing about SurveyGPT.com is it offers several reward options. You can get paid via PayPal, Payza, or Skrill (although the site still refers to them as their old names AlertPay and Moneybookers).
These are the options where you can convert your earnings to cash. All you need to do to withdraw your earnings is to earn at least $5. That's the minimum payout threshold for these payout options.
But, you also have the option to convert your coins to Flipkart gift cards (threshold will be $5) or Bitcoin (threshold will be $5 for any crypto wallet, but if you use Coinbase, the threshold will be $25).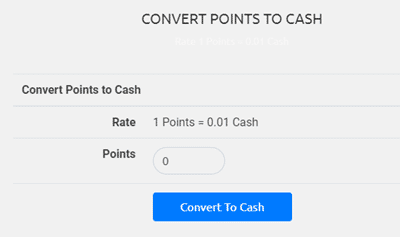 You might be confused about how you can reach their threshold when all you are really earning are points. Well, as you can see in the photo above before you can withdraw your earnings, you will actually have to convert your coins to cash.
To do this, just click on the "Account" option on their menu and select "Convert Points". You will then see something similar to the photo above. As you can see, the conversion rate will be 1 point equals $0.01. For clarity, that means 100 points will be worth $1.
Once you've converted the points to cash, you can withdraw them using your preferred option. Their payment system is relatively straightforward once you get used to it. And I do like the fact that you can get paid via PayPal since that is the most convenient option if you want to get paid in cash, in my opinion.
If you are looking for more sites that offer a convenient payment option, I would recommend you check out the top sites that pay via PayPal.
How much money can you make?
As mentioned earlier, SurveyGPT has a lot of offerwalls, so you won't really run out of things to do to earn rewards. So, the amount of money you can earn from this site will mostly depend on how much time you are willing to spend on it.
But there's also another factor that can affect your earnings and this one you don't have any control over and that's how well the site pays. Let's examine that for a bit so you can get an idea of how much you can earn.
For paid offers from offerwalls, you will usually earn around 20 to 50 points for every offer. From time to time, you will encounter offers that are worth more than 100 points, but this is quite rare. So, if you convert that to cash, that would be around $0.2 to $0.5 per offer, which is actually a decent rate, in my opinion.
For their daily surveys, as mentioned, you can earn around 30 to 50 points per survey. But you also have to consider that you won't always qualify for surveys. So, the bulk of your earnings will come from their offerwalls.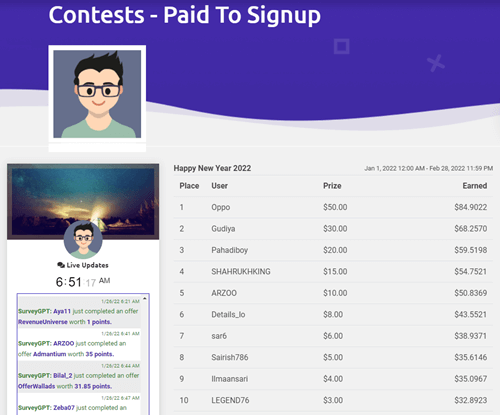 SurveyGPT.com does have a system that will allow you to earn more. In the photo shown above, you can see they hold contests for members who are able to complete sign-up offers (paid offers that will ask you to register to websites).
If you are among the top 20 members who've earned the most from this kind of offer, you will receive a bonus prize. The first place will win $50, second place will be $30, third place will be $20, and so on and so forth (until the 20th place).
It's not for everybody, but it can be a nice goal you can set as a sort of motivation to stay active on the site.
But overall, I would say the site's earning potential is not bad, but it's also not that good either. It can serve as a decent secondary site to earn from, in my opinion.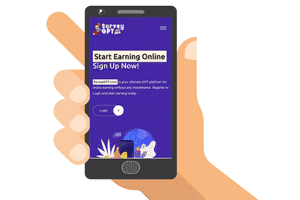 Can you use it on mobile?
SurveyGPT doesn't have a mobile app, but you can still access the site from a mobile device. You just have to use a mobile web browser. And the good thing is, their site is optimized for mobile use. So, you won't have to zoom in to read the content or press the links.
But, in my opinion, it is more convenient to work on the site on a laptop or desktop unless you are completing offers that will ask you to install mobile apps. The reason why I say this is, working on their paid offers and surveys will involve opening a lot of browser tabs.
And that can be quite annoying when done on a mobile device. If you want a more seamless experience, it is best done on a computer, in my opinion, because you can easily close browser tabs.
Who can join SurveyGPT?
SurveyGPT is available more or less worldwide. When you sign up as a member of the site, it will ask you to choose your country. If your country is not listed in the options, then it is not available in your country.
(Pic of registration)
The list of countries is actually quite long, that's why I would say it is available more or less globally. To sign up, you just have to fill out the form and click the confirmation link that will be sent to you via email.
When you've done that, you are now a verified member of the site and you can start earning. Plus, you will receive 25 points as a sign-up bonus. It's not much, but at least you get something. Not a lot of GPT sites give out a sign-up bonus.
Can you get support?
If you encounter any issues when using the site or if you have a question about your account, you can check out their FAQ page first. It discusses some of the basic topics you need to know about the site.
But if you have an inquiry for a specific offerwall, you actually have to use the support option for that offerwall since all offerwalls found on the site have their own support platform.
Now, if your issue or question regarding the site is not answered by their FAQ page, you can then submit a support ticket using the contact form provided on the site's Help section. I like the fact that they have a ticketing system for support inquiries because you can easily keep track of your inquiries.
That's why I would say that overall, they provide a decent support system for their members since they offer a convenient way for you to get in touch with their support team.
Final Verdict
SurveyGPT is a legit GPT site that will pay you for working on the earning opportunities it offers. It has a couple of advantages, but it also has some limitations you need to be aware of.
Let me end this review with a summary of its pros and cons so you can get an overview of what the site has to offer. Then, you can decide if it is really worth joining or not.

Pros:
Has a lot of offerwalls available
Offers payment via PayPal and crypto
Available in many countries

Cons:
Doesn't offer high rewards
Does not offer anything you cannot find on many other GPT site
In my opinion, SurveyGPT is a decent GPT site. But, it is still a long way from being one of the best GPT sites today mainly due to the rewards they offer. Their rates are decent, but it's not the best, in my opinion. So, it will still take a bit of time to reach their payout threshold even though it's relatively low.
That's why I would only suggest you join this site if you need an additional GPT site to earn from. Otherwise, if you are looking for primary sites to earn from, I would recommend you check out the top survey and GPT sites in your country instead.
The sites on this list all have good earning potential, so it won't take that long to earn a decent amount.
If you have any comments, questions, or have any experiences with SurveyGPT yourself, I would love to hear from you in a comment below.