Paid surveys can be a great way to make some extra money online. It is also a very popular way, as it is so easy to get started.
A site that promises to make it possible for you to make really good money this way is Surveys4checks.com.
But is Surveys4checks a scam or really a legit site?
Honestly, there are some things about this site that really concerns me based on my experience after taking thousands of surveys online.
That is why I have written this Surveys4checks review to show you exactly what you can expect and show you some red flags I have found as well.
What is Surveys4checks and what does the site offer?
There is not much information about who is behind Surveys4checks. The only information about this is at the bottom of the website, where it is signed by Sarah Gavinger.
There is no other information about who she is or when surveys4checks started etc. When there is no real information about who is behind a certain site, it is, in my experience, the first sign to be cautious.
Surveys4checks is a site you can supposedly join to learn how to make good money on paid surveys, mystery shopping, and focus groups – or that is at least what the site claims. Later I will go into why these claims might not be as great as they sound at first.
By joining, you will get access to information about how you can get access to VIP surveys and focus groups that will make good money. You will also learn from other experienced members how to make a living and learn the secret tricks to make a living by taking surveys.
According to Surveys4checks, you can literally decide for yourself how much money you want to make, and you will be able to easily make a living and work on your own schedule.

This, of course, all sounds very nice, but if you have read any of my other articles here on PaidFromSurveys.com, you will also understand that these claims should make you suspicious. The first thing that should make you suspicious is the price for joining which I will explain more about next.
How much does it cost to join?
Yes, there is a joining fee for Surveys4checks. In general, I always mention that if there is a fee for joining a survey site, you should be very careful, as all legit survey sites are always free to join.
However, if you are still curious about how much it would cost, it is $49.99 for a lifetime membership. It will supposedly give you access to all the best survey companies, mystery shopping opportunities, and focus groups.
Further, you will get bonus access to info about how to get paid to eat, how to get paid to drive and how to get paid to sample products.

It says that the usual price is $99.99 but you will get 50% off if you buy within 24 hours.
You do not have to hurry though.
Even though it says the offer only lasts for 24 hours, this is just a trick to create a sense of urgency and get you to sign up before you have time to think about it.
I have visited the site on many days, and I have even checked it a few years later when I did an update of this review, and it always says that this is a special offer and that it is only valid for 24 hours.
So no need to hurry to get the joining discount. You have plenty of time, and I think you should read the rest of this article before spending any money on Surveys4checks, as you might want to reconsider after reading all the info about the site.
Who can join?
Surveys4checks says that it has opportunities to more than 150 different countries. So you can join from anywhere in the world. The price will be the same no matter what country you are from.

In general, it is great when a survey site is available worldwide. But you have to think about in this case, they charge a fee to join, so, of course, thye would like as many people as possible to join.
So just because you can join from any country does not mean it is a good idea. I will go more into this below.
Is it worth the money to join?
If all the claims and information about what you can get from the membership on Surveys4checks was true, I think we can agree that it would be a very good price.
I would definitely be willing to pay that for easy access to being able to make a living online. It is however unfortunately just not realistic. You will not find anywhere online where you can just invest $50 and then easily be able to make a living from day one.
In general, all legit survey sites are free to join. You might get access to a list of survey companies and a few tips on Surveys4checks, but you should not expect it to make the kind of money the site claims you can. So do not expect to get any real value for your money, if you join.
In addition to this, there are, in my opinion, several other red flags you should take into consideration if you are still thinking about paying to join.
Red flags to be aware of before joining!
As you can see from above, I have already mentioned some aspects that you have to be aware of and that should make you suspicious.
Let's go over some other red flags on Surveys4checks one by one, to show you why you should be careful about investing or at least only do it after knowing what you ca really expect:
Red flag #1 – It costs money to join:
I have already mentioned this point. But it is one of the most important signs that a survey site is a scam. You should never pay to join a survey site.
All the legit sites that are actually worth joining are free to join. I cannot say it enough. The sites that charge a fee are usually using some of the other techniques below to make it seem worth the money.
So let me explain why these claims are not true, and why you should not fall for them no matter how tempting they might be.
Red flag #2 – Exaggerated earning claims:
Surveys4checks claims you can make really good money by joining. You can start right away, and will more or less be able to decide for yourself how much money you want to make. It sounds great and as a dream for many, but it is just not possible this way.
To convince you, there is a calculator on the site, where you can fill in some numbers on how much time you are willing to put in, and then see how much you can make.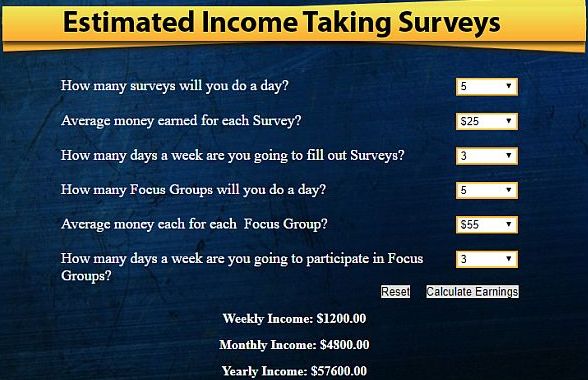 The prefilled numbers on the calculator are however completely unrealistic. For example, does it suggest that the average earning per survey will be $25.
It will be extremely rare to find a survey that pays this much – it is possible but it will not be often you find surveys like this.
In total, the calculator shows that by working only 3 days a week, you will be able to make $4800 per month. This is just not true.
First of all, you cannot just by yourself decide how many surveys you want to do. Sometimes there are not very many available and you will also not qualify for all available surveys.
Secondly, these are just numbers taking out of thin air, and you will not be able to make this much money on surveys and focus groups.
You can make some nice extra money on the side by taking surveys, but it is NOT a way to make a living and if you expect this, you will be disappointed.
Red flag #3 – There is no secret trick:
Surveys4checks claims the secret to making this much money on surveys is by getting access to the VIP surveys, and learning the secrets to do them.

There is however no secret when it comes to doing surveys. It is quite simple, and that is one of the things that makes it amazing and an easy way to earn some extra money. But there is no secret that can make you rich from it.
There are some surveys that pay better than others. And for example, do doctors often have the possibility to participate in high paying surveys. But in general, there are not VIP surveys you just need to find to earn a living from them.
It is just a false claim to make you feel, you are getting something for your money. All the info about survey sites and which survey sites you can join can be found for free other places on the internet.
Red flag #4 – Fake sample survey:
To show you how easy it is to make money on surveys, there are two sample surveys on Surveys4checks.com. One of them says it would give $50, and if you go through it, you can see that it would probably take you less than 5 minutes to complete.
It would be great if you could get $50 for a survey like this. This is again just not true. Extremely rarely you would find a survey that pays you $50, and if it does, it will be a lot longer than the sample Surveys4chekcs shows.
It is just a trick to convince you that you can make really fast and easy money.
Red flag #5 – Use of famous brand names:
At the top of the Surveys4checks' website, you can see that it supposedly has been featured on a number of famous TV networks.
It is just to try to create trust. There is no proof that it is true, and many sites like Surveys4checks are using the same method and are using famous brands or names of TV networks. But if they have not put any actual proof or links to where it is, it is most likely just a trick to seem more legit.
Is there a way to make money on Surveys4checks?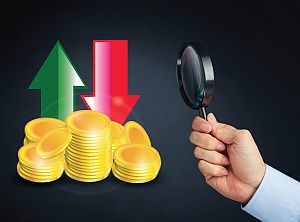 From the above, it is clear to see that you cannot make the kind of money Surveys4checks claims by doing surveys and focus group interviews.
You might get a list of survey companies, and it will make it possible for you to make some money on surveys, but not these amounts.
But there is actually a way where you can make good money on surveys4checks. They have what is called an affiliate program through ClickBank.
This means you can join this program and get a commission every time you get somebody else to sign up for Surveys4checks. You will get 75% of the joining fee every time someone joins through your invitation.
For example, I could put a link here to Surveys4checks, and if you joined, I would get 75% of your joining fee. I have however not put a link like this on this review, as I do not recommend the site, and I do not want to make money by promoting sites that, in my opinion, just waste peoples' time and money.
So this is not a way to make money I recommend. You would have to convince people to join something that is actually not worth joining just to make a bit of money yourself. There are enough people like this online, so I hope that you are not one of them, as we need more honesty in the online world and fewer scams.
Final verdict
As you can see from the review above, I am not impressed with what Surveys4checks has to offer.
But let's finish this review by summing up the pros and cons so you can get a better overview before making your own final decision about the site.

Pros:

Cons:
Claims you can make a living taking surveys
Charges a fee to join
Makes it look like you can decide how much you want to earn yourself
Uses an unrealistic sample survey and calculator
I honestly do not have a lot of good things to say about Surveys4checks. The only positive thing I can say is that at least it is honest about the joining fee. Some sites that charge a joining fee are trying to hide this fact until they have you hooked.
Other than that, it is in NO way a survey site I recommend you to join. The claims the site makes are just not realistic, and any survey site that charges a fee to join is a site to stay away from, in my experience.
If you are interested in making money on surveys, it is however possible. There are plenty of legit and free sites you can join. It will not make you the amount of money Surveys4checks promises, but no survey site will.
But the legit sites can make you some nice extra money on the side. A place to start can be to check out the top survey sites in your country here.
All of these are 100% free to join and you can find good opportunities no matter where you live.
If you have any comments, questions, or any experiences with Surveys4checks yourself, I would love to hear from you in a comment below.