Tartle.co is a site that claims you can earn by sharing data. Now, if you are not sure how this works, this Tartle review will be able to help you out.
Now, the big question is, is Tartle.co legit or a scam? This is a very important concern that needs to be addressed right away. So, let me answer this question now. Yes, Tartle.co is a legit site that will pay you for sharing your data.
But this doesn't necessarily mean it is worth joining. To figure out if Tartle is really worth your time or not, we have to take a closer look at everything it has to offer and weigh its pros and cons. That's exactly the goal of this review.
So, let's go ahead and get this started, shall we?
What is Tartle and what does it offer?
Tartle is technically a GPT (Get-Paid-To) site that will pay you for selling data packets. I say technically because it really doesn't act like your ordinary GPT site where you can earn by performing simple tasks.
But if you have not yet been a member of a GPT site before, then you might not have an idea of what I'm talking about. So, just put that at the back of your mind, and let's instead focus on what Tartle does.
To fully understand how Tartle works, let's examine the earning opportunities it offers. This will also give you a general idea of how much you can earn from the site.
For that, I have made a video that gives you an inside look and shows exactly how you can earn from PrizeGrab. You can also read all the details below the video.
Option 1 – Selling data packets
The main way to earn from Tartle is by selling data packets.
Once you have registered, to start selling data packets, you just need to log in to their site. Then, just go to their "Discover" section and look for the "Integrations" category. You will see something similar to the photo below.

Just click any of the social media platform you want to integrate with Tartle. It will then ask you to fill out a bunch of fields. You simply have to provide the necessary information and once you are done, scroll down and click the "Save Configuration" button.
If you checked the box that says "Publish this packet for buyers to bid on", it will automatically be up for bidding.
However, before connecting your social media accounts, you have to read the permissions you give them carefully.
As you can see in the video above, for Twitter you will, for example, give them access to completely control your profile – I would never recommend you give this kind of permission to any company. So you have to be careful about the permissions you give them, in my opinion.
Now, let's talk about how you can earn. As you can see, the data packet that you've set up will be up for bidding.
If you are wondering what a data packet is, it is a compilation of data that can be used for research purposes. Companies use this to make decisions regarding their products or services they offer.
There are various types of data packets available on Tartle. Some are data packets containing your social media information and some are about personal information. So, you are basically selling information about yourself. Social media platforms are actually already doing this. All Tartle says it is doing is letting you earn from it as well.
If a buyer wants to buy your data packet, he or she must place a bid. You will then be notified if somebody has placed a bid on your data packet.
It will then be up to you if you want to accept the bid or not. You also have the choice which bid you want to accept. Once you accept the bid, the data packet will be sold to the person who placed the bid and your earnings will be credited to your account balance.
The good thing about the data packets you've placed for bidding is, you can sell it as many times as you want (as the video says). Take note though that bids currently only last for 24 hours in their cycle.
This means it's important to make sure you have your 'Auto-sell Settings' up to date with your preference on what price of bids you are comfortable selling your data at so you don't have to keep looking at the bids.
Aside from the social media data packets you can sell, there are also other categories of data packets available. This is a bit different from the integrations since you will mostly be answering questions.
For example, if you click the "Health" category, you can choose different data packets available for that category. Just pick one and then answer all the questions as honestly as you can. Once you are done answering the questions, you can then save and publish it for bidding.
And just like with the social media integrations, people can now buy that data packet by placing a bid. So, if you want to earn more from Tartle, you have to take time to fill out several data packets so you can publish them for bidding.
The more packets you publish, the more earnings you will receive, provided of course, somebody buys your data packets. That's really all there is to it.
Option 2 – Referral program
Tartle also has a referral program where you can earn rewards for inviting other people to join the site. The idea is really simple. You log in to the site and go to the "Invite Friends" section and input the email address of the person you want to invite.
You can also invite people by sharing your invite link on social media platforms or by sharing your invite link or QR code to the person you want to invite. Once the person registers to the site using any of the invite methods you shared, they will become your referral.
For every person you invite, you will receive Tartlecoins (the currency the site is using). And for every 11 referrals you get, you will receive $3 from Tartle which will be paid via PayPal. The $3 reward will be on top of the Tartlecoin you will receive per referral.
So, earning from this opportunity is a bit easier since all you really need to do is get people to join the site. Most referral programs from other sites will usually require your referral to be active on the site before you earn the reward.
However, the earning potential here is also quite limited as you have to invite A LOT of people to keep earning and it is not like many other referral programs where you will keep earning a percentage.
Recommended: Check Out the Top Survey Sites in Your Country
How do you get paid?
The payment system of Tartle is a bit confusing and will take a bit of time to get used to. Tartle uses Tartlecoin as its reward and it uses PayPal as the mode of payment for their referral program and for some of the bids for your data.
Here's a video explaining how you can withdraw your earnings.
The first thing you have to do is, enable your Tartle wallet. Just go to the "Wallet" section of the member dashboard and press the "Create" button beside the Tartlecoin (refer to photo below).

You will have to set up a PIN. This will be used to authorize any Tartlecoin transfers, so make sure to keep a copy of your PIN. Once you've created a Tartlecoin wallet, you have to add your PayPal account to your wallet so you can receive your earnings from your referrals. 
Also, to be able to receive bids for your data packages, you need to connect your PayPal account. This is an important step they do not really mention so you need to make sure to do this if you decide to join Tartle.
When you get a bid, you will potentially earn both PayPal cash and Tartlecoin.
Now, what is a Tartlecoin exactly? Tartlecoin is a private blockchain rewards system within the Tartle marketplace. It's a form of cryptocurrency you can use on Tartle's marketplace. Right now, the only marketplace available in Tartle is for their buyers to buy data packets.
So, that means you can only spend the Tartlecoins you've earned to buy data packets from other sellers. But in the video, they mention that there are establishments where you can use Tartlecoins.
However, as of writing this review, Tartle is still fairly new and it seems there are not a lot of marketplaces or companies that accept Tartlecoin yet.
Their plan is, of course, for this to change and make it easy for you to use Tartlecoin, BUT just be aware that there is no guarantee this will happen and how many places you will be able to start using your coins.
This is something you need to be aware of, so it is a bit of a gamble, in my opinion. If you believe they are able to make Tartlecoin and the Tartle marketplace popular, then it is great to get in as soon as possible as it then has potential. But you have to be aware that there are no guarantees about how this will turn out.
The earnings from your referrals will be transferred to your PayPal account right away. You won't have to request to receive it. Tartle will process it automatically and transfer it to your PayPal account every time you get 11 referrals.
How much can you earn?
The amount of money you can earn from Tartle will depend on how many data packets you can sell. As you already know, you have some control of how much you can earn from each data packet you sell. Of course, there's a bit of a learning curve to undergo because you need to figure out how to sell data packets quickly.
They are not very clear about how much you can earn from selling your data packages. And only after quite a lot of digging, I managed to find out that you will potentially get paid both in cash and Tartlecoin when you get a bid. But you should not expect the bids will be very high.
You can earn extra cash by inviting others to join. $3 for 11 referrals is actually not bad, but it's not that great either. And it does take some time to reach that number.
So, you will really need to be very patient with this site to earn cash. Overall, I would say the earning potential of this site is not that good since it has limited earning opportunities offered.
Can you use it on mobile?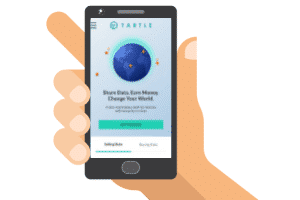 Tartle doesn't have an app you can download but you will be able to access their site from a mobile device. And the good thing is, their site is mobile-friendly. So, you won't have a hard time navigating through the site and reading all the content.
It's also user-friendly, so you will easily get used to working on it. This helps a lot because you can accept bids anytime and anywhere. You can invite people to join the site even when you are not sitting in front of the computer.
Who can join Tartle?
Tartle is available globally. That means you can register as a member regardless of where you live. You just have to be at least 18 years of age to join.
(Pic of registration)
To register as a member, you just have to fill out their sign-up form. Then, Tartle will send an activation link via email to activate your account. Just click the link in the email to complete the registration.
Once you've done that, you can now log in to the site and set up your account and data packets. I would also recommend you sync your PayPal account the first time you log in.
Can you get support?
If you have any questions about the site or your account, you can check out their Help page. However, it doesn't really contain any useful information. So, it won't really be of any use.
The site has a contact page you can check out but it says that it is for business and media inquiries only and any other email will be ignored. But they do have an email address you can send your inquiries to. You can email them at [email protected].
After I first published a review of Tartle on my YouTube channel their support actually reached out to me and commented on my video to answer a few questions and it is definitely a great sign that they reach out and answer questions like that.
Overall, I would say they have a decent support system in place for their members. But I do wish their Help page would be a bit more useful.
Final Verdict
Tartle is a legit site that will reward you for selling data packets and inviting other people to join the site. It has a couple of interesting features but it also has some limitations you need to be aware of.
Let me wrap up this review by summarizing its pros and cons so you can get an overview of what the site has to offer. Then, you can decide if Tartle.co is really a good fit for you or not.

Pros:
Available globally
Process payments via PayPal automatically

Cons:
Limited earning opportunities offered
Asks for unreasinable access to your social media accounts
Their Help page isn't very useful
If you are looking for a good way to earn extra cash, then Tartle isn't a good site to join. That's because you can only earn cash through their referral program. Their main earning opportunity will only allow you to earn rewards that you can only use on their platform.
So, it's not an ideal site to earn, in my opinion. If they provided a clear-cut way to convert the Tartlecoins you've earned to cash or other rewards, then it would be better, in my opinion. Maybe this will be improved in the future as Tartle is still fairly new.
But for now, if you are looking for ways to earn extra cash, I would instead suggest you check out the top survey and GPT sites in your country.
The sites on this list all have good earning potential and most (if not all) of them offer cash rewards or least gift cards.
If you have any comments, questions, or have any experiences with Tartle.co yourself, I would love to hear from you in a comment below.