Over the years, earning and working out at the same time has become possible because fitness apps that reward you for exercising have become popular.
These apps offer incentives to keep you motivated to exercise. One such app is TimiFiT.
If you are reading this TimiFiT review, then you must be interested in using this app and might be wondering if it is legit or just a scam. I've decided to find out by testing the app personally.
I will share everything that I learned about TimiFiT so you can get an inside look and see exactly what it offers. That way, you can properly decide if this is an app you should use or not.
What is TimiFiT and what does it offer?
TimiFiT is a fitness app that will allow you to track your workout's progress and receive rewards at the same time. And yes, it is indeed a legit app since you will really earn rewards for exercising and participating in the other earning opportunities it offers.
Speaking of earning opportunities, we first have to examine how you can earn from this app so you will understand how it works. So, here's how you can earn from TimiFiT.
Option 1 – Paid surveys
One way to earn from TimiFiT is to answer the paid surveys it offers. This opportunity isn't very common, so I would suggest you answer every survey offered to maximize your earnings from this app.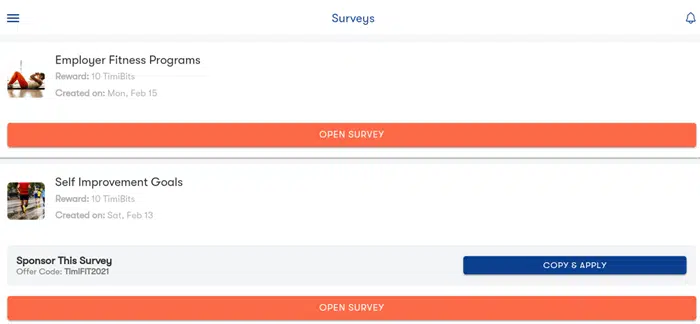 The good thing about TimiFiT's surveys is, you won't have to go through a qualifying process like you normally would with surveys from survey sites and apps. You just have to answer the survey and submit it.
Then, TimiFiT will review your answers (which can take a couple of days). When it approves your answers, you will receive the reward promised which will be a certain number of Timibits (the currency the app is using).
Later, I will explain in detail what you can do with your Timibits, but just to give you an idea, this app will actually reward you with cryptocurrency, so if you were hoping to earn cash, then let me just say now, this app is not for you.
Option 2 – Competitions
The primary way to earn from TimiFiT is to participate in competitions. These competitions are designed to motivate you to keep on exercising.

There are a few things you need to know if you plan to join a competition. The first thing is, you are only allowed to join a competition held in your region. You see, when you start using the app, it will ask you to choose your region.
You can actually choose any region you want. However, as mentioned, this will limit which competitions you can join. As you can see in the photo above, you can win rewards if you are among the leaders in the competition.
Typically, there will be a 1st place, 2nd place, and 3rd place winner for every competition, but other competitions will sometimes have more winners. Usually, the competitions will look at the total distance you've run throughout the duration.
But how will the app know the distance you've covered? Well, it's actually pretty simple.
Once you've installed the app on your mobile device, it will ask you to connect your fitness tracker to your TimiFiT account. If you are using a fitness tracker like Fitbit or Garmin, just enter your account details for that device.
But if you don't own any of those devices, you can just choose the Google Fit option. You can then use your mobile device to track your fitness activities, so you don't really need to buy a fitness watch/tracker to use TimiFiT. Just make sure Google Fit is running while you're going for a run or walk so it can track your progress.
Once the competition is over, the winners will be announced. Every winner will receive a certain number of Timibits, but some competitions will offer additional rewards. I will explain in the next section how you can claim the additional rewards.
During my testing, TimiFiT had a decent number of competitions available, but I mostly observed that there were more competitions for regions in the US rather than somewhere else.
Recommended: Check Out the Top Passive Income Apps
How do you get paid?
For every survey you complete or competition you will win, you will receive a certain number of Timibits. And as mentioned earlier, Timibits is actually the currency TimiFiT is using. Think of it as points you can use to exchange for rewards.
However, unlike other Get-Paid-To apps, there's only one reward you can exchange Timibits for and that is the actual cryptocurrency TimiFiT is using which is called FIT. A FIT token is worth 25 Timibits.
The monetary value of the FIT token will fluctuate since that is the nature of any cryptocurrency. Once you've converted your Timibits to FIT, you can then withdraw it to your own crypto wallet that supports FIT or you can also just use TimiFiT's own crypto wallet.
Now, as mentioned earlier, some competitions will have additional rewards. If you happen to win these special rewards, which will usually be some amount of other cryptocurrencies like Ethereum or Bitcoin, you can claim the rewards by emailing them at the email address specified in the competition details.
That's how easy it is to claim the bonus rewards. Overall, I would say the reward system of TimiFiT is relatively simple. But, if you are looking to earn cash, then I would suggest you check out the top sites that pay via PayPal instead.
How much money can you make?
The amount you can earn from this app will mostly depend on how many competitions you can win. As mentioned earlier, they don't really offer a lot of paid surveys and even if you are able to answer one, you will only earn a very small amount of Timibits (usually around 10 to 20 Timibits per survey).
The money is in winning competitions because you can win around 150 to 250 Timibits, which is actually a pretty sizable amount. However, winning a competition isn't easy. You will be competing with thousands, if not millions of other members.
That is why I would say the earning potential of TimiFiT isn't that good even though its rewards are relatively high. You will need a certain level of dedication in order to win just one competition, so I would say this app isn't really a great app to use if you are purely looking to earn. There are better options out there for this.
In my opinion, the true value this app offers is it can help motivate you to stay active and become physically fit and at the same time, earn some cryptocurrency from time to time.
Can you use it on a desktop?
TimiFiT is a mobile-only platform. You will need to use a mobile device to earn rewards. Fortunately, the app is compatible with Android and iOS devices, so you shouldn't experience any compatibility issues.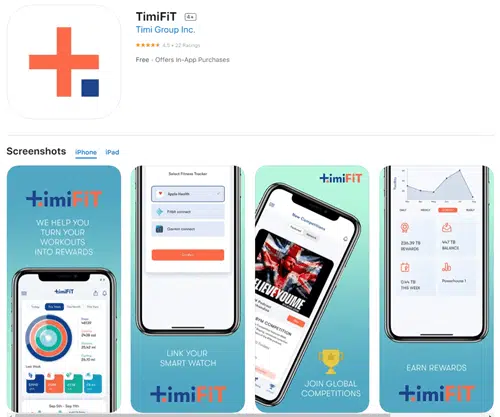 As for the app, it is very easy to use, so you will easily get used to navigating it. You also won't encounter any pop-up ads, which is a great thing.
One thing I noticed about the app is, it pretty much has all the links to everything related to it, so you won't have to go back and forth from the app to the website to access different links. This is actually a good thing because not all apps do this.
Who can join TimiFiT?
The best thing about TimiFiT, in my opinion, is it is available globally. You will be able to register as a member regardless of where you live.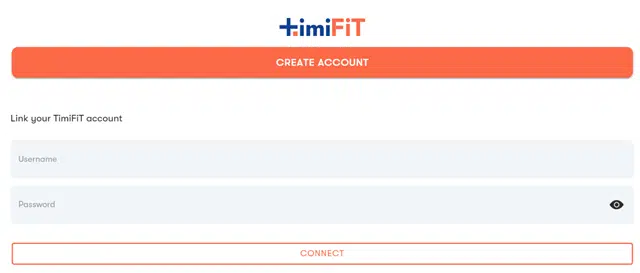 To sign up, you first have to download and install the app on your device. Then, you will have to provide your login details. Afterward, it will ask you to provide your mobile number. There's no way around this step, so if you are not comfortable handing out your mobile number, then this isn't for you.
Once you've entered your mobile number, TimiFiT will send you an SMS containing the verification code. Just input the code in the app to continue. Then, you'll have to set up your profile and select a few settings. After doing all those things, you can now start using the app to earn rewards.
Can you get support?
If you have any questions about the app or your account, you can check out the Help Center on the website. It discusses most of the basic topics you need to know about the app.
If you can't find the answers you are looking for, you can click the message icon on the lower right of the Help Center page to send your inquiry.
You can also go to the app's support section if you have any questions. You can communicate with TimiFiT's support through that option.
Overall, I would say the app has a decent support system in place for its members since they offer a convenient way for you to get in touch with their support team.
Final Verdict
TimiFiT is a legit fitness app that will reward you for answering surveys and winning competitions. It has a couple of good features, but it also has some limitations you need to consider.
Let me conclude this review with a summary of its pros and cons to give you an overview of what the app has to offer. Then, you can decide if you should use it or not.

Pros:
The app is user-friendly
Available globally
Has plenty of good features to help you track your fitness activities

Cons:
Limited earning opportunities offered
Competitions aren't a guaranteed way to earn
Doesn't offer cash rewards
If you are mainly looking for a fitness app to earn from, TimiFiT isn't a good option, in my opinion. That's because there's no guarantee you can earn from its main earning opportunity. You have to be very dedicated to winning the competitions.
If you are not prepared to do what it takes, then you won't earn a lot from this app. But if you are just looking for a fitness app to help track your workout progress, this can be a decent app to use because it has plenty of cool features.
As for earning a decent amount easily, I would suggest you check out the top survey and GPT sites in your country instead. The sites and apps on this list all have good earning potential and you are guaranteed to earn from every earning opportunity they offer.
Plus, most of them offer cash rewards as well.
If you have any comments, questions, or have any experiences with TimiFiT yourself, I would love to hear from you in a comment below.