Viggle is a mobile app that claims you can earn rewards just by watching TV shows or discovering music.
If you are looking for an interesting app to earn from, you might be tempted to use this app. After all, it offers a very easy, and fun way to earn rewards.
However, before you download it, I highly recommend you read this Viggle app review. It will give you a detailed inside look so you will know if it is worth it or not.
So let's go ahead and get this review started, shall we?
What is Viggle, and what does it offer?
Viggle is essentially an entertainment rewards app that will let you earn while watching TV shows or listening to music.
It is indeed a legit app since you can really earn rewards while watching TV shows or even listening to music.
But this doesn't automatically mean the app is worth using. To figure out if you should use it, you must first understand how it works. And the only way to do that is to take a closer look at the earning opportunities it offers, so you can get a clear picture of how much time and effort is needed from you to earn.
Here's how to earn from Viggle.
Option 1 – Watching TV shows and listening to music
The primary way to earn from Viggle is to watch TV shows or listen to music.
For this opportunity, you'll have to log in to the app and check out the featured TV shows and music. Now, to start earning, you'll have to "Check In" to the app.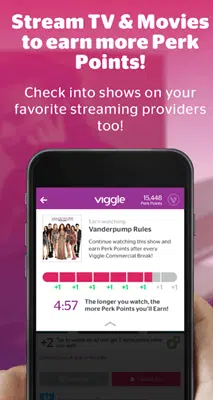 Once you've checked in, all you have to do is watch the TV show on your TV, computer, or even another mobile device. Viggle will then listen in to what you are watching and reward you with 1 Viggle Point per minute of watching a featured TV show.
This is quite similar to how you can earn from the Media Rewards app if you are familiar with that.
The same process applies to listening to music. The key thing to remember here is that you must check in to the app to start earning. Think of this as activating the microphone on your mobile device so Viggle can begin listening to what you are watching.
While watching or listening, you will have to interact with the app. From time to time (usually during commercial breaks), Viggle will display ads that you have to interact with. Meaning you have to close the ad when it is finished. This is to let Viggle know that you are actively using the app and you just didn't leave your mobile device beside the TV and go do something else.
You'll still earn Viggle Points while watching the ad though. Later, I will discuss what you can do with the Viggle Points you've earned.
Option 2 – Trivia and quests
Another way to earn rewards is to answer trivia questions or do short quests. These quests are really just tasks you need to do to earn rewards. For example, you can watch a certain TV show or listen to a specific song to complete the quest.
After completing a quest or answering a trivia, you will receive a certain number of Viggle Points.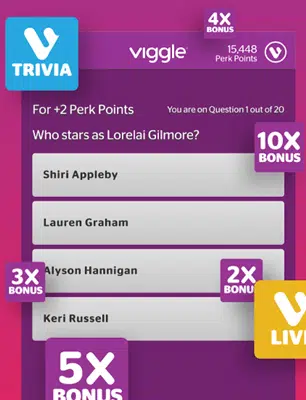 This opportunity is relatively simple, but there aren't a lot of tasks available.
That's why I recommend you do this first when you log in to the app to maximize your earnings since most quests involve listening to certain songs or watching certain TV shows. You won't earn a lot from it, but it is relatively effortless and not time-consuming.
Recommended: Check Out the Top Passive Income Apps
How do you get paid?
Now here's the confusing part. As explained above, you will earn Viggle Points from watching TV shows, listening to music, answering trivia, and completing quests.
But what can you do with the Viggle Points you've earned?
Well, you will first have to convert the Viggle Points you've earned to Perk Points. You can do so through the app's payment section. Perk Points is the currency Perk is using, which is a company specializing in rewards programs.
The conversion rate is 20 Viggle Points to 1 Perk Point. When you've converted your Viggle Points to Perk Points, you can redeem various gift cards, or you can convert them to cash via PayPal or Perkplastic debit card. If you choose to convert them to cash, the conversion rate will be 1,000 Perk Points to $1.
Now here's what you need to keep in mind. You can only earn a maximum of 60,000 Viggle Points per month. That is equivalent to $3 if you convert it to cash.
This cap is quite surprising because I seldom encounter reward apps that will limit the amount you can earn.
Also, as I've mentioned above, the payment system of Viggle is a bit convoluted because it involves another reward platform (Perk). You'll have to convert your Viggle Points to Perk Points and then use the Perk platform to redeem rewards.
If you prefer apps or sites that offer a simple payment method, I recommend you check out the top sites that pay via PayPal instead.
How much money can you make?
The amount you will earn from Viggle will be very small. As explained above, even if you manage to earn the maximum Viggle Points per month (which is highly unlikely, I might add), you will only be able to earn $3.
This is a very small amount for a month's work, which is why I would say the earning potential of Viggle is very low. You are better off spending your time on other apps or sites that offer better earning potential.
Plus, the fact that you have to interact with the app when earning makes it a less-than-ideal option, in my opinion. If you were able to earn passively, then I would maybe have had a different opinion about it, but as it is now, it is just not worth the time and effort, in my opinion.
Can you use it on a desktop?
Viggle is a mobile-only platform, so you need to use a mobile device if you want to earn from it. The site says that it is available for Android and iOS devices, but when I checked, you can't find it in the Apple app store.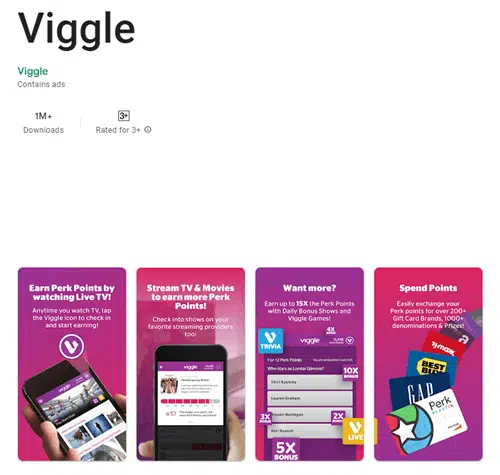 I'm not sure if it is just temporary or if they removed it from the Apple app store permanently, but as of the time of writing this review, Viggle is only available for Android devices. It is relatively easy to use, which is expected because the earning opportunities it offers aren't that complicated.
But as I've mentioned earlier, the app will show ads from time to time, so the overall user experience it offers can be quite annoying, in my opinion.
Who can join Viggle?
The site doesn't tell you exactly which countries it is available in, but from what I can tell, Viggle is only available in the US, so if you live somewhere else, then this app is not for you. You will also need to be at least 13 years of age to join.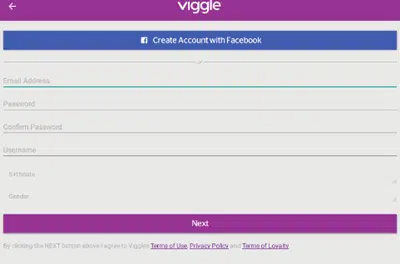 To sign up as a member, you have to download and install the app first. When you open the app for the first time, you will be asked to register. As shown in the photo above, you can use your Facebook account or your own login details to sign up.
After you are done with the registration process, Viggle will instruct you to create a Perk account. Just follow the instructions provided to continue using the app. You can't skip this part because, as explained earlier, you will ultimately be using Perk when redeeming rewards.
Can you get support?
The website doesn't have a lot of information about the app, and it doesn't even have an FAQ or Help page you can check out if you have any questions about the app. It also doesn't have a contact form you can use to submit any inquiries.
However, the app has a support section you can use to get in touch with their support. Overall, I would say Viggle does provide the minimum required support to its members, but I think it would have been great if they had provided more useful information regarding the app on their website.
Final Verdict
Viggle is an entertainment rewards app that will reward you for watching TV shows and listening to music. It has a couple of decent features, but it has a few limitations you need to keep in mind.
Let me end this review with a summary of its pros and cons to give you an overview of what the app has to offer. Then you can decide if you should push through with using this app or not.

Pros:
Offers an interesting way to earn rewards

Cons:
Convoluted payment system
Has a cap on how much you can earn per month
Low rewards
Only available for Android devices
In my opinion, Viggle is not an app worth using. The main reason I say this is that you will not earn a lot from it because it offers very low rewards. There's also a limit to how much you can earn per month, which doesn't help its case.
That is why I would recommend you find something else to earn extra cash from. For this, I suggest you check out the top survey and GPT sites in your country instead. The sites (and apps) on this list all have good earning potential, so you will be able to earn a decent amount in no time.
Plus, you will definitely find a site or app you can join regardless of where you live.
If you have any comments, questions, or have any experiences with Viggle yourself, I would love to hear from you in a comment below.