Are you a dog lover? If so, there's a website called Wag that claims you can earn by taking dogs out on walks. So, you'll essentially be a dog walker.
It sounds like an interesting way to earn for sure. But is Wag legit or is it a scam? This is a very important piece of information that you should know right away. So, let me address this concern now.
Yes, Wag is a legit dog-walking platform that will really pay you for taking dogs out on walks. The looming question now is, is it worth using or not?
To answer that, we have to take a few things into consideration, and this Wag review will give you all the details you need to know so you know exactly what to expect and can figure out if it is really the right option for you or not.
What is Wag and what does it offer?
Wag is a dog-walking platform that caters to both pet lovers and pet caretakers.
In order to earn from this platform, you have to sign up either as a walker or a sitter. Here's a short video explaining what this platform does.
Now, to fully understand how to earn from Wag, we have to take a closer look at how you can earn from it in more detail.
That way, you can also get an idea of how well you can earn from this platform and if it will be worth it. So, here's how to earn from Wag.
The earning opportunity – Becoming a pet caregiver
The only way to earn from Wag is to become a pet caregiver. There are two types of caregivers – the walkers and the sitters.
As you can probably guess, the walkers are those who take dogs out for a walk, while sitters are those who either watch pets at the owner's home while they are away, or you can also take care of pets in your own home.

Before you can take on any pet caregiving service, you will have to complete your profile. This can take a bit of time and you won't get any compensation for this. There's no way around it so you have to be patient.
Plus, there will be an initial fee of $29.95 you have to pay. This will be for a background check fee. Again, there's no way around it, so you will have to pay it if you are really serious about joining this platform.
Once your profile is approved, your name will be included on the list of available caregivers pet owners can hire.

There are a few services that are provided on this platform (refer to photo above). During your profile building, you will have to indicate which services you are interested in providing. These services are geared towards either being a walker or a sitter.
Your name will then show up in the specific services you selected that you are willing to provide. If a pet owner chooses you, you will receive a message from Wag informing you of your next gig. You have to accept the request in order to land the gig.
This can be a bit tricky at times because if the pet owner tried to book multiple walkers, then you will all be competing for the slot. Whoever accepts the request first will receive the job. So, don't ignore any notification from the app because it can be an opportunity to earn.
If you are walking dogs, you will have to enable the GPS of your mobile device so that the app can track your progress and display it inside the app. This is a precaution to let the pet owner know that you are really taking the dog for a walk. It sort of acts as a proof of service as well.
Once you've finished a job, you will have to fill out a report card for the pet owner to view. Once the pet owner reviews the card and is satisfied with the service you provided, you will receive compensation. Pet owners can also leave tips if they are very satisfied with your service.
Recommended: Check Out the Top Survey Sites in Your Country
How do you get paid?
Whenever you complete a job, you will be paid a certain amount by the pet owner.
You will be able to see this in your Wag account balance. Payments are processed every Wednesday and paid out every Friday. The pay cycle is Tuesday through Monday, so for all services completed on or after Tuesday, the payment will appear in the next pay cycle. Every payment will be done through Stripe Connect.
If you'd like to receive your payment sooner (and you're eligible), you can utilize the Instant Pay feature via the "Earnings" tab in the Pet Caregiver App. In order to use Instant Pay, you will need to add a debit card to your Stripe account.
Their payment system isn't the same as most other online rewards sites, so it can take a bit of getting used to. If you are looking for simpler ways to take out your earnings, I would recommend you check out the top sites that pay via direct bank transfer.
How much money can you make?
There's a baseline rate for pet-care services, but you, as a pet caregiver, can actually set your own rates for the services you provided. But that is a tricky slope to maintain and can take some time to fully master.
If you set your rates too high, no one will be hiring you for your services because they will be looking for cheaper options. Conversely, if you set your rates too low, you might be losing out on potential earnings. So, it takes proper balance to set the right rate.
Overall though, I would say the earning potential of Wag will mostly depend on your location. If you live in a city where there are a lot of pet owners who use Wag, then this can be a very profitable venture and the earning potential can be quite decent.
Usually, in my experience, this will be in metropolitan cities. Rural areas will offer fewer opportunities.
Can you use it on mobile?
Wag has a mobile app you can download so you can accept pet caregiver gigs using your mobile device.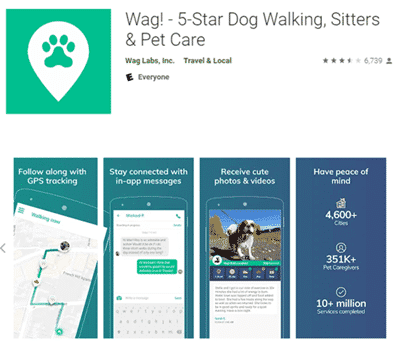 Their app is available for both Android and iOS devices, so you won't have any problems with compatibility. Their app is easy to use. However, there are various reports from members that the app itself can be a bit clunky and glitchy at times.
That will certainly impact the overall usability of the app in a negative way. But I would say this though, I didn't encounter any glitches during my testing. So, it might be on a case-to-case basis.
Who can join Wag?
Wag is only available in the US. So, if you live somewhere else, then this app is not for you. To register as a member or a caregiver, you will have to be at least 18 years of age.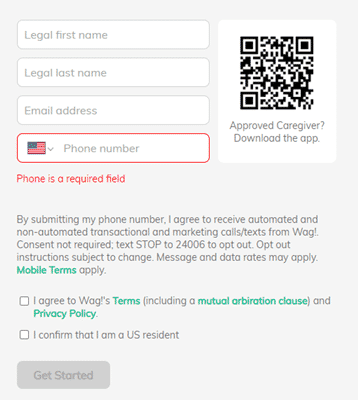 Becoming a member of their platform is relatively easy. You just have to fill out their registration form. Becoming an approved caregiver is where it gets a bit more complicated.
As I've mentioned earlier, you will have to build your profile before you can start earning from Wag. Also, there will be a fee involved to become a verified pet caregiver of Wag. So, if you are not serious about becoming one, then I suggest you don't waste your time signing up.
You can just look for other ways to earn extra cash. Their fee isn't that high, but you need to be willing to pay this to start earning.
So, if you are not ready for that, then I would suggest you check out the top survey sites in the US instead. The sites on this list don't require any fee for you to start earning.
Can you get support?
If you have any questions about the site or your account, you can check out their Help Center first. It discusses most of the important topics you need to know about the site. But if you can't find the answers you are looking for, then you can send your inquiry using the same page.
Just click the message icon in the lower right-hand corner of the Help Center page and type in your question. This is how you get in touch with their support team.
Overall, I would say Wag has a decent support system in place for its members since it offers a way for you to communicate with their support team.
Final Verdict
Wag is a legit pet-care app that will pay you for providing pet-care services to pet owners. It has a couple of interesting features but it also has some limitations you need to consider.
Let me summarize its pros and cons to wrap up this review so you can get a clear overview of what the site has to offer. That way, you can decide if this is a good fit for you or not.

Pros:
Offers a fun and interesting way to earn
No payout threshold required

Cons:
Limited earning opportunities offered
You will have to pay a fee before you can start earning
If you love dogs, then Wag can be a great way to earn a few extra bucks. Provided of course, you are willing to pay the background check fee.
You will be able to earn a decent amount from this platform if you live in a city where there are a lot of pet owners who use this app.
But if you live in a rural area, then chances are, there will be few opportunities to earn. So, I would only recommend you use this platform if you live in a metropolitan city with plenty of Wag users. Otherwise, you are better off earning from survey and GPT sites.
For a list of these sites, I would recommend you check out the top survey and GPT sites in your country instead. The sites on this list all have good earning potential and you won't have to pay a fee to start earning.
Plus, you will definitely find a site you can join regardless of where you live.
If you have any comments, questions, or have any experiences with Wag yourself, I would love to hear from you in a comment below.