WeAre8 is a mobile app that claims you can help change the world and earn at the same time. It's certainly a very bold claim, so it's natural if you get suspicious.
So is WeAre8 legit or is it a scam? And if it is legit, is it even worth it?
These are just some of the questions that this WeAre8 review will tackle, so if you stick around, you'll know exactly what to expect from it.
In this review, I will discuss everything the app has to offer so you can determine if it is really worth it and if it is the right app for you. So, let's not waste any more time and get on with it, shall we?
What is WeAre8 and what does it offer?
WeAre8 at its core is a social media platform that provides opportunities for you to earn. Unlike Facebook, Twitter, or Instagram, this platform has avenues where you can earn rewards. And yes, it is indeed a legit platform because you will really get to earn rewards.
Now, to understand how to earn, we have to take a closer look at the earning opportunity it offers.
I have, therefore, made a video that gives you an inside look and shows exactly how you can earn from WeAre8. You can also read all the details below the video.
Recommended: Check Out the Best Apps that Pay You to Watch Videos
The earning opportunity – Paid ads
Normally, this kind of earning opportunity can be found on Paid-To-Click (PTC) websites. This is why WeAre8 is a unique social media platform because it offers an earning opportunity that you normally wouldn't expect from a social media platform.
So, how does this opportunity work?
Well, it's really very simple. Every time there are paid ads available, you'll receive a notification from the app. Then, all you have to do is log in to the app and watch the paid ad, which will be in the form of a video.
The video won't be that long (usually, it won't exceed more than a minute), so it won't take up a lot of your time. Then, after you've finished watching the ad, you'll receive the payment of £0.20.
While that may not sound like a lot, it's actually a pretty high reward compared to the paid ads you will encounter on PTC sites.
Plus, every time you earn while watching a paid ad, WeAre8 will donate the same amount (£0.20) to a charity they support. This is where their claim of helping to change the world comes in. So, in a way, you'll be able to help support charities by watching the paid ads.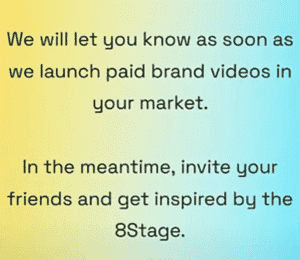 However, there's something you need to know about WeAre8's earning opportunity. At the time of writing this review, the earning opportunity is only available in the UK even though you can join from most countries. If you live anywhere else, you'll encounter the message shown in the photo above.
This means there aren't any paid ads available in your country yet. WeAre8 does say that they are currently working on providing this earning opportunity in more countries, but I won't be able to tell you when you can expect it because they don't really provide any info about this.
So, if you don't live in the UK, the only thing you can do on the app is to interact with other members, view their posts, and create your own posts (just like you would with any social media platform).
It's a bit disappointing, in my opinion, but if you are really interested in this app, you'll just have to be patient and hope that the earning opportunity will eventually be available in your country.
Recommended: Check Out the Best Apps that Pay You to Watch Videos
How do you get paid?
As explained above, every time you watch a paid ad from WeAre8, you'll earn £0.20. The reward will be credited to your WeAre8 account balance. However, it can take up to 30 days before the reward will be credited to your account, which is one of the drawbacks of this app.
So, you'll really need to be very patient with this app, in my opinion.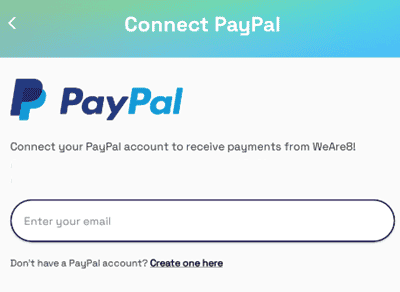 Once you've earned at least £1, you'll be able to withdraw your earnings via PayPal. Overall, the payment system of WeAre8 is pretty simple, and I like the fact that it offers PayPal as a payment method because it is one of the most convenient payment methods around.
If you are interested in more sites that offer a convenient payment method, I would recommend you check out the top sites that pay via PayPal as well.
How much money can you make?
As mentioned earlier, WeAre8 does reward you pretty well for watching a paid ad. The £0.20 is actually a pretty high reward rate for paid ads. Most sites that offer the same kind of earning opportunity will only pay you around $0.01 to $0.02 at most per paid ad.
But, the amount you can earn from WeAre8 will mostly depend on how often you get to watch these paid ads. And this is something you have no control over. And there aren't really a lot of paid ads available even if you live in the UK.
You can consider yourself lucky if you get two paid ads in a week. That is why even though they pay relatively well, it will still take quite some time for you to earn a significant amount from this app.
Hence, I would say the overall earning potential of WeAre8 is still relatively low. You will really have to be very patient with this app if you want to earn a significant amount.
Can you use it on a desktop?
Unlike Facebook and Twitter, WeAre8 is a mobile-only social media platform, so you'll really need to use a mobile device if you plan to register as a member.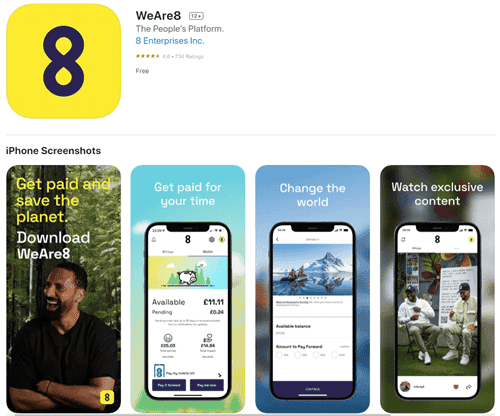 As for the app, it will work with both Android and iOS devices so that compatibility won't be an issue. The user interface of WeAre8 is pretty similar to Instagram (another social media platform), so if you are an Instagram user, then this will feel very familiar.
Overall, the user experience WeAre8 offers is pretty good. You will easily get used to navigating it, which is really all you can ask for from a mobile social media platform, in my opinion.
Who can join WeAre8?
WeAre8 is available more or less worldwide. But as explained earlier, the earning opportunity is only really available in the UK. So, if you are looking to earn from this app, then if you don't live in the UK, then this is not for you.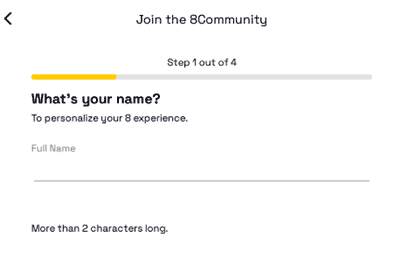 To sign up, all you have to do is download and install the app. Then, upon opening the app for the first time, you must fill out the registration form with the necessary info (full name, age, gender, nickname, and password).
After completing the sign-up form, you can now log in to the app and start using it.
Can you get support?
If you have any questions about the app or your account, you'll have to submit your inquiry to their support team directly since they don't really have a FAQ or Help page you can check out. The contact form can be found on the account settings page of the app.
Just press the gear icon found in the upper right-hand corner of the screen and press "Get in touch". You will then see the contact form, and all you have to do is fill out the necessary fields.
Overall, I would say that even though the app doesn't have a FAQ or Help page, it still has a decent support system for its members since it offers a convenient way for you to get in touch with their support team.
Final Verdict
WeAre8 is a legit social media platform allowing you to earn by watching paid ads. It has a couple of good features, but it also has some limitations you need to keep in mind.
Let me end this review with a summary of its pros and cons to give you an overview of what the app has to offer. Then, you can decide if you should go for this app or not.

Pros:
Offers a very simple way to earn
The app is user-friendly
High rewards

Cons:
Very limited earning opportunities offered
It takes a lot of time before rewards will be credited
If you want extra cash, WeAre8 is not a reliable option, even if you live in a country where the earning opportunity is available. The reason why I say this is that while the app pays a decent amount, the opportunities to earn are currently quite limited.
So, you'll have to wait quite a long time before you can earn a significant amount. Plus, it takes quite a bit of time before the rewards will actually be credited to your account. That's why you must be very patient if you plan to use this app.
But if you are mainly just looking to earn extra cash, I would instead suggest you check out the top survey and GPT sites in your country. The sites on this list all have good earning potential, so you won't have to wait that long to earn a decent amount.
Plus, you'll definitely find a site you can join regardless of where you live.
If you have any comments, questions, or have any experience with WeAre8 yourself, I would love to hear from you in a comment below.