If you own a car and are looking to earn extra cash, there's a platform called Wrapify you might want to consider joining. Wrapify claims you can earn extra cash by letting your car become an advertising machine.
But is this offer even legit or is it just a scam? Before you join a platform, it is best to figure out first if it is really doing what it claims. So, let me address the legitimacy of Wrapify first because this is a very important piece of information you need to know.
Yes, Wrapify is indeed a legit platform since it will really pay you to advertise on your car. Now, the question is, is it worth it or not? You can judge from this Wrapify review because it will give you an inside look at everything Wrapify has to offer.
After reading this review, you will know exactly what to expect and you can then decide if it is a worthwhile endeavor or not.
What is Wrapify and what does it offer?
Wrapify is a platform that offers to pay you for making your car a rolling billboard. If you've seen buses that have ads plastered at the side, then that's essentially what you'll be doing with your car.
In order to fully understand how Wrapify works, we have to first take a closer look at the earning opportunities it offers. This will give you a clear picture of what you have to do and the stipulations of how to earn. So, here's how to earn from Wrapify.
The earning opportunity – Wrap ads on your car
When you become a member of Wrapify, you will be qualified to accept ad campaigns from them.
The idea of their ad campaigns is to wrap your car with stickers for a certain product, service, or brand (hence the name Wrapify).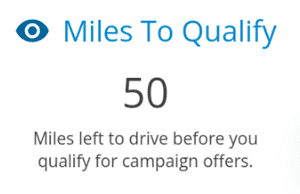 But to qualify for campaigns, you first have to drive at least 50 miles. To do this, you have to make sure the Wrapify app (I'll discuss more about their app later) is opened and the location service of your mobile device is enabled so the app can track the distance you are driving.
Once you meet the required miles, you will be qualified to run the campaigns. If there's a campaign offer, you will receive a notification from the app. Just log in to the app and accept the campaign. Once you've accepted the campaign, you will be prompted to submit a background check through their Driver Dashboard.
You have to complete this background check before you can start with the campaign. During the background check, you will be asked to provide your social security number. Don't worry because they won't use it for anything else other than your background check.
They also won't check your credit score. So, that's one less thing to worry about. And the information you've provided will be secure.
Basically, what will happen is, when you pass the background check, you will be asked to provide photos of your car. They need this to determine if the wraps will indeed fit on your car. Take note that not all vehicles will be accepted.
They say that 95% of the vehicles available today are accepted. They only turn down vehicles that are too difficult to install wraps quickly (like a Hummer, Wrangler, PT Cruiser, HHR, VW Beetle, and soft top convertibles.
So, if your vehicle is any of the ones mentioned above, you will not be able to run the campaign.
To have your vehicle wrapped, you have to take it to any of the locations they will provide. It normally takes a day to complete the installation of the wrap. You can usually leave it in the morning and come back later in the afternoon and it will be finished.
When the wrap has been applied, all you have to do next is drive your vehicle like you normally would. However, there are a few things you need to keep in mind. There's no minimum amount of miles you need to drive when you participate in a campaign.
But, your earnings from the campaign will depend on how many miles you drive. Obviously, the more miles you drive, the more earnings you will receive. But, there's a cap for the miles you can earn per day. If you reach that cap, you will stop earning from the excess miles.
Another thing you need to keep in mind is, campaigns can last from 1 to 12 months. But on average, campaigns usually last around 3 months. So, for that whole period, you aren't allowed to take the wrap off your car.
If you really have to take off the wrap from your car, you will have to pay an early termination fee (the amount will depend on the campaign). Also, Wrapify will not be liable for any damage done when you remove the wrap yourself.
So, it's not a good idea to remove it yourself. Always let them remove it for you to avoid any damage on your vehicle.
When you are participating in the campaign, you will have to submit Proof of Performance (POP) photos every two weeks. You can do this through their app. But what are POP photos? They are photos showing that the wrap is still on your vehicle.
To submit POP photos, just open the app and press the menu. Then, you have to press the Vehicle Photos option. You will have to take one photo of each side of your vehicle. That means you will have to submit four photos of your vehicle showing the wrap is still on your vehicle.
This is very important because your payment can be delayed if you miss submitting the POP photos. So, always make sure to submit the photos when needed.
Recommended: Check Out the Top GPT Sites
How do you get paid?
For every campaign you take on, you will earn a certain amount in US dollars. The good thing about Wrapify is, you don't actually have to earn a specific amount before you can receive your earnings. Plus, Wrapify will process the payments automatically. You don't need to do a withdrawal manually.
As for the payment schedule, Wrapify will pay you via direct bank transfer every other Friday. That is, of course, if you've submitted the POP photos required before Thursday 11:59 PM. If you submitted it later, it will be credited to the next pay period.
The payment will usually be credited on the following Tuesday or Wednesday. So, it's a pretty quick turnaround, in my opinion.
The downside is, this is the only payment option Wrapify offers. But on the upside, it's a convenient one, so you shouldn't have any problems receiving the money you've earned from the campaign you completed.
If you are looking for more sites that offer a convenient payment method, I would suggest you also check out the top sites that pay via direct bank transfer.
How much money can you make?
The amount you can earn from Wrapify will mostly depend on your location and the type of campaign you take on. I say location because, in my experience, the earning potential of platforms like Wrapify will mostly depend on where you live.
If you live in a big city, then chances are there are plenty of advertisers which will also mean there are plenty of available campaigns you can do. But if you live in a small city, then there's a big chance that there aren't any available campaigns you can do.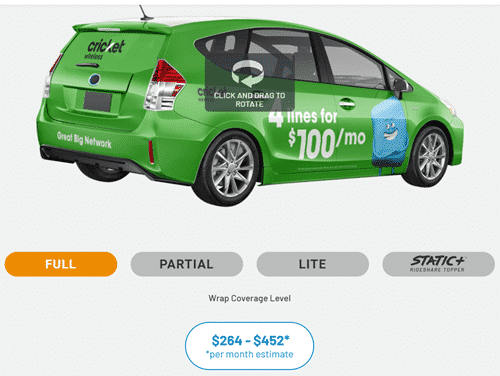 As for the actual money you can earn from campaigns, the photo above shows the potential money you can earn from the type of campaign you will be doing.  The type of campaign will vary depending on the coverage level of the wrap.
The full campaign covers most of your car but it also offers the most money. As you can see in the photo above, you can earn around $264 to $452 per month depending on your mileage. For partial coverage, you can earn around $196 to $280 per month.
And for lite coverage, your earnings will be around $181 to $280 per month. That's actually quite a significant amount. But you have to keep in mind that your car will look like a driving billboard, so it's not the most aesthetically pleasing thing, in my opinion.
Overall though, I would say Wrapify has a good earning potential as long as you live in a city where there are a lot of advertisers.
Can you use it on mobile?
As mentioned earlier, Wrapify has a mobile app you can download. In fact, most of the "work" that needs to be done on Wrapify must be done through their mobile app. You will only ever have to use your computer when you accept a campaign (due to the background check).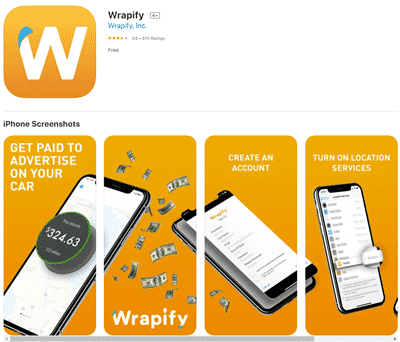 Their app will work with both iOS and Android devices, so compatibility shouldn't be an issue. Their app is also user-friendly. You will not have a hard time using it. The user interface is intuitive and you won't encounter any ads.
Overall, it offers a pretty good user experience, which is what you should be looking for in a mobile app.
Who can join Wrapify?
While you might be able to register as a member on Wrapify if you live outside the US, it is only really available in the US, and in certain cities too.
As of the writing of this review, Wrapify is only available in 8 cities: Atlanta, Dallas, Boston, Los Angeles, Miami, Minneapolis, Orlando, and San Francisco.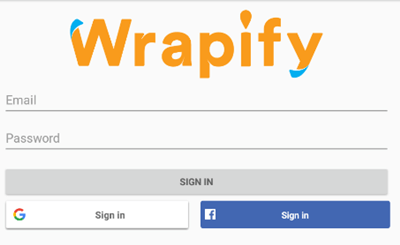 You also have to be at least 21 years of age to join and you must own a car/vehicle (having a driver's license is also a given). To sign up, you have to install the mobile app on your device first. When it is installed, you just have to go through the registration process (refer to the photo above).
You can use your Google or Facebook account to register, but you can also just provide your own login details. Once you are done, you can now log in to the app. During your first login, you have to allow the app to track your location and give it access to your camera. You will need both of these things when you start working on a campaign.
After you've done that, you can now start using the app to accumulate the required miles (50 miles) to work on a campaign.
Can you get support?
If you have any questions about the app or your account, you can check out their FAQ page first. It can be accessed via their app and on their website. If you can't find the answers you are looking for, you can send them a message instead.
To send a message using their app, just press the menu icon and select "Messages". Overall, I would say they have a decent support system for their members since they offer a convenient way for you to communicate with their support team.
Final Verdict
Wrapify is a legit platform that will allow you to earn extra cash by wrapping your car with advertisement stickers. It certainly has its advantages, but it also has some limitations you need to know as well.
So, let me end this review with a summary of its pros and cons to give you an overview of what it has to offer. Then, you can decide if it is something you should really pursue or not.

Pros:
Offers a convenient payment method
No payout threshold
Their app is user-friendly
Pays a good amount

Cons:
It will make your car/vehicle look like a driving billboard
You will have to go through a background check before you can start earning
It requires some amount of commitment on your end to maximize your earnings
The wrap takes time to install
If you don't mind making your car look like a big billboard, then I would recommend you take advantage of this opportunity if you are looking to earn extra cash (as long as it is available in your city of course). This is really just the one major downside of Wrapify, in my opinion.
If you love the way your car looks, then this is not something I would recommend you go for. And you have to put in a bit of effort if you decide to accept their campaigns because you will have to regularly submit proof that the wrap is still on your car.
Now, if you are looking for an easier way to earn extra cash, I would recommend you check out the top survey and GPT sites in your country instead. The sites on this list all have good earning potential and earning won't involve mutilating your car.
If you have any comments, questions, or have any experiences with Wrapify yourself, I would love to hear from you in a comment below.