20Cogs is an online earning platform where you supposedly can make some extra money online in your spare time.
But is 20Cogs legit and really an easy way to make some extra cash on the side, or is it a scam to stay away from?
I have joined and taken a close look at what the platform has to offer and have compared it to the hundreds of other free online earning platforms I have tested.
In this 20Cogs review, I will give you all the details so you can find out exactly what it offers and if it will be worth your time or not before joining.
What is 20Cogs and what does the site offer?
When I first visited 20Cogs, I must admit that I was not exactly sure what it offers.
According to itself, you can earn by completing competitions, offers, gaming, and surveys. This sounds pretty much like many other Get-Paid-To (GPT) sites I have reviewed here on PaidFromSurveys.

However, after joining, I could see that it is actually quite different from any other site I have seen.
This is not necessarily positive or negative. That depends on your preferences. That is why it is important to know exactly how 20Cogs works.
You might find it interesting with this approach to earn online or it might not be for you at all. So let me explain how it works so you can find out if 20Cogs will be worth it for you or not.
When it comes to it, there are a few differnt ways to earn.
Option 1 – 20Cogs offers
The main method of earning on 20Cogs is to take offers. These offers can, for example, be to sign up for free trials, participate in competitions, sign up for a survey site, download a game, sign up for a gambling site, and more.
This is why it is described that you can earn by for example taking surveys, gaming, and more on the site. But in fact, you can not really earn by taking surveys.
You can get a reward for signing up for certain survey sites at times, but not earn by taking surveys directly on 20Cogs from what I have seen.
So 20Cogs works quite differently than most other sites. The difference between the way you earn on 20Cogs and more regular GPT sites is the way you get access to these offers.
On most regular GPT sites, you can browse through all the offers and choose which ones you want to participate in. Or you can take surveys directly on the sites and earn by sharing your opinion.
On 20Cogs it is different. When you come to the offer section, you will see 20 cogs.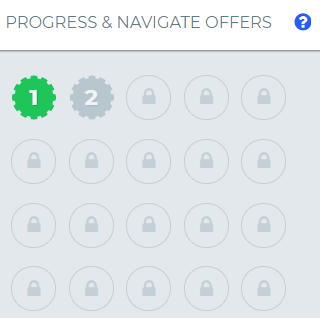 Each cog offers different options to complete that cog. You can choose to take the first offer you see, or you can choose to see the next before deciding.
Usually, you will have 3-4 options for each cog. You need to take one of these to unlock the next cog and get access to further offers.
Let me give you an example of an offer I saw.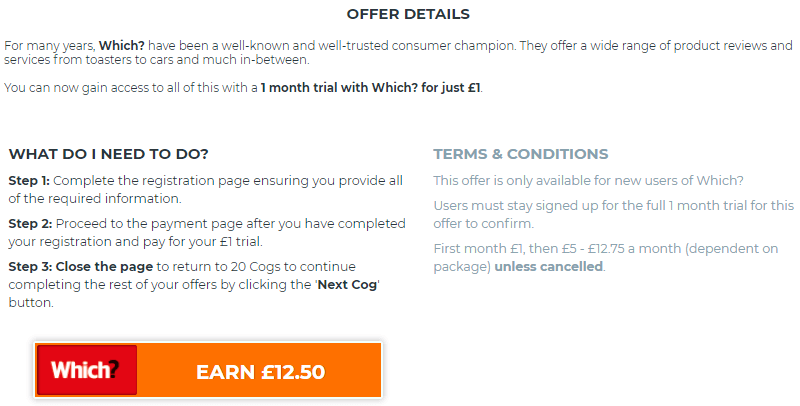 Here I could sign up for a 1-month trial for Which? for £1. By doing this, I would earn £12.50 into my 20Cogs account and unlock the next cog. That is a pretty good reward for a small investment.
I just want to make it clear that this is just an example. New offers come and go all the time, so this exact offer might not be available to you. But then there will be other offers.
I could also choose to say no and then I would have 2-3 other options to unlock the cog.
If you say no to all the offers for one cog, you will get the first offer again, so you can just say no to all at first to be sure to find the best offer for you.
Once you have taken an offer, the color of the cog will change, and you will move on to the next cogs where you get new and different offers to choose from.
To see how many cogs you have completed, there are 4 color codes.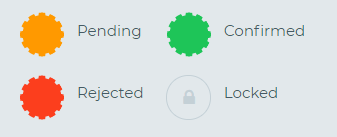 Pending means that the offer has been tracked but not approved yet, confirmed means the offer has been approved, rejected means the offer has been rejected, and locked means you do not have access until you have completed another offer.
It might sound a little complicated but it is actually a very simple system once you start using the site, and it will not take learning to understand how it works.
One very important thing for any offer you see is, however, to make sure to read the exact conditions.
For the offer I showed above, you, for example, have to be a member for a month before the cog is confirmed. Also, if you sign up for a trial like the above, you can see it can give a really nice reward.
Just remember that if you do not cancel, it will continue as a paid membership. So if you sign up for trials like this, remember to set an alarm to cancel the membership if you do not want to end up paying for it.
Overall, you can find some really great offers on 20Cogs with a bit of patience.
I do however find that a site like Swagbucks is a great alternative if you are not so patient, as you can here freely browse between all the offers and that makes it a bit more user-friendly in my opinion.
But 20Cogs can definitely also be a nice way to find some good offers and earn some extra cash if you just have a bit of patience and choose the offers you take wisely.
Option 2 – Refer your friends
You get access to all the earning offers through the cogs by unlocking more cogs.
There is however one more way you can earn on 20Cogs. This is by inviting other people to join.
As a member, you get a link you can share with others.
If anybody joins, you will earn a commission and get 5% of what they earn. This will not affect the size of the reward they will get. It is paid by 20Cogs to thank you for inviting other people. Once your friend cashout, you will also get an additional £20.
On the referral page, you are also told that you can share it in other ways than just with your friends.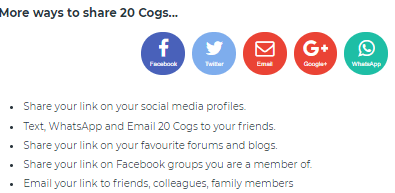 You are told that you, for example, can share your link in Facebook groups or forums.
These exact suggestions are not necessarily something I would advise you to follow. It might sound easy, but groups and forums that allow you to post referral links like this are usually full of promotional links.
This means people will in most cases just ignore your link, and it will take a lot of sharing to get any people to join.
In addition to this, if you share in groups or forums where it is not allowed to post promotional links (which the best of them will not allow), you will quickly get banned.
This is not to say you cannot earn by inviting people.
It was just to make you aware that you should, in my opinion, be careful not to end up coming across as a spammer and instead focus on inviting people you know will be interested and that will benefit from joining.
Most importantly, you should of course only recommend others to join if you like what the platform has to offer yourself.
Option 3 – Bonus offers
Inside 20Cogs.co.uk, you can find a section with bonus offers.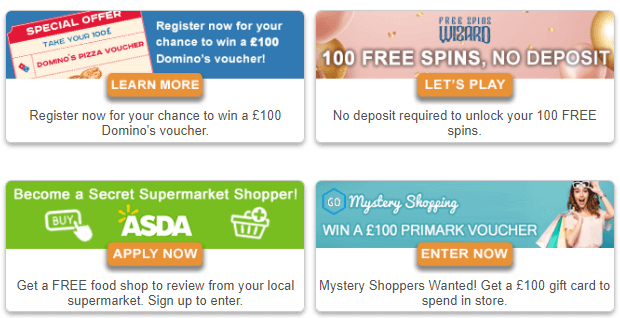 You just need to be aware that you will NOT earn by taking these bonus offers. These are basically just promotional offers 20Cogs gets paid to promote.
That does not mean you cannot find any good offers there – but, in my opinion, you just need to look carefully at the conditions for the offers. Especially the offers where you sign up for a free contest. Often you will end up being contacted by a lot of advertisers if you sign up for these types of contests.
So just make sure to choose wisely if you go for any of the bonus offers – and remember that those offers will not add to your 20Cogs earnings.
I have made a video tutorial where you get an inside look of 20Cogs and can see exactly how it works. Below the video you can find more details:
Click to Check Out the Best Get-Paid-To Sites
How do you get paid?
The payout method is also a bit different on 20Cogs than on many other sites.
Most other sites have a certain threshold – meaning a certain amount of money you need to earn to be able to get your earnings out.
That is not the case for 20Cogs. To be able to get your earnings out, you need to have taken enough offers to make all 20 cogs green.
Once this happens, you can get paid directly into your bank account or through PayPal. So it is not the amount you earn that decides when you can get paid but the number of offers you take.
But it is some really nice payout methods, as you can get your rewards in cash easily.
However, as you have to take 20 offers to get a payout it can take some patience compared to for example the fastest paying survey and GPT sites.
Also, you need to be aware that if you do not log in to your 20Cogs account for 6 months, your account will be suspended and the earnings you have will be reset and you would have to start from scratch.
So do not take too long a period where you do not log in.
How much money can you make?
20Cogs itself is very transparent about what you can expect in terms of earnings. It clearly says on the website that it is not a way to earn hundreds per day.

Since you need to take 20 offers to get a payout, the amount will differ from person to person depending on the offers you choose to take and on the offers that are available at that moment.
According to 20Cogs itself, the average earning per payout is around £200. The record is £700 for one payout.
So definitely possible to make some nice extra cash. But you just need to know that it is not a way to make a full-time income or a way to become rich.
In fact, it will take quite a lot of effort and time.
And sometimes you might not even be able to find offers you want to complete but still, have to take them to be able to complete the 20 offers to get paid. That is the biggest disadvantage of 20Cogs, in my opinion, and this is something you need to know before signing up.
Can you use it on mobile?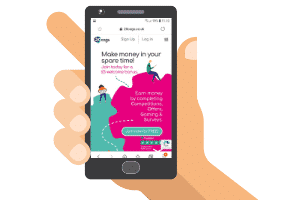 Since it does not take long to complete most offers on 20Cogs, it can be very handy to use the site while you are on the go or have a few extra minutes during the day.
There is no 20Cogs app you can download but luckily the site is fully mobile optimized and the site looks and works great on most screens.
So if you decide to join, it is good to know you can log in and take offers easily when it fits you and on the device that fits you.
Who can join 20Cogs?
One thing that is very important to know about 20Cogs is that it is only available if you live in the UK.
The offers are only for the UK and if you try to join and take offers from other countries, you will be denied.
If you live in other countries, you can instead check out the best similar sites in your country here.
Can you get support?
How good support you get from a GPT site tells a lot about its credibility.
From my experience and from what I can see, 20Cogs has very responsive support staff. A way to see this is to for example look at how the support staff replies to reviews that are made of the site on Trustpilot.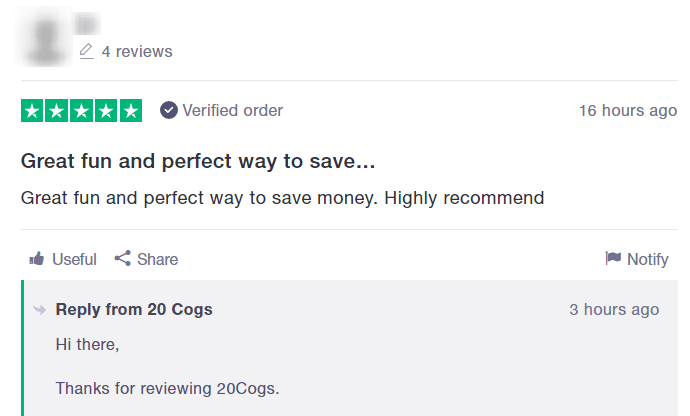 From what I have seen, the 20Cogs support usually replies within 24 hours. The example I have shown above shows how quickly they reply.
What is even more important is that they reply to all reviews – both the positive and the not so positive. If anyone has any complaints, they try to take care of it as well. Many sites could learn a lot from this.
From personal experience, I can also say I have been in contact with 20Cogs staff myself a few times. It has been very fast replies and very helpful staff I have been in contact with, so this is, in my opinion, definitely a good sign.
Final verdict – legit or scam?
Let me just make it clear that 20Cogs is legit. It does give you a legit way to earn some extra cash and pays out through legit methods.
This does however not mean it will be the right platform for you. So let's finish this review by summing up the pros and cons to give you a better overview before you decide to join or not.

Pros:
Free to join
Some offers have great rewards
Good payout methods
Great support

Cons:
You can not freely browse through all the offers
It can take some patience to complete all 20 cogs
Overall 20Cogs is definitely a real way to make some extra cash. You just need to do it with the right expectations.
It is not a fast way to become rich, but with a bit of patience, you can find some great offers there that can make you some easy extra money.
If you instead want to join sites, where you can more freely browse the offers, take surveys, and in many cases get a faster payout, you can check out the best sites in your country here.
But if you live in the UK, I think that 20Cogs can be worth considering. It has some good offers, it is legit, and it is free to join, so there is no risk in testing it out and see for yourself.
If you have any comments, questions, or have any experiences with 20Cogs yourself, I would love to hear from you in a comment below.