Abaqoo is a browser that claims you can get paid for the data you share. So, if you are looking for an effortless way to earn, this might be a good option.
But before you use this browser, I would suggest you read this Abaqoo review. I have personally tested it and I will be sharing the full details of what it has to offer.
That way, you will know how it works and whether or not it is really worth using.
So, let's not waste any more time and get on with this review, shall we?
What is Abaqoo and what does it offer?
As mentioned above, Abaqoo is a browser that will let you earn for sharing data. Here's a short video explaining what Abaqoo is all about.
And yes, it is indeed a legit browser since you will really get paid for using it. But the question is, is it worth it?
Well, the first thing you need to do to answer this question is to understand how it works and the only way to do that is to examine the earning opportunities it offers.
So, here's how to earn from Abaqoo.
Option 1 – Using the browser
The main way to earn from Abaqoo is to use it as your way of browsing the internet. Take note though that Abaqoo is only a mobile web browser. That means you'll have to use your mobile device to earn.
The idea is to install the browser on your mobile device and use it as the default browser. Then, all you have to do is use it like you normally would when browsing the internet.
Abaqoo has what is called a credibility index that dictates how much you will earn when you use Abaqoo to browse the internet. Unfortunately, Abaqoo doesn't have a breakdown of how much you will earn, so I can't really tell you the exact amount you will earn every time you use it.
They also don't really explain in detail how you can increase your credibility index, but there is one way I know you can use to increase it and I will discuss it in the next section.
But what I can tell you is that if your credibility index is low, it will take quite a long time for you to earn a significant amount. Also, you will always see how much you've already earned from it by simply going to your profile.
Just click the Profile link at the bottom of the browser and you will immediately see your current balance, the total amount you've earned in the last 24 hours, and your credibility index.
Option 2 – Referral program
Technically speaking, Abaqoo's referral program will not allow you to earn anything. But it is a guaranteed way to increase your credibility index. And as explained above, you need to increase your credibility index to earn more from this browser.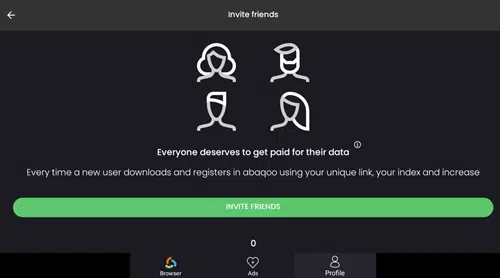 The idea is that you invite other people to use Abaqoo as their mobile web browser by sharing your invite link with them. When they click the link and install the browser on their mobile device, they will become your referral.
Unfortunately, Abaqoo doesn't really explain exactly how much will be added to your credibility index per referral you get. It's a recurring theme that they don't really do a good job at explaining the details of the features of their browser.
But that's the importance of their referral program. If you want to quickly increase your credibility index, you have to get people to use the browser which is not an easy thing to do, in my opinion.
Recommended: Check Out the Top Passive Income Apps
How do you get paid?
As explained above, you will earn a certain amount every time you use Abaqoo to browse the internet. But how will you be able to withdraw your earnings?

Well, Abaqoo offers three reward options. You can either convert your earnings to a gift card (Amazon, Spotify, PlayStation Store, Xbox Store, or Roblux gift cards), withdraw them via PayPal, or donate your earnings to a charity they support. You do have to earn at least $10 before you can redeem any rewards.
Overall, the reward system of Abaqoo is relatively easy to understand and I do like the fact that they offer PayPal as a payment method because it is one of the most convenient payment methods around.
If you are interested in more sites that offer a convenient payment method, I would recommend you also check out the top sites that pay via PayPal.
How much money can you make?
If you were hoping to earn a significant amount from Abaqoo, then you will be disappointed. That's because the browser really doesn't pay that much. I used it for a week and wasn't even able to earn $0.5.
That's a very low rate, so even though it has a relatively low payout threshold, it will take you several months to reach it. Unless you are able to get hundreds of referrals, you will not be able to earn a significant amount from this browser quickly.
Instead, I would suggest you check out the best ways to earn by searching the web.
So, there's really little reason, in my opinion, for you to replace your current browser if all you are after is earning extra cash. The earning potential of Abaqoo is really low. But if you are just looking for a different browser other than what is on your mobile device, then you can definitely go for this.
Just don't expect to earn a decent amount from it so you won't get disappointed.
Can you use it on mobile?
As mentioned earlier, Abaqoo is a mobile browser, so you'll really need to use your mobile device if you want to earn from it.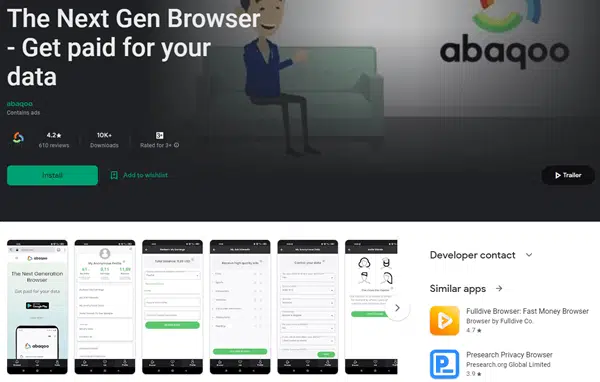 The app will only work with Android devices though. So, if you are an iOS user, then this is not for you. One thing I can say about Abaqoo is that the browser looks good. It also loads pages at the same speed as other browsers.
There is no noticeable difference between Abaqoo and other browsers like Chrome or Firefox in terms of loading speed. In that regard, I would say that Abaqoo did a good job of designing their browser. But apart from that, there aren't any additional benefits.
You won't find any features that you can't find on other mobile web browsers. That's why it's hard to justify switching from your current browser to this one, in my opinion.
Who can join Abaqoo?
The website doesn't really mention anything about who can use Abaqoo, but from what I can gather, it is available globally. So, you can download and register as a member of this browser regardless of where you live.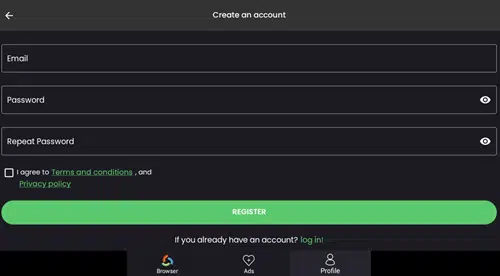 Just install the app on your device and open it. To sign up, go to your profile and hit the register button. Then, fill out the registration form and you are all set. That's all you really need to do.
Can you get support?
As I've mentioned earlier, Abaqoo really does a poor job of explaining the features of its browser and how you can increase your earnings. And unfortunately, it doesn't have a FAQ page you can refer to if you have any questions about the browser.
They do have a WhatsApp group and Telegram channel you can join so you can interact with other users, but that's about it. If you have any questions, you'll have to get in touch with their support team using the contact form provided on the website.
Overall, I would say Abaqoo does have a support system that barely hits the minimum requirement. I do wish they would do a better job at explaining its features, especially the earning part. That would make it a more usable browser, in my opinion.
Final Verdict
Abaqoo is a legit browser that will allow you to earn extra cash by using it as your primary mobile web browser. It has a couple of advantages, but it also has several limitations you need to think about.
Let me finish this review by summarizing its pros and cons to give you an overview of what it has to offer. Then, you can decide if you should use it or not.

Pros:
Offers payment via PayPal
Offers a simple way to earn

Cons:
Very low rewards
Doesn't explain in detail how their earning opportunity works
If you are looking for ways to earn extra cash, then I will say right away that this is not a good option. The rewards it offers are simply too low. It will take you several months or even a year (depending on how often you use your mobile device to browse the web) to reach their payout threshold.
Your time will be better spent on other platforms that will allow you to earn a decent amount quickly. It also doesn't give you enough reasons to switch from whatever browser you are using currently to this one. It doesn't offer any additional features that you can't find on more popular browsers like Chrome and Firefox.
That's why I would recommend you don't use it. If you are looking for ways to earn extra cash, I would instead suggest you check out the top survey and GPT sites in your country. The sites on this list all have good earning potential, so you don't have to wait a long time to earn a decent amount.
If you have any comments, questions, or have any experiences with Abaqoo yourself, I would love to hear from you in a comment below.