AboutFace Mystery Shopping is a site that claims you can earn money by performing mystery shopping activities.
But the question is, is it legit or just a scam?
That's what you'll find out if you read this AboutFace Mystery Shopping review. I have taken a close look at how this site works, and in this review, I will share all I have learned, so you will know exactly what to expect from it.
Then, you can decide if this is the right opportunity for you or not. So, let's go ahead and examine AboutFace Mystery Shopping, shall we?
What is AboutFace Mystery Shopping, and what does it offer?
AboutFace Mystery Shopping, as the name suggests, is a platform that will pay you for completing mystery shopping projects. It is indeed a legit site because you will really get paid when you complete a project.
However, this doesn't automatically mean this is the right fit for you or that it is even worth it. The best way to figure that out is to first understand how it works so you can gauge the amount of time and effort required to earn from it.
So here's how to earn from AboutFace Mystery Shopping.
The earning opportunity – Mystery Shopping Projects
The only way to earn from this site is to take on mystery shopping projects in your area.
However, before you can work on these projects, you have to complete your profile first. You will immediately see the progress of your profile when you log in to the site, so you should be able to complete it with ease.
Once you've completed your profile, just log in to the member dashboard to see all the projects available in your area. To do so, you have to click the link that says "Job Board" on the left side of the dashboard.
You can choose how you want to view all the available projects. You can view them as a list or on a map. I personally prefer the list option so I can easily see most of the details of the projects (like the location and deadline).
If you see a project you are interested in, just click the "Apply" button.
Sometimes, a shop will require a certification for you to work on it. If this happens, you need to take the certification test and pass it before it can be assigned to you.
The good thing is that you can take this test as many times as you need to until you pass it, so there's not a lot of pressure. Once you pass the certification, your application will be reviewed by AboutFace.
If your application is approved, it will now be listed under the "Assigned" section. Then, all you have to do is complete the project before the deadline.
Most projects will require you to submit a report. To do this, just log back into the member dashboard and look for the project you worked on. You should be able to submit your report through that section.
After you've submitted everything that is asked of you, the site will evaluate your work. The evaluator will base your rating on these five aspects:
Scoring Accuracy
Timeliness
Comment Quality & Grammar
Proof of Visit Quality
Overall Report Quality
You must get a passing rate from the evaluator to receive compensation for the project. If the evaluator fails you, you will not receive any compensation. That's why it is essential to ensure that your work is of good quality if you want to get paid.
If you keep failing projects, you will eventually be locked out from the site, and you can't apply for projects anymore. So before you accept any project, it is of utmost importance that you are confident you can complete it and pass the evaluation.
Most projects will ask you to evaluate a shop, but from time to time, there will be projects that will also ask you to buy something from the store you are evaluating. When this happens, the site will reimburse you for the expenses, so you don't need to worry about not recouping the money you spent.
Recommended: Check Out the Best Mystery Shopping Sites
How do you get paid?
Every time you complete a mystery shopping project, you will earn a certain amount. This amount will be sent to your PayPal account.
You don't have to wait to earn a specific amount to receive your earnings like you often have to on other mystery shopping sites and online rewards sites.
However, it will take approximately 30-45 days from the date of the shop submission for the money to be credited to your PayPal account. So, you will have to be very patient because this is quite a long wait, in my opinion.
Overall, the AboutFace Mystery Shopping payment system is relatively straightforward, and I like that it offers a convenient payment method like PayPal. If you are interested in more sites that provide a convenient payment method, I suggest you check out the top sites that pay via PayPal as well.
That being said, I do wish the waiting period to receive your earnings was a lot shorter. 30 to 45 days is a very long waiting period, in my opinion.
How much money can you make?
Based on my experience, the amount of money you can earn from a mystery shopping site like this will depend on your location. This is because the number of projects that will be available to you will depend on which city you are located in.
Let me elaborate.
If you live in a metropolitan, there's a high chance of finding a good number of projects available on any given day, which means you can more or less expect to earn on a regular basis. You can expect to earn an amount from $10 to $50 (excluding the reimbursement) per project, which is not bad, in my opinion.
The amount you will receive will depend on how complicated the project is. The more complicated the project, the more money you will earn.
But if you live in a small town, then don't expect to earn from this site because, chances are, you won't find any projects near your location. This is just how mystery shopping sites work. It can only be profitable for people who live in big cities.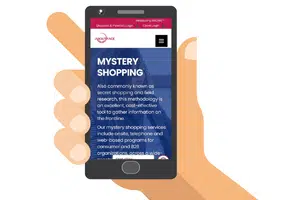 Can you use it on mobile?
AboutFace doesn't have a mobile app you can download, but you can still access the member dashboard from a mobile device using a mobile web browser. The site is mobile-friendly, so you won't have a hard time navigating it.
But if you really want to use an app to access AboutFace projects, you can actually do so using GigSpot, which is another platform where you can find mystery shopping jobs. You see, you can actually see all the AboutFace Mystery Shopping projects inside GigSpot as well.
And if you are already a member of this platform, I don't even recommend you sign up as a member of AboutFace. You can just use GigSpot to work on projects from AboutFace.
Who can join AboutFace Mystery Shopping?
AboutFace Mystery Shopping is only available in certain countries. If your country is not shown in the photo below, then this platform is not for you.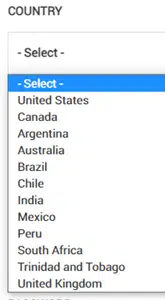 To sign up as a member, you have to be at least 18 years of age. Then, you have to fill out the sign-up form and submit it. After you do this, you will receive a confirmation email from the site. Just click the link in the email to complete your registration.
Once you've done that, you can log in to the member dashboard to complete your profile.
Take note that you have to complete your profile to gain access to the jobs offered by the site. During this phase, you will be asked to upload a photo of your driver's license or state ID as proof of your identity.
There's no way around this, so if you are not comfortable with sharing this information, then this site is not for you.
Can you get support?
If you have any questions about the site or your account, you can check out the FAQ page first. It discusses some of the basic topics you need to know about the site.
If you can't find the answers you are looking for, you can just message their support team by clicking the chat icon found in the lower right-hand corner of the FAQ page. This will open the chat form. Just fill it out and hit submit.
You can also call the toll-free number provided on their contact page if you really want to speak to a representative immediately. Overall, I would say the site offers decent support for its members since it provides a couple of ways for you to get help.
Final Verdict
AboutFace Mystery Shopping is a legit mystery shopping site where you can earn by completing mystery shopping projects. It has a couple of decent features, but it also has a few disadvantages you need to be aware of.
Let me end this review by summarizing its pros and cons to give you a clear overview of what it has to offer. Then, you can decide if this is the right opportunity for you or not.

Pros:
Offers payment via PayPal
No payout threshold

Cons:
Limited earning opportunities offered
Long wait time to receive earnings
In my opinion, AboutFace Mystery Shopping is not a bad mystery shopping site. However, it also doesn't offer anything special to warrant a reason to use it over other more popular mystery shopping sites.
The main disadvantage of this site, in my opinion, is the long wait time to receive your earnings. The fact that it will take 30 to 45 days before your earnings will be credited to your PayPal account makes it a less-than-ideal option, especially if you have to make a purchase to complete a project.
There are other options out there where you will receive your earnings a lot quicker. And if you are interested in better mystery shopping sites, I suggest you check out the best mystery shopping sites instead.
But if you are looking for a way to earn extra cash without spending any money, I recommend you check out the top survey and GPT sites in your country instead. The sites on this list all have good earning potential, and you will receive your earnings quickly too.
Plus, you will definitely find a site you can join regardless of where you live.
If you have any comments, questions, or have any experience with AboutFace Mystery Shopping yourself, I would love to hear from you in a comment below.