If you are a big Adidas fan and are looking for ways to get free stuff from this brand, you can try out the Adidas Product Testing platform.
It claims you can become An Adidas Product Tester and get to test their new products – sometimes even before they are released.
But before you apply to become a tester, I would suggest you read this Adidas Product Testing review.
This will give you an idea of how their whole testing program works. And let me just reveal right away that it is a legit program, BUT there are some important details you need to consider before joining.
This review will give you all the details, so you know exactly what to expect, and then you can properly gauge if this is something you want to invest your time in or not.
So, let's go ahead and examine what Adidas Product Testing is, shall we?
What is Adidas Product Testing, and what does it offer?
As the name suggests, Adidas Product Testing is the testing platform of the popular brand Adidas. So, you shouldn't worry if it is legit since the brand itself manages this platform.
But why does Adidas need this kind of platform?
Well, to put it simply, this is the best way they can get valuable feedback about the products they are planning to release or have already released. But for you to fully comprehend how their testing platform works, we have to examine their testing process.
So, here's how Adidas Product Testing works.
The product testing process
First of all, let me say this right away. Unlike some other product testing platforms, the Adidas Product Testing platform does not as such offer any earning opportunities. You won't earn any cash rewards from it. You only get to try out their products for free.
But if you like their products, this can also be great and be worth a lot.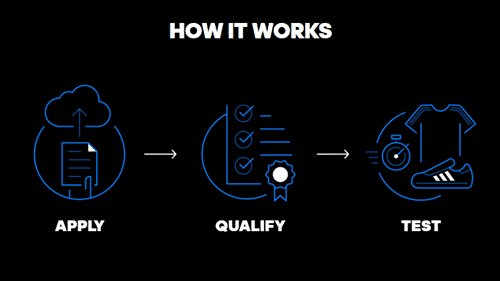 The first step in their testing process is to apply to become a product tester. I will explain this part later. But for now, let's skip that part and assume you got accepted as a tester. When you become a tester, you will receive an email inviting you to participate in the product testing.
If you decide to participate, the product will be mailed to you. You will then have to wait for the product to be delivered to you by mail (it usually takes around two weeks or more). Once you receive the product, you will be asked to test the product for a required amount of hours/mileage per week for the length of the test period.
The usual test period will be around two to four weeks. So, you can use it freely during that period. Once the testing period is over, you will be asked to send the product back (Yes, you read that right. You don't get to keep it) to them.
The good thing is that you don't actually have to spend any money to ship it back to them because when they mail the product to you, Adidas will provide a return label. Just use the label to send it back to Adidas, and you won't have to spend a dime.
When you are testing the product, you have to make sure you keep a detailed log of your daily activities when using the product. Then, once you've sent the product back to Adidas, you'll just have to answer an online questionnaire to finish the process. You can do this on your computer or even on your mobile device.
The process is fairly straightforward, but the only downside to their product testing program is that you don't get to keep the product. That's because Adidas also wants to examine the product after it was tested.
At least you get to use it for up to one month, and you also get to find out if the product is actually worth buying once it is released. That's the only advantage I can think of.
Now, while you are testing the product, you are not allowed to share any information related to the product you are testing. This includes any source of social media, personal messaging, or any other form of communication. That's one thing you need to keep in mind.
The types of products you can test will range from Adidas apparel and shoes. So, there's a wide variety of products you can possibly test.
Recommended: Check Out the Top Survey Sites in Your Country
How do you get paid?
I just want to make it clear that you will not get paid to be an Adidas product tester. And there seem to have been some fake claims around this.
At the time of updating this review, there is even a pop-up on the Adidas product testing platform that makes this very clear.

As you can see in the image above, Adidas says that some people on social media have claimed that they are paid to be Adidas testers, but this is not true.
So do not believe any claims like that if you see them. This testing program is not for you if you are looking to earn money by testing products.
Who can join Adidas Product Testing?
Adidas Product Testing is available in the US and in most countries in Europe. They don't exactly tell you which countries in Europe it is available in, so the best way to find out is to try and apply to become a tester.
The minimum age required to become a tester is 18 years old. So, if you are not at least 18 years of age, you are not qualified to join. You must also not be a member of a product testing platform of any competitor (like Nike or Under Armour, to name a few).
To become a tester, you will first have to answer some sort of survey (refer to the photo above). The survey will ask you to provide your size details as well as your personal information. Plus, you will be asked which categories of products you are interested in.
All the information you provide in this survey will be used by Adidas to determine if you will be eligible to become a product tester. They will also use the information to determine the type of products to send your way if you are accepted.
So, when answering this survey, I would highly recommend you answer honestly. There's no timetable on how long you have to wait before you can hear back from them. But typically, if it's more than a month since you applied and you still haven't heard back from them, then don't expect to be accepted.
Their application process is fairly easy, but it's really hard to become a tester since you will be competing for a slot with thousands of other interested individuals.
Can you get support?
The landing page of their product testing platform doesn't really offer a lot of information. It just explains how the process works. And in my opinion, they did a good job of explaining how the process works, so you most likely will not have any questions about their system.
Their site also doesn't have a contact form provided. But you will be able to communicate with their support team if you get accepted as a tester. And, in my opinion, that would be enough since you don't really need to get in touch with their support team if you are not accepted as a tester.
That's why even though their site for product testing doesn't provide a lot of information and a contact form, I would still say they have a decent support system in place since they ensure that their testers can get assistance if in case they need it.
Final Verdict
Adidas Product Testing is a legit product testing platform that will allow you to test various Adidas products. It has a couple of interesting features, but it also has some limitations you need to be aware of.
Let me summarize its pros and cons to give you a better overview of what the site has to offer so you can decide if it is for you or not.

Pros:
You get to test unreleased Adidas products
You don't have to pay for any shipping

Cons:
You won't earn anything, and you don't get to keep the product you tested
It's hard to become a tester
Adidas Product Testing, in my opinion, is not for everyone. The major downside of this product testing platform is that you won't earn anything from it, and you actually don't get to keep the products you are testing.
That's why I would only recommend you go for this if you are really passionate about Adidas products because you can help them shape their products by providing valuable feedback. If you are looking for product testing sites that will pay you or at least let you keep the product you are testing, then this is not for you.
Now, if you are just looking to earn extra cash, I would recommend you check out the top survey and GPT sites in your country instead. The sites on this list all have good earning potential, and you are guaranteed to earn from every earning opportunity they offer.
Plus, you will definitely find a site you can join regardless of where you live.
If you have any comments, questions, or have any experiences with Adidas Product Testing yourself, I would love to hear from you in a comment below.