AI.Marketing is a cashback site that claims it offers the best cashback deals both on the Internet and in actual physical stores. So, if you love to shop either online or in a physical store, you might want to consider joining this site.
But is AIMarketing legit or is it a scam to stay away from?
This is important to know before joining any site and especially for this site as you can also lose money if it turns out not to live up to its promises.
Therefore, I have joined to test it myself and have compared it to the hundreds of other ways to make money online I have tested and in this AI.Marketing review, you will get the full details so you can understand exactly how it works and then decide if this site is the right fit for you or not.
Important Update: AI.Marketing closed!
As you can see in the review below, I was very critical of AI.Marketing when I first tested it and warned against investing in it.
The platform has now closed down, which is not surprising considering what it offered, in my opinion.
Unfortunately, there seems to be nothing you can do to get your money back if you invested. But I would then encourage you read the review below as it can help you to learn how to spot what options to stay away from in the future.
You can instead check out a list of the best cashback sites here.
Or if you are looking for ways to earn a full-time income online, you can check out my top-recommended way to build a real business online here.
What is AI.Marketing and what does it offer?
AI.Marketing, as mentioned above, is a cashback site that will allow you to earn back a portion of what you spend to buy a product they offer.
You can potentially earn – but if you are not aware of what you are doing, you can also risk losing money instead (more about this later).
In order to understand how the site works and if it will be worth it, we have to take a closer look at the earning opportunities it offers.
I have, therefore, made a video that gives you an inside look and shows exactly how to earn from AI Marketing. You can also read all the details below the video:
Option 1 – Online cashback offers
The primary earning opportunity of this site is its online cashback offers. But this isn't the same as the cashback offers you will find from most other cashback sites. The online cashback offers of AI.Marketing will actually not necessarily require you to complete a purchase to earn.
Instead, you can earn by promoting certain cashback offers. And in return, if a person avails of the cashback offer you promoted, you will receive a commission from AI.Marketing.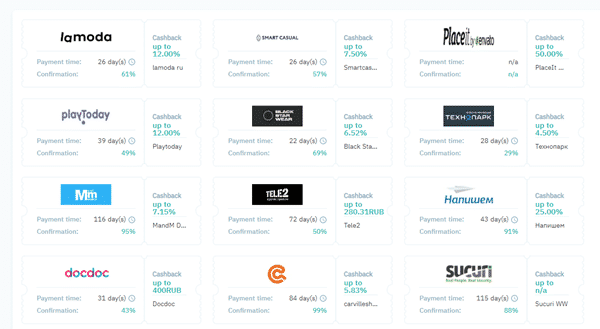 To access their online cashback offers, you have to log in to the site. Then, you just click the "Online Cashback" link on the left side of the member dashboard. You will then see something similar to the photo above.
You can also filter the cashback offers displayed according to category. This is a very underrated feature because it will allow you to easily find cashback offers you are interested in.
Once you see a cashback offer you are interested in promoting, just click it and it will redirect you to the details page of the cashback offer.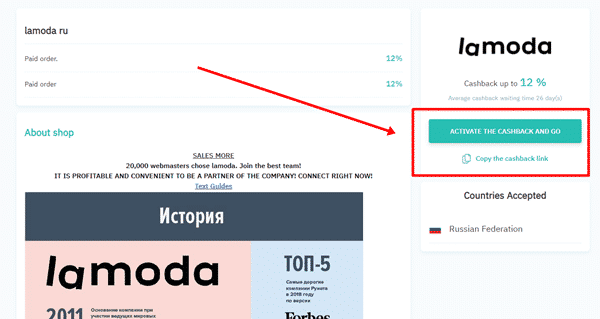 To start the process, just click the "ACTIVATE THE CASHBACK AND GO" button. Then, go back to the details page and click the "Copy the cashback link" button. It will then be up to you where you want to share that link.
You can share it on your social media pages or even your website (if you have one). Once a person avails of the cashback offer using your link, you will then receive a commission.
The way the rewards system works is that the site with the cashback offer will pay AI.Marketing a certain commission. Then, that commission will be split into two. You will receive 55% of that commission and AI.Marketing will receive 45%.
That's how the site makes money. So basically, your job is to help AI.Marketing promote cashback offers.
I personally find this opportunity quite unique. But it can take quite a while for you to earn from it. And whether it is a good way for you to earn or not really depends on whether you like promoting offers like this.
Also, they will encourage you (a lot) to spend money on their so-called MarketBot that supposedly automatically can help you advertise offers to the perfect target group as long as you just invest some money.
In general, you should be very careful about investing any money in any tool that claims it will just make you money automatically, in my experience.
But more about the full earning potential and the risk later.
Option 2 – Offline cashback offers
The other way to earn rewards from this site is to avail of their offline cashback offers. In this opportunity, you can basically avail of cashback rewards by purchasing something from a physical store.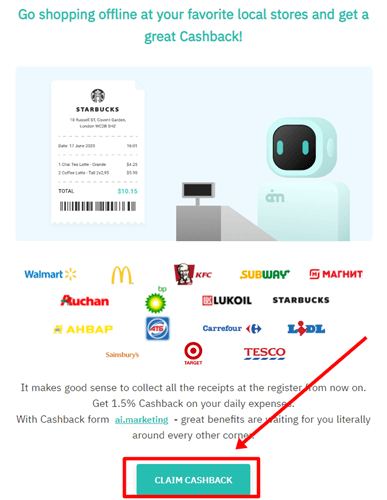 The way it works is, you have to buy from one of their partner stores. Then, you have to keep the receipt and then take a photo of it and upload it on AI.Marketing's website.
To start the process, you have to log in to the site and click on the "Offline Cashback" link on the left side of the dashboard. Then, click the "Claim Cashback" button (refer to the photo above).
You will then have to choose your country. There are several countries available. If your country is not listed, then it means this opportunity is not available in your country.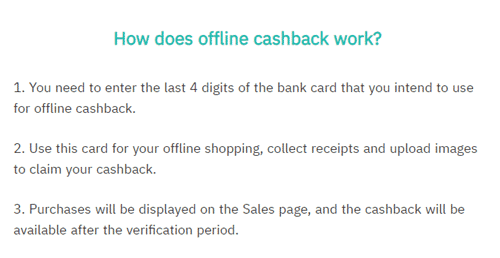 Then, it will show you the additional requirements to complete the offer. You will have to enter the last 4 digits of the bank card that you intend to use for this offer. Then, you have to use this card to pay for the product you bought and collect the receipt.
You will then have to take a clear photo of the receipt. Make sure all the details of the receipt are readable. To complete the process, you have to upload the photo of the receipt. Again, it will take several days or weeks before the transaction will be verified.
Once it is verified, the reward will be credited to your AI.Marketing account balance.
Recommended: Check Out the Top Cashback Sites
How do you get paid?
All your earnings from this site will be credited into your AI.Marketing account balance. You can then withdraw your earnings in several ways (refer to photo below).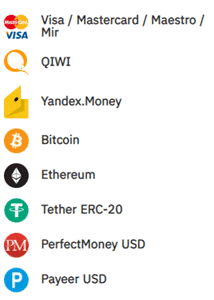 There are several payment methods you can choose from.
If you prefer to earn cash, you can withdraw your earnings via Yandex.Money (now called YooMoney), Qiwi, Payeer, or Perfect Money. You can also convert your earnings to a prepaid credit cards like Visa, Mastercard, or Maestro.
Plus, if you prefer to get paid in cryptocurrency, you can also choose to convert your earnings to Bitcoin, Ethereum, or Tether ERC-20.
Every payment option has a specific threshold you need to meet before you can withdraw your earnings (usually it's either $10 or $15). There will also be a transaction fee involved for some of the payment options.
Overall, their payment system is relatively simple. I also like the fact that they offer multiple payment options. But I do wish they offered PayPal as an option since it is one of the most convenient payment gateways available today, in my opinion.
If you are interested in sites that use PayPal, I recommend you check out the top sites that pay via PayPal.
How much money can you make?
There's really no fixed amount you can earn from AI.Marketing. It will all depend on how well you can promote their cashback offers and how often you avail of their offline cashback offers.
And what they would prefer is if you invest money into the marketing part of the platform, as that is where the real money for them is (and they claim it also is where the real money is for you).
Also, you are encouraged to build a team and invite a lot of people to join and then earn more when they invest. This is where it almost becomes like an MLM system instead of a cashback site with a referral program and this is where I personally became very skeptical when testing it.
Especially because I have seen so much hype around AIMarketing online and been approached by many people trying to get me to join their team. And the people I have seen promoting it are pushing it really hard to earn but without yet actually having seen results in most cases.
I am not saying you cannot earn, but I am saying that from how I have seen people promote it, it clearly seems the real money is in promoting it to others and build a team. And this is something you need to be aware if as you can otherwise end up losing quite a lot of money.
Therefore, you need to be very good at recruiting people and at marketing to make good money from AIMarketing. And if you are that good at that, there are just way better ways to make money online in my opinion.
Overall, I am therefore not impressed by the earning system of this site.
Plus, it will take quite a long time to receive the rewards (usually around 30 to 45 days). So, you can't really expect to earn quickly from this site.
Can you use it on mobile?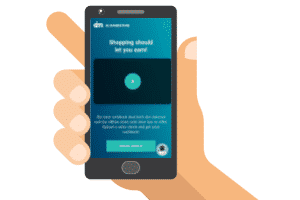 AI.Marketing doesn't have a mobile app you can download, but you can still access their site from a mobile device. And the good thing is, their site is mobile-friendly. So, you won't have a hard time navigating the site.
Their site is also user-friendly. Accessing it from a mobile device can come in handy especially when you are availing of their offline cashback offers since you have to take a photo of receipts and upload it to the site.
And by using your mobile device, you can do it in one fell swoop. So, it's definitely a plus that their site is optimized for mobile use.
Who can join AI.Marketing?
AI.Marketing is available globally. That means you can register as a member regardless of where you live. You can sign up using your Google, INB.Network, VK, or WeChat account.
The registration process is easy. Just choose how you want to log in to the site and click it. Allow the site to access your account details and then you are all set. You can now log in to the site and start earning.
Can you get support?
A good thing about AI.Marketing is that if you have any questions about the site or your account, you can first refer to their FAQ page. It discusses most of the basic topics you need to know about the site.
But if you can't find the answers you are looking for, you can easily get in touch with their support team. Just log in to the site and click the "Support" link and it will open a pop-up window on the lower right-hand corner.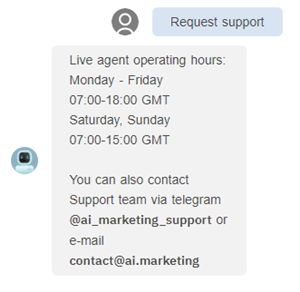 Just type in your question, and if it is a question that has already been asked before, you will see the answer. If it's a new question, you can click the "Request Support" option. You will then see something similar to the photo above.
As shown in the photo above, you can actually chat with a support agent during their office hours. Or, you can just send your inquiry to the email addresses provided.
Overall, I would say that they offer good support for their members since they actually provide a couple of ways for you to communicate with their support team. I especially like the fact that you can chat with a support agent. That can help resolve your inquiry a lot faster.
Final Verdict
AI.Marketing is a unique cashback site that offers a few good features. But it also has some disadvantages you need to take into account.
So, let me wrap up this review with a summary of its pros and cons to give you an overview of what the site has to offer. That way, you can decide if this site is a good fit for you or not.

Pros:
Offers multiple payment options
Registration is very easy

Cons:
Limited earning opportunities offered
It will take a lot of time for the rewards to be credited to your account
You can risk losing money
Only has good earning potential if you are good at recruiting
Overall, I am honestly not impressed with AI.Marketing. I have seen a lot of hype about it online and it quickly became clear to me that the hype is because people are just trying to recruit a team to earn more.
I am not saying you cannot make money, but if you are looking for good cashback sites, you should just go for simple and free sites.
And if you are looking to invest in building an online business, you have to be careful investing here unless you really know what you are doing as you can otherwise end up losing a lot of money.
No matter what you end up deciding, I hope this review helped you go into with open eyes so you know what to expect and can then decide if it is for you or not.
If you have any comments, questions, or have any experiences with AI.Marketing yourself, I would love to hear from you in a comment below.