If you are looking for ways to earn extra money online, you can find plenty of websites that claims to offer different ways.
One fairly popular site is called Appen (previously Figure Eight). This site promises to pay you for doing small jobs. But does it deliver on its promise, though? In other words, is Appen legit, or is it just a scam?
Let me address this concern right away.
Yes, Appen tasks are a legit way to earn. But this doesn't necessarily mean the site offers a good and efficient way to earn extra cash online. To figure out if this site is worth your time or not, we have to check a few things first.
This Appen tasks review will help you figure out what the site has to offer so you'll know exactly what to expect, and you can then decide if this is a site worth investing your time into or not.
What is Appen, and what does it offer?
Appen is a company that specializes in collecting and labeling images, text, speech, audio, video, and other data used to build and continuously improve the world's most innovative artificial intelligence systems.
It also offers a couple of ways for people to earn. It has its own survey panel and data collection panel, as well as its own micro-task site. For the purposes of this review, we will focus more on the micro-task aspect.
It is important to note that Appen acquired Figure Eight in the past. So the Figure Eight tasks that were previously offered on several Get-Paid-To (GPT) sites are now called Appen tasks (I will explain later why this matters).
Now, let's take a closer look at how you can earn from Appen tasks so you'll get a clear idea of the earning potential.
I have, therefore, made a video that gives you an inside look and shows exactly how you can earn from Appen. You can also read all the details below the video.
Recommended: Check Out the Top Get-Paid-To Sites
The earning opportunity – Appen Tasks
When you first come to Appen and click to join their Crowd, as they call it, it can be a bit confusing, as there are several options to choose from.

However, a couple of the options will take you to another page where you need to apply for other types of jobs, so they do not really have anything to do with the so-called Appen tasks, which are online micro-jobs.
Therefore, if you want to join the Appen platform itself and get access to the tasks it offers, you need to choose "Join Appen".
Once you are inside, you will then see an overview of the different projects you can apply for.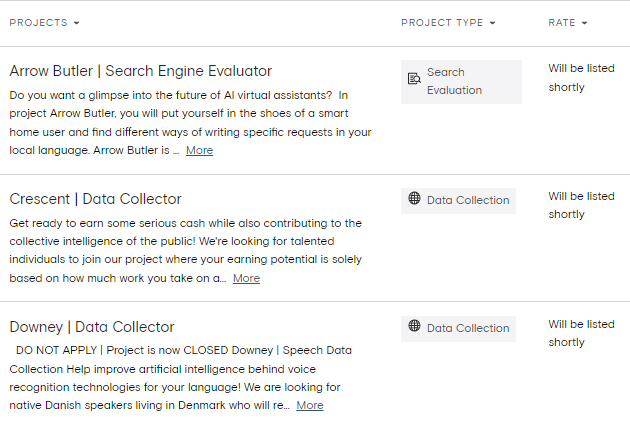 Most of the tasks are data entry type of tasks. And I must say this has changed quite a bit since I first tested it, and you can no longer find quite as many tasks as you used to, but it seems most of them then pay a bit more, but they also require quite a bit of effort.
As you can see in the photo above, each job offer will show you different information.
You can click the job you think sounds relevant for you and read the full instruction and apply.
Just be aware that there will not always be tasks available, and how many you get access to will vary from country to country.
Also, be aware that just because you apply for a project, it does not mean you will automatically be accepted. So there is no guarantee how many projects you will get to work on, and it can take some patience to find work here.
Appen says it can help to fill out your profile, so this is a good idea to do right after joining if you decide to join after reading this review.
Recommended: Check Out the Top Get-Paid-To Sites
How do you get paid?
Appen has a fairly simple payment system. For every job you finish, you will be paid a certain amount. It will then be credited to your Appen account.
Once you've earned at least $10, you can then withdraw your earnings via Payoneer.
It is the only payment option it offers, so before you sign up as a member, I suggest you make sure you create a Payoneer account if you don't have one.
Appen also used to offer PayPal but this has now changed to Payoneer. Personally, I do not think it matters too much as both can be easy and fast ways to get paid, and Payoneer is available in more countries, so that might be why they have chosen to change to this.
But if you are interested in sites that pay via PayPal, I recommend you check out the top sites that pay via PayPal.
How much money can you make?
With a micro-task site, the amount of money you can make will mostly depend on how well they pay and how many tasks/jobs you can do.
In terms of payment, most jobs won't earn you a lot at first.
Usually, you will only earn a few cents for every task you do. So at first, it can take some patience – but that is because you have to prove you can do a proper job.
With patience and consistency, you will get access to more and more jobs and higher paying jobs as you get to a higher level.
So it will not give high earnings at first, but it can be worth putting in some time to level up. Then you will eventually be able to make some nice extra earnings.
It will not be a full-time income or anything like that, but you definitely can make some nice extra money.
Can you use it on mobile?
Most Appen tasks that were available when I first joined were not designed for mobile use.
But this has changed to some degree, and some tasks can now be done on mobile, and Appen, therefore, now also has an app you can download.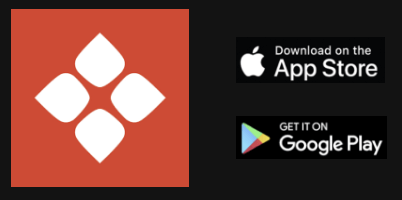 You can download the app for both iOS and Android devices.
However, to get the most out of Appen, it is a good idea to have access to a computer also, as you will then get access to more tasks.
Who can join Appen?
Appen is available globally. That means you can register as a member regardless of where you live. You need to be at least 18 years old to sign up.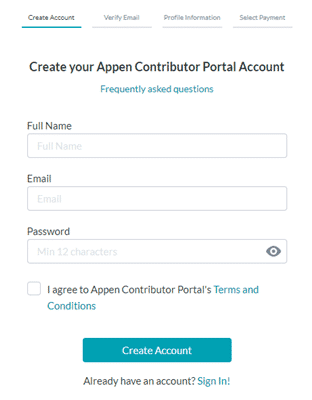 To sign up as a member, all you have to do is to fill out their sign-up form and click the verification link that will be emailed to you. Then, you will have to provide a bit of information about yourself as well as link your PayPal account.
Once you've done that, you can log in to the site and start taking jobs.
Can you get support?
I would say Appen does a good job of providing support for its members. It has a fairly comprehensive Help page that discusses most of the topics you need to know about their platform.
Plus, if you can't find the answers you are looking for or you are experiencing a problem or issue with your account, you can always create a support ticket to get in touch with their support team. Even their contact form is very detailed because you can choose the subject of your inquiry.
So, overall, yeah, I would say they do provide good support for their members.
Final Verdict
Appen is a legit micro-task site that will pay you for doing small jobs. It has a couple of good features, but it also has a few drawbacks.
Let me finish this review with a summary of its pros and cons to help you decide if this is a site worth joining or not.

Pros:
Available globally
Offers payment via Payoneer

Cons:
Limited earning opportunities offered
Takes some patience to earn
Fairly low rewards
Appen tasks can be a way to earn some extra cash on the side if you do it with the right expectations, in my opinion.
You need to be aware that, at first, you will not get access to a lot of tasks, and the pay will be fairly low. But if you invest some time, you will get access to more and more jobs and higher-paying tasks as well.
And you can do this from more or less any country. You just need to be a bit patient at first, and then it can eventually give some nice extra earnings on the side.
If you are looking for sites to earn in different ways, I would highly suggest you also check out the top GPT sites. This list has plenty of sites with good earning potential.
Plus, you will definitely find a site you can join regardless of where you live.
If you have any comments, questions, or have any experiences with Appen tasks yourself, I would love to hear from you in a comment below.