There's an app called AppStation that claims you can earn money by playing mobile games.
Now, there are plenty of apps that offer this kind of opportunity. So, you need to figure out if this one is worth using or not. That's why before you download this app, I would suggest you read this AppStation review.
It will verify if the app is really legit or if it is just a scam. And if it is really legit, then it will explore everything the app has to offer so you'll know what to expect before you even use it.
That way, you can determine if this app is really worth your time or not. So, let's go ahead and get started, shall we?
Disclosure: Some articles on this website contain affiliate/sponsored links. Click for more info.
What is AppStation and what does it offer?
AppStation is a Get-Paid-To (GPT) app that will pay you for playing the mobile games it features and working on the other earning opportunities.
It's a lot similar to Money Well, which is another GPT app that will allow you to earn by playing mobile games. And yes, it is indeed a legit app since it will really pay you for completing the earning opportunities it offers.
But is it worth it? Well, to answer that, we have to first take a look at the earning opportunities it offers so you can understand how the app works and you can get an idea of how well you can earn from it.
I have, therefore, made a video that gives you an inside look and shows exactly how you can earn from AppStation. You can also read all the details below the video.
Option 1 – Playing featured games
The main earning opportunity this app offers is their featured games. When you log in to the app, you have to press the "Earn with Apps" button (refer to photo below) to view all the featured games you can play.

Just choose which game you want to play and press it. It will take you to the app page. Download and install the app on your mobile device.
Once it is installed, go back to AppStation and press the "My Apps" option at the bottom of your screen. You will then see the app you installed.
Now, this is important. In order for AppStation to track your progress in-game, you have to go through their My Apps section to open the game you want to play.
You can't open the app directly from your mobile device. If you do that, you won't earn any rewards when you play the mobile game.
Once the game is open, just play it like you normally would. You will then earn around 30 to 70 coins for playing the game after a minute. But the longer you keep playing the game, the fewer coins you earn per minute.
Don't be alarmed when this happens because this is really how this type of app works. It's a fail-safe to guarantee you will try out different games. Because if they just award you the same number of coins every minute, then chances are, you'll just stick to one game and they get paid to get you to try different games.
You see, app developers pay AppStation to promote their apps. That's how they can afford to pay you for playing their featured games. And the best way for AppStation to guarantee all the games they promote are being played by their members is to reduce the reward received the longer the member plays a specific game so they will move on to the next game quicker.
Now, from what I observed during testing, there were only a couple of games featured. So, you can't really expect to earn a lot from this opportunity anymore since there aren't a lot of games you can play.
However, this can vary from time to time and depending on the country you live in.
But overall, if you want to earn more, you will have to work on the other earning opportunities AppStation offers.
Option 2 – Paid surveys
Speaking of other earning opportunities, another way to earn rewards from AppStation is by answering their paid surveys. Just log in to the app and press the "Earn with Surveys" button.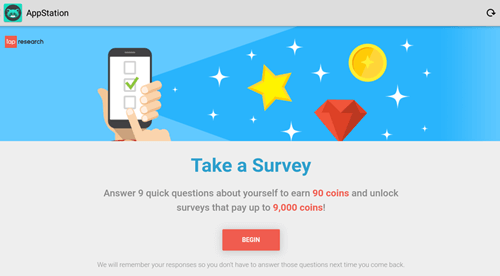 You will then have to answer several profile questions. Once you are done with the profile questions, if there are any surveys available for you, they will be displayed on the list.
When a survey is available, just press it to begin the process. You will have to go through a set of qualifying questions first to determine if you are indeed included in the demographic group the survey is intended for.
If you qualify, you get to answer the actual survey. If you don't, then you just have to move on to the next available survey if there is any. Once you finish the actual survey, you will receive the coins promised and it will be credited to your account balance.
Option 3 – Referral program
Lastly, you can also earn by inviting other people to join the app through their referral program. All you have to do is go to the "Invite" section of the app and press the "Invite" button (refer to photo below).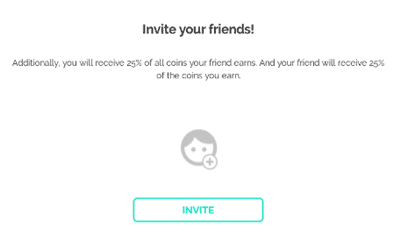 By doing so, the app will give you the option to invite people via Bluetooth or you can use Gmail. I would suggest you press the Gmail option. It will then generate an invite email. All you have to do is provide the email address of the person you want to invite.
Then, you just send the email. When the person you invited clicks the link in the email and registers as a member, they will become your referral.
When they become your referral, you will then receive a 25% commission every time your referral earns from playing games or answering surveys. The same thing goes for your referral. If you earn from playing games and answering surveys, your referral will also receive a 25% commission.
The commission will be covered by AppStation and will not be deducted from your or your referral's earnings. It's actually a win-win situation for both of you. Just make sure the person you invite is really interested in using the app.
Recommended: Check Out the Top Survey Sites in Your Country
How do you get paid?
As explained above, you will earn a certain number of coins for playing games and answering surveys. You can use the coins you've earned to redeem various rewards.
You have the option to convert your coins to cash via PayPal or various gift cards. To convert your coins to PayPal, you will need at least 93,188 coins. That will be worth $10. For gift cards, the number of coins required will vary depending on the gift card you want to redeem. But the smallest amount of gift card you can redeem will be $10.
Their payment system is pretty straightforward. It's just a bit hard to convert your coins to $ mentally because as you can see, there's no fixed value for every coin and the exchange rate will depend on the reward you will redeem.
But I do like the fact that they offer payment via PayPal since that is one of the most convenient payment options around, in my opinion. If you are interested in more sites that pay via PayPal, I recommend you also check out the top sites that pay via PayPal.
How much money can you make?
Unfortunately, the amount of money you can earn from this app won't be that great. As explained above, you will need to earn 93,188 coins just to withdraw $10 via PayPal.
And considering you will only earn around 30 to 70 coins per minute you play a game and the rewards will be lower the longer you play a game, it will really take a long time to get to the threshold. You also can't rely on your earnings from surveys because you won't always find available surveys.
And to top it off, there aren't a lot of featured games you can play. That's why even though their payout threshold is relatively low, it will still take quite a long time to reach their payout threshold. So, I would say the earning potential of this app is very low.
Can you use it on a desktop?
AppStation is a mobile-only platform. So, you will definitely need a mobile device to earn from it.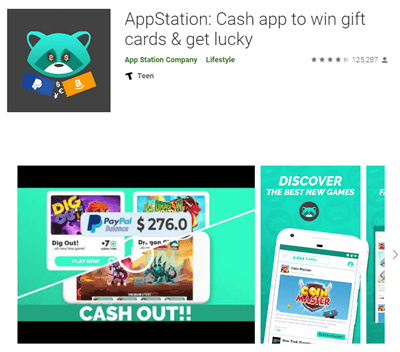 It is also only available for Android devices. So, if you are an iOS user, then this app is not for you. As for the app, it is relatively user-friendly. You won't have a hard time getting used to how it works. It's also not spammy, which is good because you won't have to keep closing ads from time to time.
Who can join AppStation?
The app doesn't really specify which countries it is available in. So, the best way to determine if the app is available in your country is to search for it in the Google Play store. If it appears in the search results, then it is available in your country. If not, then unfortunately, it's not available.
To become a member of AppStation, you have to be at least 18 years of age. To sign up, you have to install the app first. Then, when you open the app for the first time, you just have to choose how you want to sign up.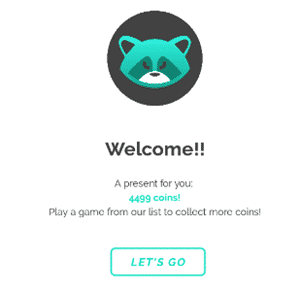 You can sign up using your Facebook or Google account. You can also sign up using your own email address and password. Once you are done with the sign-up process, you will be logged in to the app and a notification will appear saying you received 4,499 coins.
This will be their joining bonus. It's not much, but at least, you get something for simply joining. After you've logged in to the app, you can immediately start earning.
Can you get support?
If you encounter any issues when using the app or you have questions you want to ask, you can check out their "Info & Help" section first. It contains all the basic topics you need to know about the app.
But if you can't find the answers you are looking for, there's a button at the bottom of the FAQ page that says "Still need help?" Just press the button to get to their contact form. Fill it out with the question you want to ask and press "Send Message". That's how you can get in touch with their support team.
Overall, I would say the app has a decent support system in place for their members since they offer a way for you to communicate with their support team.
Final Verdict
AppStation is a legit GPT app that will reward you for playing their featured mobile games and for answering their surveys. It has a couple of good features but it also has some drawbacks you have to consider.
Here's a summary of its pros and cons to wrap up this review. This will give you an overview of what the app has to offer so you can decide if it is indeed worth using or not.

Pros:
Offers a fun way to earn rewards
Offers payment via PayPal
Their app is user-friendly

Cons:
Limited earning opportunities offered.
Low rewards
Takes a long time to reach the payout threshold
In my opinion, AppStation isn't really a good app to use, if you are looking for effective ways to earn some extra cash. There are far better options out there if you want to earn extra cash. AppStation doesn't pay that well and it doesn't have a lot of earning opportunities. There aren't even a lot of games you can play.
So, even though it has a relatively low payout threshold, it will still take a lot of time to withdraw your earnings. That's why I would suggest you check out the top survey and GPT sites in your country instead.
The sites and apps on this list all have good earning potential and you will surely find a site or app you can join regardless of where you live.
How to join AppStation?
If you want to join, you can click the link below and you will be taken to the download page.
After signing up, you will get 4499 points into your account right away.
If you have any comments, questions, or have any experiences with AppStation yourself, I would love to hear from you in a comment below.