Are you looking for a side hustle? If so, a site called BabySits claims you can earn extra cash working as a babysitter or nanny.
But the question is, is BabySits legit or a scam?
If you continue reading this BabySits review, you'll find out the answer to that question and more. It will show you all the details you need to know so you will know exactly what to expect from it before you even sign up.
Then, you can properly evaluate if this opportunity is the right fit for you or not. So, let's go ahead and take a closer look at BabySits, shall we?
What is BabySits, and what does it offer?
BabySits is a childcare platform that will let you earn by working as a babysitter or nanny. It is indeed a legit site since you can really earn money from it. But this doesn't necessarily mean BabySits is the right opportunity for you.
To figure out if it is worth it, you must first understand how it works, and the only way to do that is to take a closer look at the earning opportunity it offers so you will have a clear understanding of how much time and effort is needed from you to earn.
So here's how to earn from BabySits.
The earning opportunity – Jobs
The only way to earn from BabySits is to take on babysitter or nanny jobs. The jobs that are available to you will depend on the type of child care you choose during sign-up (babysitter or nanny).      
If you choose to sign up as a babysitter, then all the jobs you can view will be babysitter jobs (the same goes for nannies).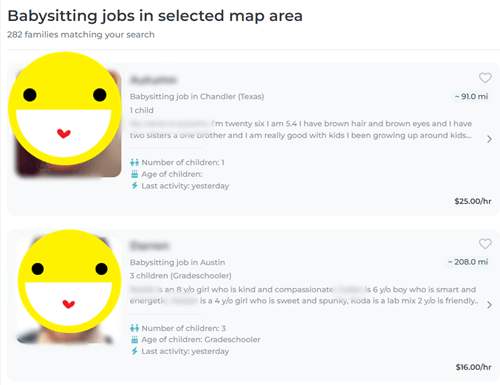 There are two ways to land a job on BabySits. You can do it the proactive way and search for available jobs in your area, or you can also accept job offers from families who saw your profile when looking for babysitters/nannies.
For the proactive method, you can log in to the member dashboard and go to the "Find Jobs" section to see if there are families in your area in need of childcare services. If you find one you are interested in, just click it to see the full details.
The details page will contain all the necessary information you will need to figure out if you should work for them or not. This will include the number of children,
If you want to work for them, just click the Contact button to send them a message. If the family responds and is interested in hiring you, they will set up an interview session either online or in person. You can't decline this invitation because this is how the family is able to screen applicants.
If you are serious about working for them, you have to show up at the scheduled date and time and answer all the questions of the family. You can also clarify a few things during this time, so don't hesitate to also ask questions.
During this step, you can also discuss the payment method to be used. Later, I will discuss how you can get paid. If the family decides to hire you, all that's left to be done is show up at the agreed-upon date and time and perform your duty.
As for the other method, where a family will contact you, the process is mostly the same. The only difference is who initiated the contact. You'll still have to go through an interview process. If a family contacts you, you'll receive a notification on the member dashboard. You will also receive an email if a family wants to get in touch with you, so make sure to check your email inbox regularly.
When I was testing BabySits, there were a decent number of families looking for childcare services, but these families lived in big cities. Later, I will discuss what this implies.
After completing a job, you will get paid through the chosen payment method. The family can leave a review about the job you did, so you need to make sure you do your best during the job to ensure you keep getting more jobs in the future.
Recommended: Check Out the Top Best Gig Jobs
How do you get paid?
As mentioned above, every time you complete a job, you will receive the payment. You can get paid in cash, money transfer, or via the BabySits Booking system. As explained earlier, the mode of payment will be determined during the interview step.
If you choose to use the BabySits Booking system, you will get paid via direct bank transfer. The family will send the money to BabySits, and BabySits will transfer the money to your bank account. It will be credited to your bank account within 5 to 10 working days.
The good thing about this feature is that you will receive the full amount since BabySits will not deduct the service fee (the service fee is 5% of the amount paid) from your earnings. Instead, they will add it on top of your fee, and the family will be the one to shoulder it. It's a safer option, in my opinion, and it will help you track your earnings easily.
Overall, the payment system of BabySits is relatively straightforward. I like the fact that it offers a convenient payment method like direct bank transfer. If you are interested in more sites that offer a convenient payment method, I recommend you check out the top sites that pay via direct bank transfer.
How much money can you make?
Another good thing about BabySits is that you get to dictate how much you will earn per hour working as a babysitter or nanny. But the real factor that can affect how much you can earn from BabySits is the city you live in.
If you live in a big city, you can potentially earn good money from BabySits since there are lots of opportunities to earn. But if you live in a small city, you will have a hard time finding opportunities to earn. This is just how this kind of platform works.
But overall, I would still consider the earning potential of BabySits as decent since most families that use it pay a decent amount to babysitters and nannies.
Can you use it on mobile?
BabySits has a mobile app you can download so you can check out if the family has responded to your message or if a family has messaged you even if you are not in front of a computer.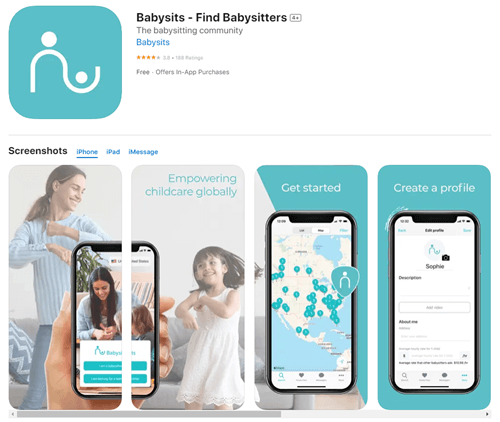 You can download the app from the Android or iOS app store. The app is very easy to use, so you will not have a hard time navigating it. You also won't encounter any annoying pop-up ads while using it.
If you plan to join BabySits, installing the app is a must, in my opinion. This will help you respond to messages quickly, which can sometimes mean the difference between landing a job and getting rejected.
Who can join BabySits?
The site doesn't tell you exactly which countries it is available in, but from what I can tell, it is only available in the US, so if you live somewhere else, then this opportunity is not for you.
To register as a nanny or babysitter, you just have to fill out the sign-up form. Then, you'll be asked to provide a photo of any government-issued ID. This is done to validate your identity. After you've completed this step, you'll have to go through one more important thing.

As shown in the photo above, you'll have to go through a background check to ensure you have no criminal records. This will cost $10.20, and it is non-refundable. The background check will help you land more jobs because it puts families at ease, knowing that their children are safe and in the hands of an upstanding citizen.
After you are done with all the registration steps, you can log in to the member dashboard and start looking for jobs.
Can you get support?
If you have any questions about the site or your account, you can check out the Help page. It discusses all of the important topics you need to know about BabySits.
If you can't find the answers you are looking for, you can just communicate with the support team by filling out the contact form provided on the Help page as well. Overall, I would say BabySits provides decent support to its members since it offers a convenient way for you to ask for assistance.
Final Verdict
BabySits is a legit platform that will allow you to earn extra cash working as a nanny or babysitter. It has a couple of good features, but it also has a few limitations you need to consider.
Let me summarize its pros and cons to conclude this review so that you can get an overview of what it has to offer. Then you can decide if this is the right opportunity for you or not.

Pros:
No payout threshold
Offers convenient payment methods
Has a user-friendly app

Cons:
Doesn't offer guaranteed ways to earn
It can take a bit of time before you can start earning
In my opinion, BabySits is a decent option to go for if you are looking for a side hustle and you are good with kids. It offers decent payment methods, and it has a user-friendly app you can download.
However, I would only recommend you join if you live in a big city because that's where you will find the most opportunities to earn. If you live in a small town, you are better off finding other ways to earn extra cash because you will hardly find any opportunities to earn.
If that's the case, I recommend you check out the top survey and GPT sites in your country instead. The sites and apps on this list all have good earning potential, so you will be able to earn a decent amount without even leaving the comfort of your home.
Plus, you will definitely find a site or app you can join regardless of where you live.
If you have any comments, questions, or experiences with BabySits, I would love to hear from you in a comment below.