Are you looking for a way to earn some extra cash? If so, there's a site called Bellhop that claims you can make money by becoming one of their movers.
Now, you must be wondering, is this a real way to make money? In other words, is it legit or is it just a scam?
I've examined the site and gone through their registration process, and I will share everything I have learned with you in this Bellhop review.
That way, you will know exactly what to expect and you can properly gauge if this is an opportunity you should go for or not. So, let's go ahead and get this review started, shall we?
What is Bellhop and what does it offer?
Bellhop is a website that specializes in helping people move from one house to another. In short, they are a moving company, and yes, they are indeed legit since you will really be able to make money once you become one of their movers.
But how does this work exactly? Let's examine the earning opportunity it offers so you can understand how to earn.
Option 1 – Moving jobs
The only way to earn from Bellhop is to take on moving jobs. There are two ways you can take on jobs.
First, Bellhop will assign a job for you to do according to your preferences. You see, when you apply to become a mover, you will be asked to indicate the shifts you want to work (refer to photo below).

You have to be honest when setting your work availability because this is what Bellhop will base its decisions on when assigning you moving jobs. If Bellhop assigns you a job, the only thing left to do is show up at the designated place and time and do the job.
You will be paid by the hour and the payment will show up in your Bellhop account balance. Later on, I will describe how you will be able to withdraw your earnings.
After you've completed several moving jobs and your work has been rated excellent by the clients, you will become one of the Bellhop pros. If you reach this level, you will now be able to take on jobs without waiting for Bellhop to assign one for you.
You will need to use the Bellhop app so you can view all the available jobs at any given time. If you see one that you are interested in, you can claim it. If the client accepts your claim, all you have to do is show up at the place and time and do the work.
Of course, all of this will be pretty useless if you don't have reliable transportation. That means you will need access to a vehicle if you want to become a mover. Your vehicle must be able to accommodate some (if not most) of the things that you will be moving.
If a client requires a truck, you don't have to worry because Bellhop does provide its own truck with a separate driver (I will talk about this in the next section).
The main thing you need to remember if you are working on moving jobs is to expect to lift heavy things. If you physically can't carry boxes that weigh 100 pounds or more, then I would suggest you don't go through with this opportunity.
Carrying heavy boxes is the bread-and-butter of moving jobs. If you can't physically do this, then you have no business being a mover.
A couple more things to note, while working on jobs, you will need to wear your Bellhop shirt and gloves which will be mailed to you once you get accepted as a mover. You will also be paired with another Bellhop mover when doing jobs, so don't expect to do a job alone.
If you accepted a job but you can't do it for some reason, you have to notify Bellhop at least 24 hours before the said job.
If you fail to notify Bellhop, your account will be deactivated. That's how serious Bellhop is in delivering quality service. That is why if you plan to become a mover, you really have to be committed to doing the work and show up where and when you are supposed to.
Option 2 – Driving jobs
As mentioned above, you can also become one of Bellhop's drivers. This is a separate job application. If you are only interested in being a truck driver, you have to apply for that position on the website.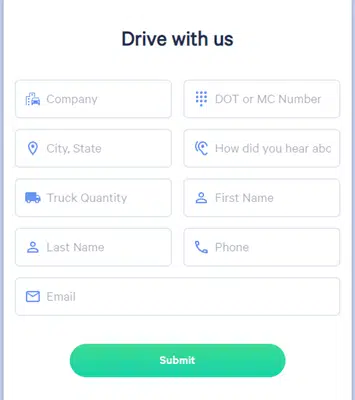 You have to fill out this application form and go through the application process. Later on, I will discuss how their application process works.
What you need to remember with this earning opportunity is that Bellhop will be the one to assign the jobs to you. You will then be driving one of their trucks. As to how far you have to drive, that will depend on the client's location.
Their local jobs average less than 15 miles, so you can expect to be home in time for dinner. But if you want to take on long-distance jobs, be prepared for a long drive. Typically, long-distance jobs will ask you to drive from city to city.
That's the overall gist of this kind of earning opportunity.
I personally wasn't able to explore this though since I was more interested in the mover job since I don't have a license to drive a truck. And yes, if you want to take on this kind of job, you have to make sure your license allows you to drive a truck.
Recommended: Check Out the Top Gig Job Sites
How do you get paid?
You will earn a certain amount for every job you take on Bellhop and as I've mentioned earlier, you will be paid by the hour.
The rate per hour will depend on the job, but you can expect to earn up to $21 per hour for moving jobs.
As mentioned earlier, your earnings will show up in your Bellhop account balance. But how will you get paid? Well, the good thing about Bellhop is it processes payments automatically every week.

As stated in the photo above, you will need a bank account in order to receive your earnings because Bellhop will only pay you via direct bank transfer. It doesn't offer any other payment options.
Take note that your account must also be a checking account, so if you don't have one and you are interested in this kind of job, make sure to open one first.
You don't have to reach a payout threshold in order to receive your earnings every week. Bellhop will automatically deposit your earnings for the week every Friday of the week. So, whatever you've earned from Friday of last week to Thursday of the current week will be deposited into your checking account automatically.
Their payment system is relatively simple and I like the fact that you can get paid via direct bank transfer since that is one of the most convenient payment options around. If you are interested in more sites use a convenient payment method, I would recommend you also check out the top sites that pay via direct bank transfer.
How much money can you make?
As explained above, you can earn up to $21 per hour for moving jobs. For driving jobs, the rate will be a bit higher.
However, don't expect to earn this kind of money when you are just starting out as a mover. Expect your rate to be around $10 to $15 per hour if you are just starting out. But if you steadily accept jobs and do good, your rank as a mover will increase and so will your hourly rate.
Think of the pay structure of Bellhop like a full-time job. Your pay will increase with tenure. As for how often you get to do the jobs, unfortunately, you don't have control over this if you are just starting out.
But once you reach the pro level, you can take on as many jobs as you want. That's really the goal if you want to become a Bellhop mover.
Also, since every job will require you to drive your vehicle, you will actually be compensated for the mileage. You earn $.25/mile after the first 30 miles, from your home to location A, and from location B to home. That's why you don't need to worry if the location is far because the mileage will also be covered.
Overall, I would say the earning potential of Bellhop is pretty decent if you live in cities where it is available because there will be plenty of opportunities to earn.
Can you use it on mobile?
Bellhop has a mobile app you will need to use once you become a mover or even one of their drivers. You will need this app to accept or claim jobs. That is why it is a must that you use it.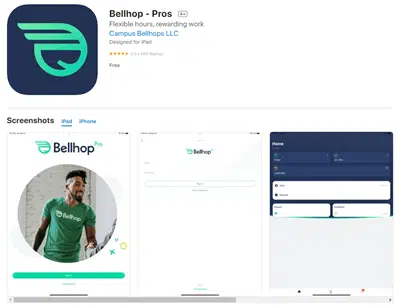 The app is relatively easy to use, so you won't have a hard time using it. You can also use the app to get in touch with the client, which is a very useful feature, in my opinion.
Who can join Bellhop?
The jobs offered by Bellhop are relatively easy to do. However, becoming a mover or even a driver is a bit complicated. In fact, I would say the application process is actually a bit more complicated than doing the actual job.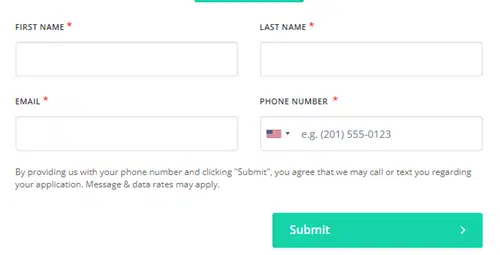 The first thing you need to remember is that Bellhop is only available in the US. Even though you can choose any country in the Phone Number field (refer to photo above), the actual cities where Bellhop is available will only be cities in the US. That is why if you live outside the US, then this site is not for you.
Once you've submitted the registration form, you will have to go through a pretty long registration process. You will have to fill out a few forms for your profile and you will also have to provide your social security number as well as driver's license ID number.

There's no way around this, unfortunately, so if you are not comfortable sharing your social security number and driver's license ID number, then this opportunity is not for you.
But in my opinion, you don't actually have to worry because Bellhop will only use the information to do a background check on you. They need to do this to make sure you are who you say you are and that you can be trusted to do the job.
The background check typically takes around 3 to 5 business days to be completed. This is the last hurdle you need to clear to start earning. If you pass the background check, you will be able to start taking on jobs when you receive your Bellhop shirt and gloves, which will be sent to you via mail.
So, it's really quite a long wait before you can start earning. The only upside is that their background check is actually free. Most other gig economy sites will charge you for the background check.
Lastly, Bellhop is not available in all locations in the US. Before you decide to become a mover, I would suggest you check out the list on this page to see which locations Bellhop is available in.
Can you get support?
If you have any questions about your account or Bellhop in general, you can check out the FAQ page provided in the app. You will find plenty of discussions on that page. The FAQ page on their website isn't that great though because it only provides basic information, which you might not find useful.
If you can't find the answers you are looking for on their FAQ pages, you can contact Bellhop's support team by clicking the message icon on the lower right-hand corner of the website. You will be able to submit your inquiry through the contact form provided.
Overall, I would say Bellhop does have a decent support system in place for its movers and drivers since they offer a convenient way for you to get in touch with their support team.
Final Verdict
Bellhop is a legit moving services site that will allow you to earn extra cash by becoming one of their movers or drivers. It has a couple of good features, but it also has some limitations you need to be aware of.
Let me finish this review by summarizing its pros and cons to give you an outline of what Bellhop has to offer. Then, you can decide if you should go for it or not.

Pros:
Offers a decent hourly rate
The app is user-friendly
Processes payments automatically every week

Cons:
Limited earning opportunities offered
You need to have a checking account to receive your earnings
In my opinion, I would only recommend you join Bellhop if you are sure you are able to commit to the shifts you've stated when you applied for the job. This kind of earning opportunity requires a certain level of commitment and if you are not prepared to do that, you won't really earn a lot from it.
That being said, you can earn a decent amount from their earning opportunities which makes it a viable side-hustle, in my opinion.
But if you are looking for simpler ways to earn cash, I would recommend you check out the top survey and GPT sites in your country instead. The sites on this list all have good earning potential and you can earn a decent amount without leaving the comfort of your home.
Plus, you will definitely find a site you can join regardless of where you live.
If you have any comments, questions, or have any experiences with Bellhop yourself, I would love to hear from you in a comment below.