I'm always on the lookout for ways to earn extra online – and I love methods that pay in crypto.
And a site I have tested for a while that many people keep asking me about is called BNB Miner. This platform claims you can potentially earn hundreds of dollars passively per day.
But is BNB Miner legit and really an easy way to earn or a scam to stay away from?
That was the first thing that ran through my mind when I encountered this site. That's why I've decided to test it to get to the bottom of this concern.
In this BNB Miner review, you will learn the full details of what this site has to offer, so you will know exactly what to expect from it before you even join. Then, you can decide if it is worth investing your time in or not.
Disclosure: Some articles on this website contain affiliate/sponsored links. Click for more info.
What is BNB Miner, and what does it offer?
BNB Miner is actually an investment platform that will allow you to earn money via crypto. It will indeed allow you to earn, BUT it also has some risks you need to be aware of before joining.
So is it worth your time and investment?
The best way to answer this question is to first understand how it works. To do that, we have to examine the earning opportunity it offers.
For that, I have made a video that gives you an inside look and shows exactly how BNB Miner works. You can also read all the details below the video.
Check Out BNB Miner for Yourself
The earning opportunity – Mining
To earn from BNB Miner, you just have to become one of their miners. However, let me clarify that this method is not like the traditional cryptocurrency mining that is being done, where they have to set up a mining rig to mine Bitcoin, Ethereum, and other cryptos.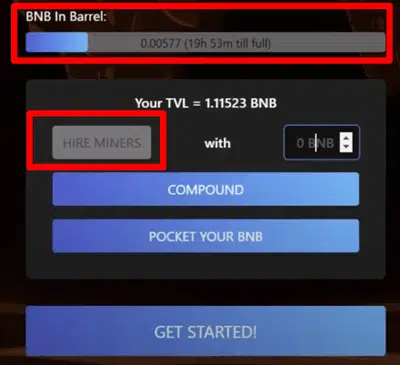 The idea is very simple. Once you sign up as a member, you'll have to invest in BNB using a crypto wallet that BNB Miner supports (Metamask, WalletConnect, or Binance Chain Wallet).
Once you've indicated the amount of BNB you want to invest, you just have to click the "Hire Miners" button to start the earning process.
Once you've clicked the button, you will see a notification from your crypto wallet asking you to confirm the transaction. Just make sure to agree to it to complete the process. Then, what will happen is that the miners will start mining for a span of 24 hours.
You will see the progress of your miners and how much BNB has been mined. After 24 hours, the barrel will be full, and you'll stop earning, so you need to make sure to empty your barrel at least once per day. You will earn approximately 3% of what you've invested.
Now, as you can see in the photo above, there are two ways you can collect your earnings. You can choose the "Compound" option or "Pocket Your BNB" option. But what's the difference between the two?
Well, if you choose the "Compound" option, what will happen is that you will essentially be doing the earning process all over again. BNB Miner will take all the BNB mined and invest it again and hire more miners. The difference is that you have more BNB invested this time around, and therefore, you'll earn more.
If you choose the "Pocket Your BNB", then what will happen is the BNB that was mined and is in your barrel will be deposited into your crypto wallet. In a way, compounding your earnings will be more profitable, but there are still risks associated with this kind of strategy. Later on, I will discuss the best strategy you can go for to maximize your earnings.
So that's how BNB Miner works. As you can see, it will require little effort from you. But you do have to invest a bit of money to start earning. You'll need to buy BNB from any crypto platform and then deposit it to the crypto wallet you'll be using for BNB Miner.
Recommended: Check Out the Best Ways to Earn Bitcoin for Free
How do you get paid?
Now that you know how to earn from BNB Miner, let's talk about how you can get paid. If it is not clear by now, then let me reiterate. This platform only deals with the crypto BNB and nothing else. So, if you are not interested in earning BNB, then this is not for you.
Getting paid is a simple process, but there are a few things you need to consider. As explained earlier, it takes 24 hours for every mining session to be completed and fill your BNB barrel. But the decision when to get paid will be up to you.
You can choose to compound your earnings or pocket the BNB earned from mining. So, as explained above, it's up to you if you want to continue mining or withdraw your earnings. However, if you decide to withdraw your earnings, keep in mind that you can't withdraw the full amount of BNB invested.
What you can withdraw to your crypto wallet is only the interest that you've earned from mining that is in the barrel. Plus, you need to be aware that every time you compound or even pocket your BNB, there will be a gas fee involved. This means that every time you take an action on the platform, there will be a fee involved.
When I was doing my testing, the gas fee was 0.00043 BNB. The exact worth of this fee will depend on the exchange rate of BNB, but during my testing, it was around $0.10. So, there are a few factors you need to consider before you cash out.
You need to make sure that the amount you cash out is significantly higher than the gas fee so that it will be worth it.
So, to make things clear, you can cash out anytime you want, but the amount you can cash out will only be the interest you've earned. The initial amount invested will stay on the platform. And you can only use Metamask, WalletConnect, or Binance Chain Wallet as the cashout options.
The payment system of BNB Miner is a bit complicated if you are new to cryptocurrency. But if you are already an experienced crypto investor, then this will be pretty easy to understand.
If you are looking to earn other cryptos, I would recommend you check out the best ways to earn Ethereum for free instead.
How much money can you make?
As with any investment platform, the amount you can earn will depend on the amount you are willing to invest. Since BNB Miner will allow you to potentially earn 3% of what you will invest daily, then you can potentially earn a significant amount, but you need to be patient.
BNB Miner is designed for individuals with a long-term vision, according to the site itself. It is not for those who want instant profits that ultimately harm others. So, you really need to be a bit patient with this platform if you want to earn a significant amount.
Now, the best strategy you can follow to maximize your earnings is to play with the TVL (Total Value Locked). What you can do is keep compounding until you reach a certain TVL and then pocket it once you've reached the TVL you are aiming for. Then, just rinse and repeat.
By doing so, you'll essentially be paying yourself a salary. It's a good strategy to earn back the initial investment you've put into the platform. After you've recovered the initial investment, you can take more liberties when you want to pocket your BNB.
Overall, I would say the earning potential of BNB Miner is pretty good, but you do have to create a solid plan to maximize your earnings.
There are, however, some risks you need to be aware of.
As the risks are very important to be aware of, let's go over these in a separate section below.
Risks you need to be aware of
First of all, you need to be aware that any crypto investment online has risks. And miners like BNB Miner carry more risks than regular crypto investments.
You see, mining sites like this will usually not operate forever. And when it eventually shuts down, whatever amount you've left on the platform will be lost. So, if you haven't recovered your initial investment yet and the site shuts down, then you will lose money.
And since you won't be able to withdraw all your BNB in one go, then there's a high chance there will be BNB left in your account when the site eventually shuts down. But if you have already recovered your initial investment and profited, then it won't hurt that much.
Personally, I have recovered more than I initially invested, and BNB Miner is one of these types of platforms that have existed the longest out of all the ones I have seen.
But there is a real risk. Yes, BNB Miner is a miner that has been running for a long time compared to other similar miners that usually close down after a few months.
That does, however, not mean it can keep going forever.
Also, several users have reported to me that they are having problems getting an increase in their TVL even if they compound a lot. On the BNB Miner website, it says that there will be fluctuations in the TVL depending on the combined actions of the community, but this is all the explanation you can get about this.
Personally, I initially saw an increase in my TVL at first. Then after a while, it started going down, and more and more users seemed to pocket the BNB, which made the total amount locked on the platform go down, which affected the TVL of users as well.
Many users reported this issue and stopped using the platform as they just saw their initial value go down. However, I just kept at it because I had nothing to lose by just keep compounding and then pocketing once in a while, and eventually, I made back more than my initial investment, and the TVL value, at some point, started going up again.
But it is quite risky to invest in a platform, and, in my opinion, you should not invest anything you cannot afford to potentially lose.
I have made a video below where I explain more about the risks you NEED to be aware of before joining and show more of my testing results.
Check Out BNB Miner for Yourself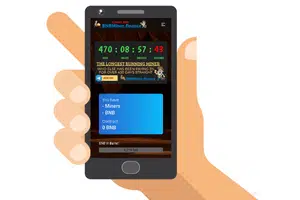 Can you use it on mobile?
BNB Miner doesn't have a mobile app you can download, and you really can't use it on a mobile device. That's because, to log in to the platform, you'll need to connect a wallet. And the only way to do that is to install the browser extension of the crypto wallet you chose.
You can't do that on a mobile web browser. The good thing, though, is that you will effectively only be logging in once a day, so there's really no need to use it on your mobile device, in my opinion.
Who can join BNB Miner?
The great thing about BNB Miner is that anybody can register. As long as you have an account in any of the crypto wallets they support, then you'll be able to sign up.

To register, you will need to connect your crypto wallet. And as mentioned earlier, you will first need to install the browser extension of the crypto wallet you are using. Once it is installed, just click the Connect Wallet button, and it will show you the options (refer to photo above).
After you've selected the appropriate crypto wallet, the browser extension should pop up and ask you to sign in (if you haven't yet). Once you are signed in, you will now be able to start mining. But as explained earlier, your wallet actually has to have BNB in it, so make sure you've got that covered.
Can you get support?
The website doesn't really have a support page you can check out. It also doesn't have any contact form or contact information displayed on the site. But they do have a Telegram channel you can join so you can get in touch with their representatives.
So, if you have any questions, it would be best to join their Telegram channel and use that platform to resolve your inquiries.
However, they seem to be quite strict in the Telegram group and ban you if you ask basic questions, and it also seems they ban people that ask critical questions, which is, of course, not great.
Overall, while the site does offer a way for you to communicate with their support team, I do wish the website would provide more useful information or even just a FAQ page and also allow basic questions or critical questions.
It can go a long way toward improving the overall user experience, in my opinion.
Final Verdict
BNB Miner is a BNB mining site that will allow you to earn BNB if you invest a bit of money. It has a couple of interesting features, but it also has some drawbacks and some big risks you need to take into account.
Let me finish this review by summarizing its pros and cons to give you an overview of what the site has to offer. Then, you can decide if you should proceed with joining or not.
Pros:
Offers an easy way to earn
Available globally
Cons:
There is no guarantee how long the site will last
The site lacks more info about the project
Requires time to earn a decent amount
If you are looking to earn BNB quickly, BNB Miner can definitely seem appealing. But you need to invest money to start earning. If you have money to spend and you are patient enough for this kind of earning opportunity, then it might be worth considering.
There is indeed good potential to earn a significant amount, but you have to have a solid plan, and you need a lot of patience.
Also, you need to be aware of the risks. There is a real chance that you will lose the money you invest and platforms like this tend to close down at some point, so you need to go into this with the right expectations.
If you are just looking to earn extra cash without investing any money, then I would suggest you check out the top survey and GPT sites in your country instead.
The sites on this list all have good earning potential, and all of them are free to join, so you won't have to spend a dime to start earning.
How to join BNB Miner?
If you want to join BNB Miner, just click the button below, and you will be taken to the website where you can get started.
But please be aware of the risks before you invest anything. I am not a financial advisor and cannot guarantee you will make a profit, so joining will be at your own risk.
If you have any comments, questions, or have any experiences with BNB Miner yourself, I would love to hear from you in a comment below.