If you are looking for easy ways to earn some extra cash, then there's an app called BuzzBreak that claims to reward you just for reading the news and watching videos. It sounds like a very convenient and easy way to earn, right?
But is BuzzBreak legit and a real way to earn? Or is it a scam to stay away from?
This is very important to know before you download any earning app. After all, you don't want to waste your time joining an app that won't pay you. So, let me answer this question right away.
Yes, BuzzBreak is a legit Get-Paid-To (GPT) app that will pay you. But is it worth joining? That's a different story and to answer that question, we have to consider several factors.
This BuzzBreak review will tell you all you need to know so you will know exactly what to expect from it before you even download the app. That way, you can better decide if it is an app worth using or not.
What is BuzzBreak and what does it offer?
As explained above, BuzzBreak is a GPT app that will pay you simply for using it and doing small tasks. Yes, that's how easy it is to earn from this app.
When you first log in to the app, you might think that you are reading Yahoo News because you will see a bunch of news articles you can read. But aside from that, you can actually browse specific categories like Sports, Entertainment, Funny, and Story.
These categories will have different posts you can view. Now, to understand how well you can earn from this app, we have to take a closer look at the earning opportunities it offers.
I have made a video that gives you an inside look and shows exactly how you can earn from BuzzBreak. You can also read all the details below the video:
Recommended: Check Out the Best Apps to Earn Passively
Option 1 – Reading articles
One way you can earn from this app is by reading articles. So, what they are claiming on their homepage is basically true. You get paid to read the news.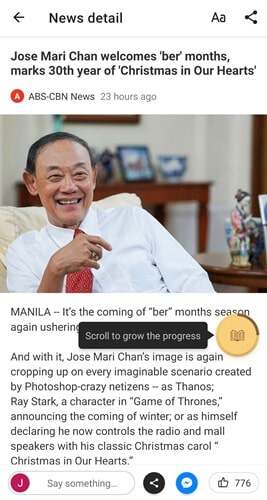 The way this works is, that when you click on an article, it will take you to the site that hosts the article. You will then see a Gift icon on the right side of your screen.
You will see it loading and it will stop at a certain point. To continue the loading process, it will ask you to scroll down the article.
You basically just have to follow the instructions of the gift icon. You don't even have to read the article.
You can just keep an eye on the gift icon to see if it is loading. When it is fully loaded, it will ask you to scroll all the way down to claim your reward.
Once you do that, a message will pop up indicating that you've earned points – the exact number of points can vary from article to article and from country to country.
But overall that's how easy it is to do.
Option 2 – Watching videos
The process for earning while watching videos is actually pretty much the same as reading articles. Just pick a video to watch and keep an eye on the gift icon.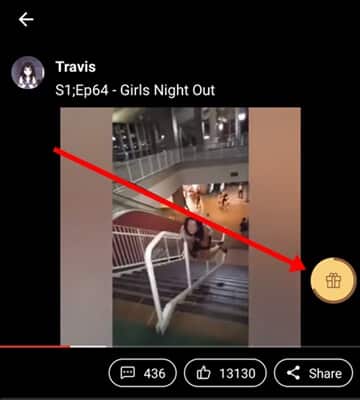 When the icon finishes loading, you will receive a certain number of points. You can then just stop watching the video and move on to the next.
Again, you don't even have to pay attention to the video because if you just want to earn, you just have to check the gift icon.
But, in my opinion, some of the videos they have are actually funny and interesting. So, it's a great way to pass the time and be entertained.
Option 3 – Periodic gifts
When you log in to the app, you will actually be able to claim points periodically by clicking the gift icon found on the right side of your screen.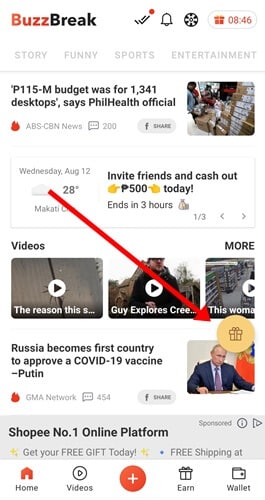 Every 30 seconds, the app will allow you to claim points without having to do anything.
So basically, you can just sit there for 25 minutes (because you can only claim points 50 times a day) or so and click the gift icon every 30 seconds and claim 150 points.
However, from what I have been able to find out, it does not seem like the free gift every 30-seconds is available in all countries but they are not clear about which countries it is available in.
There's also another gift you can claim every hour. It is worth more than the 30-second one. You will find another gift icon in the upper right-hand corner of your screen. It doesn't have the same loading animation as the 30-second one.
But instead, you will see a timer showing when you will be able to claim the gift. Simply click the icon when it shows the gift icon and not a timer.
It will then play a video ad that you have to watch. Just wait for the ad to finish playing, and you will receive points.
Option 4 – Daily check-in + Spin and win
You will also receive additional rewards for simply logging in to the app every day.
This gift can be claimed once a day and it will happen during your first log in for the day. You don't have to do anything special to avail of this reward.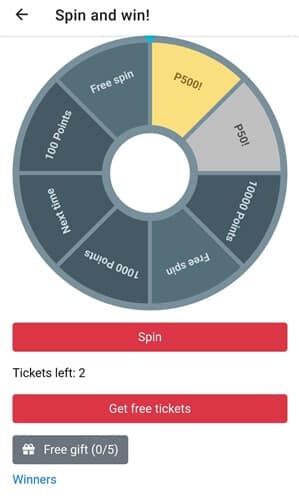 You can also play their Spin and Win game daily. Every day, you get two free chances to spin the wheel.
You can also get more chances to spin by inviting other people to join the site (I will explain how this is done in the next section).
You will have the chance to win up to $10 in this game. So, if you plan to use this app, make sure to not forget to play it every day.
Option 5 – Referral program
Just like with most GPT sites and apps, BuzzBreak also has a referral program you can take advantage of. Simply invite other people to join the app using your invite code.
Once they download and install the app, they will then have to enter your invite code. Make sure to remind them of this because this is the only way you will receive the referral bonus.
When they sign up as a member, you will then receive a referral bonus in the form of the currency of the country you live in.
Recommended: Check Out the Best Apps to Earn Passively
How do you get paid?
BuzzBreak uses a point system for their rewards. You can convert the points you've earned to cash through PayPal. In some countries, PayPal is not available, but there will be other options you can choose from.
1000 points are worth $0.01 (this does, however, seem to vary from country to country). The threshold you need to reach to withdraw your earnings is only $5. That's actually a very low threshold, in my opinion.
I do think that the app has a very convenient payment system in place. I especially like the fact that it pays via PayPal, which is, in my opinion, the most convenient method available today.
If you are interested in more sites that pay via PayPal, I suggest you check out the top sites that pay via PayPal.
How much money can you make?
The thing with BuzzBreak is, that even though you are able to earn rewards very easily, it actually sets a daily limit for every user. So, you won't be able to earn a lot from it.
They don't say this in their app but you will only be able to claim rewards 50 times a day.
So, you have to be strategic about how you will claim points. The best way to maximize your earnings is to only claim points from reading articles because that is the one that pays more.
Let's put it into perspective. If you read articles 50 times a day, you will earn 15,000 points. That will be equivalent to only $0.15 (depending on the country you live in).
So, even though 15,000 seems like a lot of points, it's still actually not worth a significant amount.
That's why I would say this app doesn't have good earning potential at all.
It will take you months just to earn a decent amount. And, in my opinion, you are better off spending that time on other apps or sites that pay better.
You definitely can earn a bit by using BuzzBreak but, in my opinion, it should be used more as entertainment than as a way to earn as it is a very inefficient way to earn.
So if you know the ClipClaps app the two are similar in some ways – they can be very entertaining but it will take a lot of patience to earn.
Can you use it on a desktop?
BuzzBreak is a mobile-only platform. So, if you were hoping to use your laptop or desktop to earn from BuzzBreak, you will be disappointed. You can only use a mobile device for this app.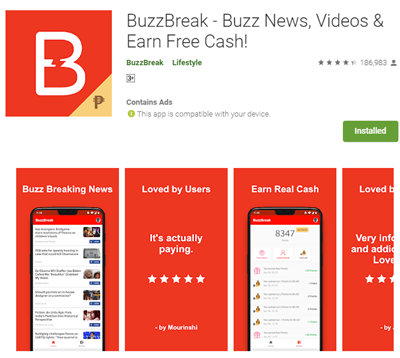 Fortunately, their app is available for both Android and iOS app stores. So, you should be able to use this on your mobile device without any problems. However, one thing you need to take note of is, this app will consume a lot of mobile data.
So, if your mobile data is quite limited, this app is not very suitable.
I advise you only use this when your mobile device is connected to a WiFi connection because it's not worth using mobile data, in my opinion.
Your earnings from it might not be able to cover what you will have to pay for your mobile data consumption if you do not have an unlimited plan.
Also, you are not able to turn the notifications off. So you will many times during the day get notifications about news stories and other reminders.
In my opinion, it is quite annoying that they have not made it possible to choose which notifications you want.
Who can join BuzzBreak?
One good thing I can say about BuzzBreak is, that it is available more or less worldwide. So, you can sign up as a member practically anywhere in the world (as long as you have internet on your mobile device, of course).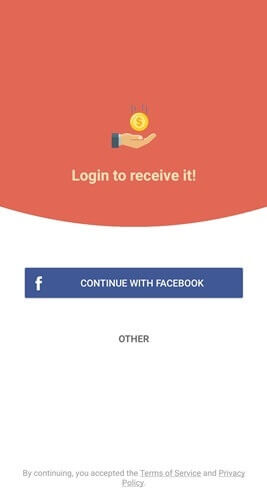 You do have to be at least 18 years of age to sign up. The registration process is also very simple. You can either sign-up using your Facebook account or Google account. Unfortunately, there's no other sign-up option.
If you don't have a Facebook or Google account, you won't be able to use this app.
So, if you are using an iPad or an iPhone, if you don't have a Facebook account, I suggest you create a Google account if you want to use this app.
Can you get support?
One thing that this app lacks is providing support for its members. It doesn't have an FAQ page you can check if you have any questions about the app.
And worst of all, it doesn't offer any way for you to contact their support team.
So, if you have any inquiries or problems with your account or the app, you will be left hanging.
In my opinion, this is not a good way to conduct business. You always have to make sure that your members have a way to get in touch with you.
That's why I won't be surprised if people stop using this app if they encounter any problems. Because there's simply no way for them to resolve the problem they will experience.
Final Verdict
BuzzBreak is a GPT app that will pay you for reading articles and watching videos. It offers a couple of good features but it also has a couple of glaring disadvantages.
So let's finish this review with a summary of its pros and cons to give you a better overview of what the site is capable of. This should help you decide if this is an app worth joining or not.

Pros:
Offers a very easy way to earn rewards
Payment via PayPal is available
Low payout threshold

Cons:
Very low rewards
Limits the number of times you can claim rewards per day
Doesn't provide support
You cannot turn notifications from the app off
The one good thing about this app is, that it offers a very simple way to earn. It doesn't require a lot of effort to earn rewards. The problem with effortless earning is, that it typically doesn't pay well, in my experience.
So, if you were hoping to earn a decent amount from this app in a short amount of time, unfortunately, you will be disappointed. It has very low rewards and you can only claim rewards 50 times a day. So, it will really take a long time for you to earn a decent amount.
If you are looking mostly for entertainment and just want to earn a tiny bit on the side at the same time, then BuzzBreak might be the right option for you. But if you are looking for more effective ways to earn, you should look elsewhere.
In my opinion, your time will be better spent on other apps or sites that have better earning potential. That's why I recommend you check out the top survey and GPT sites in your country instead.
The sites on this list all offer better earning potential and will allow you to earn a decent amount without having to invest a lot of time. Plus, you will find a site you can join regardless of where you live.
If you have any comments, questions, or have any experiences with BuzzBreak yourself, I would love to hear from you in a comment below.