If you are looking for a convenient way to earn a bit of cash, there are many mobile apps you can use to earn. One such app is called ClipClaps.
This app promises you will earn and have a laugh. But does it deliver on its promises? Is ClipClaps legit or a scam?
Let's settle this issue right away. Yes, you can earn by using ClipClaps, BUT after having tested it for 6 months, I was also shocked about what I learned.
There definitely are some very important things you need to know before you start spending time using the app to earn, so you do it with the right expectations and do not end up feeling like you have wasted your time.
This ClipClaps app review will show you everything I found after having tested it thoroughly so you will know exactly how it works, how much you can earn, and if it will be worth your time or not.
What is ClipClaps and what does it offer?
As mentioned above, ClipClaps is a mobile app that promises to pay you simply for using their app.
The app promises that you will not only make money, but will also have fun and laugh a lot while earning.
Almost sounds too good to be true, right? Well, it really comes down to your expectations, whether it is too good to be true or not.
So, to get a clear picture of the earning potential of this app, we have to take a closer look at the earning opportunities it offers and how it works.
I have created a video tutorial so you can see exactly how ClipClaps works and easily get started if you decide to join. You can also read all the details below the view:
Recommended: Check Out the Top Survey Sites in Your Country
Option 1 – Watching videos
The main earning method offered by ClipClaps is by watching videos. When you install the app, you can watch a lot of (and I mean a lot) funny videos.
This is why they emphasize laughter because all you can see are funny videos.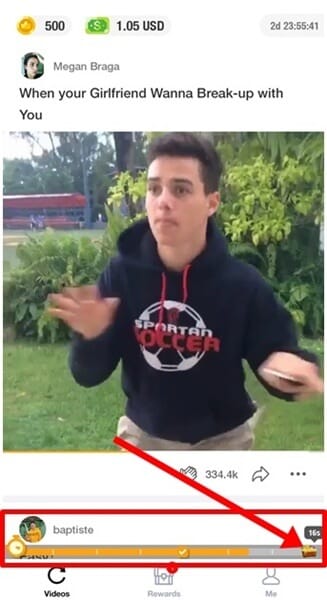 The way this works is that when you watch videos, your timer bar starts loading (refer to the photo above).
As you watch a video, you will see the timer bar count towards your next reward. Now, in the photo above, there's a marker that says 16s. Where the marker is can, however, vary.
The more videos you watch in a day, the more seconds you usually have to watch to get the next treasure chest (more about the reward methods later).
After earning a few treasure chests, you will usually get one every 4 minutes or so of video you watch. So, it will take some patience in the long run.
Once a timer bar is full, a new one will appear with new time markers. The idea is, you just watch videos until you hit the time markers on each timer bar. And the good thing is, ClipClaps won't run out of videos to watch.
But if for some reason, there aren't any new videos, you can just rewatch any video and the bar will still load.
There's a cap to the videos you can watch daily, though. Every day, you can only watch 1 hour's worth of videos.
Option 2 – Vote for videos
You also have the option to vote for newly updated videos.
This feature is, however, not available right away. You have to be an active member for at least a day before you get access to this.
Once you get access to it, you will be able to watch the newest videos and vote on whether you think they are funny or not.

This is a part of determining which videos will be displayed in the main feed.
You will also get treasure chests for doing this and you earn them faster. But the rewards are not quite as high as for wacthing the regular videos.
But a nice extra option to earn a bit and also see the newest videos and be a part of deciding which ones should be featured.
Option 3 – Play games
Another way to earn rewards from ClipClaps is by playing games found inside the app. When you are in the ClipClaps app, you will be given access to a few games that will allow you to earn rewards.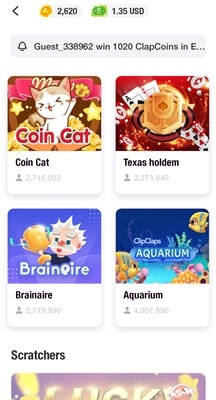 The idea is really simple. Just play any of the games listed. Each game will give you an opportunity to earn ClipClaps coins (which is their currency). All you have to do is fulfill the requirement to earn the coins.
That's it. You just really need to play the games. And let me tell you, the games available are pretty fun. So, you won't get bored even for a bit.
However, you just need to be aware that you will have to spend coins to play most of the games so it is kind of more like gambling.
Option 4 – Upload videos
You can also submit your own videos and earn from them. However, you have to let ClipClaps review your video submission.
If they decide to feature it, then you can earn from it. You will be notified if the video you submitted will become featured.
Now, if it does get featured, you will earn coins for every view your video gets. Think of it as a passive way of earning. This is a good target to have because you can earn a lot of coins from this opportunity and it doesn't really take a lot of time.
But you have to be creative with the videos you submit because it will be rated by judges. At the end of the day, what you need to keep in mind when uploading videos is that they should be engaging, positive, and fun to watch. That should be your guideline if you want your videos to be featured.
Option 5 – Spin the wheel
There are two types of spin the wheel games you can play on ClipClaps. The first one is the Mega Spin the wheel. This is a weekly spin the wheel game.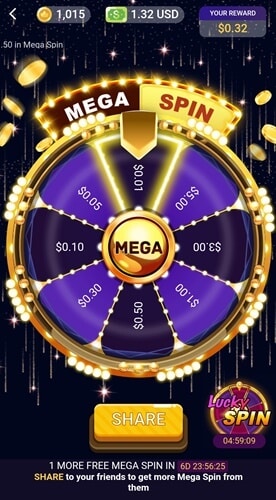 Each week, you will be given one chance to spin the wheel. You can win between $0.01 – $5 and a few other prizes. This is the more profitable game of the two.
The other one is called Lucky Spin.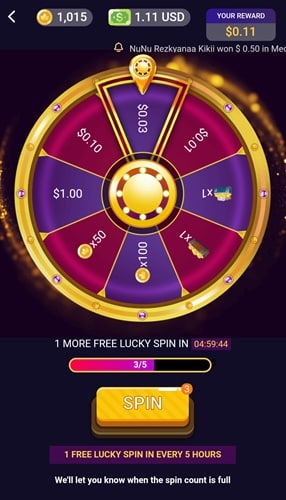 As shown in the photo above, you get 1 free spin every 5 hours. The most you can win from this game is $1. So, the payoff is a bit smaller, but you can at least play multiple times per day.
Overall, this isn't really a reliable way to earn on the site. It's really just some sort of bonus for being a member of ClipClaps.
And it does not take long, so it can still be worth doing to get some extra free cash.
Option 6 – Referral program + joining bonus
Lastly, you can earn rewards by inviting other people to join. When you invite people, and they download the app and sign up, both you and the person you invited will receive rewards.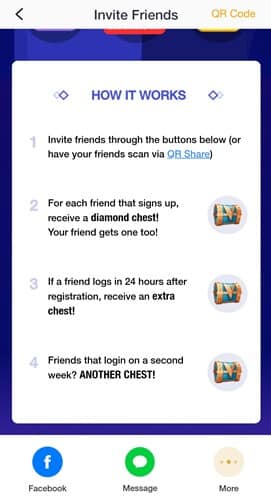 As you can see in the photo above, you stand to receive 3 diamond chests (I will explain later what this is) whenever someone you invite joins ClipClaps.
You can invite them to join either by sharing a link with them or by sharing a unique ClipClaps code you get as a member.
First, you will receive one chest when the person signs up.
Then, you will receive another diamond chest if the person (now your referral) logs in to the app within 24 hours of registration. Lastly, you will receive the third diamond chest when they log in to the app on the second week after they register.
So, even though you won't get all the chests simultaneously, it can still seem like a good reward package for referring people to the app.
However, I have tested it, and the rewards you get for inviting others are way below what you can earn through other referral programs. Even if you become really good at referring people, you will not earn a lot like this with ClipClaps (more about the full earning potential later)
Also, as mentioned, you will get a reward when you join through an invitation link.
When you sign up through an invitation, you will get a diamond chest as a bonus right away (worth a minimum of $1).
So the referral program gives the most benefits to the person joining. But that joining bonus, of course, does not help much if you overall cannot reach the payout threshold, which I will go more into later.
As I am a member of ClipClaps, you are welcome to join through my invitation link to get that extra bonus.
I will leave a joining link at the end of this article.
Recommended: Check Out the Top Survey Apps
How do you get paid?
ClipClaps uses Clapcoins as its currency. As you already know, you will be awarded treasure chests when watching videos.
These treasure chests contain random amounts of Clapcoins when opened. Most common treasure chests will contain 1 to 3 treasures (usually just Clapcoins) when opened.
The diamond treasure chests, on the other hand, contain more treasures. Aside from large amounts of Clapcoins, you will also receive raffle entries and even cash. So, in terms of rewards, diamond chests are where it's at.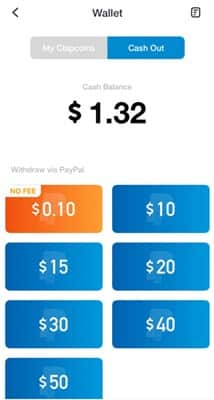 Now, as for the Clapcoins you've earned, you can exchange them for cash. The conversion rate of Clapcoins is 100,000 = $1. Then, once you've converted your Clapcoins to cash, you can withdraw it via PayPal.
Sometimes you can, however, also find special offers in the redeem section where you can get a better conversion ratio or special discounts.
Initially, ClipClaps has a low payout threshold ($0.1). That's the smallest amount you can withdraw via PayPal. That amount will also not incur any withdrawal fee.
However, be aware that this low payout threshold is only the first time you withdraw.
After that, the threshold will be $10. But at least it is extremely low at first, so you can verify right away that you will get paid. As you can see in the video earlier in this review, I also have ClipClaps payment proof showing that I got my first payout like this.
However, reaching the payout the next time can be tricky, and this is something I have worked on for a while and will share my experience about in the next section.
The Clapcoins you've earned can also be used to purchase different treasure chests. So, if you are feeling lucky, you can go that route.
Overall, they do have a convenient payment system in place, and I like the fact that they have a very low payout threshold at first.
However, it would also be great if you could get your earnings out a bit sooner than $10 after your first payout, in my opinion.
And I also just want to give a warning here – I have recently received a lot of feedback from members that say that they used to be able to get paid, but they no longer get paid by ClipClaps.
I have not been able to confirm this myself, as I do not think it is worth putting in the effort to reach the payout threshold again, but still wanted to give this as an update here so you know all the aspects to consider.
If you are looking for sites that always have a low payout threshold, you can also check out the fastest paying sites.
How much money can you make?
It is important to note that the money you can earn from this app will in no way compare to what you can earn from a day job.
Now, as you can see, you will need a lot of ClapCoins just to earn $1 (100,000 to be exact).
That means you will have to watch a lot of videos (and I mean a lot) if you want to earn a significant amount. Just to give you an idea, normal treasure chests will contain around 100 to 500 Clapcoins.
So, it will really take time if you just rely on earning rewards from watching videos. But if you are able to get your videos featured, then you will be able to earn a decent amount faster (but it will still take patience).
Also, make sure to use all the spin the wheel options and bonus opportunities it offers, as this can boost your earnings.
However, it will take a lot of patience to earn, no matter what. After I initially wrote this ClipClaps review and got my first $0.10 payout, I decided I wanted to see how long it would take to reach the $10 payout threshold to make sure I would get paid a bigger amount as well so I could share it with you here.
And what I found was quite shocking. I tested it and used it every single day for 5 months, and I even earned quite a few diamond chests because people used my ClipClaps code when joining.
But I was still not able to reach the $10 threshold. I was determined to reach it, but then suddenly, the threshold changed (temporarily, they say, but it was like that for 2 months before I gave up on ClipClaps).
I decided to record a short video that explains all about this and gives an update about exactly how much you, in my experience, can earn by using ClicpClaps.
So before investing any time using the app, I would strongly suggest you check out the video below to make sure you do it with the right expectations.
But in short, if your main goal is to earn extra cash, ClipClaps is a waste of time. But if you like watching funny videos, it can be an entertaining app.
Can you use it on a desktop or laptop?
ClipClaps is a mobile-only platform. So, you will need a mobile device if you plan to earn from this app.
If you were hoping to use your desktop or laptop for this platform, then you will be disappointed.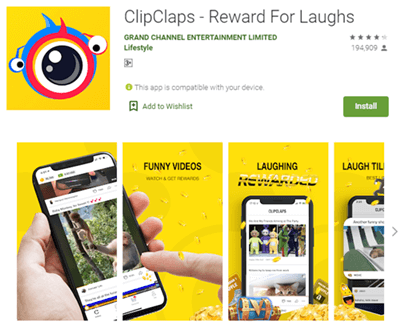 Fortunately, the app is available on both Android and iOS app stores. So, compatibility won't really be an issue. Their app is also very user-friendly, so getting used to the app will be very easy.
Who can join ClipClaps?
Another good thing about ClipClaps is that it is available globally. You can sign up as a member regardless of where you live. You just need to make sure your mobile device has a stable internet connection.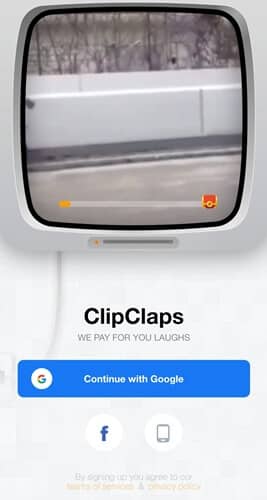 Once you've installed the app, you can log in using your Google or Facebook app. Yes, it's that easy to become a member.
Once you've chosen which account to use, you will then have to provide basic info like your full name and birthdate.
One thing to take note of when signing up as a member of ClipClaps, you have to be at least 18 years of age to enjoy the full benefits of the app. I say that because the app uses PayPal as its payment method and the age requirement for a PayPal account is 18 years old.
So, if you ever hope to get paid, you will need to be at least 18 when you join this app.
Can you get support?
The app has a support page you can access. It contains most of the basic topics you need to know about the app. It also explains the topics well. So, I suggest you read their support section first before starting to earn.
If you can't find the answers you are looking for, you can always send them a message with your inquiry. You can create a message for their support team on the app.
However, in my experience, the support is very slow, so it can take some patience to get through to them, which is not ideal, but it is something you have to accept if you want to use ClipClaps.
I have tried contacting their support a few times, and every time it took 10-14 weeks to get an answer. And then the answer was just an automatic reply saying that my support ticket had been closed because they were too busy replying to all the questions they got, so I had to open a new support ticket if I needed help.
This is honestly one of the worst support answers I have ever received from any GPT site or app, and this is definitely something to consider before joining.
If you should need help at some point, you should not expect to get it.
You can also interact with them on their Facebook page, and it seems they do reply here once in a while. So that can be worth trying if they do not reply to your support tickets.
Final Verdict
ClipClaps is a GPT app that pays you for watching videos. It has a couple of remarkable features, but it also has quite a few drawbacks.
So, let me finish this review with a summary of its pros and cons to help you decide if this app is a yay or a nay.

Pros:
Offers fun and interesting ways to earn
Pays via PayPal
User-friendly

Cons:
Very low rewards
Mobile-only
Terrible support
Some members say they can no longer get paid by ClipClaps
Overall, if you are looking for a fun way to earn, ClipClaps is definitely an app you can use. It offers a convenient payment method, and it is also user-friendly.
You just have to live with the extremely low rewards it offers. So, you'll need A LOT of patience to earn.
So, if you like watching funny videos, then ClipClaps can be an option (but then why not just use YouTube). But if you are looking for ways to earn, then this app is just a complete waste of time, in my opinion.
If you are looking for apps/sites that will allow you to earn effectively, I recommend you check out the top survey sites in your country instead.
The sites on this list all offer better earning potential than ClipClaps. Plus, you will also be able to find a site you can regardless of where you are in the world.
If you have any comments, questions, or have any experiences with ClipClaps yourself, I would love to hear from you in a comment below.