Caden is an app that claims you can earn by sharing your data. I have tested a lot of apps that offer the same opportunity.
So, the question is, what makes Caden different from all the other apps that offer the same thing?
This Caden app review will reveal the full truth so you will know exactly what to expect from it before you even install it. Then, you will be able to find out if it is worth it or not.
So, let's go ahead and examine what Caden is all about, shall we?
What is Caden, and what does it offer?
As mentioned above, Caden is a mobile app that will allow you to earn by sharing your data. It is definitely a legit app since you can really earn money from it. However, being legit doesn't necessarily mean it is worth using.
If you want to figure out if the app is worth your time or not, you must first understand how it works. And the best way to do that is to take a look at the earning opportunities it offers so you will have a good idea of how much time and effort is needed to earn from it.
So, here's how to earn from Caden.
Option 1 – Vault
One way to earn from Caden is to store data in what the app calls the Vault. Don't worry; it sounds more complicated than it really is.
The Vault is where your data "lives" within the app. Within your Vault, you can enter as much or as little personal and identifiable information that will count toward your overall data score.
Think of it as filling out your profile. After you've provided information in your vault, you'll have to set up a PIN so that you can control whether you want the information stored in your vault to be shared with the app or not.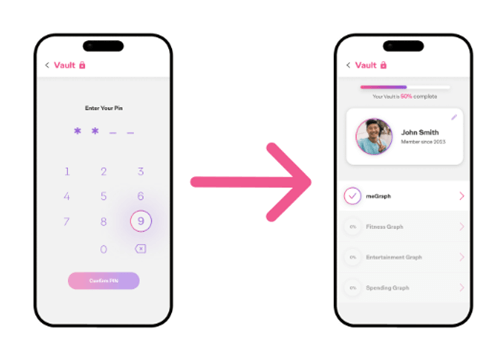 After you've finished setting up your vault, the app will be able to calculate your data score, which is essentially the value of all the data you've provided. This will also be the basis for how much you will earn from the app.
At the start, your data score will be 0. You will need to connect a few of your accounts, like Netflix, Amazon, Uber, etc., to Caden to increase your data score. Once you've done that, your data score will increase over time as more data will be collected.
Then, all you have to do is keep the app running in the background and allow the app to determine your location to collect the reward, which will be in the form of points. The points will automatically be credited to your Caden points balance, so you don't have to do anything to collect the rewards.
Later, I will explain what you can do with the points you've earned. It's a passive form of earning, but don't expect to earn a lot from this opportunity even if you max out your data score.
Option 2 – Surveys
From time to time, there will be surveys you can answer to earn additional points. These surveys are relatively short compared to the surveys you will usually encounter on survey sites and apps, so it won't take long to complete.
Each time you complete a survey, you will receive a certain number of points. Plus, your data score will also increase. So, you can't really just ignore these surveys because these can help you earn more from the app in the long run.
Recommended: Check Out the Best Passive Income Apps
How do you get paid?
As explained above, you will earn points from the earning opportunities the app offers. But what exactly can you do with the points you've earned? Well, you can convert them to cash and withdraw your earnings via Stripe.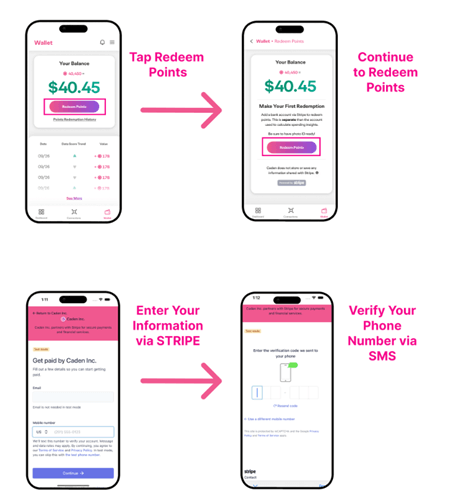 However, you'll need to earn at least 40,000 points, which is equivalent to $40, to do so. This, in my opinion, is a very high payout threshold. You'll need to be very patient because it can take a bit of time to reach the threshold to withdraw your earnings.
Overall, I would say the payment system of Caden is relatively simple. However, as you can see, the threshold is very high. If you prefer sites and apps that have a low payout threshold, I recommend you check out the fastest paying sites instead.
How much money can you make?
As mentioned earlier, you won't earn a lot from the earning opportunities Caden offers. Normally, you can earn around 200 to 800 points from the daily rewards you will get for letting the app run in the background (provided you have a decent data score).
That is only worth around $0.20 to $0.80. For surveys, you can typically earn more, but they aren't very common, so it's not something you can rely on for a stable source of points. There are some bonus points you can earn when you connect certain accounts to the app, but they are very minimal. This is why I would say the earning potential of Caden is relatively low.
The one saving grace is that you practically don't have to exert any effort to earn from it. You just need to be very patient to earn a decent amount from it.
Can you use it on a desktop?
Caden is a mobile-only platform, so you will need to use a mobile device to earn from it. Plus, at the time of writing this review, it is only available to iOS users. So, if you are an Android user, then this app is not for you. I suggest you check out the best money-making apps for Android instead.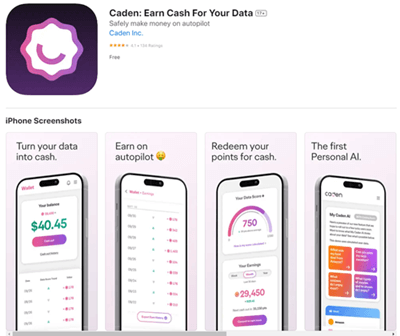 As for the app, it is quite user-friendly, so you won't have a hard time navigating it. You also won't encounter any annoying pop-up ads while using the app. The overall user experience it offers is relatively pleasant, in my opinion.
It also doesn't cause your device's battery to drain quickly, which is a good thing, in my opinion.
Who can join Caden?
The site doesn't tell you exactly which countries it is available in, but from what I can tell, it is available in several countries, specifically in countries where Stripe is available. You can check out the list of countries that Stripe is available here.
To sign up, you have to install the app first. Then, when you open the app for the first time, just go through the registration process, which will be relatively straightforward. After you are done signing up, you can log in to the app and start setting up your account.
As explained earlier, you will have to allow the app to determine your location, so make sure to do that if you really want to earn from Caden.
Can you get support?
If you have any questions about the app or your account, you can check out the Help Center page. It discusses most of the basic topics you need to know about the app. It is fairly detailed, so you will most likely find the answers you need.
But if you require assistance, you can get in touch with the support team instead. Just go to the Help Center section of the website or app and click the Contact Us link. Then, fill out the form and hit Submit.
Overall, I would say the app does provide decent support to its members since it offers a convenient way for you to ask for help.
Final Verdict
Caden is a legit app where you can earn passively by sharing your data. It has a couple of decent features, but it also has certain limitations you need to be aware of.
Let me finish this review by summarizing its pros and cons to give you an overview of what the app has to offer. Then, you can decide if it is a good fit for you or not.

Pros:
Offers a passive way of earning
Offers a convenient payment method

Cons:
Limited earning opportunities
Low rewards
High payout threshold
Only available to iOS users
In my opinion, Caden is not a bad app to earn from. However, you will have to set your expectations properly because you will not earn a lot from this app because of the low rewards it offers. The one good thing about Caden is that it offers a passive form of earning, so you can earn effortlessly.
It can serve as a decent secondary app to earn from, in my opinion. You just need to be very patient because the payout threshold is very high.
Now, if you are looking for a primary app or site to earn extra cash, I suggest you check out the top survey and GPT sites in your country instead. The sites and apps on this list all have good earning potential, so you will be able to earn a decent amount in no time.
If you have any comments, questions, or have any experience with Caden yourself, I would love to hear from you in a comment below.