Finding a side hustle to make some extra money has become a lot easier than it used to be.
All you have to do is search the web, and you will find plenty of sites that offer you ways to earn extra income. One such site is called Care. This site claims you can earn by providing child, senior, or even pet care services.
But is Care.com really legit, or is it a scam? And are the earning opportunities easy to do?
I decided to take a closer look and find out everything there is to know about what it offers to find out if it is worth it or not.
This Care.com review will give you an inside look so you don't need to sign up and try it out for yourself to find out if it is the right opportunity for you or not.
What is Care, and what does it offer?
Care.com is essentially a gig economy site that will allow you to earn extra income by taking on part-time jobs.
It is definitely a legit site because you will really get paid when you complete the job opportunities offered by the site.
However, if you want to determine if it is a site worth joining, you must first understand how it works. So, here's how to earn from Care.com.
The earning opportunity – Jobs
Earning from this site is really simple. The idea is that you take on jobs offered by Care.com clients.
However, the process of getting started as a caregiver (the term the site uses) is quite a long one. So, if you are expecting to just sign up and start working right away, you will be disappointed.
After you sign up as a member, there are several steps you need to complete before you can accept any job on Care.com. First, you will need to build your profile. You will have to provide information about yourself.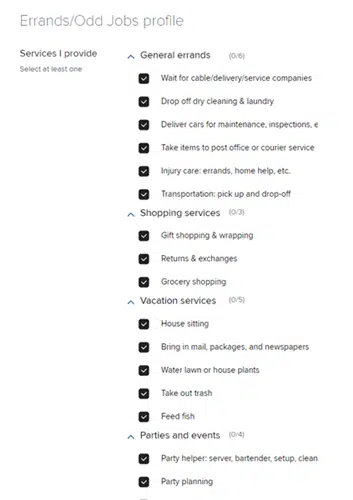 Then, you'll have to select the jobs you are willing to do. This part is a very important one. During registration, you will be asked to choose a category of jobs you are willing to do. That category actually has sub-categories you can choose from (refer to photo above).
During my testing, I decided to choose the Errands/Odd Jobs category.
Then, I had to choose the type of errands or odd jobs I was willing to do. The best practice, in my opinion, is to choose as many sub-categories as you are willing to do.
Take note that the operative word here is "willing". You must be willing to do the sub-categories you choose because these will be the jobs that will be offered to you once you become a verified "caregiver".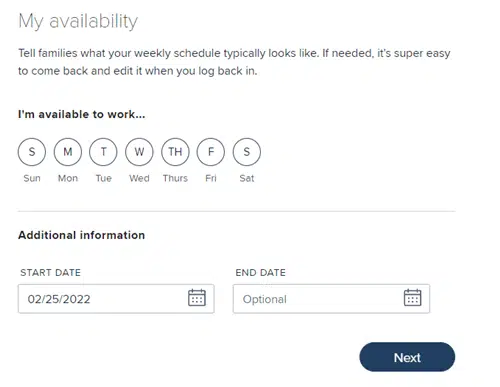 After you've selected the jobs you are willing to do, you have to set your preferred hourly rate. Then, you will need to set your schedule. Make sure to set the specific day and hours you are willing to work.
When all of that is done, you will be asked to go through a background check or what they call the CareCheck. There are two types of background checks to choose from (refer to photo below).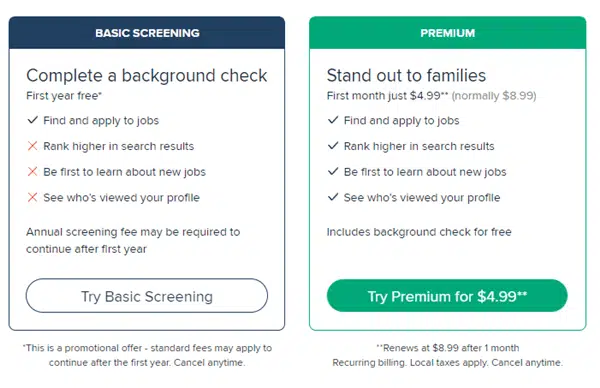 If you choose to go with the basic package, you won't have to pay anything during your first year as a caregiver.
If you go for the premium membership which will cost $4.99 for the first month and then $8.99 for the succeeding months, you will receive several benefits including the CareCheck logo that will appear beside your profile.
Aside from the logo, you will also be ranked higher in search results when clients will be looking for caregivers.
Once the background check is done, you can start applying for jobs. However, there's really no exact estimated time of how long it takes for a background check to be completed. It will all depend on how many new caregivers are applying for a spot.
When you become a verified caregiver, there are two ways you can accept jobs. First, you can actively search for jobs around your area and apply for them. The second is when a client will choose you as their caregiver when they are looking for someone.
If you go with the first route, you will have to wait for confirmation from the client if they accept your application. The second method goes the other way around. You will have to accept the client's request.
But regardless of which method you use, the one thing I would recommend you do before you take on any job is to talk with the client first. The good thing about Care.com is that you can schedule a Zoom call or Google Meet with the client so you can talk specifics regarding the job you need to do.
Once everything is ironed out, all you have to do is show up at the designated place and time and do the job. After you have completed the job, you will receive the payment (I will discuss how you will get paid in the next section).
There are a bunch of jobs you can do on Care.com and not just provide care for the elderly, kids, or even pets. You can do house-sitting jobs, drop off dry cleaning and laundry, and you can even find jobs like planning for parties or events. There's really a wide variety of jobs you can do on Care.com.
Recommended: Check Out the Top Gig Job Sites
How do you get paid?
For every job you successfully complete, you will earn a certain amount depending on the agreed-upon rate.
You will not get the cash directly from the client, though. What will happen is, when the job is completed, the client will pay Care.com. Then, Care.com will deposit the amount into your bank account.
There won't be any fees involved during this process, and Care will deposit the compensation regardless of the amount. So, the site effectively doesn't have a payout threshold you need to reach.
So, if Care.com doesn't charge you for payments, how does it earn? As explained earlier, Care.com will charge its members monthly regardless of whether they are a caregiver or a client. The fees will differ, but from what I gathered, Care.com charges clients more than caregivers. That's really how they are able to make money, which is a good thing because you can expect to receive the full amount when you complete a job.
Overall, the payment system of the site is relatively easy to understand. You just need to link your bank account/debit card to your Care.com account in order to get paid.
If you are interested in more sites that offer a convenient payment system like Care.com, I would recommend you also check out the top sites that pay via direct bank transfer.
How much money can you earn?
As with all gig economy sites, the amount you can earn will depend on how many jobs you are able to complete. And the number of jobs you can complete will mostly correlate to the number of jobs available in your area.
The logic is, the more jobs are available in your area, the more opportunities for you to earn. And in my experience, there are usually plenty of jobs available in major cities, while there will be few opportunities in small towns.
So, to answer the question above, it will all depend on where you are located. The good thing about Care.com is that the minimum hourly rate you can set will be pretty decent ($10). So, you are guaranteed to earn a decent amount if you manage to complete a job.
Just take note that there's no guarantee you will always get accepted when you apply for a job. You will have to compete with other caregivers in your area. So, you need to also figure out the proper balance between setting an affordable rate and earning a decent amount.
It will take some time before you can reach this balance, especially if you are new to this kind of platform. I would recommend you check out your competition, so to speak. Take note of their rates and see if you can get the proper balance.
Overall though, I would say the earning potential of this site is pretty good if you live in a very populated city because, chances are, you will find more opportunities to earn.
Can you use it on mobile?
Care has a mobile app you can download so you can check for jobs and accept jobs conveniently on your mobile device. It also makes sense since it would be quite hard if the site didn't have a mobile app you could use.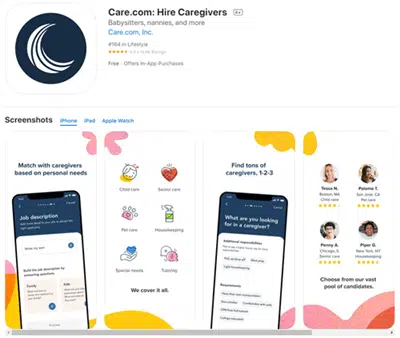 The app will work with both Android and iOS devices. You just have to download it on the corresponding app store. However, the common complaint regarding the app across both platforms is it is quite buggy. So, the overall user experience it offers might not be that good.
But, I would still say that having an app is still a good bonus because it will allow you to access job opportunities even when you are not in front of your computer.
Who can join Care.com?
Care.com is available in 19 countries at the time of updating this review. So, if you live somewhere else, then you are not eligible to become a caregiver. Plus, you also have to be at least 18 years of age to register.
You can see the exact countries in the image below.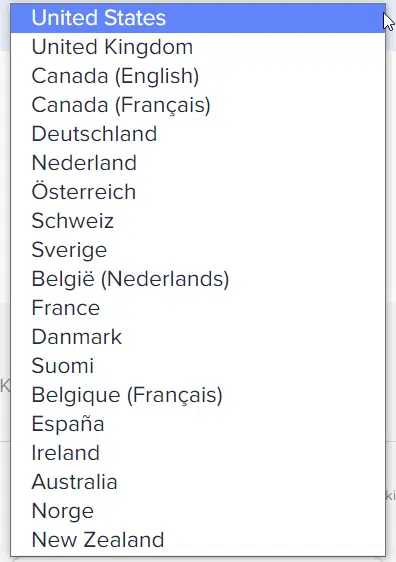 As I've explained earlier, the process for becoming a caregiver is quite long, but the actual registration is relatively easy. You just have to fill out their registration form and make sure to tick the circle that says "apply to jobs" and submit it.
Then, you will have to provide your profile information. Now, here's the crucial part. When you are building your profile, you will be asked to provide a couple of things: your mobile number and your social security number.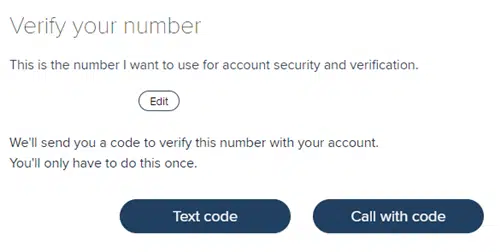 There's no way around this, so if you are not comfortable handing out your mobile number and social security number, then this is not for you.
They will require your mobile number because they need to send a verification code in order for your registration to be verified. After you've provided the verification code, which will be sent to you via SMS or automated call, you will have to provide your social security number.
Once you get past this phase, you will proceed to the background check phase. This is another important step to becoming a caregiver. As explained earlier, you can choose to go for the free background check option but only during your first year as a caregiver.
After that, you will be asked to pay the monthly fee, which will cost $8.99. But as I've mentioned earlier, if you pay the fee, you will get a few benefits that will help you gain access to more job opportunities. So, if you are serious about this opportunity, I would recommend you go for the premium package right from the start.
If you wish to cancel your membership, don't just stop using your account. You will also have to log back in and cancel your account manually so that Care.com will stop charging your credit/debit card for the monthly fee. A lot of people tend to forget this, so they end up losing money instead.
Can you get support?
Care.com has a help page you can check out if you have any questions regarding the site or your account. The help page discusses most of the basic topics you need to know about the site.
But if you can't find what you are looking for, you can just contact their Customer Care department by clicking the message icon in the bottom right corner of the Help page. Then, just follow the instructions provided and send your inquiry.
Overall, I would say the site has a decent support system in place for its members since they provide a convenient way for you to get in touch with their support team.
Final Verdict
Care.com is a legit gig economy site where you can find decent part-time opportunities. It has a couple of good features to offer, but it also has some limitations you need to consider.
Let me wrap up this review with a summary of its pros and cons so you can get an overview of what the site has to offer. Then, you can decide if it is a good fit for you or not.

Pros:
Offers decent pay
No payout threshold
Processes payments automatically

Cons:
Limited earning opportunities offered
The app is a bit buggy
The registration process takes a bit of time to complete
You will have to pay a monthly fee beyond the first year of being a caregiver
Care.com is not for everybody. First and foremost, the jobs you have to do will require a commitment on your end. The registration alone will take a bit of time to finish.
Plus, the availability of jobs will depend on where you live. In my opinion, it is only truly beneficial if you live in a major city where there are plenty of job opportunities available.
If you live in a small town, I would recommend you don't even bother signing up because there will be little to no opportunities to earn. Instead, I would suggest you check out the top survey and GPT sites in your country.
The sites on this list all have good earning potential, and you can start earning immediately. Plus, you will definitely find a site you can join regardless of where you live.
If you have any comments, questions, or have any experiences with Care.com yourself, I would love to hear from you in a comment below.