If you are looking for a way to earn extra cash and own a car, you might want to consider Carvertise as an option. Carvertise claims you can earn a monthly income just by driving your car.
But if you've been a member of a site that offers a way to earn extra money, then you know it's not that simple. There's always something you have to consider like is this site even legit or is it a scam? This is a valid concern and a very important one to boot.
So, let me answer this question immediately so we can move on to other aspects of Carvertise. Yes, Carvertise is legit. It will really pay you for driving your car. Now, the real question is, is it worth it or not?
To answer that, there are a few factors we must consider. And this Carvertise review will help you figure out if this is an opportunity you should go for or not.
What is Carvertise and what does it offer?
Carvertise is a rolling billboard platform where you will get paid for allowing them to place an advertisement on your car. It's a lot like Wrapify which offers the same kind of earning opportunity.
Let's now talk about how you can earn from Carvertise so you'll understand how it works. By doing so, you will get a clear picture of what you need to do to earn and can then figure out if it is something you want to do or not.
So, here's how to earn from Carvertise.
The earning opportunity – Ad campaigns
The only way for you to earn is to accept an ad campaign that will ask you to place an advertisement decal/sticker on your car. Here's how it will look when the wrap has been placed.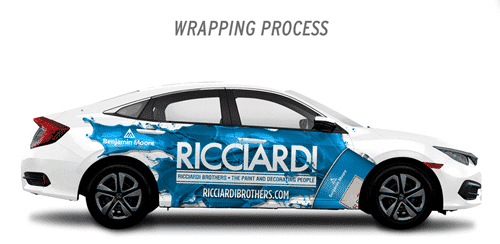 As you can see, your car will be "wearing" a graphic that is designed to promote a brand or product. So, if this is something you are not willing to do, then I would recommend you find another way to earn extra cash (you can find suggestions later in this article).
But if this doesn't bother you, then let me explain the whole process of how to earn. It all starts with you registering as a Carvertise driver on their website (I will give you a more in-depth explanation on how to apply as a driver later).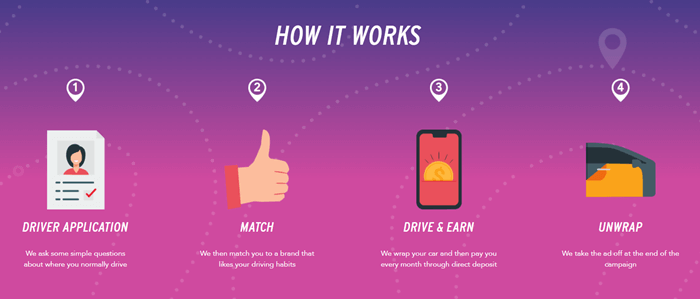 When you get accepted as a driver, you will then be contacted by Carvertise (either via phone or email) if you get matched for an ad campaign. You will also be given the complete details of the campaign (duration, brand to advertise, location of where to get the wrap installed, and payment).
Before you accept the campaign, it is important to note that your car/vehicle should still be using the stock paint. If your car/vehicle recently had a paint job, it's recommended that you don't accept any campaigns because the wrapping will damage the paint when it is removed. So, keep that in mind before you accept any campaign.
If you accept the ad campaign, you will be asked to go to the nearest shop to have the wrap installed. Carvertise has authorized partners for installing and removing the wraps. These shops are where you should always have the wrap installed and removed.
If you will have the wrap removed by someone else not partnered with Carvertise, any damage done during the removal will not be covered by Carvertise. When the decal/wrap is installed, all you have to do is use your car/vehicle like you normally would.
However, you always have to make sure that their app (yes, they have a mobile app) is running on your mobile device while you are driving so Carvertise can track that you are really honoring the deal. Carvertise will track your mileage with their app. So, if your driving habit changes, expect the payment to change as well (I will talk more about this later).
The wrap can't be removed as long as the campaign is still active. As explained above, you can have it removed by their partner shop once the campaign is over and they will do it for free.
The duration of the campaign typically lasts between 1 to 6 months, so it's quite a commitment to actually agree to do the campaign. Payment is done monthly (I will explain in the next section how their payment system works).
As for how long the installation and removal takes, it usually does not take more than a day to install or remove a wrap/decal unless there are a lot of people in the queue. If that happens, expect to be able to get your car the next day.
Recommended: Check Out the Top GPT Sites
How do you get paid?
As mentioned above, you will get paid every month until the campaign ends. The payment will be done via direct bank transfer. So, you will be asked to provide your bank details when you accept an ad campaign.
Carvertise usually pays a week after the month has ended, so expect to see your earnings credited around that time. Overall, their payment system is really very simple. And I like the fact that they use a convenient payment method like direct bank transfer.
If you are looking for more sites that offer a convenient payment method, I would recommend you also check out the top sites that pay via direct bank transfer.
How much money can you make?
The amount you can earn from Carvertise will mostly depend on the ad campaign you accept and your driving habits. There are ad campaigns that pay more and there are campaigns that pay less.
Also, the availability of ad campaigns will depend on your location. As with any platform that offers this kind of earning opportunity, location is the most important factor. If you live in a big city, chances are, there are a decent number of ad campaigns for you.
If you live in a rural area, then don't expect to earn anything from Carvertise. This is just how these earning opportunities work and there's no way around it.
Typically, you will earn around $100 a month for most campaigns. There are other campaigns that pay more. But Carvertise says you can earn up to $300 per month. So, that's the ceiling of how much you can earn on a monthly basis.
But as I've mentioned earlier, your earnings will change if your driving habit has also changed. If you drove fewer miles than you usually do in the past month, except that the payment will also be reduced. Plus, while Carvertise doesn't necessarily say this, they likely prefer you drive on main roads so that the ad can be viewed.
Don't be alarmed if you get a message from Carvertise explaining that you've driven on fewer main roads for the past month therefore they will deduct a certain amount from your monthly earnings. This is very important to them because you can't really expect an ad to be effective if not a lot of people see it.
The whole point of these ad campaigns is to provide visibility for the ad. And the best way to do that is to drive on main roads. That's the one downside of this opportunity, in my opinion. If you really want to maximize your earnings, you have to resist the urge to avoid traffic by driving on side roads.
So, it requires a lot of commitment and patience sometimes. But overall, I would say the earning potential of Carvertise is pretty decent.
Can you use it on mobile?
As mentioned earlier, Carvertise has a mobile app you need to use once you accept an ad campaign. The purpose of their app is to track your driving habits.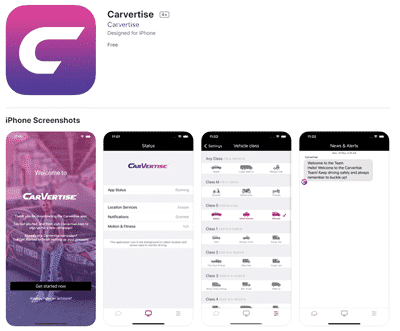 The app can be downloaded from the Android or iOS app store. So, you shouldn't encounter any compatibility issues. As for the app, you will have to allow it to determine your location because that's its primary function.
Their app is very user-friendly, so you won't have a hard time using it. The only downside is, it does eat up your battery faster when you are using it (just like other driving apps). So, make sure your mobile device has enough battery when you are driving.
Who can join Carvertise?
Carvertise is only available in the US. So, if you are not a US resident, then this is not for you. In order to become a Carvertise driver, you have to be at least 21 years old and you need to own a car/vehicle that was manufactured in 2005 or later.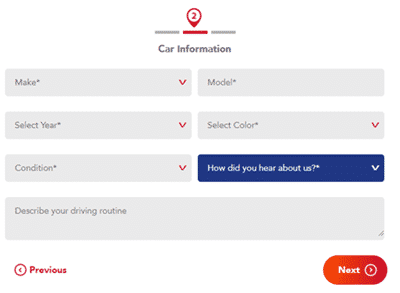 To apply as a driver, you have to fill out the registration form on their website or app. Then, you will be asked to provide the make and model of your vehicle as well as the year it was manufactured. Once you are done with that, you will be asked additional questions regarding your driving habits.
Once you are done with the registration, you will receive an email from Carvertise asking you to download their app so they can start tracking your mileage. Just download and install the app and start using it when you drive.
If you get matched with an ad campaign, you will hear back from them either via email or via phone. There's no set timetable on when you will hear back from them. It can take weeks or even months. This, in my opinion, is the one major downside of their platform.
They don't explicitly say this on their website, but based on feedback from members, the average miles driven per day should be more or less 25 miles. If you don't reach this average, then chances are, you won't get accepted or it will take a long time (months) before you get accepted.
It's quite hard to become a Carvertise driver. So, if you apply to become one, don't expect to hear back from them immediately.
Can you get support?
If you have any questions about Carvertise or your account, you can check out their FAQ page on their website or inside the app. It doesn't offer much, but it does discuss the basics of what Carvertise has to offer.
Their site doesn't have a contact form you can use to get in touch with their support team but you can use their app to send your inquiry. You can also email them at driversupport@carvertise.com if you have any questions for their support team.
Overall, I would say they have a decent support system in place for their members since they provide an easy way for you to communicate with their support team.
Final Verdict
Carvertise is a legit rolling billboard platform that will pay you for running ad campaigns on your car. It has a couple of good features to offer but it also has some limitations you want to consider.
Let me summarize its pros and cons to wrap up this review so you can get an overview of what Carvertise has to offer. Then you can decide if this is something you should commit to or not.

Pros:
Offers decent pay
Their app is user-friendly

Cons:
Requires a lot of commitment and time
It can take a long time before you get accepted as a driver
The wrap takes time to install
Carvertise, in my opinion, isn't for everyone. First of all, if you value the look of your car, this isn't something you should consider since it will make your car look like a big billboard.
But if you don't mind making your car look like a moving billboard, then you can go ahead and apply to become a driver. Just don't expect to hear back from them immediately. Also, you have to be prepared to commit to it if you want to maximize your earnings.
But the major factor that will determine if this opportunity is right for you or not is your daily mileage. If you don't regularly drive a far distance, you can't expect to earn a lot from this opportunity. But if you do, then this can be a profitable undertaking.
Now, if you are just looking for simpler ways to earn extra cash, I would suggest you check out the top survey and GPT sites in your country instead. The sites on this list all have good earning potential and will not require a lot of commitment on your end.
Plus, you will definitely find a site you can join regardless of where you live.
If you have any comments, questions, or have any experiences with Carvertise yourself, I would love to hear from you in a comment below.