Cash Alarm is an app that claims you can earn rewards simply by playing games. I admit, their claims definitely sounds like a tempting offer.
However, it would be prudent to examine the app first and learn everything you need to know about it. The first question you should be asking is, is this app even legit or is it just another scam you need to stay away from? This is a very crucial piece of information and this Cash Alarm app review will address that concern.
But aside from that, this review will also reveal the full details of what Cash Alarm has to offer so you will know exactly what to expect before you even sign up. That way you can make an informed decision about whether this app is a yay or a nay.
What is Cash Alarm and what does it offer?
Cash Alarm is a Get-Paid-To (GPT) app that will reward you for playing mobile games found on their list.
It's pretty similar to another app called Cash'em All. And yes, it is indeed legit since it will reward you for playing mobile games.
Now, in order to determine if this app is really worth using, we have to take a closer look at the earning opportunities it offers.
I have, therefore, made a short video that gives you an inside look and shows you exactly how to use it and what the earning potential of the app is. You can also read all the details below the video:
Option 1 – Playing games
The bulk of the rewards you will earn from Cash Alarm will come from playing their featured mobile games. To access the games, you have to log in to the app.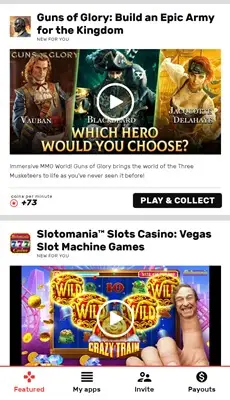 To start earning, you first have to install the game you want to play. I would have to say though that most of the games you can play are gambling games. There will games that will not involve any gambling, but they aren't that common.
So, to get back to the earning process, you first have to install the game you want to play. Simply press the "Play and Collect" button below the game you want to play and it will take you to the Google Play page of the game.
Just hit the "Install" button and let Google Play install the game. Once it is installed, it will now be listed in the "My Apps" section of Cash Alarm.
Now, this is important. When you play a featured game from Cash Alarm, you have to go through the "My Apps" section and open the game you want to play from there. You have to do this so Cash Alarm can track how long you've been playing the game.
Cash Alarm needs that info because it will pay you by the minute. If you noticed in the photo above, you will see the rate of rewards you will earn per minute you play the game.
However, what they don't really say inside the app is that the longer you keep playing a certain game, the fewer coins (the currency they are using) you will earn per minute.
This is not surprising because other apps that offer this kind of opportunity do the same thing. This is to discourage you from sticking to one mobile game only. It's actually a pretty smart move on their part because it will force members to try out new games to maximize their earnings. And the goal of Cash Alarm is really to get people to try out all the mobile games they feature (they get paid to get you to install new games).
It can take some time for the coins to be credited to your account balance, but you will see how long you've been playing the game in the "My Apps" section. So, you'll more or less know how many coins you should expect to be credited to your account.
Option 2 – Referral program
Another way to earn rewards from Cash Alarm is to invite other people to use the app. This is called a referral program.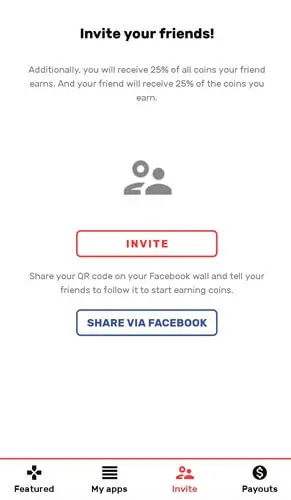 All you have to do is share your invite link with the people you want to invite. You can share the link using all the communications apps you've installed on your mobile device (SMS, Messenger, email, and more).
You can also invite other people using a QR code which can shared via Facebook. When the person you invited installs Cash Alarm using your invite link or QR code, they will become your referral.
As a reward, you will then earn 25% of whatever your referral will earn on the app. Plus, your referrals will also receive the same benefit. They will also receive 25% of whatever you will earn on the app.
It's a win-win situation for both parties and you actually seldom find a referral program that is structured this way where the rewards are equal for both the referral and the referrer.
Recommended: Check Out the Top Sites To Earn Money By Playing Games Online
How do you get paid?
For every minute you play a featured game, you will earn a certain number of coins which will be credited to your account balance (or wallet as the app calls it). You can then use the coins you've earned to redeem rewards.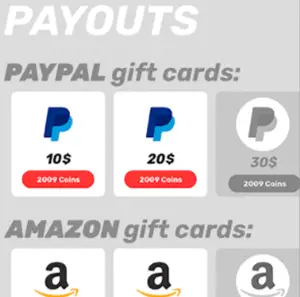 The rewards available will depend on the country you live in. But the common reward option is PayPal. This is the only payment method the app offers for cash rewards. In some countries, you can also redeem gift cards from Amazon, Google Play, and more.
The coins you will need to earn to redeem a specific reward will also depend on your country. So, the app doesn't have a universal threshold you need to reach to redeem rewards.
When I was doing my testing, the minimum amount I could withdraw via PayPal was $1. That's actually a very low payout threshold, which is a good thing because you can withdraw your earnings quickly.
And as you can see from the payment proof in the video earlier in this review, it actually does pay.
If you are interested in more platforms that have a low payout threshold, I would suggest you also check out the fastest paying sites.
How much money can you make?
The problem with Cash Alarm is, it offers diminishing returns. As explained earlier, you will actually earn less the longer you play a featured game. So, it's not exactly a good long-term investment, in my opinion.
Plus, the availability of featured games will also depend on your region. There will be some countries that offer more featured games than others (US, UK, and Canada are good examples). So, the earning potential will vary.
But overall, I would say the earning potential of this app is really quite low. You will actually only earn less than $0.01 per minute you play a game in most cases. And considering the rewards will only get lower the longer you play a game, it will likely take you several days just to earn $1.
So, it kind of makes their low payout threshold irrelevant because it will still take a lot of time for you to start redeeming rewards.
Can you use it on a desktop?
Cash Alarm is a mobile-only platform. So, you will need a mobile device to earn from it. You also have to make sure your mobile device has stable internet connection because using this app will involve downloading and installing other mobile games.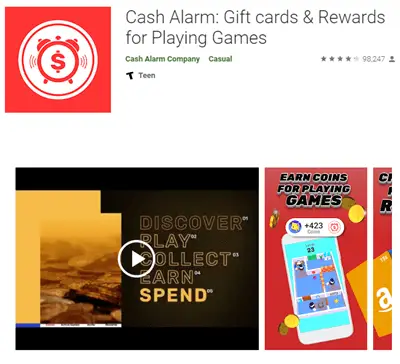 As for their app, it is only meant for Android devices. So, if you are an iPhone or iPad user, then this app is not for you.
The app is user-friendly. It will be very easy to get used to how it works. Plus, it's also not spammy. There won't be any ads popping up, which can get quite annoying, in my opinion.
Who can join Cash Alarm?
Cash Alarm is available globally. But you do have to be at least 18 years of age to use their app mainly because of the gambling games featured.
To register, you have to first download the app and let Google Play install it on your device. You will then be asked to sign up. You can use your Facebook or Google account to continue the registration process. Or you can provide your own login details.
Once you've chosen how to sign up, you will be asked to read the Terms and Conditions and agree to it. I would suggest you read it carefully before agreeing to it. It's a good habit to form, in my opinion.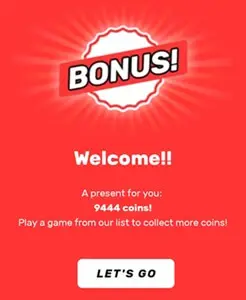 As soon as you have finished with the registration process, you will be taken to the member dashboard. And as shown in the photo above, you will be notified that you've received a bonus. This is actually their sign-up bonus.
The number of coins will change from time to time. During my testing, they gave me 9,444 coins as my welcome bonus. It's a nice head start considering you will have to earn thousands of coins to earn a decent amount.
Can you get support?
The app doesn't have a website you can refer to, but it does have a FAQ page you can check if you have any questions about the app. Their FAQ page is not as comprehensive as you would hope, but at least they provide one.
If your concern was not resolved through their FAQ page, you can get in touch with their support team by using the contact form provided in the app. Or, you can also just email them directly at support@cashalarm.online.
I would say they have a decent support system in place for their members since they offer a couple of ways for you to get in touch with their support team. However, I do wish they had a website you could refer to for basic information. That would significantly increase the overall usability of Cash Alarm, in my opinion.
Final Verdict
Cash Alarm is a GPT app that will pay you for playing their featured games. It has a couple of good features but it also has a few limitations you need to keep in mind.
Let's finish this review by summing up its pros and cons to give you an overview of what the app has to offer so you can decide if you should download and use it or not.

Pros:
Offers payment via PayPal
Has a low payout threshold
Available globally

Cons:
Limited earning opportunities offered
Low rewards
Only available for Android devices.
Overall, if you are looking to earn extra cash, Cash Alarm is really not a good app to use, in my opinion. It will take a long time for you to earn a decent amount. The games they offer also aren't very interesting (unless you like gambling games). So, there's really no incentive to using this app.
You are better off earning from other apps and online rewards sites.
Now, if you are looking for great ways to earn extra cash online, I would suggest you check out the top survey and GPT sites in your country instead. The sites on this list all have good earning potential and you will be able to earn a decent amount in no time.
If you have any comments, questions, or have any experiences with Cash Alarm yourself, I would love to hear from you in a comment below.