There are mobile apps that will allow you to earn money without doing anything once they have been installed. These are called passive income apps.
One app that claims to offer this is called CashMagnet. This app promises to pay you for not using your phone (yes, you read that right).
But is CashMagnet app legit and does it really pay you for doing nothing? Or is it a scam to stay away from?
This CashMagnet app review will go into all the details as its claim sounds too good to be true.
You will get a detailed inside look so you can see exactly how it works and what this app has to offer so you can figure out if it is worth your time or not.
What is CashMagnet and what does it offer?
CashMagnet is a Get-Paid-To (GPT) app that will pay you for letting the app work in the background.
And let me just reveal right away that you can potentially earn by using it.
Technically speaking, it will browse websites and install games on your mobile device.
This sounds a bit confusing at first, but let's take a closer look at the earning opportunities this app offers so you can clearly understand its earning potential and how it works.
I have made a video that explains exactly how you can earn from CashMagnet. You can also read all the details below the video if you prefer reading:
Recommended: Check Out the Best Passive Income Apps
Option 1 – Passive mode
The bulk of your earnings from this app will come from letting it run in passive mode. So, just to be clear, this is the part where you will be able to earn without technically doing anything.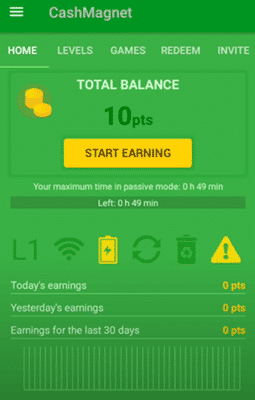 Let me explain how this works. The passive mode of CashMagnet will allow you to earn points every 5 minutes. To start the passive mode, open the app and click the Start button (refer to the photo above). The timer will then start when your phone will be idle.
During this time, the app will be browsing sites and installing games on your mobile device. Now, if you are wondering how they will be able to pay you for that, then here's how.
The app's only purpose is to view advertisements, click on banners, install games, and watch ads. By doing so, they earn money from sponsors, that they share with you.
Now, since it will be installing mobile games on your device, you have to make sure your device has enough storage capacity and battery life for this. And the best way to let the app work in passive mode is when you will be sleeping since you won't be using your mobile device.
The reason for this is, that the app will be running in the background and your device will be a bit sluggish because it's running multiple processes. You don't actually have to sleep?. Just make sure you're not using your device during this time.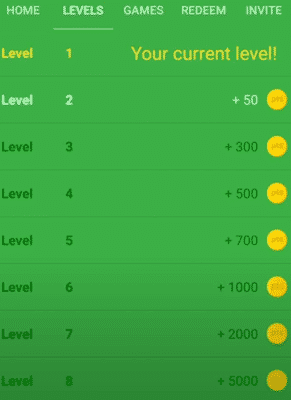 As to how long you can run the app on passive mode, that will depend on your level. You start at level 1.
The more you keep using the app in passive mode, the higher your level becomes. And as you can see in the photo above, you will also earn additional points every time you level up.
So, not only will you be able to use their passive mode longer, but you will also be able to earn additional points the longer you are using the app. The maximum level you can reach will allow you to let the app run on passive mode for 24 hours straight.
But, as you may have already figured out, that can certainly be a bit hard to do you will probably have to use your phone eventually. So, in my opinion, the ideal way to use the app is to install it on a mobile device that is dedicated to this app only.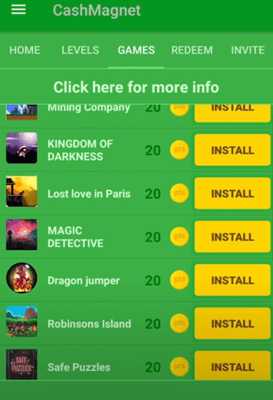 Once you reach level 3, you can also manually install games to extend your passive mode time. You will also earn additional points for installing games manually. If you want a longer passive mode time, you will have to do this once you reach level 3.
You don't actually have to play the games you've installed. You can simply uninstall them once you've claimed the rewards if you run out of storage space.
So in one sense, it is an easy way to earn but it can, of course, also be a bit strange to constantly have new apps and games installed on your device and it can make your phone a bit messy.
But before making your final decision about whether this is for you or not, let's look into what else it offers.
Option 2 – Referral program
The other earning opportunity CashMagnet offers is through their referral program. Most online rewards sites and apps have a referral program where you will be able to earn additional rewards by inviting other people to join the app/site.
In CashMagnet's case, you can invite a person by sharing your invite link with them. Once they sign up using your link, they will become your referral. You will then receive 5% of whatever they will earn from the app.
Their referral program is a two-tiered program. Meaning, that when your referral invites another person and they register, they will also become your referral and you will also earn 5% of whatever that person earns.
I like that both tiers of referrals have the same commission percentage because it can be very advantageous for you.
Of course, you have to make sure the person you invite is really interested in using the app for you to earn like this.
Recommended: Check Out the Best Passive Income Apps
How do you get paid?
As mentioned above, you will earn points for using the app in passive mode and basically for everything you do on the app. You can then use the points you've earned to redeem certain rewards.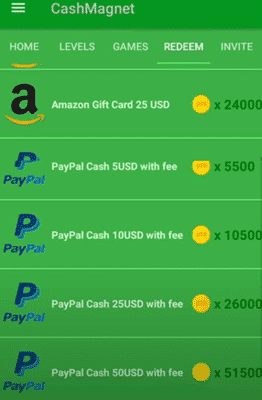 You have the option to redeem Amazon gift cards or you can convert your points to cash through PayPal.
For Amazon gift cards, you only need to earn 1,000 points which is equivalent to $1. For PayPal withdrawals, you will need at least 5,500 points for a $5 withdrawal.
There are additional points required for PayPal withdrawals because they need to cover the PayPal fees. But overall, their reward system is fairly simple and I like the fact that they have a low payout threshold. This will make it a bit easier for you to reach the threshold quickly.
If you are interested in earning quickly, I suggest you also check out the fastest paying sites.
How much money can you make?
The amount you can earn from CashMagnet actually depends on many things, namely what country you are from, what version of Android you use, how many games you installed, how long CashMagnet runs on your device, and whether your phone is rooted or not. So, there is no universal answer.
But on the website, they claim you can use it for just 2 months, and then you will be able to earn enough for a new phone you can use just to earn with CashMagnet app.

However, when you look in the FAQ section, they say that their best-performing users earn around $15 a month. But remember, this is only possible if you meet all requirements mentioned above. At the moment the maximum one can earn per device is 500 points.
In this scenario, you have to let your phone run the app 24/7, you should be from a tier 1 country (USA, Canada, UK, etc.), and you have rooted your device.
So overall, I would say this app does not have a huge earning potential and you need to be aware that it will not be easy to get to the highest earning level.
And you can definitely not earn enough to get a new phone in just 2 months as they claim on the website as you can see above. I do not think there is any country where you can get a new phone for $30:-)
So, it takes A LOT of patience to start earning a decent amount from this app. But, you can install the app on multiple devices. The limit at the moment is 4 devices running simultaneously per IP address and no more than 4 unique devices per day. So, if you have devices to spare, then you can install the app on them and earn more.
Can you use it on a desktop?
CashMagnet is a mobile-only platform, so you'll need a mobile device capable of running the app. The problem is that the app is only available for Android devices. So, if you are using an iOS device, then this app is not for you.

You also can't search for the app in the Google app store. You will have to click the link on their website (refer to the photo above) to download the APK file for the app. If you are not familiar with APK files, I suggest you check how to do APK installations first.
Who can join CashMagnet?
CashMagnet is available globally. You will be able to register as a member regardless of where you live.
It doesn't state on their website how old you need to be to register, but if you want to get paid via PayPal, you have to be at least 18 years old or older.

There are two ways you can sign up. You can sign up on their website and then download the app or you can download the app first and then sign up. Either way, the registration process will only take a minute or less.
One thing though, if you sign up through their website using your Google account (which you can), you will only receive an error message and your registration won't be accepted. So, you'll have to sign up the regular way by providing your log in details.
Can you get support?
CashMagnet does have a fairly comprehensive FAQ page that discusses most of the basic topics you need to know about the app. So, if you have any questions about the app, you can check their FAQ page first. You might find the answers you are looking for.
But for further inquiries, you can click the Chat button on their website to start a web chat with one of their representatives.
However, even though it looks like a chat, it really is just another way for you to send a question via a contact form as they do not really reply live, in my experience.
You can just send you inquiries using that form and they will then supposedly respond to you via email.
However, at the moment of writing this review, I have still not received any answer for a question I submitted there to test if they actually do reply. If I at some point hear back from them, I will update this review with that info.
But at the moment, I am not impressed with their support and I think it is a bit misleading that they make it look like a chat box and as a fast way to get support when they actually do not use the chat to give support.
Final Verdict
CashMagnet app is a GPT app that will allow you to earn extra cash by letting the app run in the background. It does present a couple of good features but it also has some limitations you need to be aware of.
So, let's finish this review with a summary of its pros and cons to give you an overview of what the app has to offer so you can determine if it is worth using or not.

Pros:
Offers an easy way to earn
Offers payment via PayPal
Available globally

Cons:
Only for Android users
Limited earning opportunities offered
Low rewards in the beginning
Eats up a lot of your mobile devices' resources
You have to install the app manually
Poor support
If you don't mind letting a 3rd party app install mobile games on your mobile device, then the CashMagnet app can be an option. This is because you don't actually have to do anything special to earn. You just let it run in the background. But you do have to be patient with it at the beginning because you won't earn a lot.
Also, this app will eat up a lot of your device's resources. The best way to maximize this app's potential is to have a dedicated mobile device for it.
However, personally, I would never let my phone do this as the low earnings you can get will hardly be able to cover the electricity costs and the tear and wear of the phone.
If you. like me, are not prepared to do that, then I suggest you check out the top survey and GPT sites in your country instead. The sites on this list all have good earning potential and will allow you to earn conveniently either through your computer or mobile device.
Plus, you will also find a site you can join regardless of where you live.
If you have any comments, questions, or have any experiences with CashMagnet yourself, I would love to hear from you in a comment below.