Checkealos is a website that claims you will get paid for the feedback you give. So, if you are looking for a way to earn extra money, you might consider joining this site.
However, I would recommend you pause for a minute and read this article first.
I tested the site to see how it works and to see how it compares with other sites that offer the same kind of earning opportunity.
This Checkealos review will show you a real user experience, so you will know exactly what to expect before you even sign up. Then, you can decide if it is worth it or not.
What is Checkealos and what does it offer?
Checkealos is a user testing site that will pay you for giving feedback on websites and apps you test. It is indeed a legit site because you will really get paid to do tests.
But this doesn't necessarily mean it is worth investing your time in. To figure out if it is worth it, you must first understand how the site works, so you can gauge the amount of time and effort you need to invest.
And the best way to do this is to take a closer look at the earning opportunities it offers. So, here's how to earn from Checkealos.
Option 1 – Projects
The primary way to earn from Checkealos is by accepting testing projects. From time to time, the site will match you with testing projects, and you will be notified via email, or you can log in to the member dashboard to see the projects available for you.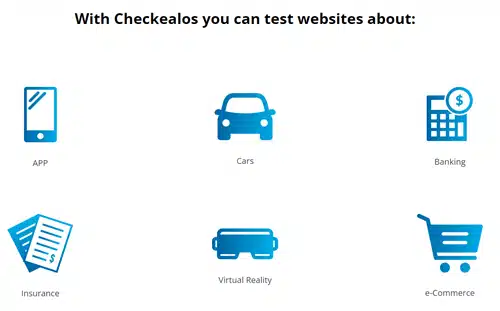 These projects will usually ask you to test websites (or mobile apps) that are related to cars, banking, insurance, virtual reality, and e-commerce. Every project will have a set number of participants, and if that number is reached, it will become unavailable for you.
So, it's important to get to the project as soon as possible to ensure your spot. If you are asked to do a desktop usability test, you just have to log in to the member dashboard and click the project, and hit the "Accept" button. Then, click the "Start Recording" button when you are ready to do the test.
You don't have to install any software (like a screen capture program) to do the test. But you will need to use a microphone because you will have to speak out your thoughts while testing the site. So, it's important to do the test in a quiet room, so you will be heard clearly.
You will be given four hours from accepting a project to complete it. If you fail to complete it within that given time, it will be blocked for you, and it will disappear from your list of available projects, so you will not be able to complete it.
For mobile usability tests, you will be asked to download the Checkealos app (which is only available for Android devices). If you are an iOS user and receive a mobile usability test, the site will send additional instructions.
The key to this earning opportunity is that you have to speak your mind. You always need to describe what you are doing and thinking. Plus, you need to make sure your device has enough storage (preferably around 4GB of storage available) every time you work on a project.
Once you are done with the test, you have to submit it for review. Checkealos doesn't say how long it will take for them to review your work, but it usually doesn't take more than a couple of days to find out if your submission is approved or not.
If it is approved, you will receive the compensation promised. Later, I will discuss how you will get paid.
Option 2 – Paid surveys
From time to time, you will also be invited to participate in surveys. However, this opportunity isn't very common. I personally wasn't able to test this because I never received any invite.
That being said, their surveys work just like any other paid survey. If you decide to accept a survey, you will be given one hour to complete it. If you fail to do so, it will be blocked for you, and it will disappear from your list of available surveys.
Once you complete a survey, you will receive the compensation promised.
Option 3 – Referral Program
Lastly, you can also earn additional rewards through Checkealos' referral program. The idea is really simple. You invite other people to join the site by sharing your invite link.
Once they click the link and sign up as a member, they will become your referral. But to earn a referral reward, your referral must first complete a project. Once they've done so, you will receive a commission.
Checkealos doesn't indicate the percentage of the commission you will receive, and I never got to the point of finding it out while I was testing the site, but based on my experience, the percentage will usually be around 5% to 10%.
But it is not great that they do not have any exact info about this. Usually, sites that offer referral programs are very clear about how much you can earn.
Recommended: Check Out the Best User Testing Sites
How do you get paid?
Every time you complete a project, you will earn a certain amount. But how will you actually receive your earnings?
Well, the good thing is that Checkealos offers a very convenient payment method in PayPal. Plus, you don't need to reach a threshold to withdraw your earnings.
Checkealos will process payments every third Friday of the month. As long as you've earned something before that time, you will receive your earnings on your PayPal account after the third Friday of every month.
In my experience, the amount will usually show up in your account within five to seven business days, which is not a long wait time. Overall, I would say the payment system of Checkealos is relatively straightforward.
And I do like the fact that it offers a convenient payment method like PayPal. If you are interested in more sites that offer a convenient payment method, I recommend you also check out the top sites that pay via PayPal.
How much money can you make?
The amount you can earn from Checkealos will mostly depend on how often you manage to complete a project. Unfortunately, you have no control over how many projects will be thrown your way.
And based on my testing, the site doesn't offer a lot of projects. However, they do pay a relatively decent amount per project. You can expect to earn around €8 to €10 per project, and if the test requires any complicated steps, you can expect to earn more.
While the site does pay a decent amount, I would still say its earning potential isn't that good, mainly because there aren't a lot of opportunities to earn.
Can you use it on mobile?
As mentioned earlier, Checkealos does have a mobile app you can download. But, their app will only work with Android devices.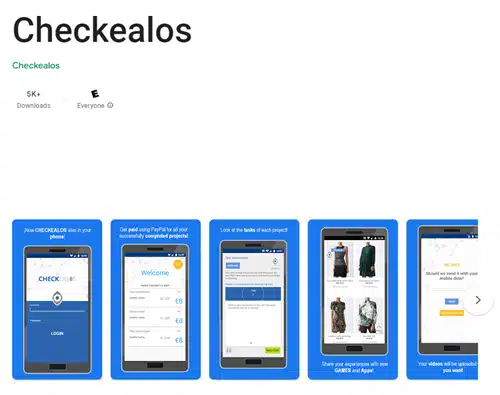 The app is relatively easy to use, and you won't encounter any annoying pop-up ads while using it. This will make it easier for you to conduct usability tests for mobile apps.
If you are an iOS user, you can still work on usability tests for mobile apps, but you'll have to do it a different way. As mentioned earlier, you will be given instructions on how you can conduct usability tests for apps on an iOS device.
Who can join Checkealos?
The good thing about Checkealos is that it is available more or less worldwide. But you do have to be at least 18 years of age to join.

All you have to do is fill out their registration form and provide your PayPal address. Once you've done that, you can log in to the member dashboard and start earning.
I do have to inform you that your location can affect the availability of projects. So, while the site is available globally, the opportunity to earn won't be the same in all countries.
And in my experience, most of the opportunities will be for people who live in the US, UK, and Canada. So, make sure to keep that in mind when you finally decide if you should sign up or not.
Can you get support?
If you have any questions about the site or your account, you can check out the FAQ page first. It discusses some of the basic topics you need to know.
But if you can't find the answers you are looking for, you can use the chat function found at the bottom of their website to get in touch with their support team. You can also email them at testers@checkealos.com for your inquiries.
Overall, I would say Checkealos does have decent support since it offers a couple of convenient ways for you to request assistance.
Final Verdict
Checkealos is a legit user testing site that will pay you for completing usability tests. It has a couple of advantages as well as disadvantages.
Let me finish this review by summarizing its pros and cons to give you an overview of what the site has to offer. Then, you can decide if you should go for it or not.

Pros:
Offers payment via PayPal
No payout threshold
Pays a decent amount per project

Cons:
Limited earning opportunities offered
Their app is not available for iOS devices
In my opinion, Checkealos isn't a bad user testing site. It does pay decently per project, and it offers a convenient payment method. However, its earning potential isn't really that great. That's because there aren't many projects available.
So, you can't really earn from this site regularly. It can be a decent secondary site to earn from as long as you align your expectations in terms of earning potential. So, I would recommend you join Checkealos only if you are looking for more user testing sites to join.
But if you are looking for a way to earn extra cash regularly, this is not it. Instead, I suggest you check out the top survey and GPT sites in your country. The sites on this list all have good earning potential, so you will be able to earn extra cash on a regular basis.
If you have any comments, questions, or have any experience with Checkealos yourself, I would love to hear from you in a comment below.