Clic and Walk is an app that claims you will be able to earn money by simply taking photos. So, if you are looking for an interesting way to earn, you might be thinking of using this app.
However, before you hit the "Install" button, there are a few things you must know. The first and most crucial piece of information you need to know is, if this app is legit or a scam? You need to make sure you are not wasting your time on an app that will ask you to do stuff and in the end, you won't get paid.
So, let me address this concern right away. Yes, Clic and Walk is a legit mystery shopping app that will really pay you for taking photos. But this doesn't really mean that this app is truly worth using.
To figure out if it is worth your time or not, we have to take a closer look at what it has to offer. This Clic and Walk review will give you the lowdown so you'll know what to expect before you even install the app.
That way, you can decide if it is for you or not. So, let's go ahead and take a closer look at Clic and Walk, shall we?
What is Clic and Walk and what does it offer?
As explained above, Clic and Walk is essentially a Get-Paid-To (GPT) app that will ask you to go on missions to take photos and provide feedback.
Here's a short video explaining what the app is all about.
As you can see, the video above is an advertisement so it makes it all sound extremely good and easy? But to truly understand how this app works, we have to take a closer look at the earning opportunity it offers.
So, here's how you can earn from Clic and Walk.
The earning opportunity – Missions
The only way to earn from ClicandWalk is by completing missions. When you log in to the app, you will immediately see all the missions available.
All the missions made available to you will depend on your current location. That means the app will track your location using GPS.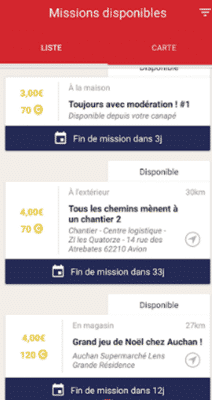 You have the option to view all the missions in list mode or map mode. The map mode will help you see a visual representation of where the missions will take place. Each mission will have a set of instructions you need to follow.
Usually, missions will ask you to take photos of certain products (or videos) displayed in certain stores. Other missions will ask you to take photos of certain parts of stores. And most of them will also ask you a few questions. These questions are designed to get your feedback, which is really the purpose of the missions.
Once you've done everything the mission is asking you to do, you will have to upload the photos/videos using the app. Clic and Walk will then review your work to see if everything is in order. If it passes their standard, you will be awarded with the promised amount.
As for how you will be able to withdraw your rewards, I'll talk about that in the next section.
Recommended: Check Out the Top Survey Apps
How do you get paid?
For every mission you complete, you will earn a certain amount. The currency that will be used will in Euros. It will be credited to your Clic and Walk account balance.
You will then be able to withdraw your earnings once you've earned at least €4. When you reach the threshold, you have the option to withdraw it via PayPal or direct bank transfer. Payments are made every 15 working days after your withdrawal request.
Their payment system is really very straightforward, in my opinion. I like the fact that they offer convenient payment methods and the payout threshold is relatively low.
The wait to receive your earnings after you have requested a payout is a bit long but that is not a huge deal, in my opinion.
If you are interested in sites that offer a convenient payment method, I would recommend you check out the top sites that pay via direct bank transfer.
How much money can you make?
The amount of money you can earn from Clic and Walk will mostly depend on your location. So, I can't really say you will be able to earn a set amount from it.
There are some areas where there are plenty of missions available, while there are some that don't have any.
So, if you live in a metropolitan area, there's a good chance there will be plenty of missions you can do. If this is the case, the earning potential of the app will be decent. But if you live in a rural area, it's highly likely you won't really earn a lot from this app.
As for the amount you can earn for each mission, you will typically earn around €0.50 to €5. The more rewarding missions are those that involve more complicated steps.
So overall, it can be a nice way to earn a bit of extra cash. You just need to choose the missions wisely so you do not end up spending too much time going around to different missions.
But if you stick to missions close to you, it can be a nice way to earn a bit of extra pocket money.
Can you use it on a desktop?
Clic and Walk is a mobile-only platform. That means you won't be able to use your laptop or desktop to earn from it.
You will have to use a mobile device and you need to make sure your mobile device has an internet connection when working on missions.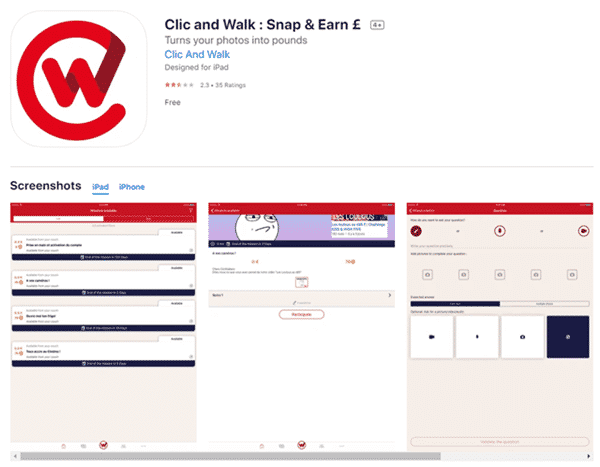 Their app is available for both Android and iOS devices. Your mobile device must at least use an Android 4 or iOS 6.0 (or higher) operating system.
And I would highly recommend you use a mobile device that has a good camera that can take clear pictures and videos. This is because Clic and Walk requires the photos or videos must be clear, of good quality, and/or audible.
Their app is very user-friendly, so you shouldn't have any problems getting used to how it works.
Who can join Clic and Walk?
Their site doesn't specifically mention which countries the app is available in. But judging from the languages and currency it is available in, the app is mostly available for countries in Europe.
To register as a member, you will have to be at least 18 years old. During registration the app will require you to provide the following:
Full name
Civil status
Email address
Telephone number
Date of birth
Bank details (or PayPal details)
Once you are done with the registration, you can log in to the app and start earning. During your first login, the app will ask you to enable the GPS of your mobile device so it can figure out your location. You have to allow the app to do this because this is the only way you will be able to get missions.
After your location is determined, you can start completing missions.
Can you get support?
Their website really doesn't offer a lot of information about how the app works. So, if you want to learn more about the app or if you have any questions, you have to install it first and go to their Help section to view their FAQ page.
If your questions are not answered by their FAQ page, you can send an inquiry to their support team.
You can either use their app or go to their website and click the "Contact Us" link found at the bottom of their website. You will also find a phone number you can call on their contact page.
Overall, I would say they do have a decent support system in place. I like that they have a number you can call so you can speak to a representative directly. But I do wish their website would also provide more info about how the app works.
Final Verdict
Clic and Walk is a legit GPT app that will pay you for completing missions. It has a couple of good features to offer, but it also has specific limitations you need to consider.
Now, let me end this review with a summary of its pros and cons to give you an overview of what the app has to offer so you can decide if it is really worth using or not.

Pros:
Their app is available for both Android and iOS devices
Offers payment via PayPal
Has a relatively low payout threshold

Cons:
Limited earning opportunities offered
Availability of missions will depend on your location
It can take quite a lot of time going to and from the missions
If your goal is to find an app that you can earn a decent amount from on a regular basis, then this is not the most ideal option. Most of the missions will ask you to go to certain places which will mean you will have to spend time and potentially money to get to these places.
And the amount you will earn for completing these missions will in some cases barely be enough to cover the amount you will have to spend on gas. So, it would be a bit counterproductive.
The best scenario I can think of that will be beneficial to you is, if you are already in the area where the missions are and you have time to spare, then it can be a good way to spend your extra time.
Otherwise, you would be better off spending your time on apps or even sites that will allow you to earn at the comfort of your own home. For a list of these apps and sites, I would suggest you check out the top survey and GPT sites in your country.
All the sites/apps on this list offer earning opportunities you can do at the comfort of your own home. Plus, you will definitely find a site/app you can join regardless of where you live.
If you have any comments, questions, or have any experiences with Clic and Walk yourself, I would love to hear from you in a comment below.