If you are a photographer or you love taking photos, ClickASnap claims you can upload your photos to their platform and earn per view you get.
It definitely sounds like an easy and fun way to earn.
But is ClickASnap legit and really an easy way to make some extra money online, or is it a waste of time?
I have signed up and personally tested it, and in this ClickASnap review, I will share all my findings.
You will learn about all the pros and cons so you will know exactly what to expect before deciding if this is the right option for you or not.
So, let's go ahead and take a closer look at what ClickaSnap has to offer, shall we?
What is ClickASnap, and what does it offer?
ClickASnap is a photo-sharing website that will pay you for uploading your original photos. And yes, it is indeed a legit site since you will really get paid for doing so.
Now, to fully understand how the site works, we have to take a closer look at the earning opportunities it offers. This is a good way to get a clear view of what you need to do on the site.
I have, therefore, made a video that gives you an inside look and shows exactly how to earn from ClickASnap. You can also read all the details below the video.
Recommended: Check Out the Top GPT Sites
Option 1 – Uploading your photos
As mentioned above, you have to upload original photos. That means you can't use any stock photos, screenshots, or graphics that you've made. It has to be photos you've taken with your camera.
Now that we've gotten that out of the way, let me explain how you can earn from uploading your original photos.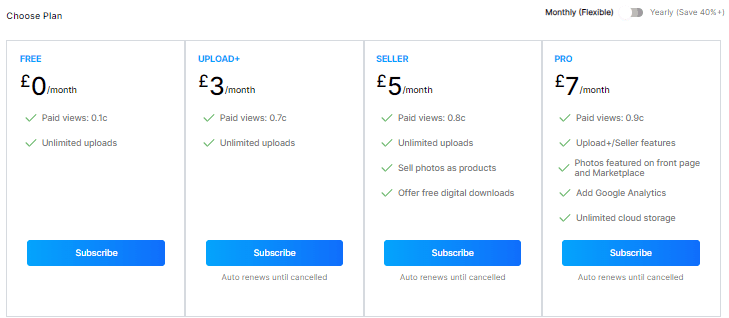 First and foremost, to earn from the photos you've uploaded, you will have to upgrade to a paid subscription. The minimum membership level you can subscribe to in order to earn from your uploaded photos is their Upload+ subscription.
When you upgrade to this subscription, you will earn a certain amount (I will explain the amount you can earn later) for every view your photo gets. The user must view the photo for a minimum of 5 seconds before it can be counted as a paid view.
For every photo you've uploaded, there will be a view counter, so you'll know how many views you've gotten for that photo. Now, getting consistent views for your photos is another story. And that, in my opinion, is really what makes this site not for everyone.
To get a lot of views, you have to upload high-quality photos. Then, you have to build a following. That way, you can easily get hundreds or even thousands of views for your photos. That's going to be a lot of work, and you have to keep in mind that you will have to spend a bit of cash every month in order to earn.
So, you need to make sure you can earn back the monthly subscription fee so you won't end up losing money instead. That's why I would say this site isn't really for everyone.
If you just like looking at photos, you don't need to pay for their monthly subscription. If you want to earn, you have to spend a bit of money.
Option 2 – Selling your photos
If you notice in the photo above, there are membership levels with the word seller. So, if you upgrade to that subscription, you can actually sell the photos you've uploaded. They will appear in ClickASnap's marketplace.
And if anybody wants to buy your photo, they just have to pay ClickASnap and the site will do the rest.
Usually, when people buy photos, ClickASnap will also print out the photo and mail it to them. So, aside from the digital copy, they will also get a physical copy of the photo.
Take note that you will be the one to set the price for the photos you want to sell. And you also get to keep most of the earnings (ClickASnap will receive 4% of the total cost of the photo to cover any service fees during payment).
So, you'll actually have to determine the price for every photo you want to sell. And you may find that to be a not-so-simple undertaking. You need to find the right balance to arrive at a fair price point. That way, you will have a higher chance of selling your photos.
Recommended: Check Out the Top GPT Sites
How do you get paid?
For every photo you sell and view you get, you will earn a certain amount, and it will be credited to your ClickASnap account balance. Then, once you've earned $15, you will be able to withdraw your earnings via PayPal.
This is the only payment method they offer, so if you don't have a PayPal account yet, I would suggest you sign up for one and get it verified before you register as a member of ClickASnap.
Personally, though, I don't mind if they only offer PayPal as the mode of payment since it is really one of the most convenient payment options around.
If you are interested in more sites that offer a convenient payment method, I would recommend you also check out the top sites that pay via PayPal.
How much money can you make?
As I've explained earlier, the determining factor for the amount of money you can earn from ClickASnap will really be your following.
Think of this site as a social media site for photos. You will have to do the work to build up a large following to potentially earn a lot from the views.
You see, you will only earn $0.009 per view of your photo. That's really a very small amount. In order to reach their payout threshold, you will need to get at least 1666 views. That's a pretty huge number, right?
And that will take a lot of work. You'd have to really be an active member of the site, and you'll have to interact with other members to have a chance at increasing your following if you do not already have a following.
If you opt for the subscription level that lets you sell your photos, then reaching the threshold will be relatively faster. ClickASnap does offer tools to help you promote your photos if you avail of their Seller and Pro Seller subscriptions.
But again, you can't really expect to sell all of your photos immediately. That's why, overall, I would say the earning potential of this site is really pretty low for most people.
Only a few people can really take advantage of everything the site has to offer. And if you don't really have the time to build up your following on this site, then you can't really expect to earn a lot from it.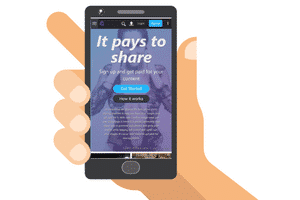 Can you use it on mobile?
ClickASnap doesn't have a mobile app you can download. But, you can still use the site on your mobile device conveniently since their site is optimized for mobile use. You just have to use a mobile web browser.
This can come in quite handy, especially if you use a high-end mobile device that is capable of taking professional-quality photos (like the latest iPhone, for example).
That way, you can just snap photos and upload them immediately to the site. That's really the best scenario I can think of where you can take full advantage of their mobile-friendly site.
Who can join ClickASnap?
A good thing about ClickASnap is that it is available worldwide. So, you'll be able to sign up as a member regardless of where you live. You just have to be at least 18 years of age to register as a member.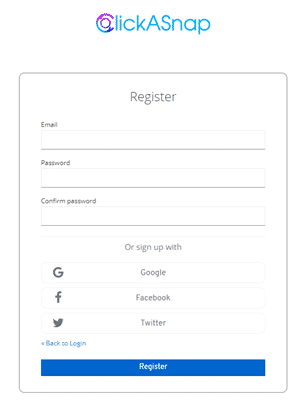 The registration process is really simple. You just have to fill out their sign-up form, or you can use your Google, Facebook, or Twitter account to sign up.
Once you are done with the registration process, you can log in to the site and complete your profile. Then, you can start uploading photos and building your following.
Can you get support?
If you have any questions about the site or you encounter an issue while using it, they have quite a comprehensive FAQ page you can check out. You might be able to find the answers you are looking for.
And in case you can't find the answer, you can always just get in touch with their support team by going to their Contact page and creating a support ticket. So, it's pretty easy to get the help you need.
That's why I would say they have a good support system in place for their members since they ensure you will always be able to contact them.
Final Verdict
ClickASnap is a legit photo-sharing platform that will pay you for uploading your photos on their site. It has a couple of good features, but it has some disadvantages that you need to be aware of.
Let me end this review by summarizing its pros and cons so you can get an overview of what the site has to offer. Then, you can decide if you should really go for it or not.

Pros:
The site is mobile-friendly
Offers payment via PayPal
Available globally

Cons:
Doesn't offer any free earning opportunities
Low rewards
Hard to get views
The one main drawback this site has is that you have to pay to earn. You can't really earn anything if you just opt for their free membership. If you want to earn, you have to upgrade your membership to any of their 3 paid membership levels.
Plus, while earning will be relatively easy, it will actually involve a lot of work. You will have to gain a lot of followers to really earn a decent amount from this site. And to do that, you will have to invest a lot of time interacting with other members of the site or promoting your profile elsewhere.
That's why I would say this site isn't really for everyone. If you are a photography enthusiast and you have a lot of extra time, you can join this site and hopefully earn a decent amount.
But if you are just looking to earn extra cash, I would recommend you check out the top survey and GPT sites in your country instead. The sites on this list all have good earning potential and they are all free to join too. So, you don't have to spend any money to earn.
If you have any comments, questions, or have any experiences with ClickASnap yourself, I would love to hear from you in a comment below.