Clicks Genie is a site that claims you can earn easy money just by reading emails. So, if you are looking for a way to earn extra cash, you might be tempted to join this site.
However, I strongly urge you to read this Clicks Genie review first so you will know if it is worth using or not.
In this review, I will reveal the full details of what the site has to offer so you can properly gauge if it is the right opportunity for you or not, and let me just reveal right away that there are some important things you need to know before joining.
So, let's go ahead and take a closer look at Clicks Genie, shall we?
What is Clicks Genie and what does it offer?
Clicks Genie is essentially a Paid-To-Click (PTC) site that will pay you for reading emails. It will really pay you to read emails. However, this doesn't automatically mean that this opportunity is worth your time.
To figure out if it is the right opportunity for you, you must first understand how the site works. And the best way to do that is to examine the earning opportunities it offers. That way, you can get a clear idea of how much time and effort is needed to earn from it.
The video below will show you exactly how Clicks Genie works. You can also read the full details below the video.
Recommended: Check Out the Top GPT Sites
Option 1 – Reading Emails
The primary way to earn from Clicks Genie is by reading emails. Once you have registered as a member, you have to first check your email inbox because Clicks Genie will send you instructions on how you can start earning.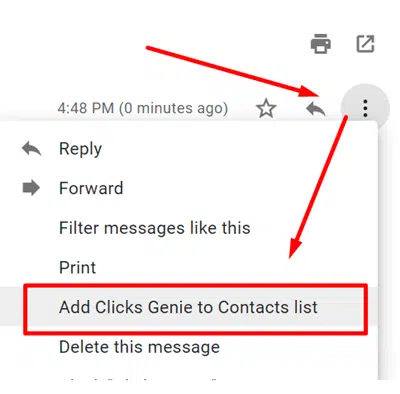 The first thing you need to do is add Clicks Genie to your contact list. You can do this by going to your email inbox and clicking the confirmation email sent to you by Clicks Genie. Then, just click the "More" option (refer to the photo above) and hit "Add Clicks Genie to Contacts list".
By doing so, the emails the site will be sending you will be displayed in your inbox instead of the spam folder. Once you've done this, then you can start earning.
All you have to do is check your email inbox regularly for any new emails from Clicks Genie. If you see one, just open it and click the link in the email. This will open a new browser tab, and it will display an ad.
Now, here's what you need to remember. You have to view the ad for a certain period of time before you will earn the reward. You will see a progress bar loading which will usually be displayed in the upper left-hand corner of the page.
This progress bar will not load if you switch to a different tab or window, so you must wait for it to finish loading. Once it has finished loading, you must solve the captcha to complete the process.
As for the ads you will usually see, the one thing I noticed is that most of the ads are about exaggerated get-rich-quick schemes. That's why I highly suggest you just ignore what the ads are saying and don't believe anything you see.
They are most likely scams, so don't ever follow what the ad is asking you to do because it won't end well for you. Personally, I don't like sites that display these kinds of ads. It's very unethical, and it also says a lot about the site, in my opinion.
After you've finished viewing the ad, you will receive the reward, which will usually only be around $0.001 to $0.004 per ad.
That is a very low amount, and considering you will only receive around three to five emails per day, it will take quite a long time for you to earn a decent amount from this site.
Option 2 – Referral Program
The other way to earn rewards from Clicks Genie is by inviting other people to join the site. All you have to do is share your invite link with the person you want to invite. When they click the link and sign up as a member, they will become your referral.
You will earn $0.15 immediately. Then, you will receive a commission every time your referral earns from the site. Their referral program goes five levels deep, so if your referral invites someone, you will also earn from that person, but the commission will be a lot less.
They don't disclose how they measure active referrals as well as the commission you will get, which is kind of weird, in my opinion. But whether they disclose it or not, I still personally wouldn't promote this site to my friends or anybody I know.
Recommended: Check Out the Best Sites that Pay to Read Emails
How do you get paid?
As explained above, you will earn a very small amount from the earning opportunities the site offers. It will be credited to your Clicks Genie account balance. One thing you need to know, though, is that your earnings from reading emails and referrals will be kept separate.
Unlike other sites where all the earnings will be consolidated into one balance, Clicks Genie works differently. As for why they do this, I'm really not sure. It just adds to the confusion, in my opinion.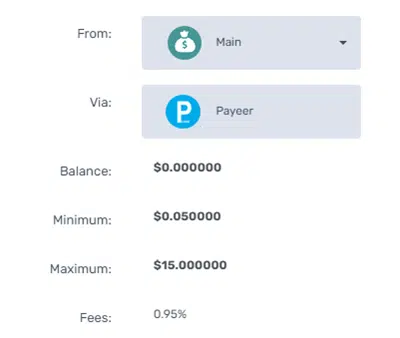 But anyway, once you've earned at least $0.05, you will be able to withdraw your earnings via Payeer. This was the only option available for me when I was testing the site. I'm not sure if other countries offer other options, though.
The maximum amount you can withdraw will be $15. This holds true for both the main and referral account balance.
The payment system of Clicks Genie is relatively straightforward, but for the life of me, I can't understand why they would keep the two earning accounts separately. It just adds to the confusion, in my opinion.
But anyway, if you are interested in more sites that use Payeer as a payment method, I suggest you check out the best ways to earn Payeer money for free.
How much money can you make?
As explained above, you will only earn a very small amount for reading emails, so it will really take a lot of time before you can withdraw your earnings even though the payout threshold is very low. Even if you add your referral earnings, it still won't be enough, in my opinion.
This isn't surprising, though, because this is usually how PTC sites work. You can read my full guide on PTC sites, so you will understand why PTC sites have very low earning potential.
That's why overall, I would say the earning potential of Clicks Genie is very low. It will take quite a long time before you will be able to earn a significant amount from this site.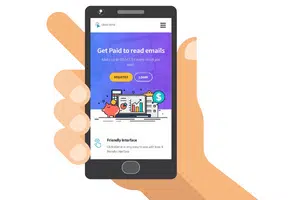 Can you use it on mobile?
Clicks Genie doesn't have a mobile app you can download, but you can still use it on a mobile device since you can access your email inbox easily from a mobile device. You won't really have to do anything on the website since you will just be reading emails.
But the site is mobile-friendly, so you can still log in to the member dashboard and check or withdraw your earnings. That's about all you can do with their website from a mobile device.
Who can join Clicks Genie?
Clicks Genie is available worldwide, so you can register as a member regardless of where you live. All you have to do is fill out the sign-up form and confirm your registration by clicking the link in the email that will be sent to you.
Once you've done that, you can add Clicks Genie to your contact list to start earning.
Final Verdict
Clicks Genie is a PTC site that will allow you to earn by reading emails. It doesn't have a lot of interesting features. All it has are a few limitations you need to be aware of.
Let me conclude this review by summarizing its pros and cons so you can get an overview of what the site offers. Then, you will understand why it is not a site that is worth your time.

Pros:

Cons:
Very low rewards
Shows exaggerated and unethical ads
Doesn't offer payment via PayPal
In case it's not clear, I do not recommend you join Clicks Genie. It is simply not worth your time. You will have to wait a very long time before you will be able to earn a decent amount from it.
You are better off investing your time on sites that have significantly better earning potential. And speaking of sites with better earning potential, I recommend you check out the top survey and GPT sites in your country instead.
The sites on this list all have good earning potential so you won't have to spend a lot of time to earn a decent amount. Plus, most of the sites on this list offer multiple payment methods.
If you have any comments, questions, or have any experience with Clicks Genie yourself, I would love to hear from you in a comment below.