If you are looking for a way to earn extra cash, there's a site called CloudPeeps that claims you'll be able to earn extra money by doing freelance jobs.
But the question is, is it legit, or is it a scam? That's a valid question, and I will address that in this CloudPeeps review.
I tested this app to see what it offers and to check how it stacks up with other sites that offer the same kind of earning opportunity. I will share everything I've learned about the site so you will know exactly what to expect from it before signing up.
That way, you'll be able to figure out if it is a site worth joining or not. So, let's go ahead and get the ball rolling, shall we?
What is CloudPeeps and what does it offer?
CloudPeeps is a freelancing site where you'll be able to earn extra cash by taking on jobs offered by its clients.
It is indeed a legit site because you will really get paid for completing jobs. But that doesn't necessarily mean it is worth your time.
To figure out if CloudPeeps is the right site for you, you have to first understand how the earning opportunity works. That way, you can properly gauge how much time and effort is required to earn from this site. So, here's how to earn from CloudPeeps.
The earning opportunity – Jobs
The only way to earn from CloudPeeps is by taking on jobs offered by its clients. You can do this in two ways. You can go to the marketplace and apply for jobs, or you can set up your own "Storefront" and offer your services for a certain price.
Regardless of how you want to do this, earning from this site will all boil down to completing a job for a client. If you choose to apply for jobs through the marketplace, then let me explain how the process works.
When you log in to the member dashboard of CloudPeeps, just go to the marketplace and look for jobs you can do. If you see a job you are interested in, just click it to see the full details. Some job offers will have a fixed rate, but most of the time, the pay will be negotiable.
You will also see the description of the job you have to do. If you want to work on the job, you will have to send a proposal to the client. The proposal will serve as your job application. This will include the rate you are willing to work for, the skills you have, and your experience as a freelancer.
If the client likes your proposal, they will accept it, and you will receive an email as well as a notification on the member dashboard that your proposal was accepted (this usually takes around 24 hours). Then, you and the client will have to go back and forth to iron out the details.
Once everything is set, you can start working. When the job has been completed, the client will review your work, and if everything is in order, you will receive the payment. Later, I will discuss how you will get paid.
As for getting jobs through the "Storefront," the process will be the opposite. It will be the client who will reach out to you. As mentioned earlier, when setting up your "Storefront," you can indicate the type of service you are willing to offer as well as the rate of pay.
You can also include your skills and experience as proof that you can do the job you are offering. If a client decides to avail of your services, they will contact you. Then, the negotiation process begins. Once both parties agree to the terms, you can start working. And when the job has been completed and the client is satisfied, you will receive the payment.
As for the jobs you can find on CloudPeeps (or the jobs you can offer), most of them belong to the graphic design, web development, social media management, and content marketing categories. You can find other jobs that don't fall under any of the categories mentioned, but they are pretty rare.
One more thing you need to know about working on jobs on CloudPeeps is that every time you complete a job, the client will rate the service you've rendered. Later on, I will discuss how this will affect your earning potential.
Recommended: Check Out the Best Freelancing Sites
How do you get paid?
Every time you complete a job, you will get paid a certain amount. The good thing about CloudPeeps is that you don't need to reach a threshold to receive your earnings. Your compensation will be deposited to your bank account via Stripe.
It's a convenient payment method, but just be aware that fees will be involved. CloudPeeps will deduct 2.9% plus $0.30 per transaction. So, don't expect to receive the full amount when a client pays you.
The payment system of CloudPeeps is relatively straightforward and I like the fact that it offers payment via direct bank transfer because it is a very convenient option. If you are interested in more sites that offer a convenient payment method, I recommend you also check out the top sites that pay via direct bank transfer.
One thing you need to know about CloudPeeps' payment system is that it will not assist you if there are any disputes with payment between the client and you. This is a major disadvantage, in my opinion, because if it is not resolved, you will end up not getting paid.
I also find it surprising because most freelancing sites usually help freelancers and clients settle disputes about compensation (at least the good ones). Some freelance sites even hold the payment in escrow until all parties are satisfied. It's kind of a slippery slope, in my opinion, and if you are just a budding freelancer, it can be tricky to deal with.
So, make sure to consider this before you make your decision about joining the site.
How much money can you make?
As explained earlier, you will be able to negotiate the compensation you will receive for completing a job. So, the amount you can earn from a job will totally depend on you. This also means you have to study the market price of the services you are willing to render so you won't be selling yourself short.
However, there's one thing that can limit the amount you can potentially earn from CloudPeeps, and that is the type of membership you will get. Yes, CloudPeeps offers a free membership, but this type will severely limit how much you can earn from the site.
That's because, as a free member, you can only submit three proposals per month. That's quite a low number, in my opinion. To increase this number, you'll have to become a paid member (refer to the photo below).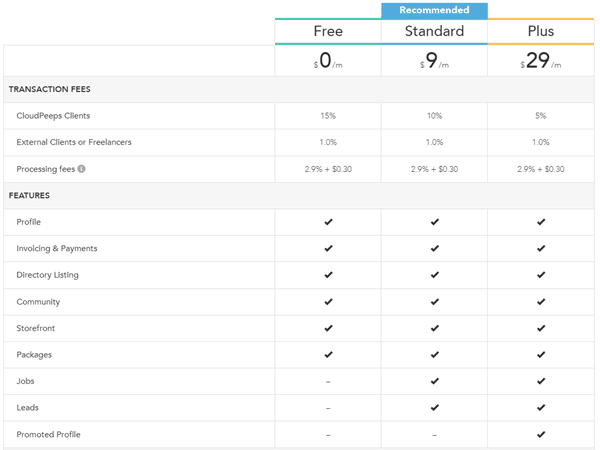 You can go for the Standard membership, which costs $9 per month, or you can go for the Plus membership, which will cost $29 per month. The standard membership will allow you to send up to five proposals per month, while the Plus membership will increase the limit to 15.
However, CloudPeeps can be quite rewarding as well for high-earning freelancers. If you have been a Peep (the term they call their freelancers) for at least 24 months, earned a total of at least $5,000 from clients, and maintained an 80% rating from clients, you will become a Pro member.
This status will give you certain benefits, like getting ranked higher in the search results so that clients will see your profile immediately. You will also be invited to special events or Facebook groups, and you will sometimes be matched with clients directly.
Reaching this status will significantly increase your earnings from this site. It's a nice goal to set, but you have to be very patient and diligent because, as you can see, it will take a minimum of two years before you can reach this status.
Overall, I would say the earning potential of CloudPeeps is relatively decent. It's comparable to some of the popular freelancing sites out there, but it also has some limitations many other freelance sites do not have, as explained above.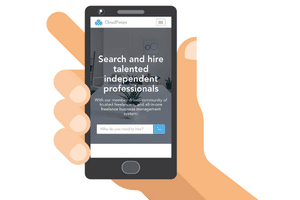 Can you use it on mobile?
CloudPeeps doesn't have a mobile app you can download, but you can still access the member dashboard using a mobile device. You just have to use a mobile web browser to access the member dashboard.
Fortunately, the site is mobile-friendly, so you will be able to read all the content without zooming in. You can navigate the site easily.
Just keep in mind that the work you need to do will still have to be done using a laptop or desktop. So, all you can do with accessing the site from a mobile device will be to check the status of your proposals or to see if there are any clients interested in your services.
Who can join CloudPeeps?
The thing with CloudPeeps is that it is only available in certain countries. Below is a list of countries it is available in.
Australia
Austria
Belgium
Canada
Denmark
Finland
France
Germany
Hong Kong
Ireland
Italy
Japan
Luxembourg
Netherlands
New Zealand
Norway
Portugal
Singapore
Spain
Sweden
Switzerland
United Kingdom
United States
If you don't live in any of the countries listed above, this site is not for you.
Another thing you need to be aware that CloudPeeps will screen the freelancers who register. When you fill out the sign-up form, all you will be doing is applying for a position as a CloudPeeps freelancer.
They will then check your experience and skills to see if it meets their standards. You will usually hear back from them after 24 hours of submitting the registration form. CloudPeeps is looking for people who can speak fluent English and experienced freelancers who have the skills to complete the jobs being offered.
So, it's not a newbie-friendly freelance site, in my opinion. If you are new to freelancing, I would suggest you check out the best easy freelance jobs for beginners you can do instead.
Can you get support?
If you have any questions about the site or your account, you can check out the Help Center. It discusses most of the important topics you need to know about the site.
If you can't find the answers you are looking for, you can get in touch with their support team by emailing them at [email protected]. But as explained earlier, if your concern is about compensation disputes, they will not be able to help. You have to direct your concern to the client directly. All they offer is a way for you to get in touch with the client directly.
Overall, I would say the site has a decent support system in place for its members because you can interact directly with clients and you can also communicate with the support team. However, I'm a bit disappointed that they don't at least help mediate any disputes regarding compensation.
Final Verdict
CloudPeeps is a legit freelancing site where you can earn by working on freelance jobs. It has a couple of decent features, but it also has some drawbacks you need to consider.
To finish this review, let me summarize its pros and cons, so you can get an overview of what the site offers. Then, you can decide if this site is a good fit for you or not.

Pros:
No payout threshold
Offers a convenient payment method

Cons:
They are strict with which freelancers they will accept into their platform
Doesn't help mediate disputes regarding compensation
You can only submit a limited number of proposals per month
If you are an experienced freelancer looking for more freelance sites to join, you can give CloudPeeps a shot. You'll be able to find decent job offers. Just be aware that there's no guarantee you will be accepted as a freelancer when you sign up.
Plus, CloudPeeps will not assist you on compensation disputes, so working as a freelancer for them is a bit risky compared to other freelancing sites. But if you are new to freelancing, I suggest you check out the best easy freelance jobs for beginners instead.
Now, if you are looking for simpler ways to earn extra cash, I recommend you check out the top survey and GPT sites in your country instead. The sites on this list all have good earning potential, and you will be able to earn immediately after signing up.
Plus, you will definitely find a site you can join regardless of where you live.
If you have any comments, questions, or have any experience with CloudPeeps yourself, I would love to hear from you in a comment below.