Get-Paid-To (GPT) sites are a popular option to earn extra cash online as they are free, easy to use, and have plenty of earning opportunities.
That being said, there's a GPT site called Coin Tasker that promises you will be able to earn bitcoins by doing offers and other activities. So, the question now is, is this site legit? Or is it just another scam that won't deliver on its promise?
This is a very important question and deserves an answer immediately. So, let me address this issue right away. Yes, Coin Tasker is a legit GPT site that offers bitcoins as reward for completing their offers and the other activities.
But is it worth joining though? Well, that's another story. And to answer that question, first, we must weigh in a few things. This Coin Tasker review will reveal the full details of the site so you'll know what to expect before even joining. That way, you can decide if this is really a site worth joining or not.
What is Coin Tasker and what does it offer?
As mentioned above, Coin Tasker is a GPT site that offers several ways for you to earn rewards.
It boasts that it is the highest-paying bitcoin rewards site. But does it live up to this claim? To answer that question, we have to examine the earning opportunities it offers in details.
This is the best way to get a clear picture of the earning potential of the site. Plus, it also helps you understand how you will be able to earn from the site if you decide to join.
So, here are the earning opportunities available on Coin Tasker.
Option 1 – Offerwalls
Offerwalls are basically third party advertising platforms that offer several ways for you to earn rewards. These offers are meant to promote a site, an app, or really anything they wish to promote.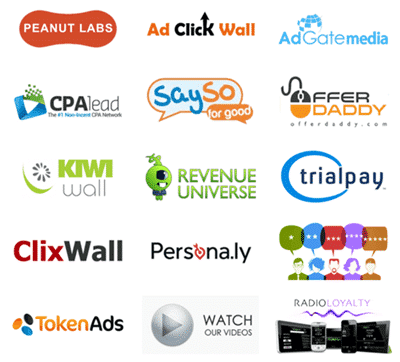 As you can see, Coin Tasker has a lot of offerwalls to choose from, so you will not run out of things to do.
You can find various kinds of offers from their offerwalls. Some offerwalls specialize in Paid-To-Click offers. This means you have to view ads to earn rewards.
Other offerwalls have offers that will ask you to answer surveys, while others will ask you to watch videos or listen to the radio. There are also offers that will ask you to download mobile apps and games or answer quizzes.
Each offer will tell you what you will earn for completing it. It will also tell you what you need to do to complete. Before you complete an offer, you have to make sure though that you've understood and know what it is asking you to do. Because if you miss a step, you won't earn the reward.
So, make it a habit to read the conditions of each offer carefully before you start working on it. Once you've completed the offer, you will receive the reward promised. But don't expect the reward to show up in your point balance right away.
Usually, it will take a few minutes or even hours before the reward will be credited to your account. This is because the offerwall will still have to verify your work. Coin tasker, however, does not have any control over how tasks are tracked and approved.
The 3rd party advertiser (offerwall) has the final say as to whether or not a task you completed is eligible for credit based on the information they receive from their analytics and tracking. Coin Tasker does immediately credit you for every completed task approved by the advertiser.
Most of the time, tasks are approved instantly, but some tasks are not. This is the reason for the delay of rewards being credited to your point balance in some cases.
Option 2 – Reviews
You will also be able to earn rewards by simply reviewing mobile apps. From time to time, there will be apps available for review listed under their "Write a Review" section.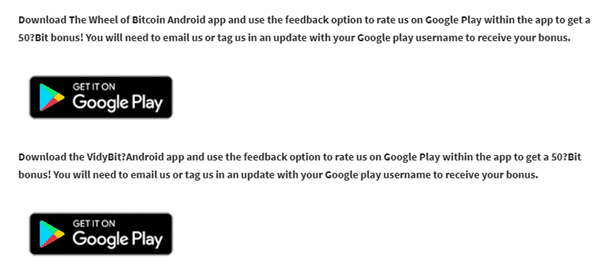 As you can see in the photo above, you can earn 50 bits for reviewing the app listed. Of course, you have to download and install the app on your mobile device and use the app and rate it.
Then, you will need to email or tag Coin Tasker in a status update on Facebook or Twitter with your Google play username and link to the review to receive your bonus.
Once they verify your email or your tag, you will be credited with the reward.
Option 3 – Testimonials
This opportunity is a one-time offer. You can only submit and earn from it once. As the name suggests, you have to submit a text or video testimonial of Coin Tasker to receive a free bitcoin bonus.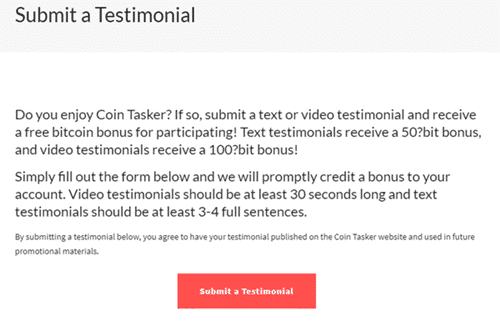 If you choose to submit a video testimonial, it has to be at least 30 seconds long and for text testimonials, it should be at least 3-4 full sentences.
Once you've submitted your testimonial, you will then receive the bonus of 100 bits for video testimonials and 50 bits for text testimonials.
Option 4 – Daily lottery
Every day, you can also join their daily lottery. This is not a surefire way of earning though because it will all depend on chance.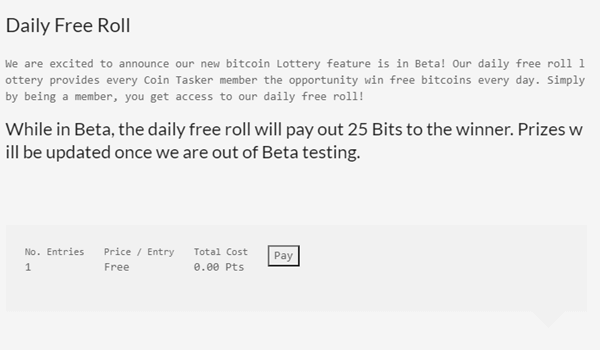 To join the daily lottery, just go to the "Daily Lottery" section under Earn Free Bitcoins on their member dashboard. It will be listed under "Other".
Then, as shown in the photo above, just click the Pay button and you will be entered in their daily lottery.
You will only have 1 free entry per day. If you win, you will receive 25 bits. You will receive an email notification if you ever win their lottery and the prize will be credited to your point balance.
How do you get paid?
Coin Tasker uses a points-system for their rewards. Every offer you complete will earn you a certain number of points.
Once you've earned 500,000 points, which is equivalent to $5, you can then withdraw your earnings via your bitcoin wallet.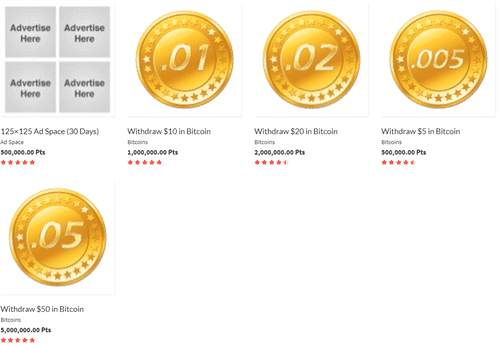 But one thing unique about Coin Tasker is, they implement a "daily multiplier" for each offer you complete. The daily multiplier is calculated in real-time and will be based on the current bitcoin rate. So, expect that the daily multiplier will change on a daily basis.
You will see the daily multiplier at the top left-hand corner of every page. But how does this work though? Well, let's say an offer will reward you with 1000 points. The daily multiplier is set to 25x. So, when you complete the offer, you will receive 25,000 points.
This is the main reason why they claim to be the highest paying bitcoin rewards site. Plus, I also like the fact that their payout threshold is relatively low ($5). You will be able to withdraw your earnings rather quickly.
If you are interested in more sites that have a lower threshold, I suggest you check out the fastest paying sites.
How much money can you make?
Technically speaking, you will earn bitcoins on this site and not cash. But cryptocurrency is already synonymous to money nowadays. You just need to set up a bitcoin wallet first before you can convert your bitcoins to cash.
As for how much you will earn, since there are really plenty of offers to do on this site, the availability of offers won't really be an issue. So, the major factor that will contribute to the earning potential of this site is how well it pays.
Most of the offers you will find on this site will only earn you a few cents. But since they implement a multiplier, your earnings for each offer will be boosted. Plus, you will also receive bonus points (10 points) for logging in daily.
It won't be much but it's free points. So, you can't really complain. Overall, I would say, for a site that mainly offers offerwalls as the main earning opportunity, their earning potential is quite decent.
Can you use it on mobile?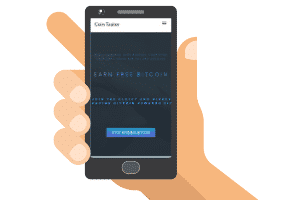 Coin Tasker doesn't have a mobile app you can use to complete offers from a mobile device conveniently. However, you will be able to access their site from a mobile device using a web browser.
Their site is mobile-friendly so you won't have a hard time reading the content and navigating through the site. This can prove very useful especially for completing offers that will require you to download mobile apps.
But apart from that, I would recommend you use a laptop or desktop when completing offers that won't require you to download a mobile app.
It will be much more convenient since offerwalls will involve having to open multiple browser tabs and that can be a bit annoying when done on a mobile device.
Who can join Coin Tasker?
Coin Tasker doesn't have a geographic restriction. You will be able to register as a member regardless of where you live.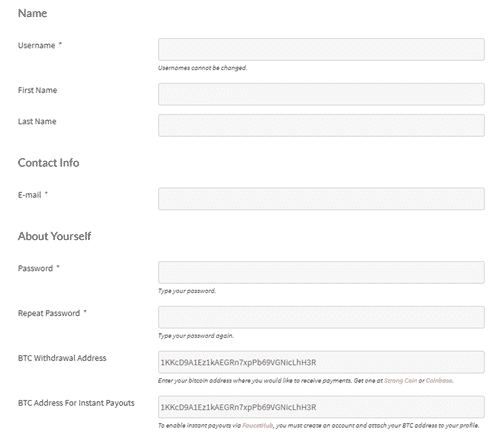 All you have to do is fill out their registration form. Once you are done with the form, you can log in to the site and start earning.
One thing to remember when you become a member of their site is, you have to avoid participating in fraudulent activity and you must log in at least once every 30 days or your account will be suspended.
Can you get support?
Coin Tasker does provide decent support for its members. It has a FAQ page that discusses the most important topics and common issues you need to know about the site.
If you can't find the answer you are looking for, you can contact their support team through their contact form.
A friendly reminder though, if it is clear you have not read their FAQ page upon contacting their support team, you will not receive a response.
This is an important thing to always keep in mind especially when your inquiry is about withdrawals or not receiving credits.
Final Verdict
Coin Tasker is a legit GPT site that will reward you with bitcoins for completing offers and other activities. It has a few good qualities and it also has some limitations you need to think about.
So, let's conclude this review with a summary of its pros and cons to give you a better overview of what the site has to offer. That way, you can better decide if this is a site you should join or not.

Pros:
Low payout threshold
Has a lot of offers you can do on a daily basis
Slightly higher rewards on offerwalls due to their reward multiplier
Available globally

Cons:
Limited payment options offered
Some earning options have fairly low rewards
The point system is a bit confusing
If you are not interested in earning bitcoins and prefer cash or gift cards instead, then this site is not for you. The only reward it offers is bitcoins. But if that's okay with you, then this site can be a decent option.
The rewards from their offerwalls will be slightly higher than what you will get from offerwalls on some other GPT sites. So, that's a huge plus, in my opinion. And, it has a low payout threshold so you can withdraw your earnings a little quicker than other GPT sites.
But if you have no plans of earning cryptocurrency, I would recommend you instead check out the top survey and GPT sites in your country instead. All of the sites on this list have good earning potential and most of them offer multiple payment options like PayPal or gift cards.
Plus, you will also find a site you can join regardless of where you live.
If you have any comments, questions, or have any experiences with Coin Tasker yourself, I would love to hear from you in a comment below.